Hackers Target High Profile US Twitter Users in Bitcoin Scam
What do Kanye West, Joe Biden, Elon Musk and Jeff Bezos all have in common?
Other than being some of the richest, most famous and influential people in the US, their Twitter profiles were all targeted in one of the most major security breaches to ever hit social media earlier this week.
The hack was described by Twitter as a "coordinated social engineering attack" on its employees, enabling cybercriminals to access "internal systems and tools" and post from the accounts of major public figures and companies including Bill Gates, Barack Obama, presidential candidate Joe Biden, Uber, and Apple. In other words, hackers got control of the Twitter accounts of these high-profile people and brands then posted what they liked.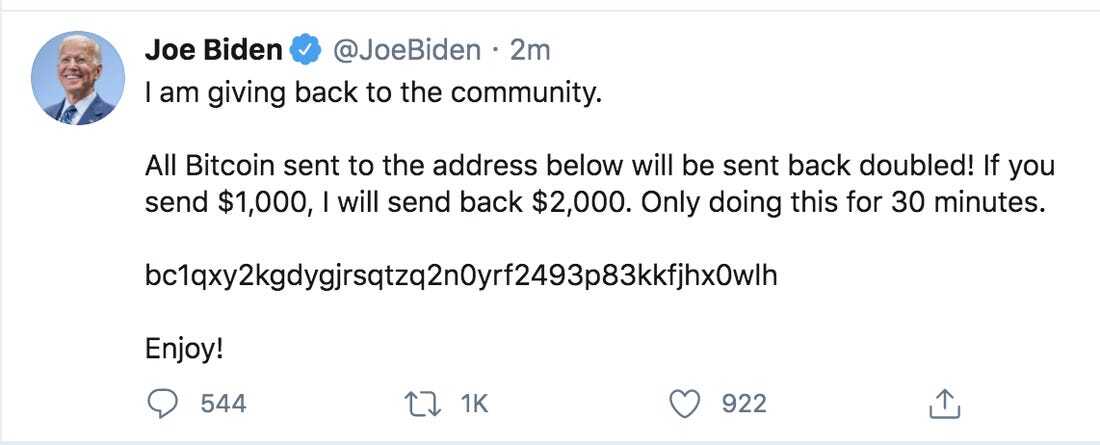 As you can see, the tweet promised to give back to "the community" by doubling returns on any cryptocurrency transfers to a specific bitcoin wallet - a classic online scam.
The unprecedented levels of sophistication in the hack were met with an unprecedented response as Twitter temporarily prevented all verified accounts from tweeting. With the followers of these accounts adding up to the tens of millions, it's one of the most disruptive and potentially destabilizing social media security breaches to ever occur.
How high profile scams usually work
Scammers usually create a fake Twitter profile for a prominent figure, then use this to promote causes for donations, routing money to the scammers. As a consumer, you can usually easily spot these by looking for verified Twitter accounts (the "Blue Tick" beside the name).
Worryingly, in this instance, the genuine verified accounts were compromised and used to promote the scam. These kind of hacks are harder to spot, but there are still some common sense things to look out so you can avoid them in the future:
Repeat tweets
If you spot similar repeat tweets that are live for a few minutes, then removed and replaced with a similar but slightly different version, then you need to be on high alert.
This happened with the latest attack and is a good indicator of a security breach, as it shows the network is checking, then deleting harmful tweets, even if they are from legitimate accounts.
Out of character social media posts and shares
Is it out of character for Barack Obama or Joe Biden to be shouting about cryptocurrency? Usually yes. So if the person or company hasn't done something like this before, it's a red flag. Especially if whatever they're promising seems too good to be true. Undertake some simple research by fact-checking and looking for more information.
As a user, remember, to not fret too much. These big attacks occur quite rarely but small hacks happen almost every day.
You can secure your social accounts with unique passwords, 2 factor-authentication, and regularly check whether your emails are involved in a data breach. Using the Clario app is a great way to protect yourself against social media security breaches, both big and small as we have a live breach monitor.
Ultimately, with the frequency and sophistication of hacks on the increase, we think our unique fusion of powerful security software and 24/7 on-demand expert help is your best bet at staying safe against any emergent threat lurking up ahead.
If you'd like to know more about us and why we believe it's so important that people are empowered to take control of their personal digital protection, take a look at our blog articles or just get in touch. We'd love to hear from you.
Secure your digital life with Clario now.
Read more:
We'd like to stay in touch.
We've got something special to share! Enter your contact details below to be among the first to find out about the exciting changes we've got in the works as well as to receive special promotions.