One simple app to secure your digital life
All of your security and privacy needs covered through one simple subscription, and one smart app. On-demand security experts a click away, 24/7. Jargon-free, personalized, and easy to use.
Join Us
Try Clario's multiplatform solution:
Ready for a better, safer digital life?
Until now, your digital security has been confusing.
Clario's here to make it simple.
Join Us
Clario is an easy, comprehensive app for today's complex, connected lives.
A new era of personal security and privacy for you, across Mac and mobile devices (iOS and Android).
No need for multiple complex apps. Clario makes security simple, intuitive, and effortless through
one subscription and one smart app.

All-round
protection

Head-to-toe coverage against malware, ID theft, money loss, data breaches, unsecured Wi-Fi connections, and more.

Security experts
on demand

Over 600 security experts are a click away, ready to help you 24/7. No chatbots, just real humans and real help every time.

Tailored
to your needs

Personalized recommendations based on your concerns to secure your digital life from one beautifully designed and easy-to-use app.
Join Us
Your personal security dashboard.
All your essential protection needs in one place. Real-time threat monitoring integrated with live expert support to help you take control.
Hey Joe, everything's looking good!
How can we help?
Identity
Identity
Look after your identity in real time to protect against data breaches.
Safeguard your online identity.
Browsing
Browsing
Browse securely and privately without ads or getting tracked or hacked.
Browse privately & restriction-free.
Device
Device
Monitoring your devices against online threats in real time.
Keep your device protected.
Money
Money
Shop and bank online securely with more confidence through added protection.
Shop or bank online securely
Network
Network
Connect to the world safely, securely, and privately on any network.
Secure home and public networks
Files
Files
Safeguarding your data and security across your local and cloud storage.
Protect your cloud and local files
1 recommendation
Protecting the key aspects of your digital life.
Protecting
identity

Safe
browsing

Device
security

Safer
money

Securing
network

Protected
files
Identity
Protecting
identity
Keeping your passwords and online accounts secure from data breaches while protecting your digital identity against abuse or theft.
Securing your online accounts and passwords
Protecting your data from unwanted access
Ensuring you share personal info online safely
3 in 10
Roughly 3 in 10 Americans say they have suffered at least one form of identity theft in the past 12 months.
*According to Pew Research Center.
1 in 5
Nearly 1 in 5 people had their financial information leaked in a data breach, including their credit card information.
*According to Security.org.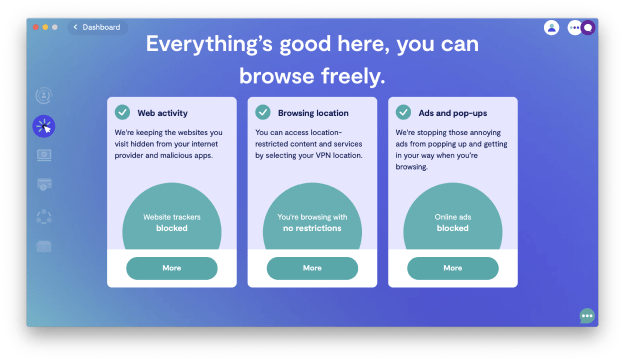 Secure, private, ad-free browsing to watch your favorite shows without regional restriction or being tracked.
Secure your browsing from malicious websites
Browse without location restrictions
Browse without ads or being tracked
79%
79% of Americans are concerned about how much data is collected about them by companies.
*According to Pew Research Center.
48%
48% feel as if they have no control over who can access their search terms.
*According to Pew Research Center.
Ensuring your system is secured in real-time against malware and making sure no one can access your webcam or mic with spyware.
Maintaining your privacy by protecting your cam and mic from unwanted access
Securing your system from malware in real-time
94%
94% of malware is delivered via email.
*According to Verizon.
8
8 new online threats appear every second of every day.
*According to BSA.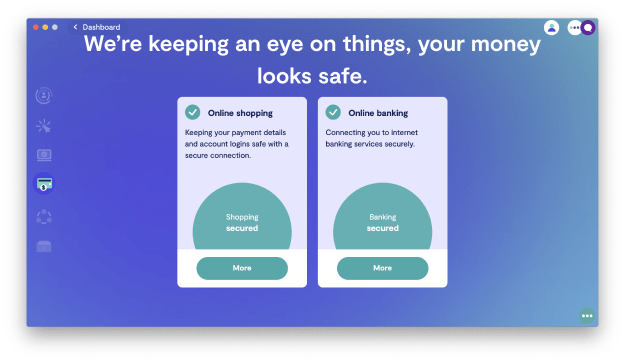 Taking care of your online shopping and banking accounts with extra security by protecting your payment data against hacking and malware.
Secure your connection while you access your shopping and banking accounts
Keeping your payment data safe from from malware
900
There are 900 complaints about online crime a day.
*According to the FBI.
680%
Global transaction fraud through mobile apps has increased by 680%.
*According to RSA..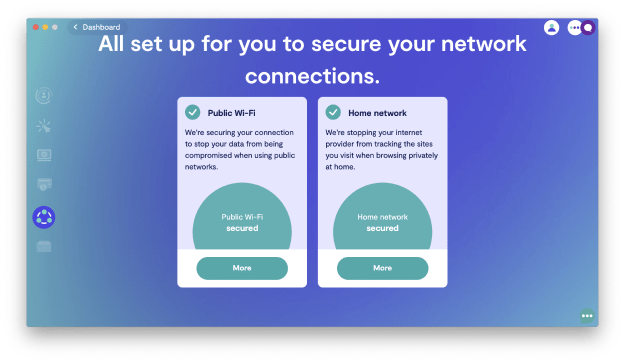 Connect to the world safely, securely, and privately on any network.
Securing you when you connect to public Wi-Fi in hotels, restaurants etc
Protect your home network connection
1%
Only 1% of respondents in America turn to public Wi-Fi either on occasion or regular.
*According to One World Identity Labs.
83%
83% of Wi-Fi routers in US homes and offices leave their users at risk of cyberattacks.
*According to the American Consumer Institute.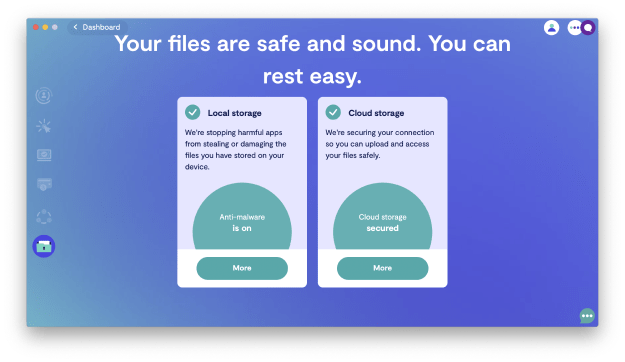 Safeguarding your data security across your local and cloud storage.
Keeping your local and cloud files malware-free
Secure your connection while you access cloud storage
70%
70% of American adults say their personal data is less secure than it was 5 years ago.
*According to Pew Research Center.
94%
94% of malware is delivered via email.
*According to Verizon.
Join Us
Clario: jargon-free technology
Keeping your digital security accessible and effortless so you can connect safely and worry-free. Underneath our user-friendly interface we use the latest security technologies.
Today's digital lives need a security solution that goes beyond software alone.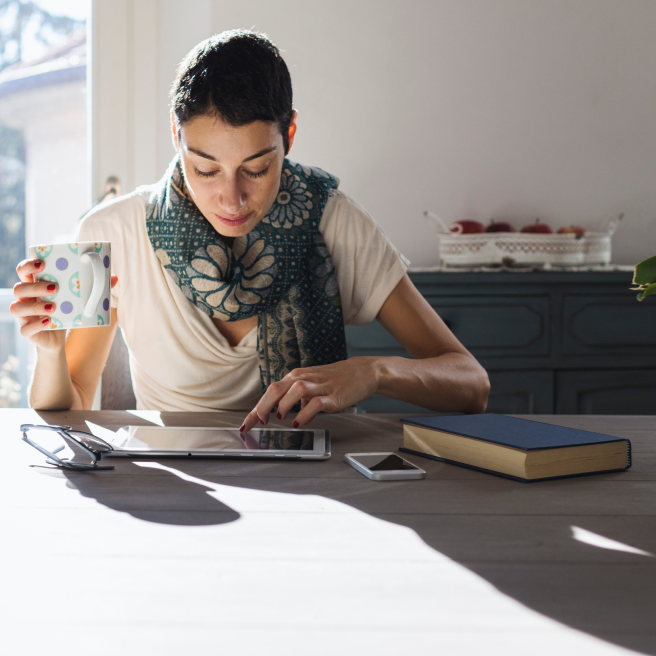 Today's digital lives need a security solution that goes beyond software alone.
It's impossible to predict every digital threat lurking up ahead, so your team of super nice digital security experts are here to help you 24/7 through live chats, on a call, or via remote connection. Real humans here to help solve real problems like:
Giving you emergency assistance if you get hacked or your data gets breached
Helping you fix any complex malware and malicious software problems
Protecting and preventing data loss
Guiding you through enhanced security settings to keep you protected
Securing your home network so you stay private in your own home
Join Us
But don't take our word for it.
Here's what our customers have to say.
…So you can now access your bank, transfer funds, input your ID, passwords freely, without a worry that someone is tapping into your Wi-Fi.
Software that allows you to protect everything, from your Wi-Fi to your credit cards, your computer, your files, your searches.
It makes you safe, makes you secure, a lot of things which I've never seen. It covers not only your computer but much more.
Get Clario with an exclusive launch offer
Start securing your digital life with Clario for Mac, web, and mobile at a special launch price, for a limited time only.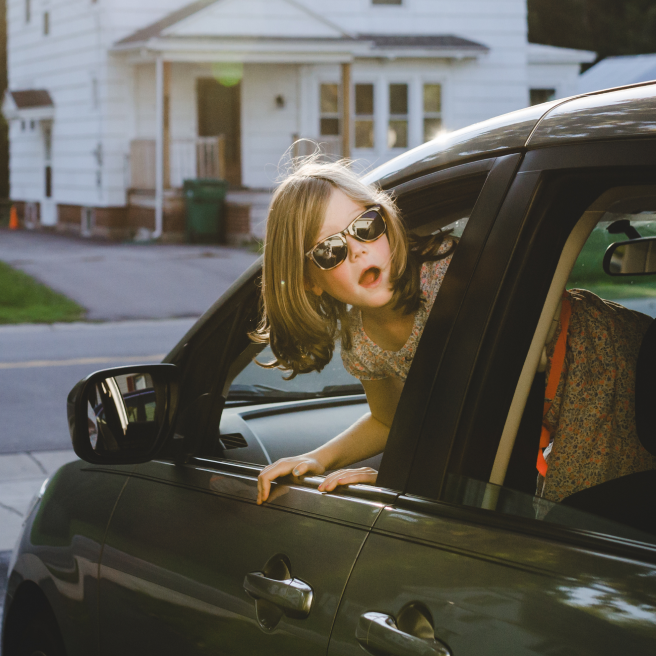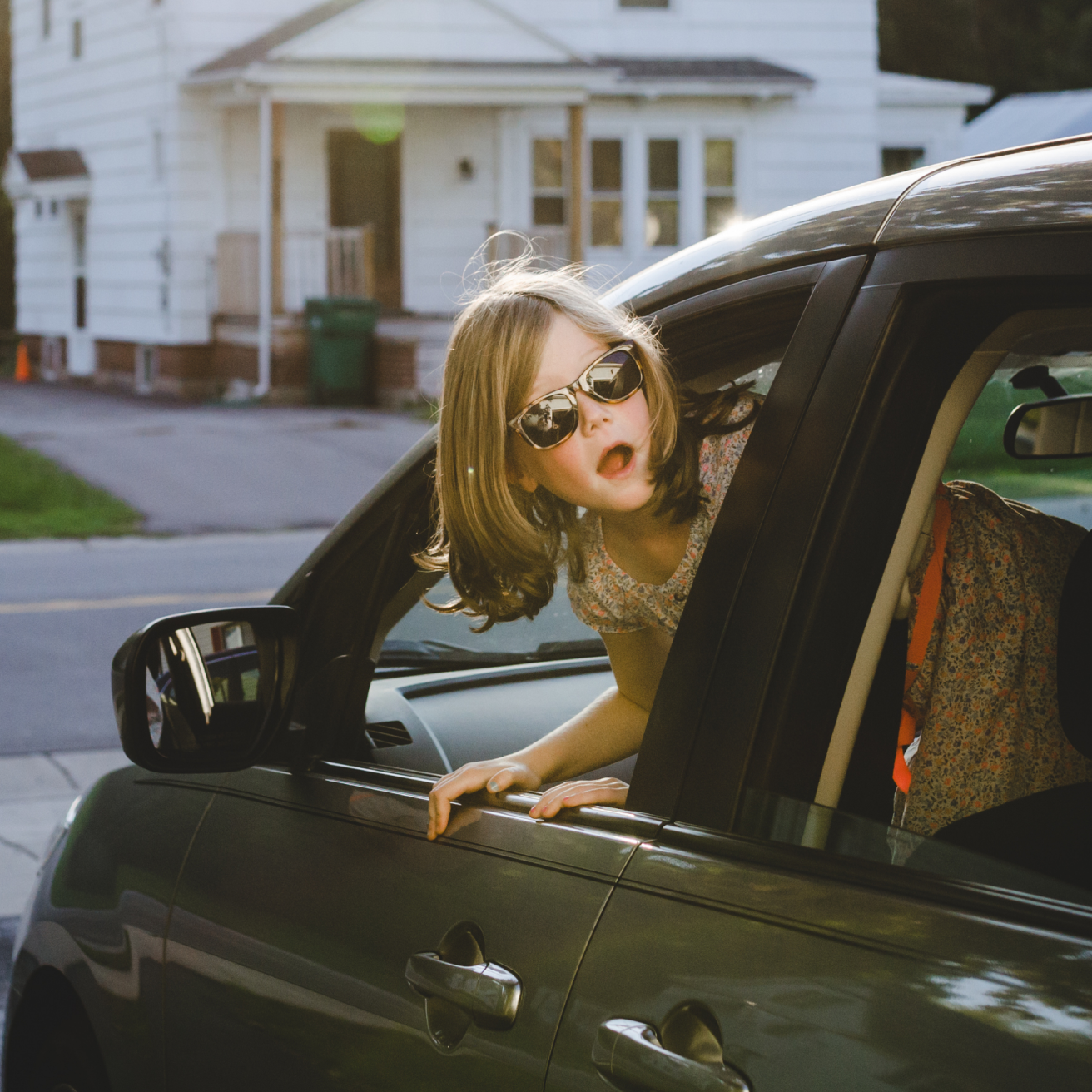 Exclusive Launch Price
Join Clario now at just
$ 99 / year
Save a whole $ 50 on standard yearly pricing of $ 149 a year.
Learn more
Try Clario's multiplatform solution:
System requirements:
macOS 10.12 and higher, 220 MB
Pricing:
Starting at $15 per month
Latest version:
1.0.1, June 2020
Join us.
We'd like to stay in touch.
We've got something special to share! Enter your contact details below to be among the first to find out about the exciting changes we've got in the works as well as to receive special promotions.