How to know if your phone is being tracked
Look for these common signs that your device is being monitored or may be hacked by spyware.
Increased data usage
Spyware apps regularly eat up your data. However, in the age of unlimited data plans, few of us bother to check how much data we actually use on our mobile devices. If you suspect that your phone may be tracked, it's smart to begin keeping an eye on your data.
How to check data usage for iPhone
Go to Settings → Cellular or Settings → Mobile Data
Scroll to see the apps that use cellular data. When enabled, the toggle next to the app will be green. When mobile data is disabled, apps use only Wi-Fi for data.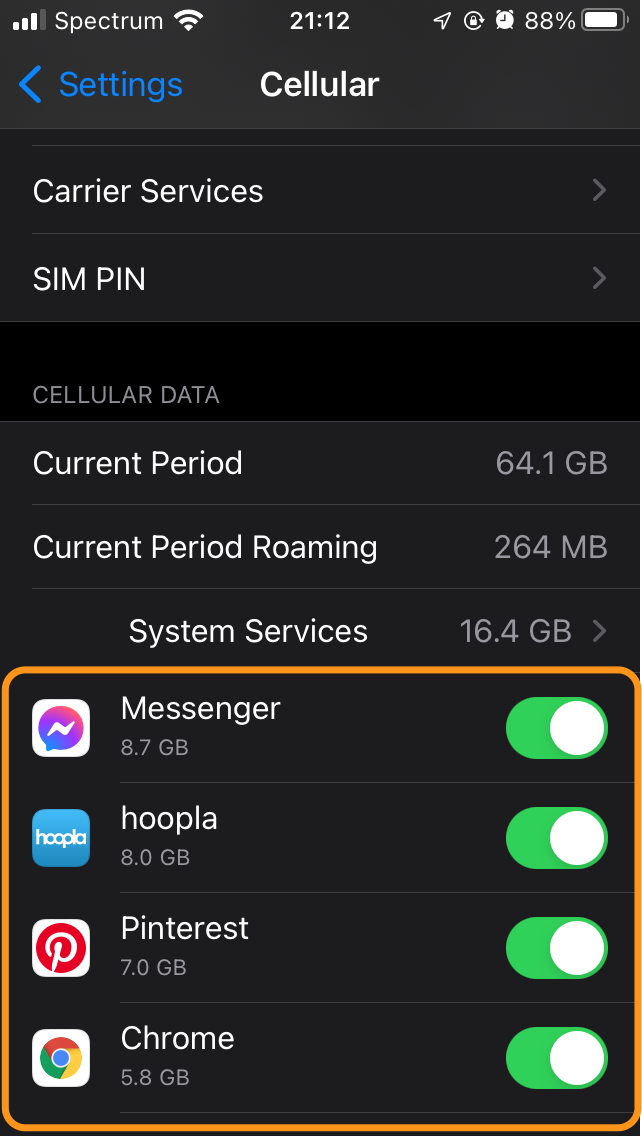 How to check data usage for Android
Go to Settings
This step depends on your device type. Look for either Connections → Data usage → Mobile data or Network & Internet → Mobile network
Scroll to find App data usage
Click to get more information for each app
Pro tip: If you are an Android user, you can easily limit the amount of data background apps can use with Data Saver. To turn this on, select Settings, tap Network & Internet then toggle on Data Saver.
Charged battery drains rapidly
Many spyware apps require a surprising amount of power. If your phone struggles to hold a charge, it may be a sign that your phone is running background tracking from a known app or perhaps stalkerware.
New, unknown apps on your device
If you catch a new, unfamiliar app icon on your phone, this could be the result of spyware. Spotting unauthorized apps on your device can sometimes be tough — especially if you have a lot of apps on your phone. We recommend periodically reviewing all the apps on your device under phone Settings.
Phone works slower than usual
Is your phone suddenly slowing way down? Device speed is determined by a few factors, including age, available RAM, and update-status. If your phone is being tracked or monitored, the responsible apps can eat up your available RAM and slow down the phone significantly or even freeze or crash it.
Phone freezes or abruptly turns off
Related to issues with the phone slowing down, when your phone's RAM gets overloaded it can freeze or even spontaneously crash. If this is happening to your phone and you've ruled out other causes, like damage or an out-of-date operating system, it could be a sign that your phone is infected with spyware.
Background noises in calls
Are you suddenly aware of some added noises in your calls — even when you are in a quiet space? While this is usually not the only sign of infection, your phone may be tracked or traced with stalkerware.
Battery runs hot
Related to excessive RAM usage, spyware can cause your battery to overheat. If this is happening in conjunction with other symptoms in this list, it's time to take steps to check your phone for spyware.
Coded text messages
This one can be either a phishing scam or possible stalkerware. Beware if you receive strange texts with links or coded messages from unknown numbers or at unexpected times (e.g. a surprise text message from the IRS — hint: they'll never text you!) Never click or engage with these texts. If you believe your phone is being monitored, take steps to identify and remove the spyware app.
How to know if your phone location is being monitored
If you're concerned with location tracking, here's how to locate spyware on your iPhone and Android.
Update location-sharing for your phone apps
Within Settings on your device, you can and should regularly review and revise your location-sharing settings for all your apps. This ensures that only applications you regularly use and trust can access your phone.
How to manage location-sharing on iPhone
Open Settings → Privacy on your device
Select Location Services
To turn off location sharing for all apps easily, toggle Location Services off so it is greyed out
To turn off location sharing by app, scroll down through the list to see which apps use location on your iPhone, once you find an app you want to adjust, tap it
For each app, you will be taken to a screen with Location Access preferences — Never, Ask Next Time Or When I Share, While Using the App, or Always — select the setting you want
Here you can also toggle on or off Precise Location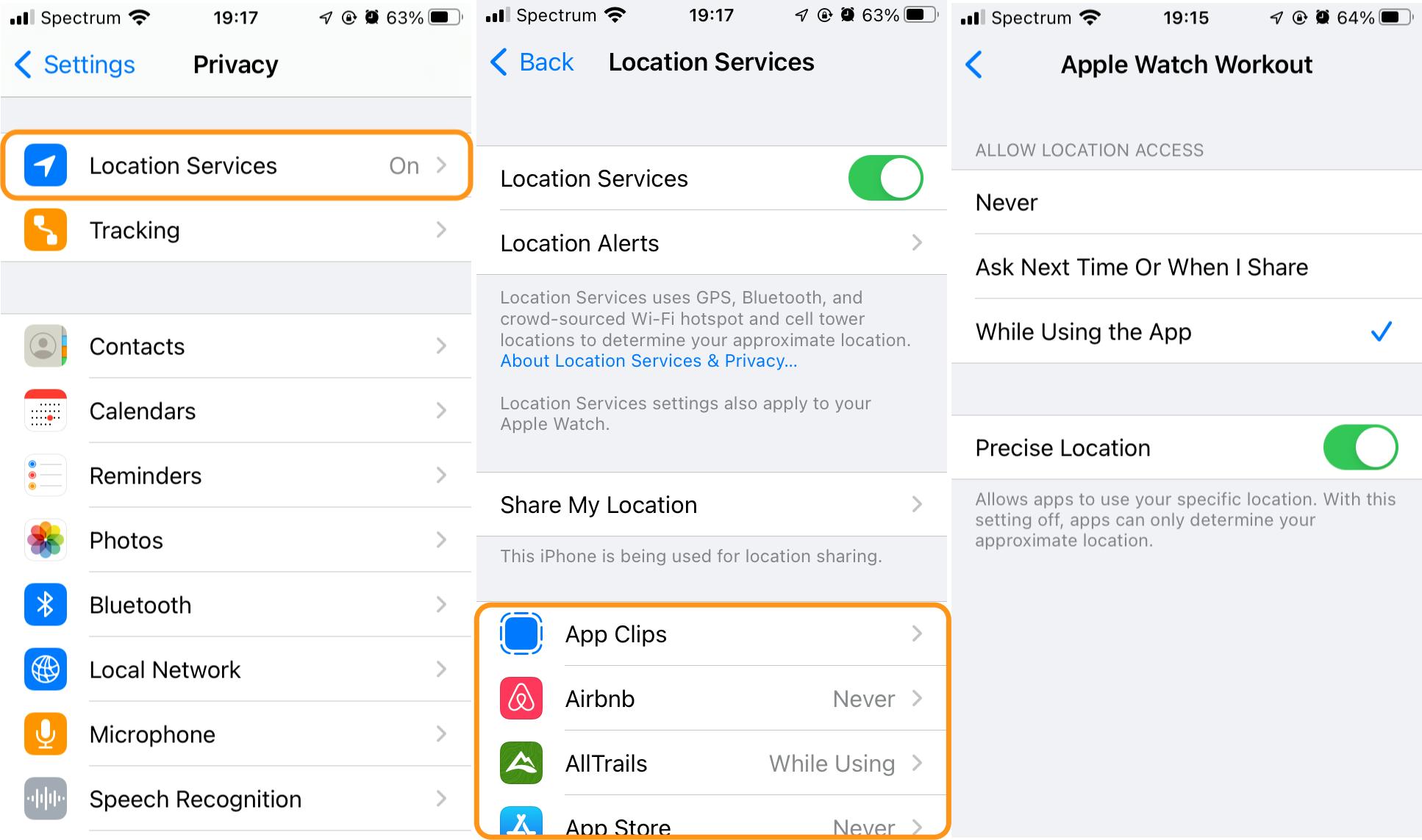 How to manage location-sharing on Android
Open Settings → Location on your device
To turn off location sharing for all apps easily, toggle Location access off so it is greyed out
To turn off location sharing by app, select App access to location
Scroll down through the list to see which apps use location on your phone, once you find an app you want to adjust, tap it
For each app, you will be taken to a screen with Location permission — Allow all the time, Allow only while using the app, Ask every time, or Deny — select the setting you want
Confirm location-sharing is off for maps, chats, and other apps
Certain apps, like those for transport, maps, delivery, step trackers, etc., are more likely to have location settings continuously engaged. Make sure these apps are only tracking your location when in use..
Check your phone for suspicious apps
Spyware usually appears on your phone as unknown, unauthorized, or suspicious apps. To review the apps on your device, you will need to carefully examine the apps as they appear within your Settings on your iPhone or Android.
Audit your phone battery usage
When you check your phone, you'll want to keep an eye out for any apps that consume an unusual amount of excess energy.
How to check your battery on iPhone
Reviewing battery usage for iPhone is easy: Go to Settings → Battery, then scroll down to see the usage breakdown by app.
How to check your battery on Android
The process is similar for Android: Go to Settings → Battery, then tap Battery usage. Here you can review recent usage and force quit apps.
Pro tip: If you think you may have an old battery or there may be an issue with your battery, you can get diagnostics for your battery on iPhone by clicking Battery Health within your battery settings.
Review your sharing settings on Find My for Apple devices
To help rule out potential spyware on your device, go ahead and check who can see your device. For details, review how to check location tracking for Find My.
Try a specialized security app
Your best bet from a phone security standpoint is an all-in-one mobile privacy and protection tool. VPN features are especially effective at helping to mask your data traffic and location.
For details about checking your phone for unwanted tracking, check out our complete guide on how to check your device for spyware and stalkerware.
How to prevent your phone from being tracked
Once you've verified that your phone isn't currently being monitored or you've re-secured your phone after an attack, here's how to stop your phone from being tracked.
Don't jailbreak or root your phone
Jailbreaking (for Apple) and rooting (for Android) remove manufacturer restrictions built into the device. While there are specialized reasons to do this, jailbroken and rooted devices are at a much higher risk for viruses, malware, spyware, and other malicious attacks. Clario's anti-jailbreak feature ensures your device always maintains it's factory-safe settings.
Keep your phone's operating system up-to-date
This one is pretty straightforward — as threats and security compromises are uncovered, Apple and Android take steps to patch or prevent the vulnerabilities in the operating system. Limit threats of spyware on your device by keeping your operating system updated. To ensure you're always running the latest version, we recommend enabling automatic updates.
Turn on or off Automatic Updates for iPhone or iPad
Go to Settings → General
Tap Software Update
If you see an available update, tap Download and Install
To enable automatic iOS updates, tap Automatic Updates
Be sure that both Download iOS Updates and Install iOS Updates are toggled on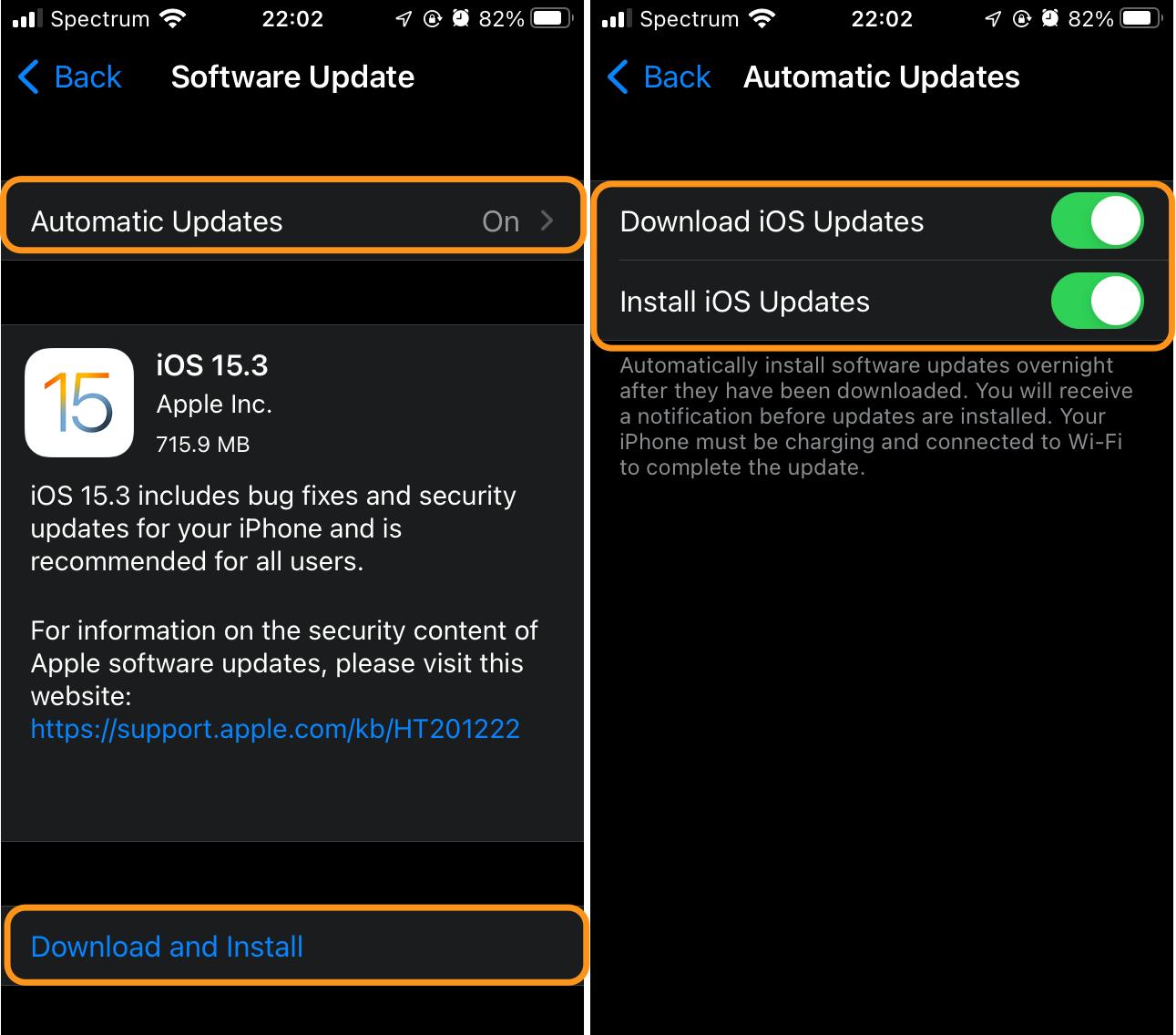 Configure Automatic Updates for Android
Go to Settings → About phone
Find the menu for System update, tap Settings
Enable Auto-download over Wi-Fi
Disable app installations from unknown sources and developers
Both Apple and Google go to great lengths to have specific security requirements for apps in their stores, ensuring greater user device safety. Most of the apps you will likely have on your phone are official, authorized software.
Sometimes people decide to download apps from untrusted sources, for beta testing or trying out a brand new app. However, turning off this security measure on your phone can open your device up to a host of security threats.
How to turn off untrusted app downloads on iPhone and Android
The default setting on iPhones will not allow you to download apps from untrusted sources. So, unless you have specifically disabled this feature yourself, you are protected.
If you have disabled this Apple protection using Xcode or another third party app, follow the instructions outlined by the third-party app.
Here's how to turn off untrusted app downloads on Android.
Be cautious with unknown or unexpected texts
If you've received a surprise text from an unknown number or Apple ID, beware — it could be a phishing or a hybrid spy-phishing scam. In these situations, the text may contain strange messages, urgent calls-to-action, or links that entice you to reply or tap.
Regularly review location-sharing settings
When you enable location-sharing for an app to access all the features, don't forget to turn it off again. It's common to leave permissions on when you don't need to.
Set a regular reminder to review your location settings by following the instructions for how to update location sharing above.
Delete old, unused, or unknown apps
Running a device with loads of old, unused or even unknown apps is a security risk, especially if you don't keep them all up-to-date. Check your device apps regularly and remove ones that you no longer use.
Regularly check battery life and usage
Phone battery health and usage can tell you a lot about what's happening on your device, even if you don't notice it. For example, in addition to helping you identify if any unknown apps or spyware could be eating up your charge, it's also a great way to keep an eye on all your apps. If you accidentally set location-sharing to "always on" for your food delivery app, your battery might help you catch the mistake.
Use an anti-spyware and phone security app
As we mentioned earlier, the number one option for securing and protecting your device is a total privacy and protection tool for phones. Expert security apps, like Clario, are loaded with many tools to keep your device protected.
For more details on hacking prevention for your mobile devices, check out our complete guide to how to prevent your phone from being hacked.
As we increasingly rely on mobile devices for personal projects, remote work, business communications, and more, risks from malicious phone attacks are on the rise — with as many as 97% or organizations facing mobile threats in 2020. In addition to practicing good security hygiene as outlined in this article, a powerful antivirus app like Clario delivers total protection and peace-of-mind.
FAQ
How can I tell if my phone is ghosted?
Ghosting is when someone abruptly cuts off contact without warning or communication. This may be confused with spoofing, which is when someone uses your email or phone number to hide their own contact information. Hackers and cyber criminals may use spoofing to trick your contacts or people in your area code into answering their calls or texts.
The FCC provides some tips for what to do if you think your number is being spoofed.
How can I tell if someone is pinging my phone?
Pinging is an essential technology for many apps who rely on location technology to work properly. It works a bit like breadcrumbs for the apps to follow. It's a safe and legal technology — as long as you have enable location-sharing for those apps.
It becomes unsafe, however, if your phone is tracked or monitored without your consent, as with spyware or stalkerware. If you suspect you may be tracked without permission, follow our steps for how to manage your location-sharing and stop phone tracking.
How do I know if someone is stalking my phone?
Stalking apps are called spyware and stalkerware. Forms of tracking apps are often used legally to keep track of employees and minors. More nefariously, however, some cybercriminals use spyware to hack vulnerabilities in existing apps to gain access to your phone usage and location.
While there is no definitive way to know for sure that you're being monitored, there are a number of common symptoms that may mean your phone is being tracked.