Is there a way to hack into someone's phone without them knowing?
The answer is yes, and it no longer takes a tech genius to make this happen.
TechCrunch recently discovered a security issue that puts thousands of people's private phone data at risk. And it all points to spyware that anyone can access. Worse still, it has become easier than ever to purchase consumer-grade software that lets you install "stalkerware" on someone's phone. This makes it simple to access someone else's private text messages, call records, geolocation, photos, videos, and browsing history.
Learning how bad actors can infiltrate the device of a nonconsenting target will keep you from falling victim to the ploy.
Pro tip: Prevent spyware and other forms of malware from wreaking havoc on your phone. A quick download of Clario, a powerful antivirus software, will spare you a lot of trouble. Follow these simple steps to equip your Android phone with real-time protection:

Install Clario for Android.
Click the Start scan button to activate its Spyware detector.
Start protecting your Android phone today with Clario.

Now, let's talk about the various ways hackers can attack your phone.
How does hacking into an Android phone happen
Nowadays, all it takes to hack an Android phone is a quick sign-up with a popular spyware app and a few minutes of physical access to the target device. Government agencies and seasoned cybercriminals can easily hack into an Android phone remotely.
"Legitimate" spyware apps
People use spyware apps for various legitimate reasons, including parental control of a child's phone, tracking a lost device, or keeping tabs on employee activities. However, these tools can also be used with malicious intent and without the target's knowledge.
So, are you vulnerable to such an attack? The good news is that spyware apps often require physical access to your device at least once. The bad news is that if it happens once, then the phone hacking can continue from afar. You won't even realize you're being monitored.
Some of the most commonly used apps for spying on other devices are mSpy, Spyic, and Cocospy.
Protection tips: As you can see, the most effective way to avoid these spyware apps is by keeping your phone out of the hackers' physical reach. Don't leave it unattended, and try not to lend it to strangers.

Are you worried that someone has already infiltrated your phone? Follow these steps to manually check your Android phone for spyware:

Go to Settings.
Tap Apps and notifications and See all apps.
Look for suspicious and unfamiliar menu items, then uninstall them.

You may also rely on antivirus software to scan the Android device for you.
Spyware Trojans
Some forms of spyware are packaged as Trojans. They appear as harmless or even helpful pieces of software. But their goal is not harmless at all: they try to get any targets to download the spyware hiding inside the Trojan. To make this happen, hackers use social engineering tactics or psychological manipulation. For example, they may send emails promising a free giveaway to convince their targets to download a program.
SpyNote, an Android remote access trojan (RAT), is one threat you should watch out for. It can view text messages, access your phone's video camera, listen to audio captured by the microphone, and determine the last known GPS location. You may unknowingly add it to your system by downloading apps from third-party sources outside of Google Play.
Protection tips: Armed with tools like SpyNote, hackers don't need physical access to your phone to create havoc. To protect your device, make sure you only download apps from trusted sources. And don't let appearances fool you, not when a SpyNote variant once masqueraded as a Netflix app.

You should also be wary of providing excessive permissions to apps. Surely, a calculator app doesn't need access to your microphone or your contacts. You may also want to check the apps' reputation. Don't just rely on the reviews. It's best to check the identity of the developers and if they're a legitimate business.

Keep in mind that the hackers may try to get to you through social engineering, so make sure you avoid clicking on suspicious email attachments or SMS links.
"Serious" spyware
You may have read about Pegasus in the news. This powerful piece of spyware can secretly access your messages, record your calls, and activate your camera. It essentially turns your phone into a 24-hour surveillance device. And hackers don't even need to touch your phone or convince you to click on a link to infiltrate your system. All they have to do is make a WhatsApp call to your phone, and Pegasus will be on its way. You don't even have to answer it!
Now, the good news is that potent tools like Pegasus are accessible only to government agencies. Unless you're a journalist, human rights activist, chief executive, or government official, you won't have to worry about becoming a target.
Protection tips: In the rare event that you may be targeted by the government, you can check if your device has been compromised using the Amnesty International Mobile Verification Toolkit (MVT). This tool can analyze the files and configuration of a backup taken from your mobile device. However, the MVT can only go as far as to look for attack indicators. It won't be able to tell you with certainty that your device has been infiltrated.
How does hacking someone's phone camera remotely happen
As we mentioned, invaders can easily hack your camera from afar using solutions like SpyNote. All it takes is persuading you into clicking on a malicious link.
Spyware apps marketed for parental control also provide cybercriminals with a handy way to hack your camera. Popular apps like FlexiSPY and MobileSpy provide live access to a phone camera, allowing hackers to take videos and photos using the target device. But just like with most "legitimate" spyware apps, hackers need physical access to your phone to install the malware. So, to avoid such an attack, make sure you keep your phone on a leash — never hand it over to people you don't trust.
How does hacking phone with just their number happen
Governments, as we just said, can use surveillance tools like Pegasus to tap into someone's cell phone without touching it. All it takes is a WhatsApp call. Once they get a hold of your phone number, you're fair game.
Now, you may wonder if cybercriminals can do as much with just a number. German security researcher Karsten Nohl once demonstrated to a CBS show a technique attackers use to hack phones. He successfully infiltrated a US congressman's phone and used it to track the statesman's whereabouts, record his calls, and read his messages.
This technique takes advantage of the vulnerability coming with the network interchange service called Signalling System No. 7 (SS7), which allows different mobile phone networks to exchange data and bills correctly. The trick requires advanced technical skills and is accessible only to seasoned hackers. Still, it's best to share your phone number only when necessary. Keep it out of the public's eye.
How to protect yourself from spyware
To prevent spyware from creeping into your phone, you need to make sure your device never falls into the wrong hands. Try to avoid clicking on suspicious links, opening malicious websites, or downloading apps from unknown sources.
That said, you can do everything to protect your phone and privacy, but some forces are just greater than your best efforts. Fortunately, you can equip your device with cybersecurity software that will do a better job than you.
Follow these quick and easy steps to protect your Android phone from spyware:
Download and install Clario on your Android phone, then create an account.
Log in to your Clario account.
Tap the Device icon.
Tap the Start scan button for Clario's Spyware detector.
Leave Clario to check your apps for any hidden spyware.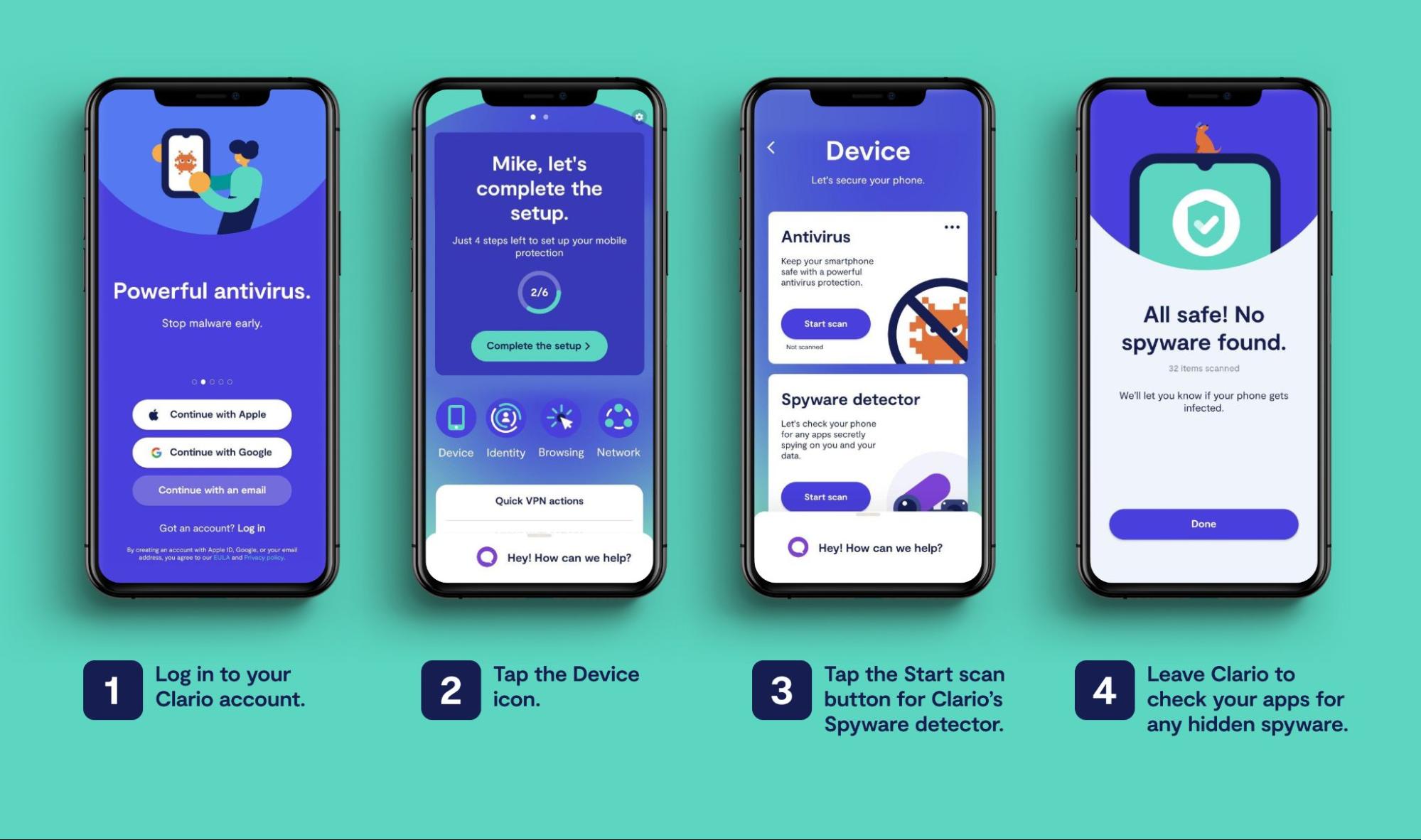 Clario also checks every new app for malware and informs you if it detects a threat.
***
Someone could be reading your WhatsApp messages, taking photos with your camera, and recording your keystrokes to figure out your passwords — all without your knowledge! Now that we do almost everything on our phones, this threat is more alarming than ever. Fortunately, cybersecurity software providers are fast catching up with these threats. With the right app, you get to keep your peace of mind in this chaotic new world.
Keep reading: