To make your device private and secure, you should be aware of the different ways wherein hackers can utilize the calendar. Aside from this, it is also critical to act quickly once you experience it to avoid any issues.
Thankfully, there are numerous ways to keep your device free from questionable calendar spam. In this article, we will talk about reasons why your iPhone is receiving calendar spam, why it's essential to remove it right away, and how to get rid of it for good. Let's get started.
Why do calendar invites appear on my iPhone calendar?
When it comes to iPhone calendar viruses, it's important to understand that they don't just appear from nowhere. In fact, it's only possible for events to show up on your iPhone calendar if you have explicitly given it permission.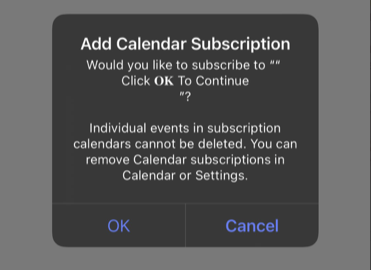 However, hackers who seek to gain access to your iPhone calendar are very sneaky when it comes to gaining your permission. With this, there are three main ways that your mobile phone gets infected with calendar spam:
Clicking a sketchy link or pop-up when browsing the internet
Accepting a calendar invitation sent through external messaging apps
Once identified, here's why you must remove any iPhone calendar spam as soon as possible.
Why should you remove iPhone calendar spam right away
Spam calendar invites are just one of the many ways that someone can hack your iPhone. If your iPhone calendar is infected, you may receive a barrage of sketchy notifications, which is capable of ranging from slightly annoying to becoming a critical security risk.
Often, many of these seemingly random calendar invites have phishing links. Following those may cause leakage of your personal information such as credit card details, government IDs, and so on.
In addition, these links can include spyware, malware, or other types of security threats which your Apple device is better off without. Aside from this, one of the key benefits of preventing Phone calendar spam is that you can stop your phone from listening to you without your consent.
If you are certain that your Apple Calendar was compromised, it's critical to remove the iPhone calendar spam as soon as possible.
How to prevent iPhone calendar scam virus?
Depending on how extreme the infection is on your device, there are several ways to erase spam calendar events on iPhone. Here are all the methods that you can try to keep your iPhone calendar spam-free.
How to delete spam calendar events on iPhone?
If the calendar spam in question is simply a one-time event, there is a chance that it can be attributed to human error. For example, it could be a product of a wrong click or a forgotten commitment. However, to remain on the safe side, you might as well delete the event on your iPhone while you are at it.
How to delete spam calendar events on iPhone with iOS 14.6 or later?
Should your iPhone be running on iOS 14.6 or later, simply open your iPhone calendar app and click the spam event that you want to delete.
Then, scroll down and tap Delete Event to remove the iPhone spam event from your iPhone and other linked Apple devices.
How to delete spam calendar events on iPhone with earlier iOS versions?
Alternatively, if you are using an iPhone with earlier versions of the iOS, here's how to remove spam calendar events on your device.
First, find the calendar that you don't recognize making or signing up to. Then, tap the More info button next to the calendar itself. Afterward, scroll down and select Delete Calendar.
How to delete a spam calendar on iPhone with iOS 14.6 or later
If you have multiple spam events under the same calendar, you can opt to remove the whole calendar by going to your iPhone calendar app and selecting Calendars.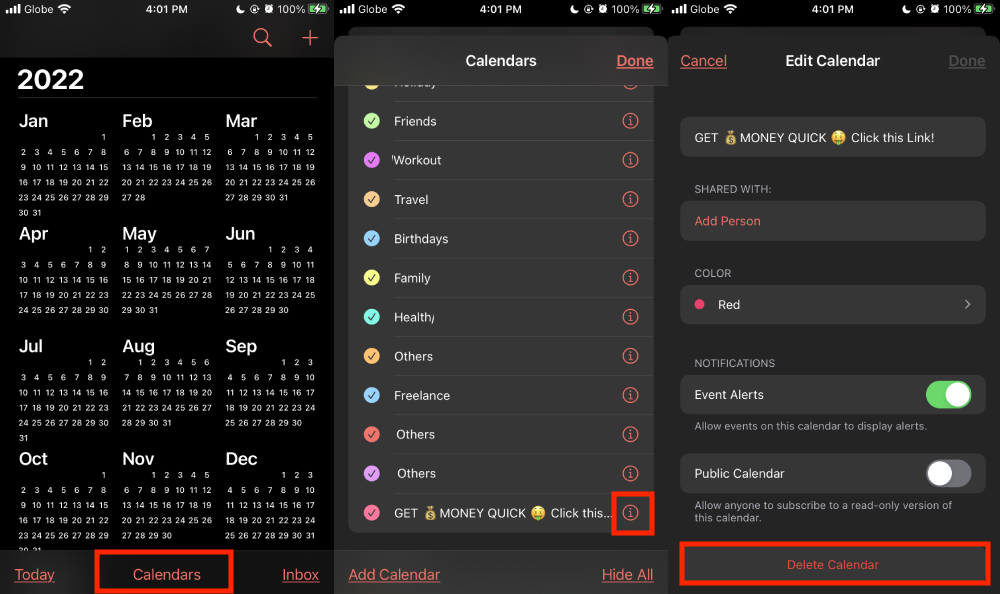 Next, find the spam calendar and tap the More info button. Then, select Delete Calendar. Lastly, confirm your decision by selecting Delete Calendar again.
How to remove spam calendar invites from Mac calendar?
To delete spam invites, especially those found in your Mac calendar, there are two methods that you can try. You can either remove the particular calendar spam events or get rid of the entire infected calendar altogether. Here's how to do both.
How to delete a spam calendar event on Mac?
If the concerned spam invitation only appears once, the easiest way to be rid of it is to just delete the single event.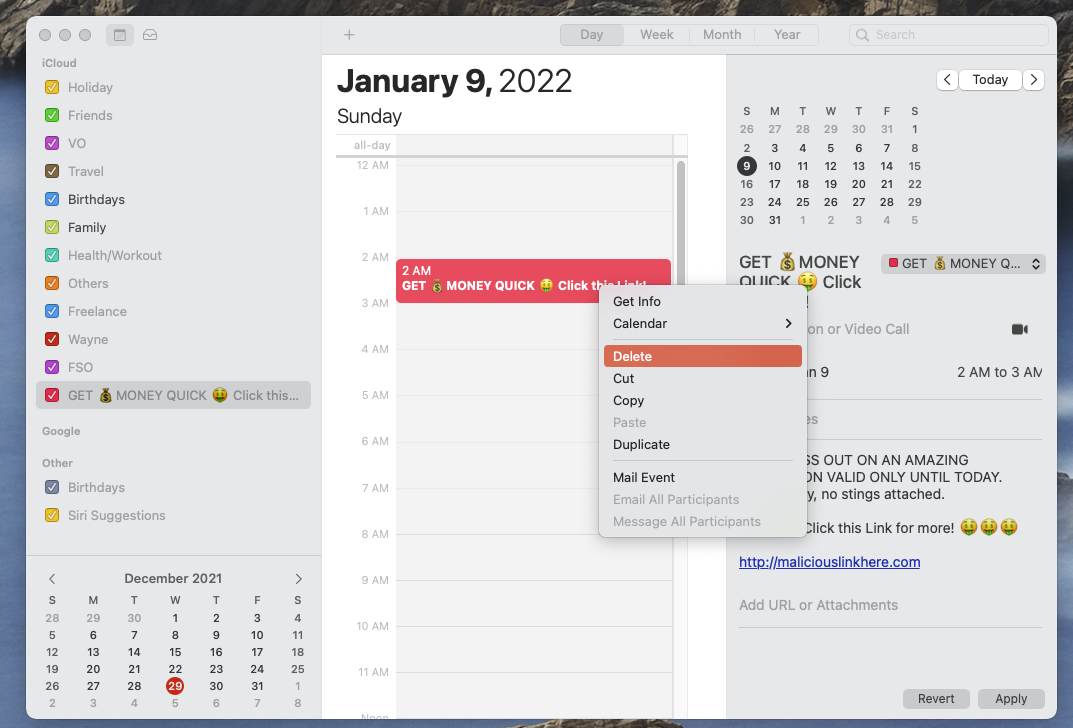 To delete a single spam calendar event on Mac, open the Calendar app. Locate the specific spam event and right-click it. Next, click Delete.
How to delete an entire spam calendar event on Mac?
However, should the infected event recur several times, you may want to erase the entire calendar.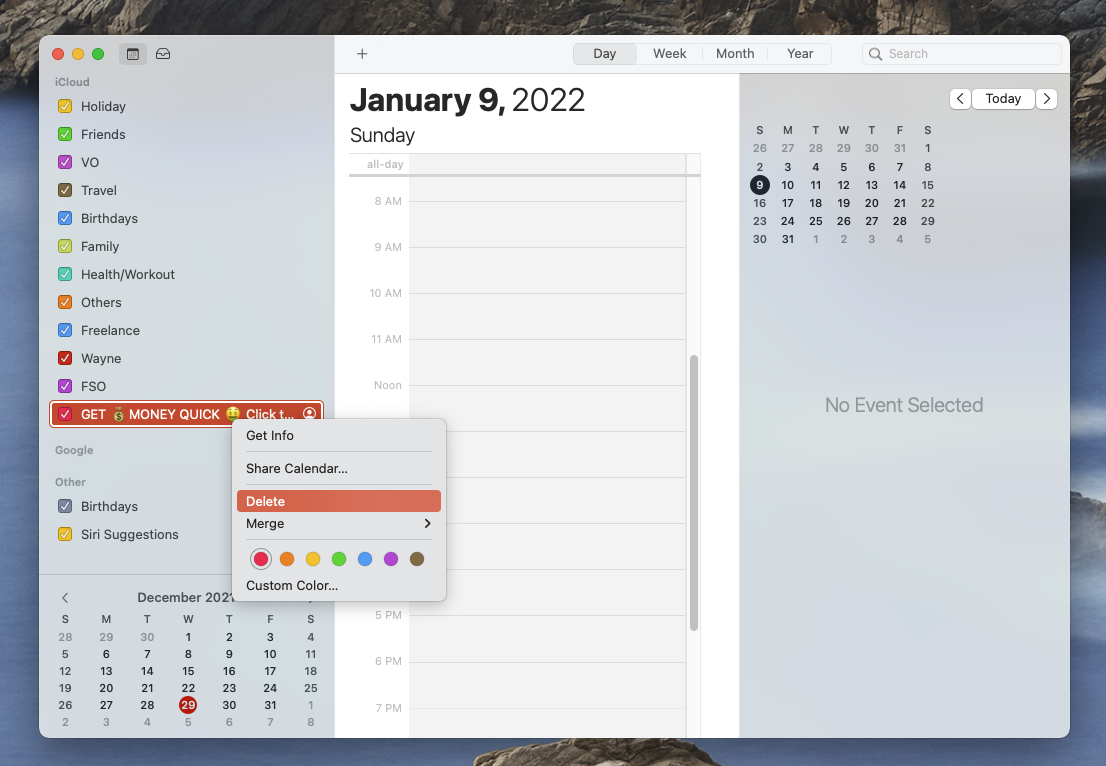 To remove an entire calendar on your Mac, open the calendar tab by clicking the calendar icon on the upper-left side of the screen. Then, locate the spam calendar, right click on its name and click Delete.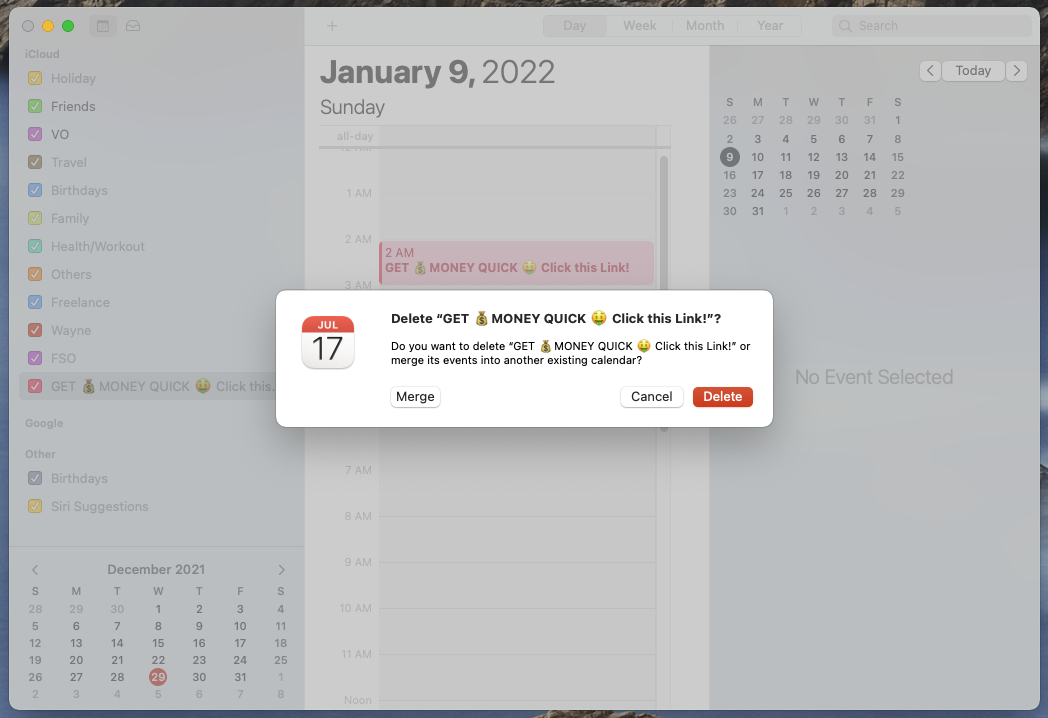 Afterward, a pop-up will appear asking if you want to merge the spam calendar's events into another existing calendar. To be rid of the iPhone spam calendar for good, click Delete.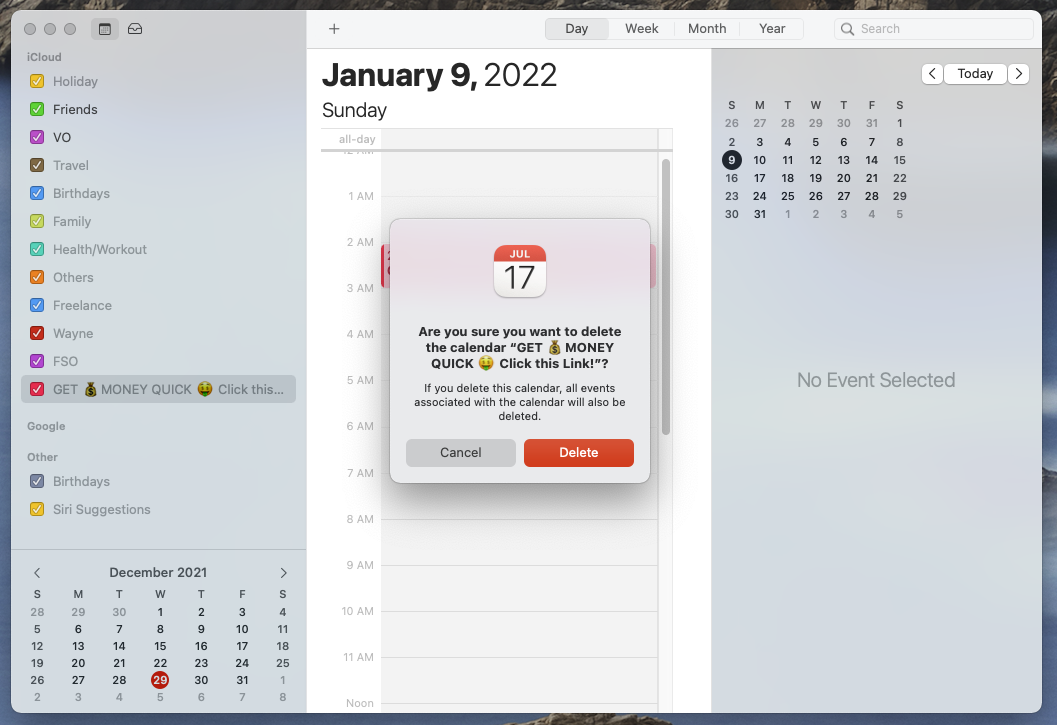 Lastly, a final notification will show up on screen stating that if a calendar is deleted, all events associated with it will also be permanently deleted. Select Delete to confirm.
How to clear all calendar events on iPhone?
If the method above did not work for you, there is another way to clear spam calendar events for iPhone users. Here are the steps that you need to take to delete events for an entire spam calendar.
To remove all spam events from an infected calendar, go to Settings > Calendar > Accounts > Subscribed Calendars. Next, select the calendar that you want to erase from your device.
Lastly, select Delete Account to prevent potential notifications from that calendar.
How to remove spam calendar notifications on iPhone?
Sadly, bad actors might still continue to bother you through endless calendar invites. If the harassment is starting to bother you, you can opt to turn off your calendar notifications in the meantime.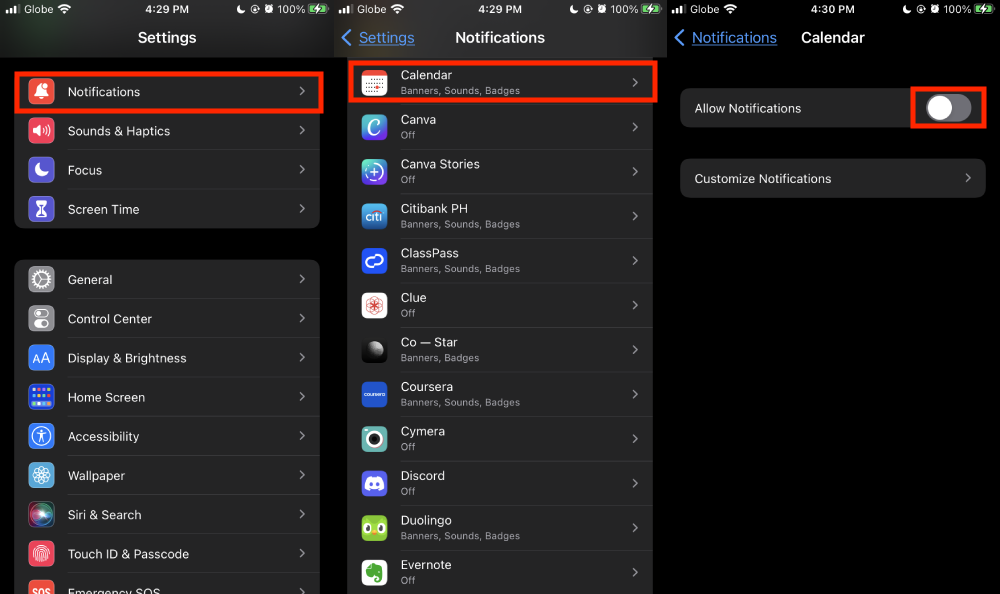 To turn off your iPhone calendar notifications, go to Settings > Notifications > Calendar. Afterward, toggle off the button next to Allow Notifications.
However, it's important to know that this method disables receiving notifications from legitimate events and calendar invitations as well.
Stop spam notifications on your iPhone calendar today
When it comes to securing your online browsing on iPhone, keeping your calendar free of spam is essential. In general, protecting yourself from phishing links is one of the critical aspects of your overall iOS security.
Aside from deletion, it is best to not interact with questionable calendar events in any way, including accepting or rejecting invites. Often, doing so will eventually increase the likelihood of being attacked by other spammers as well.
For this reason, the best course of action is to remove the source of the spam immediately. To avoid getting the Calendar app on your iOS device getting infected, you may also want to take the time to remove spyware on the various Apple devices in your home.