Clario at CES: A Game-Changing Lifestyle Cybersecurity Solution
Updated: Jan 07, 2020
8 min read
Today at CES, Las Vegas, Clario announced it's new upcoming product launch. Showcasing its revolutionary new product that will make digital protection easy for all. So we can help solve the growing problem of cybercrime. Helping people take back control of their digital footprint in a new innovative way.
We are Clario. We're here to help everyone secure their rights to digital security and privacy. Through a completely new intuitive, personalized, and easy to use application with digital security experts.
What's the problem with cybersecurity?
Cybercrime is truly an epidemic. Every 60 seconds, over $1 million is lost to computer crime with nearly 2,000 people falling victim. Moreover, cybercrime is predicted to cause $6 trillion in damages by 2021! Read that figure again — $6 TRILLION.
These numbers prove one thing: corporations and governments just aren't succeeding in fighting digital threats. Meanwhile, people are overwhelmed with security software that's too bulky and hard to use. It's high time for the fresh approach.
Why is Clario the answer?
Clario Tech Ltd. is a newly formed digital privacy and security company. We're here to make change and help people take back control. We're here to help you secure your digital life with software and on-hand, 24/7 human expertise — simply and safely.
At CES 2020, Clario is presenting a sneak peek of its unique product: it's a multi-platform app for Mac, iPad, and iPhone users — with Windows and Android in development. Clario will offer you powerful real-time protection, an intuitive interface, and seamless personalization. What's more, Clario software integrates friendly security experts available with direct support and advice through in-app chat, phone or video call, and remote assistance.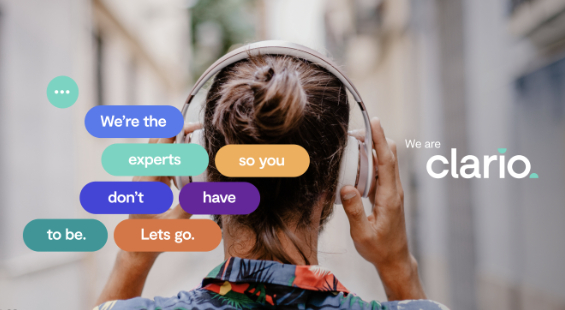 Clario is led by an experienced UK-based management team with a background in such companies as Oracle, Merrill, Accenture, Sony, and the BBC. Our security solution is powered by some of the world's most sophisticated and trusted providers including BitDefender and NordVPN.
How does Clario cover your cybersecurity needs?
Unlike many other cybersecurity companies, we're not making an app with multiple puzzling features. Clario is all about you and your digital life. That's why at the heart of our app is a personal security dashboard to let you understand what the software does in plain English.
Clario covers your digital security in six key areas:
1. Network: With a powerful VPN technology, you'll be able to connect to any network safely, securely, and privately. We'll also set up, monitor, and secure your home network and vulnerable IoT devices.
2. Browsing: Go online without worrying about being tracked or hacked. We'll ensure smart ad-blocking and real-time anti-malware and anti-phishing protection.
3. Identity: We'll continually monitor for personal data breaches — from passwords to Social Security numbers. If a breach happens, we'll alert and support you so that the bad guys won't use your accounts or identity.
4. Data: Your personal data, from photos to medical records, should remain secure and private. We'll block malicious apps from harming your files and monitor against access to your data without permission. We'll also consult you about storing your files safely, both on a computer or in cloud storage.
5. Device: Make sure your devices won't let you down. We'll provide real-time monitoring of all your gadgets blocking various digital threats, including ransomware. In the case of an attack, our experts will help you proactively, right away.
6. Money: Shop and bank online safely. We'll keep your financial information secured by protecting you against phishing and spyware. Enjoy peace of mind with 24/7 monitoring of your accounts and credit cards for breaches. And, as always, our security experts will be there to help you in case your bank details ever do get compromised.
As you use the app, Clario adapts to your personal security preferences providing individual recommendations and actions based on your needs. At the same time, you can always access our 600+ person team of on-demand tech experts through Clario's in-app chat or by phone and remote assistance. Our experts cover all digital security areas, offering advice and help, including personal vulnerability checks and emergency support if something happens.
How to try Clario?
First, we'll showcase Clario at CES. We want to be heard by the whole tech and cybersecurity community and as well as users so be sure to come and say hi at Booth #12055.
Finally, we'll launch the product to the public later this year. Unlike many other companies, we won't sell security software one device at a time. Instead, with a monthly or an annual subscription, you'll get all your devices covered, including your phone, tablet, and laptop. We'll initially support macOS and iOS and further expand to working on Android and Windows 10. Our annual subscription will cost less than many premium entertainment streaming services.