Cybercrime Hotspots - Who Gets Hit the Most with Online Fraud?
Updated: Jan 11, 2021
12 min read
As the internet grows smarter, so do those who look to exploit it. Cybercrime continues to get more sophisticated year on year, as new technologies bring new opportunities for people looking to use them for the wrong reasons.
We've done some research on where cybercrime is the most popular. Which state sees the most digital dishonesty, and is the USA a bigger online crime hotspot than the UK?
Our data reveals all.
1 in 5 people are victim to cybercrime
As we showed in our state of cybercrime report, a staggering 1 in 5 people have been a victim of cybercrime, meaning you've got a 20% chance of being caught out yourself. But where are these crimes happening and who loses more than anyone else?
California is the cybercrime capital of the world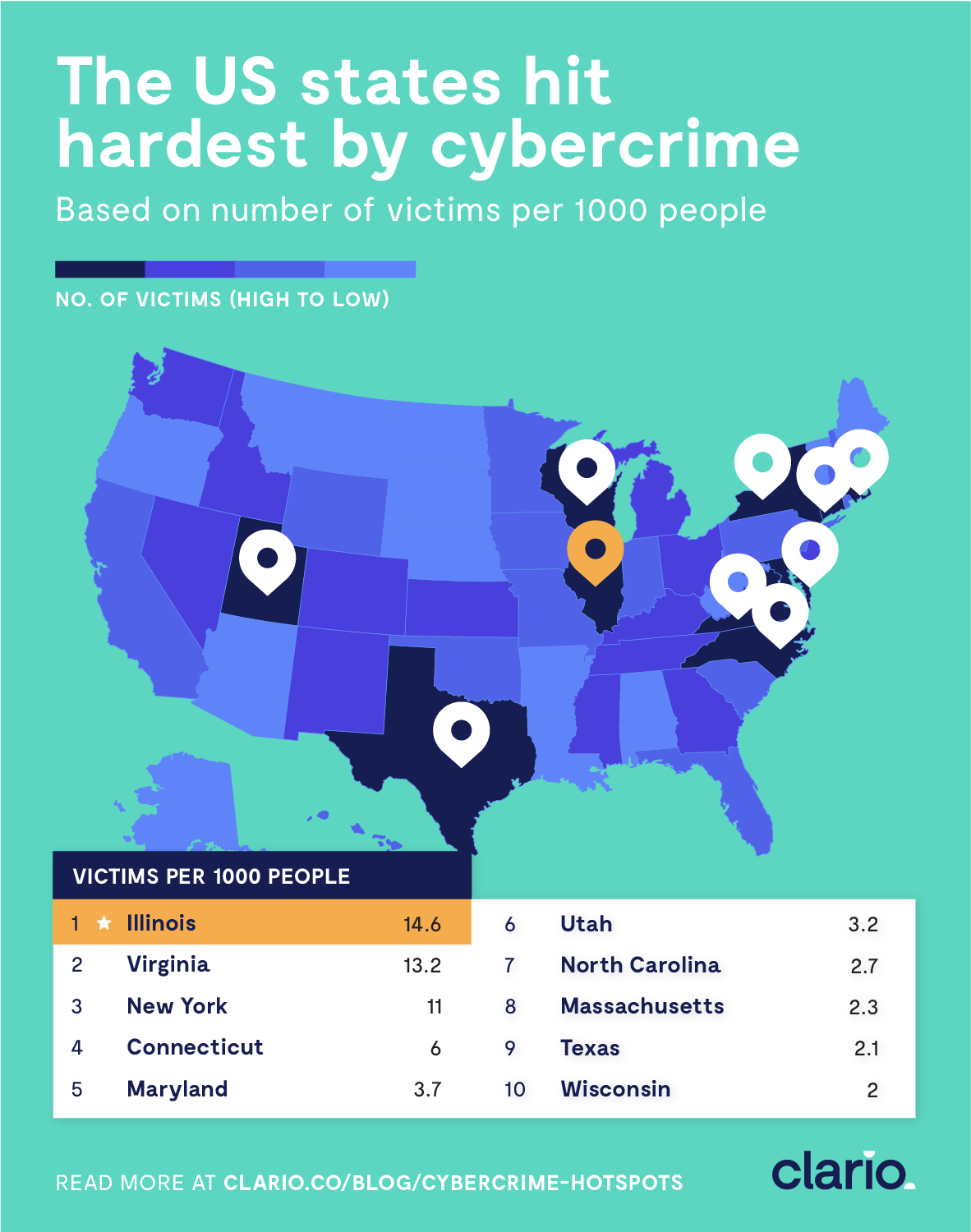 The state of California falls victim to cybercrime more than anywhere else, with our data showing it has lost over $573,624,151 (£430,218,113) to phishing and online scams. The average loss for each victim is a huge $11,579 (£8,581), showing that The Golden State loses more than its fair share of coppers.
California beats Florida into second, who've lost almost half as much with $293,445,963 (£220,084,472) falling into online criminals' hands. Florida's loss per victim is also slightly lower, not that $10,926 is money many people can afford to go without.
Close behind in third place is Ohio, where $264,663,456 (£198,497,592) has been taken through cybercrime. However, when it comes to the amount each victim has seen stolen, the figure is much higher. Cyber criminals there take on average $28,734 (£21,295), leaving Ohio's victims more out of pocket than both California and Florida combined.
Cybercrime victims in Ohio lose more than anywhere else
Ohio tops our table for the amount victims of cybercrime see stolen, with their figure of $28,734 (£21,295) being more than anywhere else in the USA.
They beat off competition from Wyoming, where $11097 (£14,974) is taken on average, almost half as much as is stolen in Ohio.
In third place is Utah, where victims have an average of $14,229 (£10,545) stolen through online fraud.
The only place in the UK to come anywhere near the top of the charts is Jersey. The Channel Island, sitting between England and France, sees cyber criminals take $11,244 (£8,333), making residents pay for the warmer climates and coastal views.
Capital cities see cybercrime savings
While New York and London might be the respective capitals (and financial capitals) of their countries, in terms of cybercrime they fare relatively well. New York has lost a considerable $19,876,576 (£14,907,432) to online fraud, but that's only an average of $516 (£697) per victim. London, on the other hand, has seen $6,071,985 (£4,500,000) stolen, with a moderate average of $1,049 (£777) being taken each time.
South East of England loses more cybercrime than rest of UK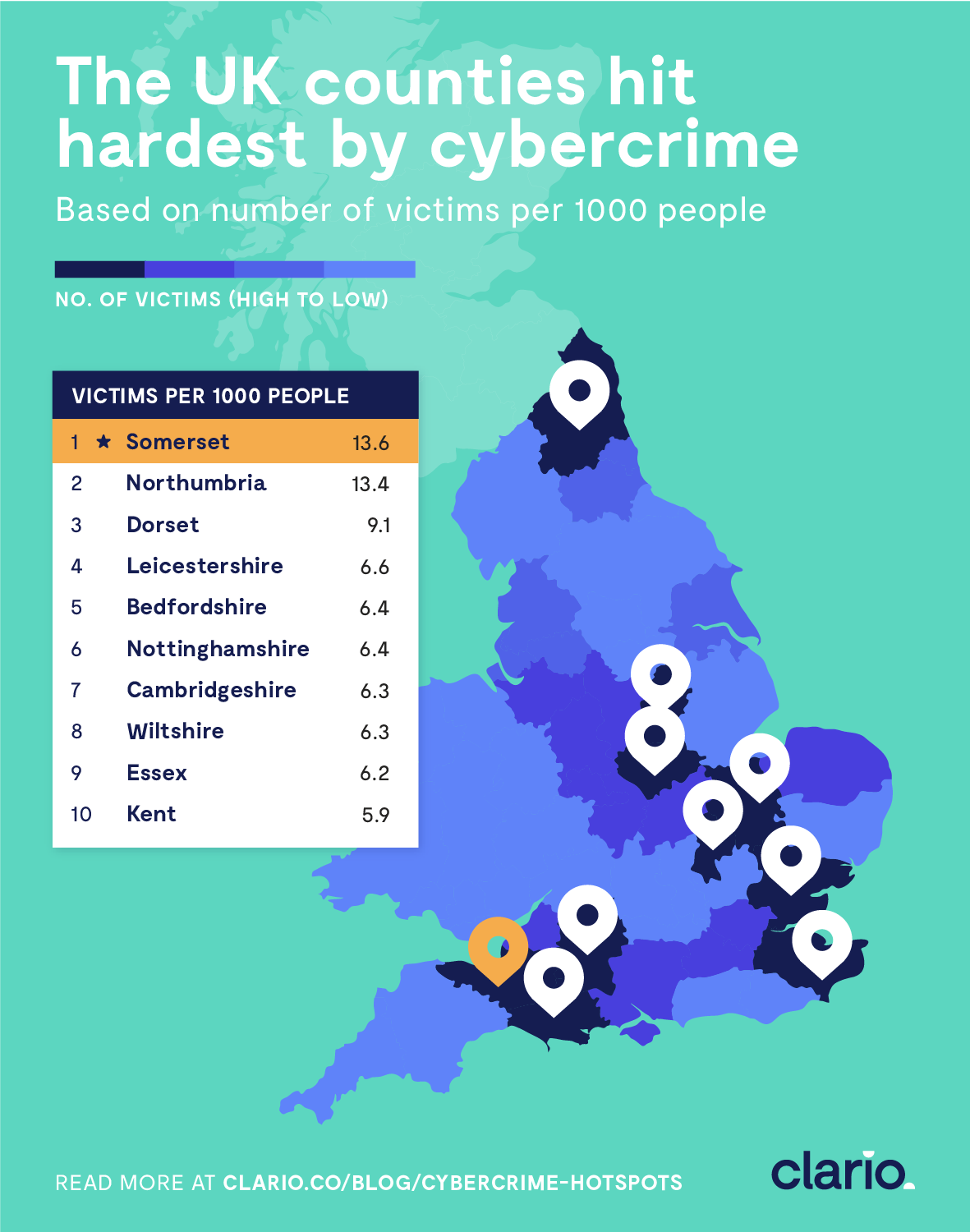 In England, you have to head to the South East to find the most expensive online crime activity. The region has lost £1,300,000 ($1,754,129) to cyber criminals, almost double the amount lost in the West Midlands (£647,000/ $873,016) and much more than Wales, who've only lost £252,800 ($341,110) as a whole country.
Somerset has UK's highest percentage of cybercrime victims
In the postcard-pretty county of Somerset, not all is at it seems. Inside the thatched cottages and stone-built houses, 0.136% of residents have been a victim of online deception - the highest amount in the whole of the UK.
Northumbria comes in a close second, with 0.134% of residents being victims, while Dorset comes in third with 0.09% falling into online traps. With our top three regions all being rural areas, criminals could be seeing their older demographics as easy prey.
More urban areas such as London (0.05%) and Greater Manchester (0.04%) came much lower down on our list, despite their higher prevalence of technology and financial industries.
The stress of cybercrime
Whether it's money, your passwords or your personal data that is being stolen, the toll it takes can be much more than a financial burden. According to a report published by the University of Portsmouth, who looked into the mental impact of online scams, over 75% of victims claim to have suffered stress as a result of the crimes committed against them. A further 70% have suffered from anxiety, with the fear of the same thing happening again weighing heavy on their minds. Other mental issues include fear (52%), shame (51%), anger (48%) and isolation (43%), as the ease at which cyber crooks can steal your data causes people to fear every action they take online.
The lack of support available doesn't help. When asked, 57% of Brits told us that reporting issues to their local government had seen no response, while 37% of Americans said the same. Meanwhile, only 21% of people in the UK felt the legal system would help them in cases of cybercrime, while a staggering 55% of Americans felt their law enforcement was letting them down online.
How can you battle online fraud?
Cyber criminals use sophisticated methods to steal from you, but you can battle back with methods and software of your own. Our secure online extension includes complete internet security wherever you're looking, giving you total peace of mind. It's regularly updated to defend against all the latest threats, so you can browse in comfort while we do all the hard work of keeping thieves at bay.
Methodology
Using a combination of government, ONS and census data we gathered the population for individual US states and UK counties, and then using open crime data from local constabularies and police forces used the number of victims of cybersecurity related crimes, and divided to calculate the amount of victims per 1000 of population. For the financial losses, we used data from the FBI 2019 Internet Crime Report and UK police data to get monetary loss related to cyber crime for each American State and UK policing region. These figures were then divided by the population of the relevant area in order to calculate the average loss per victim.