What is a data backup?
Data backup definition
Data backup saves copies of the data stored on your devices, like your cell phone, tablet, or computer, in another location (a hard drive, iCloud, etc.) for safekeeping.
This ensures that you can restore the original data should anything happen. For example, if your data gets lost or deleted by mistake.
Data protection definition
What is data protection? Data protection refers to methods of protecting your data from online threats by implementing various cybersecurity measures, including data backups.
Why is data backup important?
People back up their data to have a reliable archive of their sensitive information and can retrieve it when needed. Natural disasters, device failure, human error, corrupted files, viruses, and malware are common occurrences. When these scenarios play out, your backups become critical to data recovery. Without them, it could damaged beyond repair or lost forever. In some cases, you can end up losing money or reputation.
Examples of human error-empowered attacks include:
Mistakes
Misuse
Spear phishing attacks
Social engineering attacks.
This highlights the importance of saving your data in secure archives.
There is a misconception that only businesses need to back up their data, but this couldn't be further from the truth. Individuals and families should also back up their files and data in case of loss.
So, what can you back up as an individual or a family?
Important family documents
Family photos
Memories from family vacations, holidays, birthday celebrations, and important milestones
Personal files that contain sensitive information, like documents and banking information, etc.
Rule of thumb
If it is important, back the file up.
Backup methods
There are various types of backups you can implement:
Full backups to back up all your data
Incremental backups for files that have changed since the last full backup
Differential backups for files that have changed since the last backup, regardless of whether it was a full backup
The backup you choose depends on several factors, like the size of your backups and how often you want to back up your data.
Here's what each backup type does:
Full backups. This comprehensive backup method archives all the files on your device. As such, this process takes a little longer, sometimes hours, depending on the amount of data. It's advisable to do a full backup when backing up your data for the first time.
Differential backups. A differential backup archives files you've either made changes to or added since the last time you performed a full backup. For this reason, the process doesn't take as long as a full backup.
Incremental backups. Similar to a differential backup, incremental backups only back up data you've changed or files you've added since the last time you archived your data. But unlike differential backups, incremental backups archive files regardless of the type of backup you last implemented. Incremental backups are done more frequently and may need to be implemented by backup software.
What files should you back up?
The type of files you should back up depends on the capacity with which you're archiving them. Individuals should back up files containing sensitive information, like banking information, intimate media, work-related documents, etc. Businesses should back up files containing information like employee records, customer records, and financial records.
Data backup options
Below are backup methods you can use:
The method you choose depends on the scope of your backups.
1. Backup software
No matter what you're backing up, you must use backup software as one of your methods. The benefit of using this technology to archive your data is that it streamlines the process. Hardware can get lost or damaged. The software lets you quickly retrieve your files, even when your hardware fails.
You don't have to spend a ton on backup software; there are affordable options on the market, but it all depends on your requirements. The price of each one correlates with the features it offers, so you may find more advanced backup software to be on the pricey side. Do your research to find software that works for you.
Below are a few features you should look for when choosing backup software:
Automation. The tool you choose should allow you to schedule regular backups so you're not under pressure to remember to archive your data manually. Convenience is the name of the game.
Incremental and differential backups. Try to use software that only backs up what is needed, saving time and space. You don't have to implement a full backup every time.
Encryption. You should think of encryption every time you think of data. Ensure the software you choose offers encryption to keep your data secure.
Compression. To save on space, go with software that offers compression options. Otherwise, you may need to update your storage, which can be costly.
Multiple backup destinations. This is known as redundancy and includes backing up your data to multiple locations. It strengthens the security of your backups in case one or more of the locations are compromised.
2. Cloud backup services
Cloud backup is a convenient method of archiving your data because it allows you to access it from anywhere, provided you have an internet connection.
Benefit: it typically offers redundancy, automated backups, and encryption, making it secure.
Downside: high risk of data breaches. While it's mainly secure, hackers can easily access it using phishing attacks, social engineering, or simply brute force your password. Cloud backup services can also be costly when backing up large amounts of data.
3. Hardware appliances
Another convenient measure is storing your data on hardware appliances like backup tapes. It means you know exactly where your data is stored and can access it easily. Hardware appliances are also easy to install and use.
The drawback of using them for storage is that they can be damaged, lost, or stolen. Unless you use them as a secondary backup solution, you run the risk of losing your data forever.
4. Redundancy
This involves storing your data in multiple locations as a security measure. Should your local backup be compromised, you have the peace of mind of knowing that your data is safely stored in multiple areas. Redundancy minimizes the risk of losing your data due to unforeseen circumstances like loss, damage, and human error.
The level of redundancy you choose depends on the importance of your files and the level of security needed. For example, personal photos and videos require limited, if any, redundancy. However, you should store files containing your financial information or information relating to your will and life policies in multiple secure locations.
5. External hard drive
External hard drives are separate devices connected to your computer to back up your data, like a USB disk. They come in different sizes and offer a range of storage options. The more storage you want, the more you can expect to pay. Some hard drives are small and compact, while others are bulky and more conspicuous, making them difficult to carry around.
6. Removable media
Removable media refers to small devices used to transfer files from one device to another. A USB flash drive is an example of removable media, but it also includes old-school devices like DVDs and CDs. They're compatible with computers and laptops.
Unlike other storage devices, removable media is compact, offering minimal storage capacity and limited features. Their physical size also makes them susceptible to loss and theft.
The 3-2-1 backup strategy
The 3-2-1 backup strategy involves making three copies of your data using two storage methods and keeping one of your copies off-site for safety purposes. This method ensures that your files are secure and easily accessible, reducing the risk of losing them.
Below are the best practices for backing up your files.
1. Backup regularly
Your data is most vulnerable in between backups. That's why it's vital to back it up as often as possible. Keep this in mind when choosing backup methods or software. You want to pick solutions that will require limited intervention on your part; automate the process to back up regularly.
2. Choose more storage space
Ensure you've backed up to a location with ample space to back up your files, depending on the size and frequency of your backups. You need more space if you:
Change your files frequently
Add more files to your backup.
When in doubt, choose more storage, as it's better to have more than you need than less and have to upgrade.
3. Make physical copies
While storing your files virtually is great, you must supplement your backups with physical copies. These can come in handy when your online storage is compromised.
Below are the types of documents you can make physical copies of for safekeeping:
Bank statements
Financial documents
Wills.
Keep these somewhere safe, like in a personal safe or with your lawyer.
How to recover files on your computer
Follow the detailed steps below to recover deleted items on your computer.
To recover files on a Mac:
Click on the Trash icon in the Dock (it's in the bottom-right corner of the screen)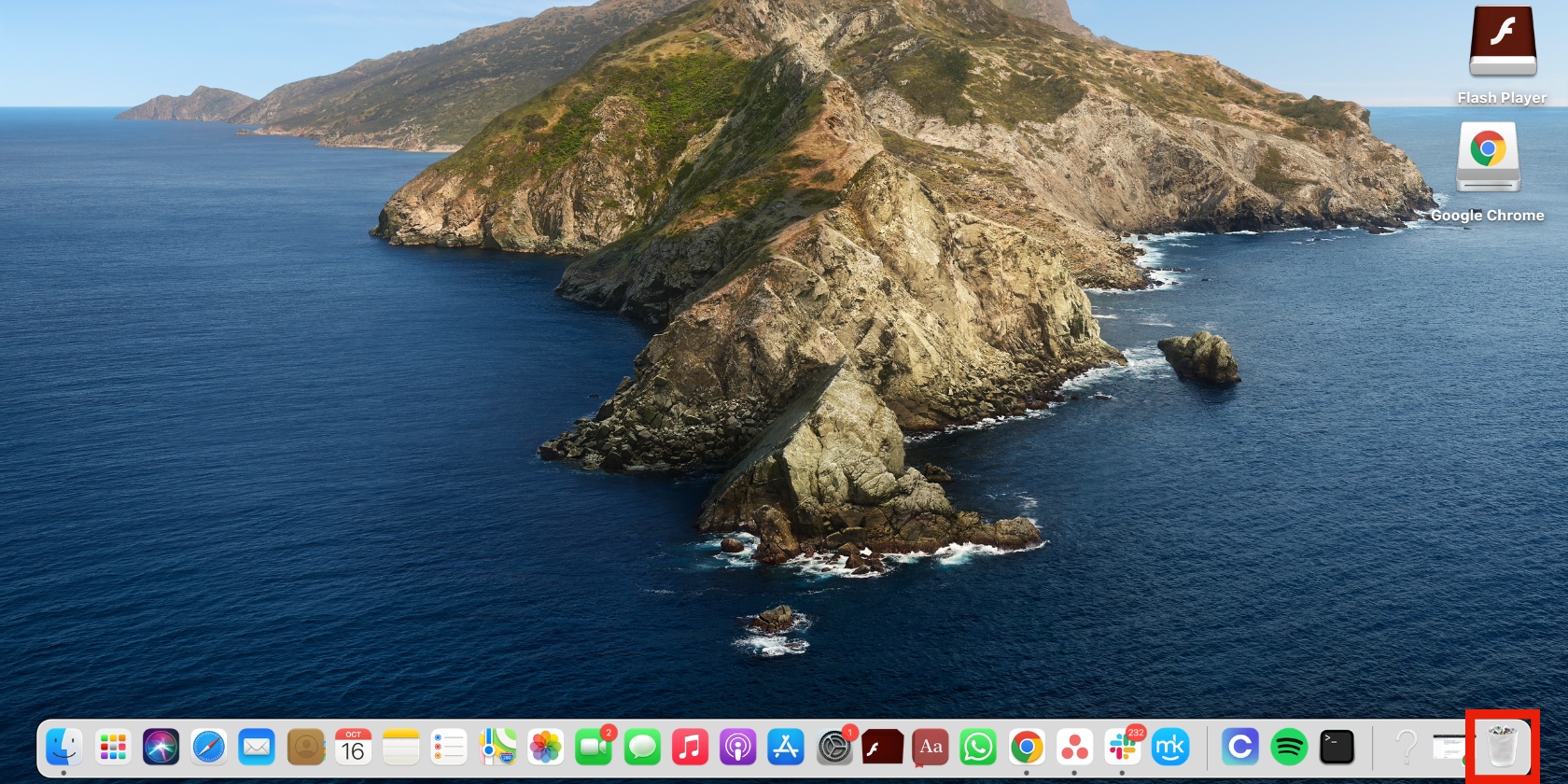 2. Right-click on the item you want to recover and select Put Back.
To recover files from a backup (external storage) on a Windows device:
Type Control Panel in the search bar and select it from the results
Click Backup and restore (on Windows 7)
Connect the external storage device that you saved your files in
Now, choose another backup to restore your files from, select the device location, and follow the prompts to recover the items.
To recover files from OneDrive:
Create a similar file using the same file type and file name
Click Properties > Previous Versions and pick the file version you want to restore.
No matter how carefully you handle your data, there's always a risk of losing it due to human error or a malicious attack. For instance, people who spy on you can access your data and put it on the dark web. Anyone can do this, including:
Professional hackers
Bad actors
People who know how to compromise computers.
Fortunately, there are ways to prevent this from happening. Clario AntiSpy is a cybersecurity app that protects your data by keeping prying eyes away. It empowers you to protect your personal information and reduces the chances of threats occurring with easy-to-use tools. Moreover, anyone can use Clario AntiSpy, even if they have limited knowledge about cybersecurity.
Here's what each tool does on the computer app:
Anti-Spy scan checks for spying threats on your computer to help you get a clear picture of your vulnerability and eliminate any risks to your privacy. (Learn the difference between data privacy vs. data protection.)
Data breach monitor scans the dark web to determine if your personal information was leaked due to a data leak. If you're asking yourself what is a data leak, it's a breach that exposes the sensitive information of individuals and businesses.
ID theft guard checks your emails to learn whether your personal records have been compromised.
Antivirus checks for known viruses and malware on your computer.
Safe browsing is a Chrome extension that blocks annoying trackers and ads and protects you from malicious and phishing websites.
Scan your mobile (for iOS) scans your iPhone to weed out malicious apps and suspicious permissions.
Virtual location (for iOS) is a data protection tool that allows you to set the location of your iPhone anywhere in the world to prevent anyone from spying on you.
The Mobile app allows you to scan a QR code to download the Clario AntiSpy app on the App Store or Google Play.
Conclusion
If you've ever wondered whether you need to copy your data, the answer is yes. Your data holds the keys to troves of personal information that should be guarded at all costs. Therefore, you must have data backup and recovery plans and systems in place.
As the adage goes, preparation is key. Implementing data backup strategies ensures you don't lose data when the unthinkable happens. Use this article as a guide to back up your data securely. Use Clario AntiSpy to prevent spies from accessing and compromising your data for extra security.