Right to Digital Privacy: Why It Matters and How to Protect It
Updated: Jun 24, 2021
20 min read
Privacy rights are something we exercise daily.
When we lock the apartment door, slide the dressing room curtain, or cover our face when somebody takes a picture of us without asking permission, then we are protecting our privacy. But the more digital we become, the more digital privacy we require.
Sometimes, we restrict certain people from seeing what we post on our social media profiles. We use passwords to prevent others from accessing our bank accounts. We close laptops abruptly when somebody snoops around trying to see what we're posting or looking at online. And, as the Facebook- Cambridge Analytica scandal and Equifax-gate proved, our attempts to secure the precious data we exchange are never enough.
So, what can we as users do daily to protect our digital privacy rights when browsing the internet, downloading files, and simply doing anything online? You'll discover this and more as you keep reading.
Pro tip: To give your digital privacy an additional layer of protection, use Clario's all-round cybersecurity solution with its anti-tracking, data breach monitoring, and real-time anti-malware features. Download Clario today.
What is digital privacy?
Digital privacy (also internet or online privacy) means the protection of any data a user creates or transmits while navigating the web via a mobile or desktop device.
While many social apps and browsers allow you to use the incognito mode or private accounts, digital privacy includes more than just what you post or don't post on Facebook or Twitter.
What data are we talking about when it comes to digital privacy?
In fact, digital privacy concerns all the information created as we use the web. It includes:
Any personal information you type in a form when creating an account on any website/social media platform
Anything we post on our websites/social media
Anything we react to with emojis or likes
Anything we subscribe to (playlists on Spotify, monthly wine deliveries or other subscription boxes, SaaS plans)
All search queries and browsing history
Predictions and quiz results (yeah, all those "Who were you in your previous life?" and "What actor do you look like" kind of tests)
Data we receive from the connected IoT software devices (fitness trackers, implanted medical devices, etc.)
Websites we use and block, posts we read, how much time we spend on them
Audio messages, voice samples, voice commands, fingerprints
Content you share with your colleagues over a CRM
Scannable data (shipping package codes, tracking IDs, QR codes, etc.)
Basically, any information that exists in a digital format and is created while using the web or your devices is an object of your digital privacy.
You've probably yawned a few times by the time you've reached the bottom of the list. But there's a reason why you should know what data is meant in the digital privacy discourse.
Why is it important?
As one of the most valued assets in the modern economy, data — however big or small — is the new El Dorado. Businesses that understand its significance are ready to pay for those bits and crumbs of 'irrelevant' (to you) data in the forms of reactions we provide for free.
The reason?
Businesses need this information to tailor their marketing strategy so it aligns with what we're ready to pay for. Yet, it's hard to say that every business follows digital ethics when hunting for data about our preferences or that they apply the necessary level of security when processing it.
To us, liking a picture of our neighbor's dog on Facebook is an act of being polite to our neighbor. To the algorithm that processes our activity, it means that you prefer dogs, and this is the content that can get your attention. Now, imagine selling this data to the company that produces dog food. You automatically become its target audience and will receive tons of ads and promotions on the sites that provide the platform to advertisers.
But even that's not the major point.
Privacy concerns begin when the lurking data processing starts to know us 'too well.' With as many as ten reactions, the algorithm knows us just like our colleague does, and it takes only 300 reactions for it to know us better than our partner. Impressive for a machine, right?
The Big Five algorithm on social media can easily predict what type of ad will suit a person's character, based, of course, on the information it gathers from the user's profile. The result? You get more ads related to your interests and fewer ones that would make you go, 'Why am I seeing this?'
Guess what; it's not the end of the story.
The cherry on top of cyber privacy is when unethical data processing starts influencing our decision-making and meddles with activity that shapes the future of a whole country. Or when you wake up having ten credits to your name overnight because the previous day somebody stole your ID and used it for a credit application. Or when your data gets deleted or kidnapped by hackers demanding ransom.
All this sounds scary and, unfortunately, it can happen if we don't take measures to protect our personal information besides the security we've been guaranteed by the companies we entrust our data with. Because, as history shows, what they're doing might not be enough.
Recent digital privacy issues and scandals in the US
In 2020, there were 1,001 registered cases of data breaches that affected 155.8 million users. The number is significantly lower than in 2017, partly due to the enhanced policies and introduced digital privacy laws in some states and partly because nothing could be as damaging as the Yahoo and Equifax breaches of 2013 and 2017, respectively.
With the Yahoo case, nearly 500 million records were exposed, and it's only in late 2016 that the case went public. Let's briefly review some of the most impactful digital privacy issues of the last decade.
Equifax
On September 7, 2017, Equifax, the largest credit bureau in the USA, reported a data breach as a result of its application malfunction. This exposed 147.9 million credit card histories of US citizens and affected 15.2 million British and 19 thousand Canadians. The impacted data included social security numbers, addresses, driver's licenses, and other sensitive consumer information.
Even though it's not the case that impacted the biggest number of people, it grew into a scandal due to the way the company responded. Not only did its administration know about the breach months before they released an official statement — they failed to start an immediate investigation. If they had, then they could've detected the wrongdoers and minimized the number of affected people. Such a shame.
Yahoo
In 2013, the company suffered what was named the biggest data breach of all time. Hackers stole the data from, as it was reported in 2017, three billion users. It affected the company as well since, at that time, it was amidst an acquisition process. This incident lowered the price Verizon paid for acquiring the company by $350 million.
Facebook
Yes, this one will be about politics and the digital scandal during the 2016 US Presidential Election campaign.
In the two states that enabled Trump's victory over rival candidate Hilary Clinton by a small margin, Facebook ran political ads that reportedly impacted the decision of many voters. The ads diminished the reputation of the Democratic opponent, portraying her and the party negatively in user news feeds. But Facebook wasn't manipulating popular opinion alone.
This story is tied to Cambridge Analytica data gathered from 87 million user profiles to create targeted ads. The result was Trump winning by a number of votes, even though the prediction was the opposite.
These are just a few cases of how internet privacy can be compromised or neglected due to a combination of ignorance and security faults. One of the reasons why they still happen is that there are hardly any unanimous laws to ensure companies guarantee the best protection. Let's see how particular countries manage this issue.
How do digital privacy laws work?
Your right to digital privacy depends on your citizenship. In the US, for instance, it's only the healthcare sector that is well-regulated regarding privacy issues, while the EU laws cover the whole spectrum of digital activity, and there is a specific agency to monitor this. Here are some details.
The USA
Despite being the biggest online market in the world, it's only now that the USA has come up with adopting more laws to ensure the rights of users to digital privacy. As of now, digital privacy is guaranteed on a federal level by four acts:
The US Privacy Act of 1974 (concerns the data held by government agencies)
The Health Insurance Portability And Accountability Act (HIPAA) of 1996 (refers to the data processed in the healthcare sector)
The Gramm-Leach-Bliley Act (GLBA) of 1999 (financial nonpublic personal information)
The Children's Online Privacy Protection Act (COPPA) of 2000 (protects the information of kids under 12)
State-wise, there are only a few (California, New York, Maryland, Massachusetts, North Dakota, Hawaii) that have pursued creating a comprehensive law to cover digital privacy issues regardless of the sphere. One of the closest to an ideal one is the California Consumer Privacy Act of 2018. Under this law, consumers get the right to know exactly how their data is used by covered businesses by sending a data subject access request (DSAR).
Also, companies can't sell customer data, and customers can ask to get their data deleted (except for those required for storing by law). In 2023, this act will be accompanied by the California Privacy Rights Act. This will include broader definitions of 'sensitive data,' increase the threshold for handling records and add the right to correct the data.
European Union
In the European Union, data privacy is guarded by the General Data Protection Regulation (GDPR) of 2018. GDPR is privacy legislation applicable across sectors and to companies of all sizes. It was created to ensure the protection of personal data and its processing.
This law defines the terms 'data,' 'processing,' states the safety measures for the sectors (healthcare, for instance), establishes the scope, and fines for non-compliance. To date, this is the only law that regulates digital privacy issues most efficiently and is taken as a standard by many countries.
The UK
The Data Protection Act of 2018 (DPA) is the UK's implementation of the General Data Protection Regulation (GDPR). It applies the same principles defined by the GDPR but regarding UK companies and users. Or, to be more precise, it used to apply.
Brexit made certain changes to the laws, and the government enacted The Data Protection, Privacy, and Electronic Communications (Amendments, etc.) (EU Exit) Regulations 2019 to substitute the UN's laws. Together with DPA, this new regime is known as the UK GDPR.
Canada
Originally published in 2000, the Personal Information Protection and Electronic Documents Act (PIPEDA or Digital Privacy Act) had a few important amendments in 2015 known as Bill S-4. This bill covers the data used in various sectors, including law and healthcare. It also includes the definition of personal and sensitive data and enforces companies to record and report data breaches, as well as notify the affected about a breach.
While governments try to enforce the laws that would make our digital life safer, this process takes too much time to get finalized. What can you do today to protect your digital privacy?
How to protect your digital privacy: 8 steps, 1 tool
It may seem that email services, chat messengers, and social media platforms are inescapable, and we can't stop companies from tracking us. But at Clario, we believe we shouldn't accept the misuse of our personal data. We are creating a digital privacy and security solution to help you secure all areas of your digital life. With a little dedication alongside 24/7 support from our expert team, you'll be able to regain your online privacy and peace of mind.
Here are our tips on how to keep your personal information secure online.
Think before you share. Everything you share online goes beyond your control — whether it's a password, kid's photo, or a late-night philosophical thought. Take a moment to consider the risks of sharing too much.
Lock your devices and cover your cameras. Don't underestimate simple solutions when it comes to your privacy.
Use a VPN and security software. Clario makes it super easy for you!
Block online trackers with a browser extension. Also available in Clario's product.
Use unique, strong passwords and enable two-factor authentication, where possible. The extra effort is justified when you want to protect your accounts from hackers or thieves.
Review privacy policies and app permissions. Check out the latest information about the way your personal data is collected and used. On your phone and tablet, review the apps' access permissions and turn off anything you deem excessive.
Secure your smart devices. Make sure your home network and gadgets are protected by unique, strong passwords.
Check your data breach status regularly.
Pro tip: To check your emails for breaches, download Clario and use the Data breach monitor feature.
To find out if your credentials have been compromised:

1. Open the Clario app.
2. Go to the Identity area and click the Data breach monitor.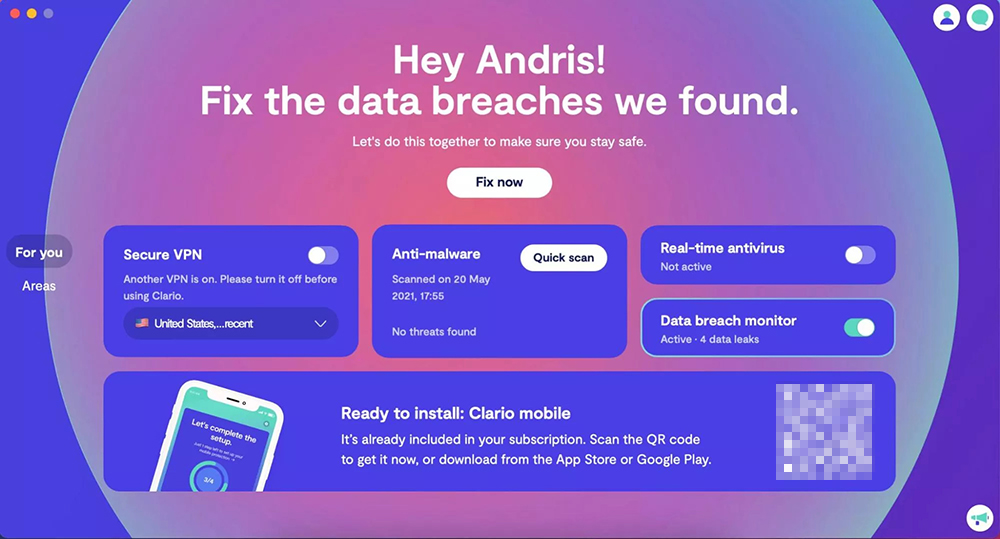 3. Input the email addresses you need to check.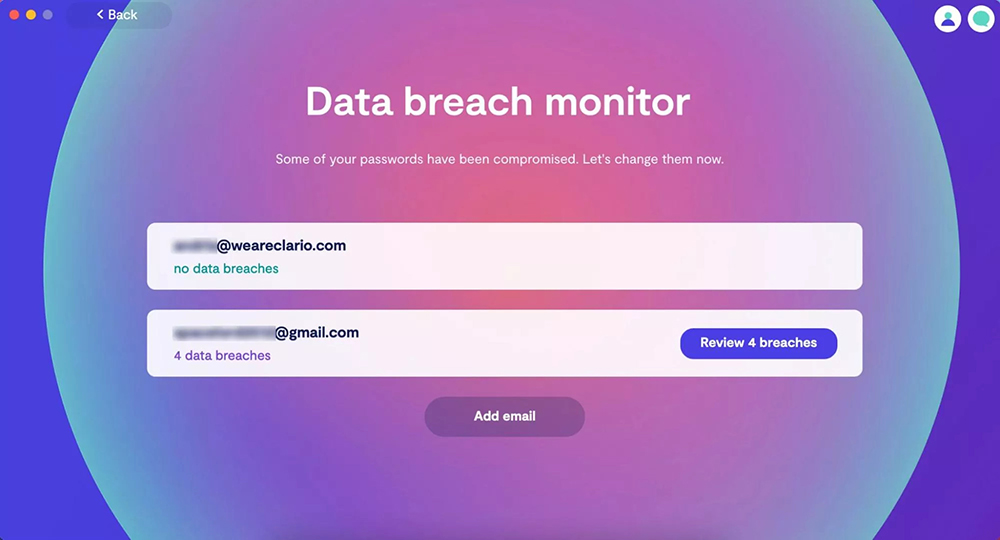 4. In case of breach, act as soon as possible — go to the breached website and change your credentials.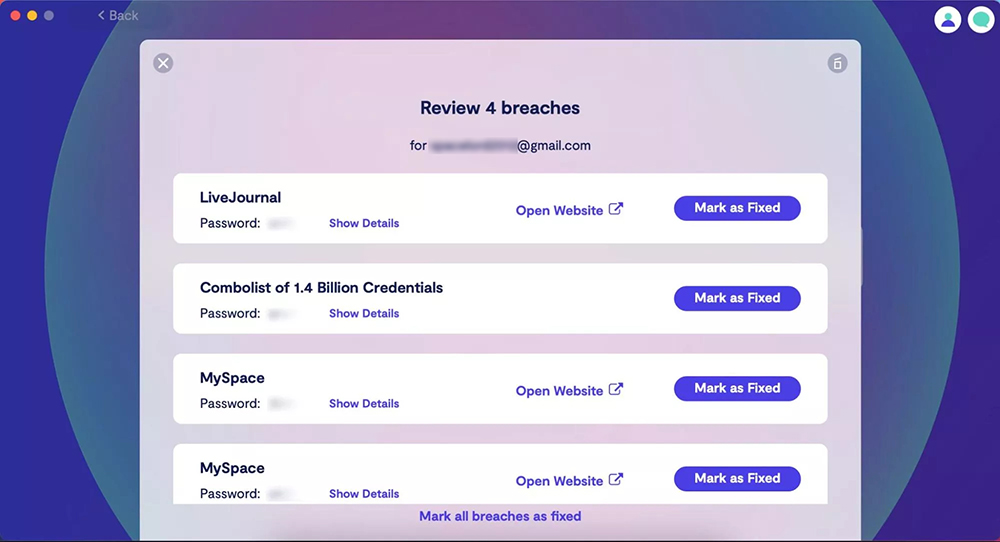 * * *
As technologies develop, so does the value of the data that's being created and processed along the way and the risks of digital privacy being sabotaged. Undoubtedly, information privacy and data security are the keys to digital wellbeing and peace of mind for those who want to use the internet.
That's why we've created Clario — a one-stop solution to take the best of the internet world and control the actions of those whose services you use. To get real-time anti-malware protection, data breach monitoring, unlimited VPN, and 24/7 expert support, download Clario today!
Read more: