Ways to protect yourself from cyberstalking
What is cyberstalking?
Let's start by unpacking what cyberstalking is. Cyberstalking is the repeated act of harassment and stalking online or contacting someone on digital platforms against their wishes.
You can't control someone else's actions, like stalking you. However, you can take certain steps to avoid cyberstalking or at least reduce the chances of being cyberstalked.
Use a VPN when on public Wi-Fi
If your stalker knows their way around the internet, they can monitor your online activity, like your browsing habits. They can also hack your phone to see what you're up to, who you're talking to, and to get access to sensitive information. This can be done when your IP address is exposed or unsecured. Obviously, this is something you would want to avoid.
The worst thing you can do when trying to protect your privacy is use public Wi-Fi. However, if you have no choice, you should always use a virtual private network (VPN). This includes using public Wi-Fi at a hotel, restaurant, or coworking space. That's because public facilities don't always invest in the best security measures, which makes their Wi-Fi networks vulnerable to hacking.
In turn, that makes anyone using those Wi-Fi networks vulnerable to hackers and cybercriminals, too. When you use a VPN, however, you reduce the chances of that happening. For the utmost safety, you should also use a VPN at home to protect your personal information.
Do not accept "friend requests" from strangers
Your parents probably warned you to stay away from strangers when you were younger. The same applies on social media — it's always advisable to not accept friend requests from people you don't know.
The best way to prevent becoming a victim of cyberstalking is by controlling who you interact with online. Granted, that can be difficult to control, but you should manage it as far as it depends on you. Avoid accepting strangers' friend requests.
This also applies to people with whom you have friends in common. Unless your friends can personally vouch for their authenticity, you should always think twice about connecting with them. This is because strangers can befriend you online to obtain information about you, harass you, or bully you.
Avoid communicating with strangers
Even if you don't accept requests from strangers, they may try to interact with you on someone else's post. Be careful about engaging with such people, as they may be trying to win your trust, so you can become friends online.
Likewise, avoid engaging with strangers in real life, as you may never know what their true intentions are. If you get too comfortable around them, you may end up sharing personal information they shouldn't be privy to, which they can use to stalk you.
They may also be sent by someone who's stalking you, like an ex-boyfriend. For example, your ex can send their friends to get information from you when you've cut them off.
Review your social media privacy settings
Social media makes people virtually accessible. This makes it easier for anyone stalking you to reach you. The average person doesn't think twice about setting up their social media for online safety. However, tweaking your social media privacy settings can prevent your stalker from accessing your profiles and harassing you. Here's how:
On Instagram
Open the Instagram app and tap your profile icon, three-bar menu > Settings and privacy > Account privacy and toggle on Private account.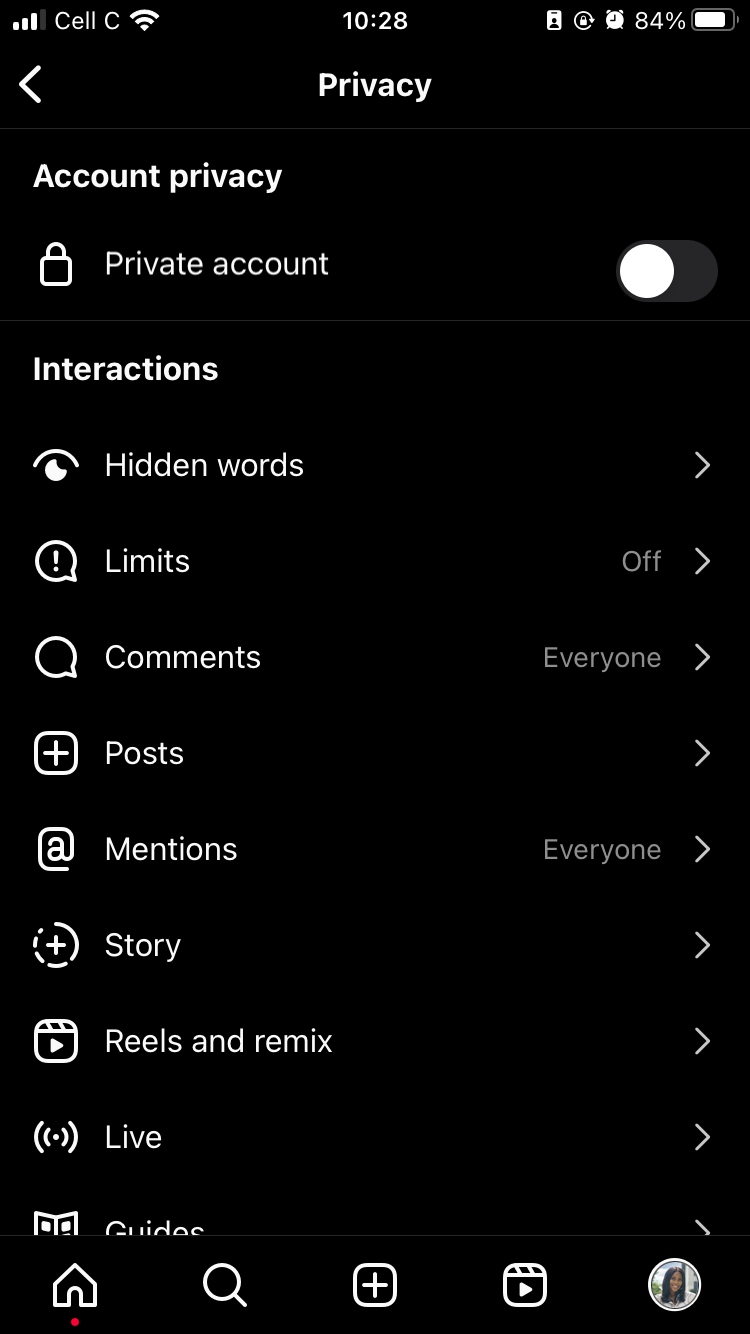 On Facebook
Open the Facebook app and tap Menu > Settings & Privacy > Settings > Audience and visibility
Go through each category and select the audience you want to see this information. Choose either the Friends or Only me option to limit who can see your information.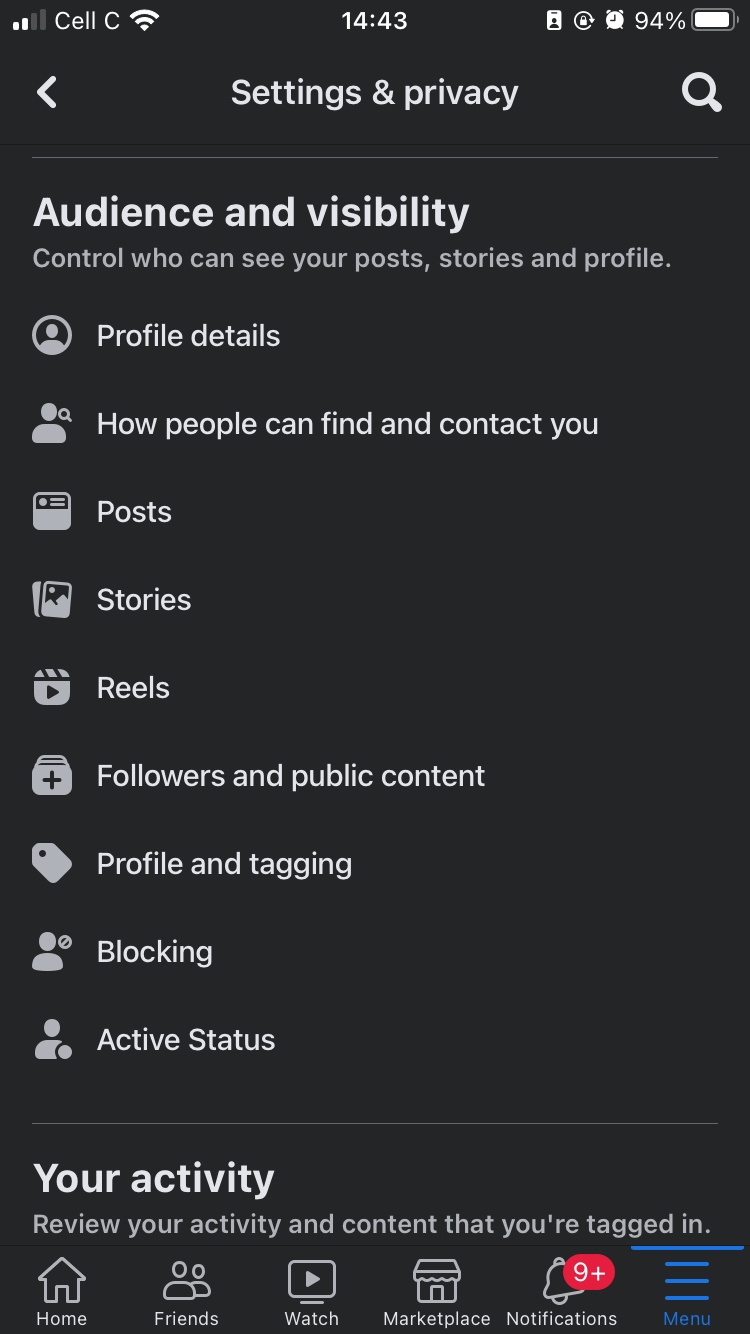 On Twitter
Open the Twitter app and tap your profile icon > Settings and Support > Settings and privacy > Privacy and safety
Go to the Your Twitter activity section, select Audience and tagging, toggle on Protect your Tweets, and disable photo tagging
Go back, select Mute and block, and add your stalker's handle to the Blocked accounts list (if you know their handle).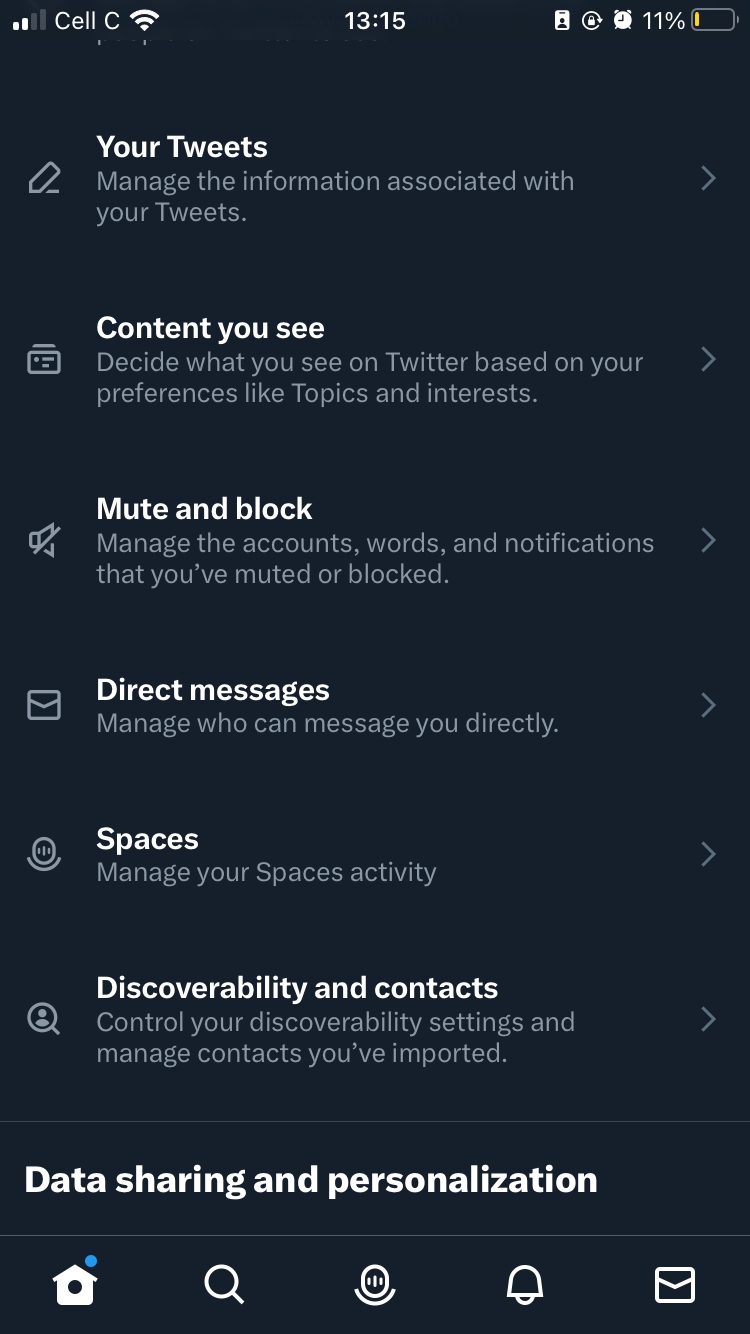 As an added measure, use the Clario AntiSpy setup checklist to learn what settings you can adjust on your phone to protect your privacy.
Secure your computer and mobile device
Stalkers can use threats like viruses and malware to tap your phone and spy on you for long periods without you knowing. That's why you must use reliable software to find and take care of threats on your devices.
We recommend using Clario's Scan your mobile feature on Clario's desktop app. It thoroughly performs an anti-spyware scan of your mobile device to identify any malicious apps and suspicious permissions. This can help you weed out silent tracking and recording on your iPhone or iPad.
Here's how to use it:
Download Clario on your computer and set up an account
Click Scan your mobile
Connect your phone via the usb cord
Press Scan
Follow the on-screen prompts to get rid of malware on your device.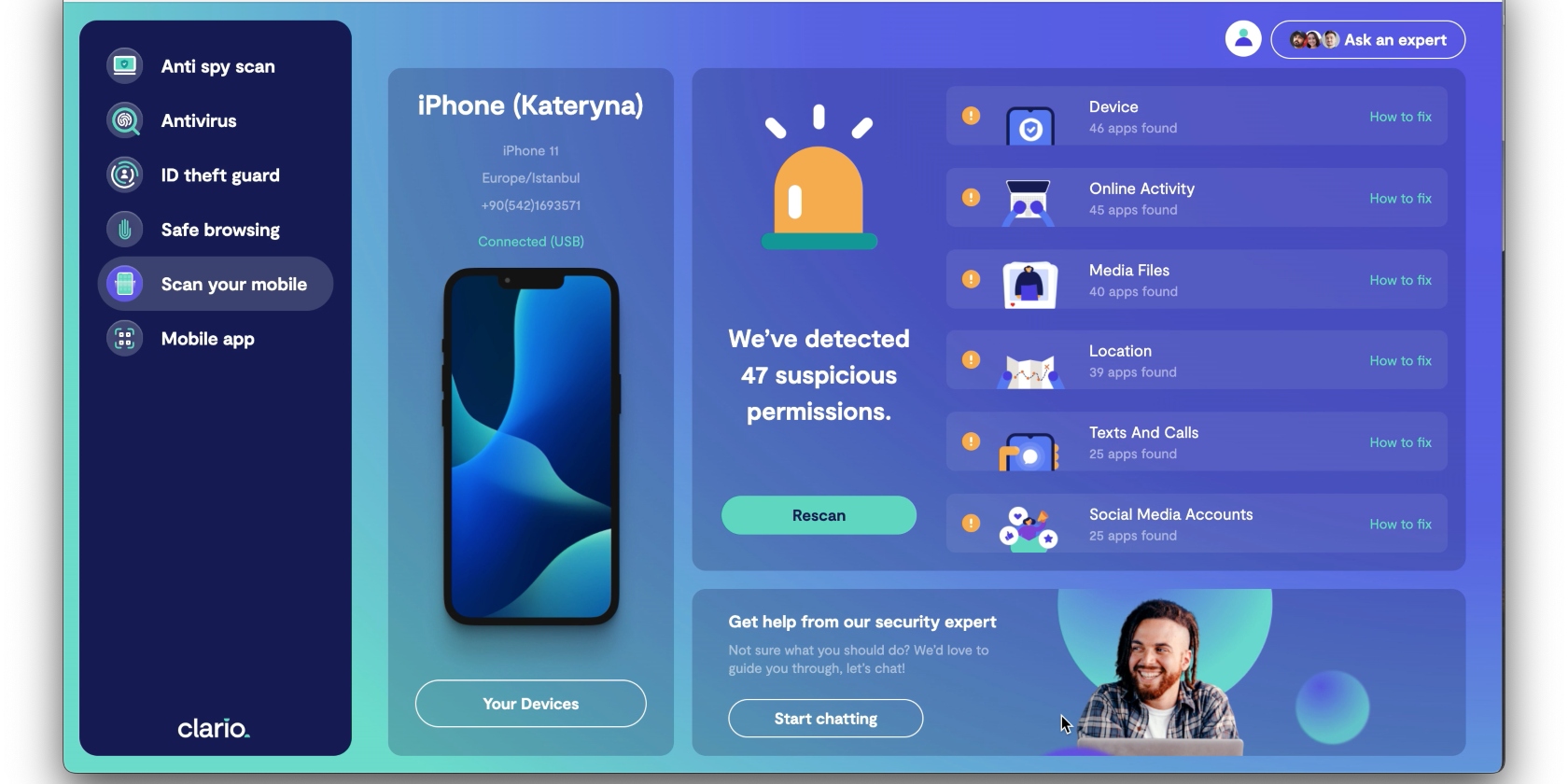 Disable geolocation settings on your devices
If your devices are bugged, a cyberstalker can track your location. Disable geolocation settings on all your devices to avoid detection. The steps are device-specific, but you'll find the settings on your device's Settings page.
Don't post personal information online
People tend to get carried away when posting online. They fail to realize that a stalker can use the information in their posts to locate them. Never divulge your personal information online. That includes photos of your home, gym, or any other place you frequent. Be careful when going live on social media, too. Cyberstalkers may be able to find you using what is visible in the background.
Here's a list of information to avoid revealing online:
Your full name
Address
Mobile phone number
Credit card information
Car registration details
Home address
Social Security Number (SSN)
Health information
Where you're going or where you are when you're out (it's better to reveal this information when you've left the location, provided you don't frequent it)
Who you're with (a stalker may be able to track them down to get to you)
Your friends' or family's personal information.
Never open attachments or click on links in an email
Phishing remains one of the most popular methods to obtain sensitive information and install malware on your device. If someone is stalking you, they may email you containing a malicious link or attachment.
Clicking on the link or downloading the attachment may infect your phone or computer with malware. That's why you should avoid emails from strangers at all costs. Delete them immediately and report them as spam.
Use strong passwords everywhere
There's a reason you shouldn't use your birthday or some other easy password for your online accounts. Use strong passwords instead. We know how daunting it is to think of a unique password, especially as the average person has 100 passwords. That's a lot of passwords to come up with and remember!
The best way to go about it is using a reliable password manager. A good password manager suggests a strong password for each of your online accounts and keeps all your passwords safe. There are many password managers on the market — both free and paid options. The one you choose will depend on your budget and what you're looking for. Google your options and read the reviews before choosing one you're comfortable with.
How to tell if someone is cyberstalking you
There are several ways to tell if someone is stalking you:
Your social media post comments are being spammed
You're being bullied on social media — under your posts and on other people's posts
Someone is spreading lies about you online
Your personal information, like your home address or phone number, is posted online
Your ex posts revenge porn online (learn what to do if your ex is stalking you)
Someone incites other people to bully or harass you online
You receive lots of unwanted text messages, calls, and emails.
Protect yourself from cyberstalking
Everyone has the right to privacy. If you're being stalked, there are ways to protect yourself. Use the tips in our handy guide to protect yourself from cyberstalking. The most important steps to follow include securing your devices, going private on social media, and watching what you post online. Don't forget to use the Clario's Scan your mobile feature to identify malware on your mobile phone.