Is Discord Safe for Kids?

In recent years, Discord has become one of the most popular free audio/video calling and chat services.
Primarily favored by online gamers, Discord is now trying to reinvent itself as a hang-out and discussion platform for people with similar interests. Lately, we have even seen an increase in the use of Discord for business.
Considering teens being the app's target audience, many parents often ask this pertinent question: is Discord safe? Or, is there anything to worry about if your child is using Discord?
While Discord can be used safely if adequate precautions are taken, it still comes with risks, just like every other open-chat app.
Pro tip: One of the most effective ways to secure your children's activities and data on the Discord App is by using a reliable cybersecurity solution like Clario. With its real-time antivirus, unlimited VPN, and an adblocker with an anti-tracking feature, Clario provides more than adequate protection against malware and online malicious actors. Try Clario today.
Is There Any Illegal Content on Discord?
Inappropriate content is common on the majority of media platforms; unfortunately, the Discord app is no exception.
The Discord app has moderation in place for its public channels — ones that can be seen by anyone — to keep the distribution of illegal content in check; however, before moderation, it's still possible that you or your child may notice it.
There are also private channels — ones you can see and use only if you're invited — that aren't subject to moderation. To prevent your kids from inappropriate content, it is better to screen the type of users your kids let into their virtual spaces.
Your children are likely to be endangered by improper materials if they are in the wrong groups or have connections with people who share illegal content, such as pornography, overly violent content, materials that promote taking drugs, etc. If they only use public channels, or the ones you trust, it's safe to say that there's quite a low risk of them being exposed to any inappropriate content.
Discord Security Risks for Kids
The answer to the question "Is Discord safe for my child?" will be the same as for any other communication app. These platforms do what they can to keep them safe, but sometimes, unwanted intruders still get through.
When using Discord, children may be exposed to:
Improper content (texts, photos, videos)
Cyberbullying and trolling
Drug sales
Human trafficking and other crimes
These safety risks are present when using literally any website or application. Even though Discord comes with different security policies, settings, and channel moderation to prevent these illegal activities, there are still some rare cases of online attackers who might target teens and young adults. They do this through Discord public servers and send Direct Messages (DMs) with illegal or abusive content.
Are There Parental Controls on Discord?
You can block or delete an account, or configure the privacy settings for explicit media screening, direct messaging, and friend requests. However, there are no specific features that enable parental monitoring.
As for third-party parental control applications, they may work on blocking specific websites and tracking locations but aren't really effective at monitoring text messages.
Discord Privacy Issues: How to Improve Your Child's Safety on Discord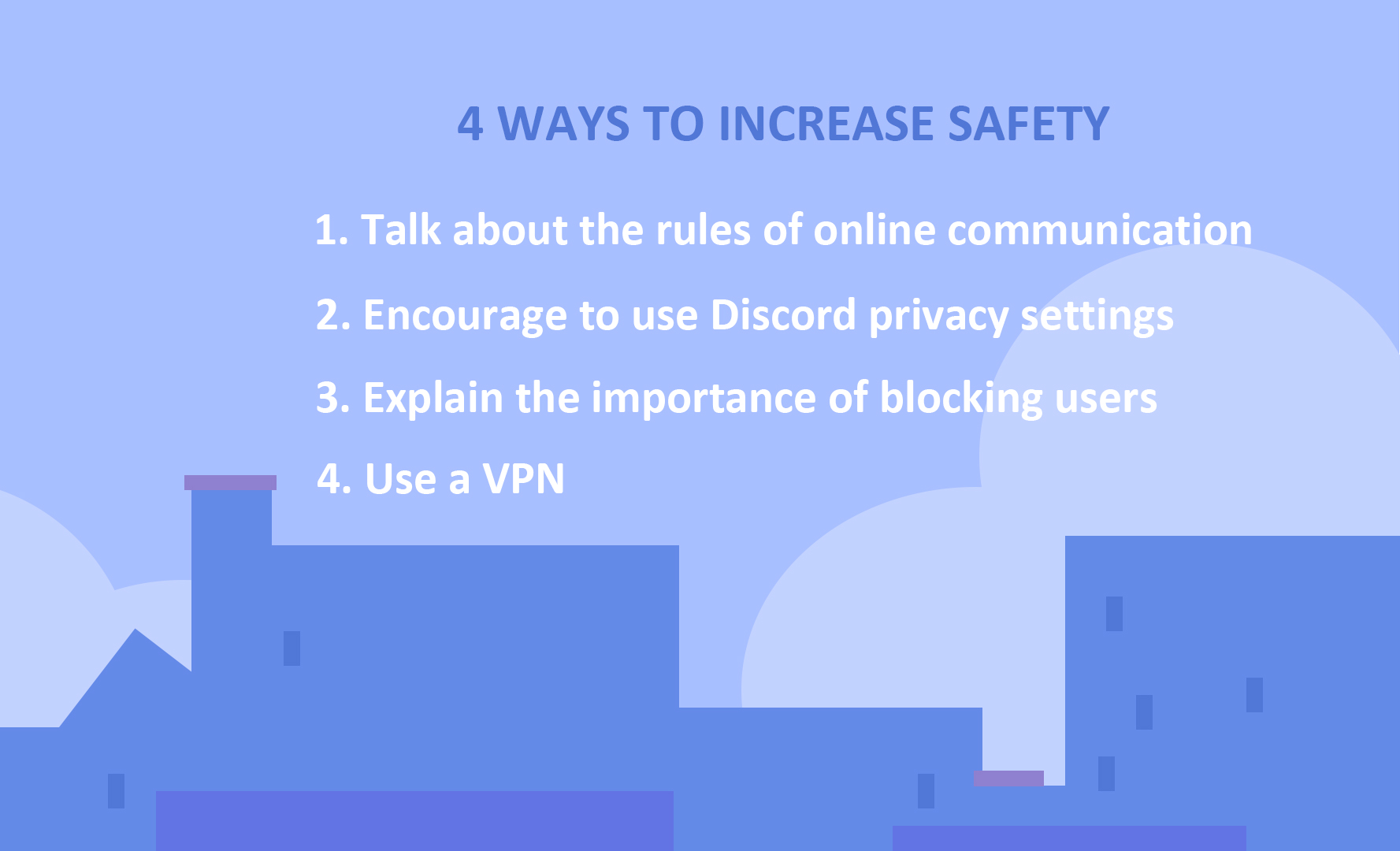 Here are a few ways you can overcome Discord privacy concerns and improve your teen's safety on Discord.
1. Talk to them about the rules that apply to online communication
Explain that any behavior that's inappropriate in "real-world" situations is not okay online either — the same rules apply. In terms of using Discord, these rules are:
accepting friend requests or only communicating with people you know;
talking to adults you know if something doesn't seem right or you see disturbing content; and
avoiding inappropriate language or derogatory terms in conversations.
It's also worth discussing what content is appropriate and what should be shared online. Explain to your teen that even good online friends can be hacked and any conversations or media they share could be misused.
2. Encourage your teens to use the Discord privacy settings
The Discord app comes with a high level of privacy settings. They include:
Keep Me Safe – to filter the type of content they can access. It's on default for teens under 18 years of age to filter explicit videos and chats. To enable this feature, go to User Settings and select Privacy & Safety and Safe Direct Messaging.
DM Settings – to block or enable direct messages from people who aren't on your friend's list and don't use the same server. To make this happen, go to User Settings, then proceed to Privacy & Safety and Server Privacy Default.
Friend Request Settings – to manage who can add your child as a friend. Encourage your teen to only accept friend requests from people they know and trust. To access the Friend Request settings, go to User Settings and choose Privacy & Safety and Who Can Add You As A Friend, then select Friends of Friends.
Determining who becomes your teens' friend can be controlled on a server-to-server basis; this allows you to manage people who message your kid from larger communities.
Also, we encourage you to check out Discord's Safety Center. It provides information on how to configure the privacy settings, as well as some useful materials for parents and caretakers on how to ensure your children's security online and how to talk to them about it.
3. Explain the importance of blocking users
Some people will latch onto any opportunity to harass others, and these opportunities aren't limited to social media. Communication apps like Discord also get their fair share of trolls and bullies.
Explain to your teens that if they receive mean comments or someone sends them inappropriate content and threats, the best policy is to block such users.
4. Use a VPN
Cyber attackers are everywhere trying to hijack and expose users' confidential information. Using a reliable VPN, like Clario, helps you protect your kids' data from cyber attackers and bullies.
Clario protects different aspects of your life online, such as your identity (accounts and passwords), which helps users stay protected from threats like doxxing.
Clario enables data security, such as preventing third parties from accessing your mic and camera.
Clario enables safe network connections and hides your location from intruders.
Check out Clario today to help your teens get started with adequate data protection.
Conclusion
Discord is a great platform for your teens to share their ideas, hang out for a karaoke night, join a painting class or keep in touch with their friends. However, is Discord safe to use? It's highly dependent on how your teens use the platform and the precautions they take to ensure their own safety.
You can increase your teens' safety by discussing the security measures every internet user should take, encouraging them to talk to you if something doesn't feel right, and to avoid shady channels. You can also improve Discord safety by configuring the necessary privacy settings, using a VPN, and encouraging your children to block Discord users that are either abusive or share inappropriate content.
FAQ
1. What are the dangers of Discord?
Like every other open-chat platform, the Discord app is exposed to different cyber risks if adequate precautions are not taken. Users are at risk of data breaches and exposure to unwanted explicit content.
2. How safe is Discord?
Discord's safety depends on the level of security measures taken by users to ensure their activities on Discord are secure. Users must employ safe practices when using Discord – that's the only way to ensure safety on the platform.
3. What is the age restriction for using Discord?
Discord is recommended for 13-year-olds and above. While it comes with a moderation process in place, you could still come across explicit content, depending on the server you are using.
4. Is Discord safe to download?
Only if you download it from the official website. For extra safety, you can turn on VPN before accessing the website and run the installation file through malware protection software.

Read more: