Discord for Business: Is It Safe to Use?
Initially, Discord was developed as a free voice and text chat application for the gaming community. The app's audience saw a significant increase when many professionals worldwide started using Zoom, Microsoft Teams, Slack, and Discord for business communications during the Covid-19 pandemic. As of 2020, the platform catered to more than 140 million active monthly users.
Pro tip: If you are someone who uses Discord for business and want to make sure your information is secure, you should definitely consider using a VPN service such as Clario. Try Clario VPN to keep your activity encrypted when you connect to Discord.
Read on to find out how using Discord for business could be helpful and how to resolve your concerns about its privacy.
Reasons to shift to Discord for Business
With businesses showing a growing interest in Discord, and some even preferring it over bigger platforms such as Slack, it really has created its place in the market as a professional communication tool. Here are some of the reasons why modern-day businesses are shifting to Discord for all kinds of virtual collaboration.
Text, voice, and video chats. Discord enables its users to be active on multiple text and VoIP channels at the same time.
Easy setup & free use. You simply need to sign up for an account, create a new server, invite your teammates, and get started.
Screen sharing feature. Besides file sharing, you can share your live screen in a voice or video chat so that the team can give their valuable input.
Server limits. The server hardly ever 'limits' your work which is one of the benefits of Discord business use compared to apps such as Slack. The servers can host up to 25,000 simultaneous online members and up to 250,000 signed-up members in total. Plus, you may create up to 500 separate channels per server.
Permissions. Discord provides extensive in-call permission controls that allow users to conduct big meetings with hundreds of participants without any hassle.
Bots. The bots on Discord add to its fun factor while also making things easier to do. You can set up bots for an automated check of the content shared on the server or use them to share music and videos from other platforms like YouTube or Spotify.
IP & DDoS protection. To protect users against security issues inherent to VoIP platforms, Discord provides an IP location lock that informs users when their account is logged in from an unusual IP address. Two-factor authentication adds another layer of security and protects from DDoS attacks.
Tiered membership. Most of the features Discord offers are free. Yet, there are tiered membership plans that give access to some additional features such as higher-quality screen sharing and higher file-sharing limits.
Discord vs Slack. Discord can be a good alternative to Slack if you are in search of something similar to its channel-based interface, along with capabilities for private chats. Besides, its mobile app is way more efficient and has no known bugs, in contrast to Slack which has known notification issues. Discord also doesn't have chat history limitations.
Is Discord safe for business?
As you can see, a wide application of Discord in business is stemming from its user-friendly features and reliability. But is Discord safe enough? Here are some of the most well-known Discord privacy concerns.
Poor product management
Over its six years of operation, Discord has been a bit clumsy while managing its product. There have been frequent outages with long hours of downtime without any explanations. Additionally, Discord has refused all requests to fix user interface issues and even banned users who tried to customize it using external add-ons.
Data collection & usage
The way Discord collects user information is fishy. First, you can't consent to your data being collected. The Privacy Policy says that you may agree with the use of your data but have no say in its collection. Even if you use third-party tools to protect yourself, Discord will most likely find a workaround.
Data harvesting
Discord API can be manipulated in certain ways to create apps that harvest data from your devices. This raises the potential for serious security threats of hackers fishing for your sensitive business information.
Malware risks
Since there isn't any strict check on the type of links and files shared through Discord, it may provide a way for malware and Trojan viruses to spread quickly on your device. Such viruses may give the administrative rights of your device to potential hackers and you could end up in a vulnerable position.
IP tracking
Discord tracks your IP address and in-app activity from the start of your session until you log out of it. This data may be sold to external parties, and there isn't any check on how they use it. It may also collect information from your connected social accounts and use it for the same purpose.
Although there are minor issues with how Discord collects and operates user data, overall, it is a rather safe platform, especially compared to other apps such as Skype, Slack, or Teams.
These minor security loopholes here and there might not be as significant when gaming. However, when you're using Discord for business, it isn't wise to turn a blind eye to them.
Improvements in Discords' Safety Measures
Although there might be some problems with Discord privacy and data security, there are certain steps you can take to ensure your critical business information is not breached.
Two-Factor Authentication (2FA) can be a great fix to protect your account against unverified logins.
The Safe Direct Messaging option allows content you receive in private messages to be reviewed by Discord bots. Any flagged content is deleted.
Global Privacy setting for direct messages allows the blocking of private messages from non-friends.
The Spoopy Link Filter filters out suspicious links and displays a warning every time you open a link sent by a non-friend in the DMs.
Enhanced Verification Level allows only people with a verified phone number to join a server. This way, you can filter out any spam accounts.
Automated Server Moderation can be set up. This automatically detects and deletes uploads that are explicit or inappropriate in any other way.
You can also adjust the Discord Privacy settings to manage who can send you friend requests and enable the scanning of your direct messages for explicit content.
Using a reliable VPN service
Another essential and big-picture recommendation to protect your business matters is securing your IP address and browsing anonymously. All you need to do is find a reliable VPN service, such as Clario:

1. Download Clario from our website (supports Mac, iOS, and Android).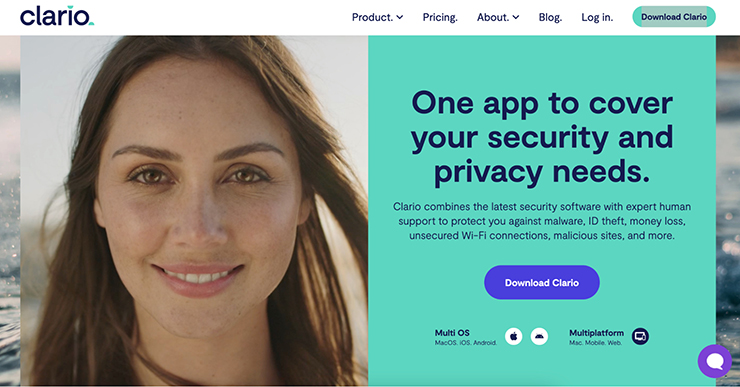 2. Run the installer.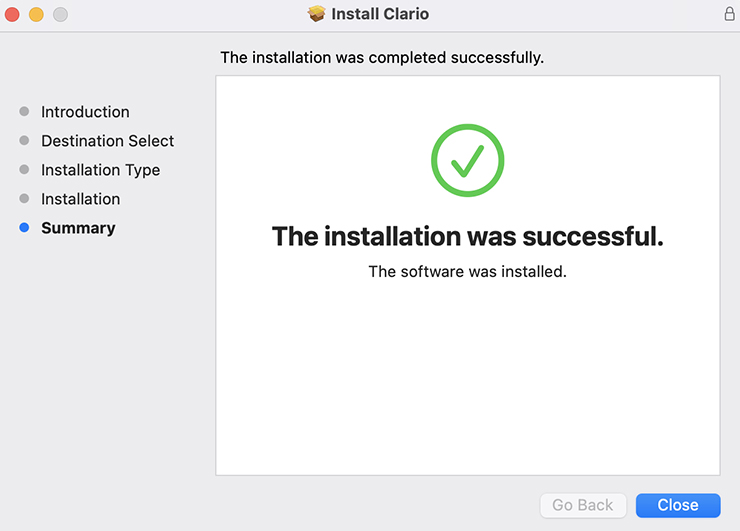 3. Create an account adding your name, email address, and a strong password.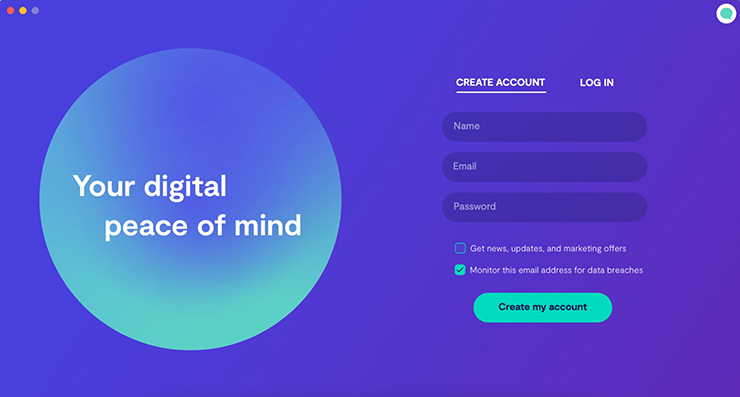 4. Set your preferences.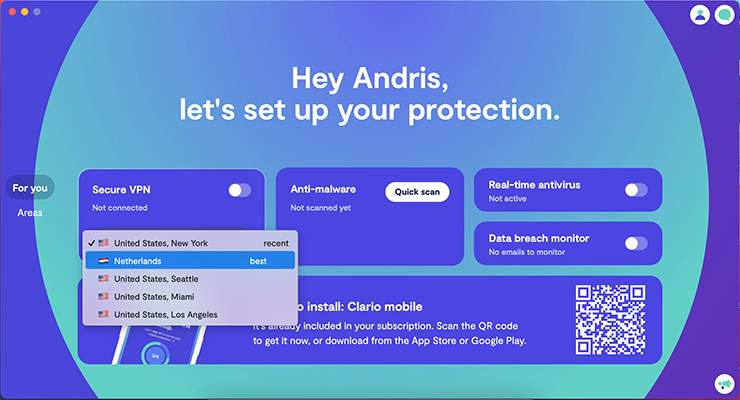 Download Clario today and fix most of the Discord privacy issues right away. BTW, you don't need to add your payment credentials to test Clario.
Wrap up
While it may have all the features for a robust business communication platform, Discord still has a lot of catching up to do regarding privacy-related concerns. Yet, if you take all the precautions discussed above, a Discord app may be a great solution for business. It is really worth finding a trustworthy VPN service so you don't have to worry about some sensitive information being accessed by a third party. It's in your hands to protect your business, go for it!
* * *
FAQ
What companies use Discord?
Nearly a thousand companies across the United States and beyond are using Discord app as their primary communication tool, and the number is increasing every month. Some of the most famous names include YouTube, Newegg, Jimdo, Cloud9 Esports, and Kinguin.
Can Discord spy on you?
Technically, it can, but it does not mean it does. All communications on Discord go through their official servers, where they can potentially be recorded. That's why some resources call Discord a spyware. But using a VPN service like Clario may increase your level of data security.