What Is Incognito Mode and How Does It Work?
Updated: Sep 07, 2021
11 min read
Now, more than ever before, your privacy is at risk when you browse the web.
Criminals are always on the lookout for opportunities to steal your personal information and credentials to sign in to your social media and bank accounts. Indeed, between 2019 and 2020 the account takeover market grew by 250% in just a year. What's more, even industry leaders such as Facebook, LinkedIn, and Twitter have fallen victim to cyberattacks resulting in data breaches that have affected millions of users worldwide.
One of the first measures you might consider taking to secure your online privacy is to use incognito mode browsing. But is incognito really private?
Read on to find out the answer. We'll also cover what incognito mode does and doesn't do.
Pro tip: Spoiler ahead — you won't be able to hide your browsing just by entering incognito mode. The proven way to keep your activity private is to use a VPN. Clario's multi-faceted security solution offers a reliable unlimited VPN, ad blocker with an anti-tracking function, data breach monitor, and real-time antivirus. Try Clario's VPN right away:

Create an account

Toggle on the VPN feature and select a location from the drop-down list
That's it! Now, read on to learn more about the hidden side of incognito mode.
What is incognito mode?
Incognito mode is a private window in your browser where you can surf the internet anonymously. This mode allows you to browse websites privately and erases your search history, temporary cookies, or autosaved personal information — like passwords or credit card numbers — once the session ends.
Depending on your browser, incognito mode can come under different names:
Incognito mode in Google Chrome
InPrivate in Microsoft Internet Explorer and Edge
Private browsing in Mozilla Firefox
Private in Apple Safari
If you're wondering how to turn on incognito mode, go to your browser's menu. It's usually a standard option which you can easily find right away. Most browsers offer similar private browsing functionality. However, it's worth remembering that this doesn't make you entirely invisible online.
So, what does incognito mode actually do? To make this clear, let's take a closer look at how it works.
How does incognito mode work?
With incognito mode, any website you open assumes you're a new visitor. So, you leave no digital 'footprints' — whether you browse the web, log in to your accounts, or enter banking details — once the session ends, all data will be removed. Anyone who browses later on your device won't be able to see your online activity or use the autosaved information you entered on an online form.
What does incognito mode do?
Incognito mode enables private browsing. This means your search history and website data aren't saved to your device. This includes the following features:
No tracking of browsing activity
When you are using incognito mode, your device doesn't save the browsing history or website cookies. These are small blocks of data used by websites to remember your past online activities and improve your online experience. For example, they keep items in your Amazon shopping cart even if you abandon them for days.
Since incognito mode erases all of your device's cookies, it becomes much trickier for websites and advertisers to track you online. This results in:
Fewer ads. For example, if you search for a surprise birthday gift for your spouse, incognito mode will ensure that once your session is over, no targeted ads pop up later and give the game away. This mode can also help to shake off pesky advertisers following you from one site to the next.
Better deals. Incognito mode often (but not always) allows you to see better prices on hotels and airfare. Some travel websites can show you higher prices based on your geolocation or if you have repeatedly returned to the site to check the cost.
No third-party additions
By default, incognito mode disables third-party additions, such as extensions and toolbars, in your browser. Along with better privacy, this may result in improved browser performance, as extensions can cause glitches. If you have performance problems, the easiest way to make sure it's not an extension or toolbar acting up is to open the session in incognito mode.
Automatic logout
If you forget to log out of your account when using a public computer, you can expose sensitive information like bank account credentials to the next person using the device. By turning on incognito mode, you'll automatically be logged out once the session is finished.
Multiple account login
Incognito mode isn't always about safety and privacy. It's about convenience, too, especially if you share your device with others. For example, by opening up new browser windows in incognito mode, your friends can log in to their accounts without you logging out.
While incognito mode offers a range of benefits, it doesn't offer a truly private experience due to its limited functionality. This brings us to the next point.
What incognito mode doesn't do
Incognito mode can be a good start towards online privacy, but it won't protect your data and identity for two reasons: It doesn't block other parties from tracking your activities or protect you from cyberattacks.
While cookies, site data, and log-in information will be removed locally after you quit incognito mode, they can still be tracked as long as the session is active. As a result, websites can detect your ID, device, and browser type, and "guess" who you are based on this data.
Incognito mode does nothing when it comes to protecting you from hackers or malware. The sites you visit collect your digital fingerprint, including your location, language, device specification, and online behavior. When breached, this data can go to data brokers — companies that collect and sell personal data — or directly to cybercriminals, resulting in identity theft.
To make sure your personal data is safe, choose more advanced solutions like Clario, which offers a private and secure connection even when you're using public networks. Clario's comprehensive solution combines a VPN that encrypts your traffic and hides your location, a real-time antivirus, and an ad blocker with an anti-tracking function.
Here's how to search incognito online in just five simple steps:

1. Download and install Clario
2. Create a Clario account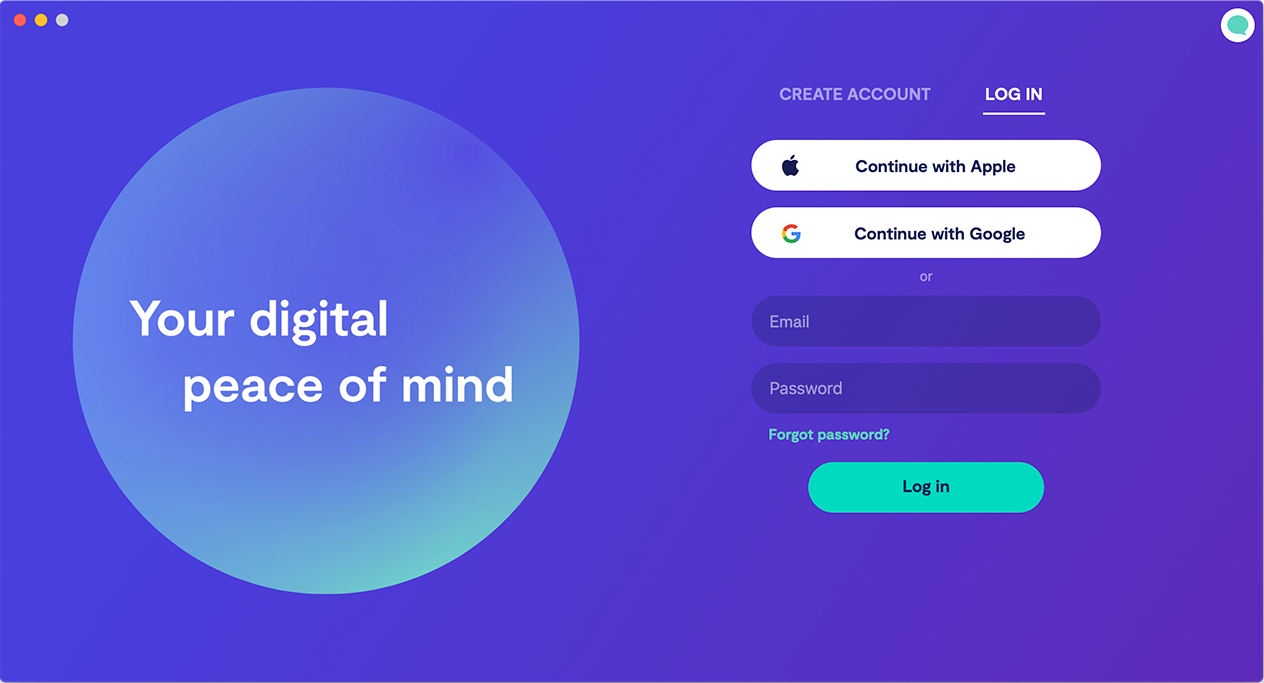 3. In the Clario dashboard, toggle on the Secure VPN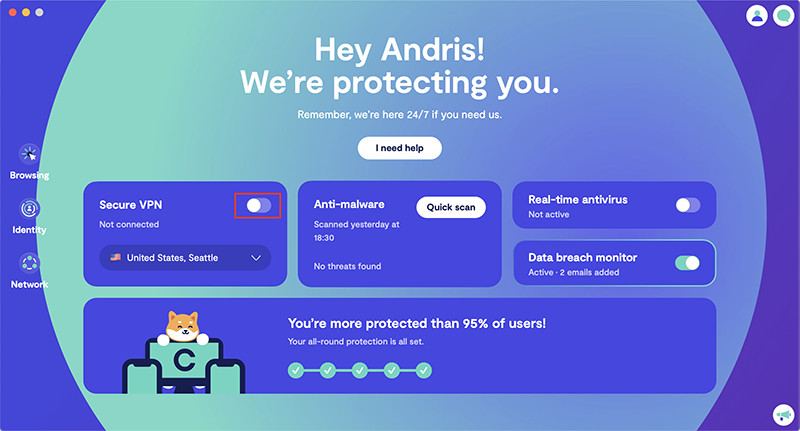 4. Select Allow on the pop-up window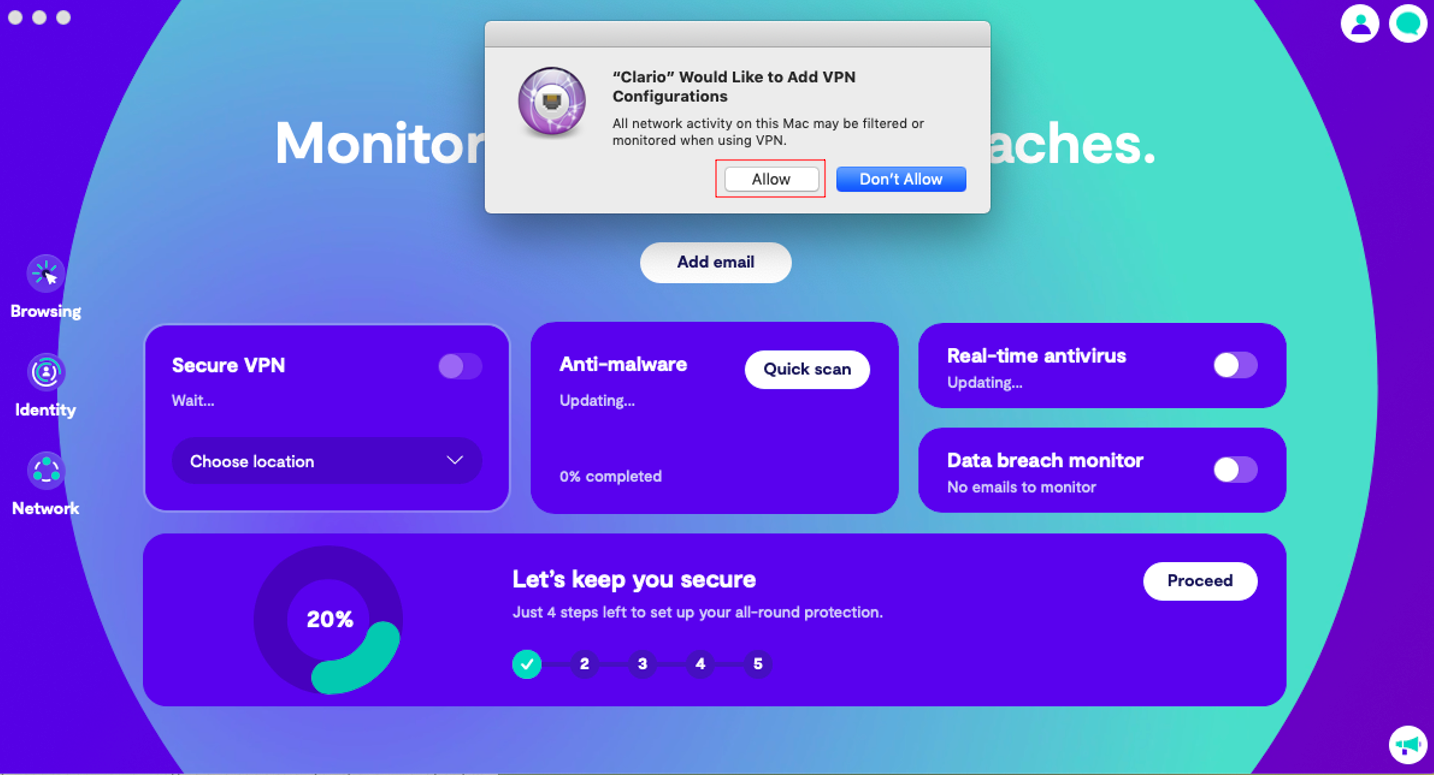 5. Select your virtual location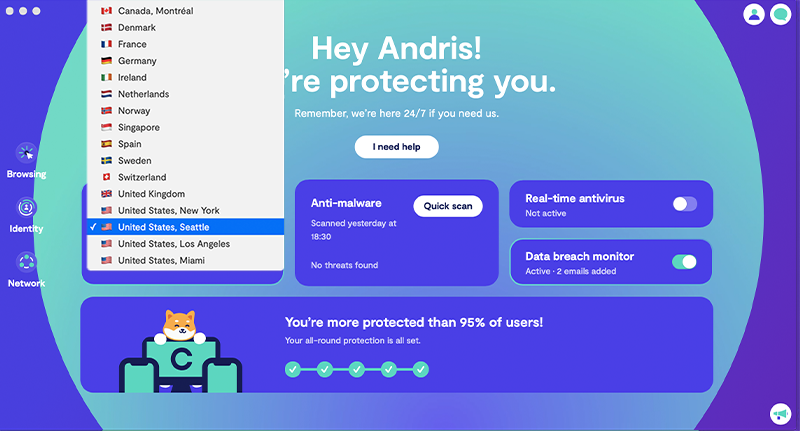 That's it! Your VPN is up and running.
Is incognito mode really private?
While incognito mode ensures privacy within one device, it can't hide downloaded files or stop other parties from logging your data.
So, is incognito browsing actually incognito? No, and here's why:
Your internet service provider (ISP) records your online activity.
Visited websites log your IP address and other identifying data.
Your employer, school, or university's local servers record your browsing history if you use your device in their network.
Google, Amazon, or Facebook record your browsing history, geolocation, and other personal data once you sign in.
Some search engines can still see your private browsing history.
Incognito mode can't prevent others from seeing your downloaded files and bookmarks, as most browsers save them during your incognito browsing session.
Unlike a VPN, incognito mode doesn't encrypt your data or hide your IP address. This is crucial if you want to totally hide your online activity from other network users.
Is incognito safe and secure?
Incognito mode is safe to use as long as you know its limitations. It's a natural choice for those who want to hide their search history, reduce targeted ads, get better travel deals, or host a guest. Yet, it won't make you entirely anonymous or protect you from cyberattacks.
If you're looking to shield your web traffic from prying eyes, opt for VPN solutions like Clario that allow you to hide your internet traffic in one click. It funnels your traffic through an encrypted network, making it difficult for any third parties to monitor your online activity, even on public Wi-Fi.
VPNs come with a whole range of privacy and security benefits your browser's incognito mode just can't match. Sounds too good to be true? Try out the Clario to see it with your own eyes.