Why does the VPN server location matter?
Depending on your needs, the location of a VPN server can influence your browsing experience and the level of privacy you actually receive. Here are some reasons why the location of the VPN server is important:
It allows you to access geo-blocked content. If you're trying to access content that is blocked in your region, such as streaming services, the location of the VPN server is paramount. Use the server location where the service is based or allowed, e.g connect to the USA to access Hulu. Fortunately, Netflix is available in 190 countries except for China, Crimea, North Korea, and Syria.
The speed can vary drastically. Depending on where the server location is, the connection speed of the VPN can be affected. If you're primarily concerned about speed, the closer a VPN server is to your location, the quicker it will generally be. For speed, also consider the VPN service, as different providers offer different speeds.
Each country's data protection laws are different. If you're concerned about privacy, countries (and VPN providers) are not made equal. Some countries like Switzerland offer a high degree of data protection and ensure that your data won't be retained or passed over to third parties under any circumstances.
With those key factors in mind, let's take a look at the best server locations you can use is all continents.
Best countries to connect to using a VPN
Here are the best countries to connect to using a VPN depending on your personal requirements: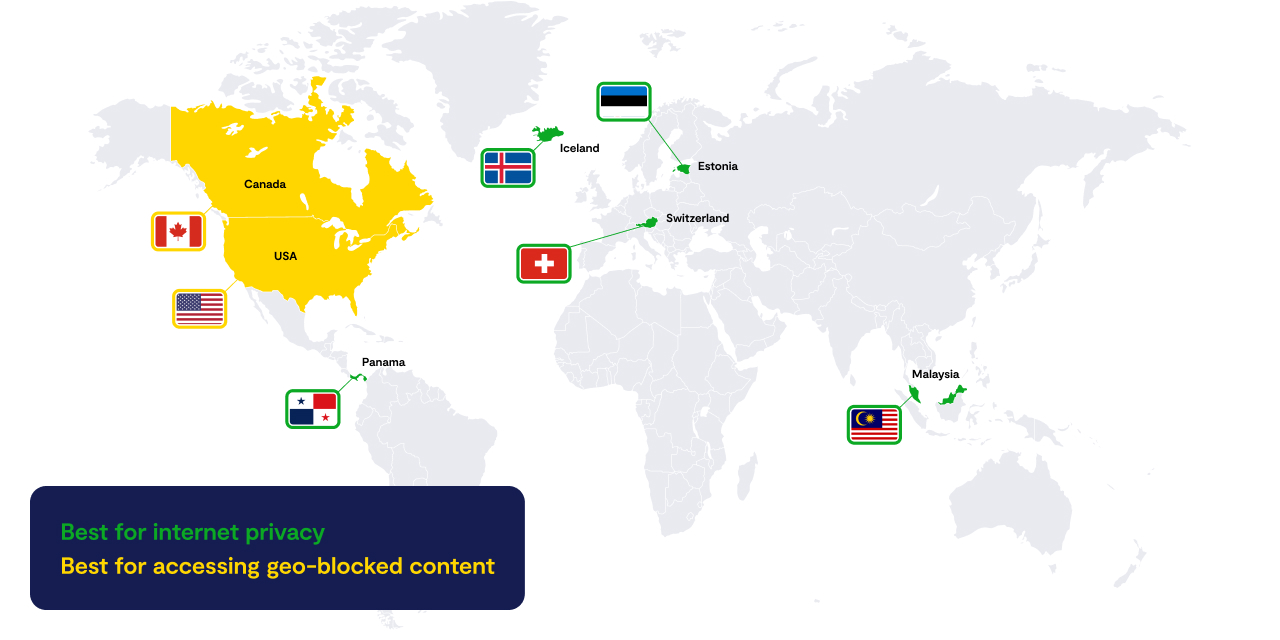 Iceland
Iceland has strong internet privacy and freedom of speech laws. Among these, Iceland also has strong net neutrality laws and very limited self-censorship. This means that other than copyright infringements, your activity online will remain anonymous and unrestricted.
Iceland also has a very high-quality internet infrastructure, with fiber-optic being nearly country-wide. Therefore, your connection should remain stable (and fast), especially if you are connecting from a nearby European country.
Even better, very little content is restricted in Iceland (usually restricted to copyright infringements), and the country is well-known as a haven for whistleblowers, journalists, and those that express controversial opinions online.
Switzerland
Like Iceland, Switzerland has very few restrictions and a guaranteed right to privacy and personal data protections. Switzerland is also not a part of the 5-Eyes, 9-Eyes, or 14-Eyes Alliances, meaning that ISPs have no requirement to cooperate with international intelligence-sharing organizations.
Switzerland also has a very strong internet infrastructure, meaning that a VPN connection will be stable and fast.
Canada
Canada has significant freedom of speech and press protections as well as a robust internet infrastructure, meaning they are an excellent choice for a VPN - especially to access streaming content that is highly similar to the abundance of material available in the U.S.
However, privacy-wise, Canada isn't nearly as safe a choice as Iceland or Switzerland. As part of the Five, Nine, and Fourteen Eyes alliances, Canada is required to store and share personal data when requested. Further, Canada also has a range of laws that have been applied to access personal data and breach privacy rights.
With this in mind, Freedom House does place Canada in third place for internet freedom. The country supports net neutrality and has a law that requires internet service providers (ISPs) to send copyright infringement claims directly to users when they are in breach, rather than demanding payment or settlement fees.
The U.S.
Unfortunately, the U.S. has a very shaky history surrounding government surveillance and the invasion of personal privacy, so its reputation for freedom of speech and internet freedom is not as solid as the other options on this list.
However, the U.S. by far has the most geo-blocked content, from live sports to streaming services. For this reason, the U.S. is a popular country to connect to via VPN. The U.S. also has decent internet infrastructure, so connecting from neighboring countries (such as Canada and Mexico) can mean high speeds, too.
If your primary goal is to access streaming services that are blocked in your region, a U.S. VPN server is probably your best bet – as long as the VPN service supports that. However, if your goal is to ensure privacy online, the U.S. is far from the best choice, and you are better off choosing a server location such as Iceland.
Panama
As of 2019, Panama has a set of laws that have encoded the protection of its citizen's right to privacy online. This means that to collect people's browsing data, companies in Panama need the person's express consent – making it a great VPN server location when it comes to privacy.
Even better, there are no mandatory data preservation laws in Panama, so VPN providers are not required to keep logs of user activity. They are also not beholden to any of the intelligence-sharing alliances, such as Fourteen Eyes.
In terms of speed, Panama is an excellent location if you live in the Americas, but especially if you're connecting from Central America. However, keep in mind that there may be fewer streaming options than other countries such as the U.S.
Malaysia
So, we have great options for the Americas and Europe – what about Asia? Malaysia is one of the best choices in this region.
The Personal Data Protection Act of 2013 gives individuals a personal choice in how their data is retained. It also prevents user data from being shared across the border, meaning that whatever your online activity is while connected to a Malaysian server, it shouldn't leave the country. However, Malaysia has anti-piracy laws meaning that torrenting is strictly prohibited.
If you live in a country nearby Malaysia, such as Indonesia, Thailand, or even Australia, then a Malaysian server is a great choice because it will afford you decent speeds.
Estonia
Estonia is famous for leading the way when it comes to internet technology in the Baltic states. Among other things, it has increased its citizenry's ability to access all fundamental government services online and is known as the "Silicon Valley of Europe".
Due to this approach, Estonia has strong internet privacy laws, including the Personal Data Protection Act (PDPA) which establishes rules that any companies processing data have to follow.
Using an Estonian VPN server will ensure a far higher degree of privacy than many other countries, and because of the high-quality internet infrastructure, your speeds should be fast, too.
How to use Clario VPN
Clario VPN is available on Android devices, iPhones, and macOS. Simply download the Clario app and create an account to begin the setup process.
Next, set up the app as follows:
Enter your name when asked and click Next.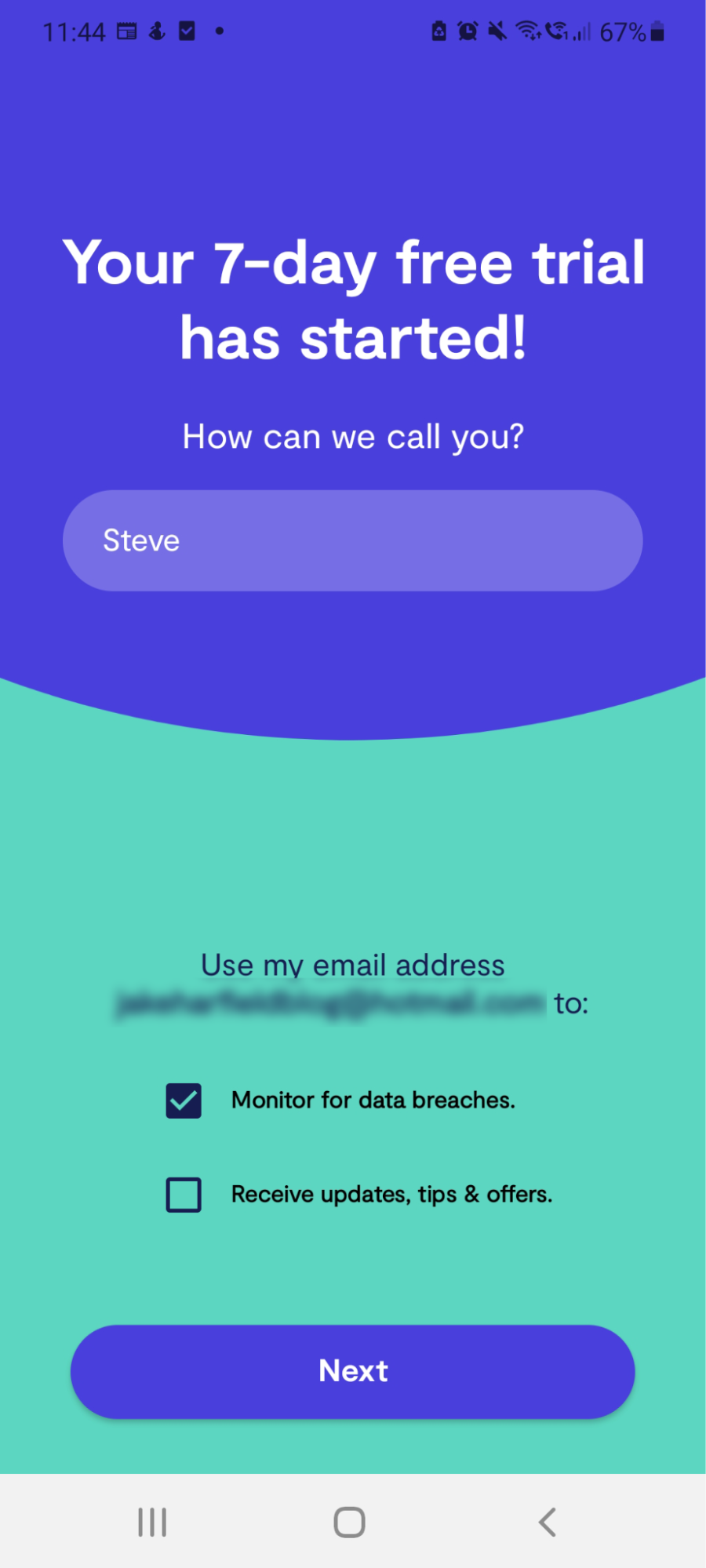 2. Select the 3 security and privacy goals you wish to achieve. For example, you may want to select Use a VPN, Protect my ID, and Browse securely.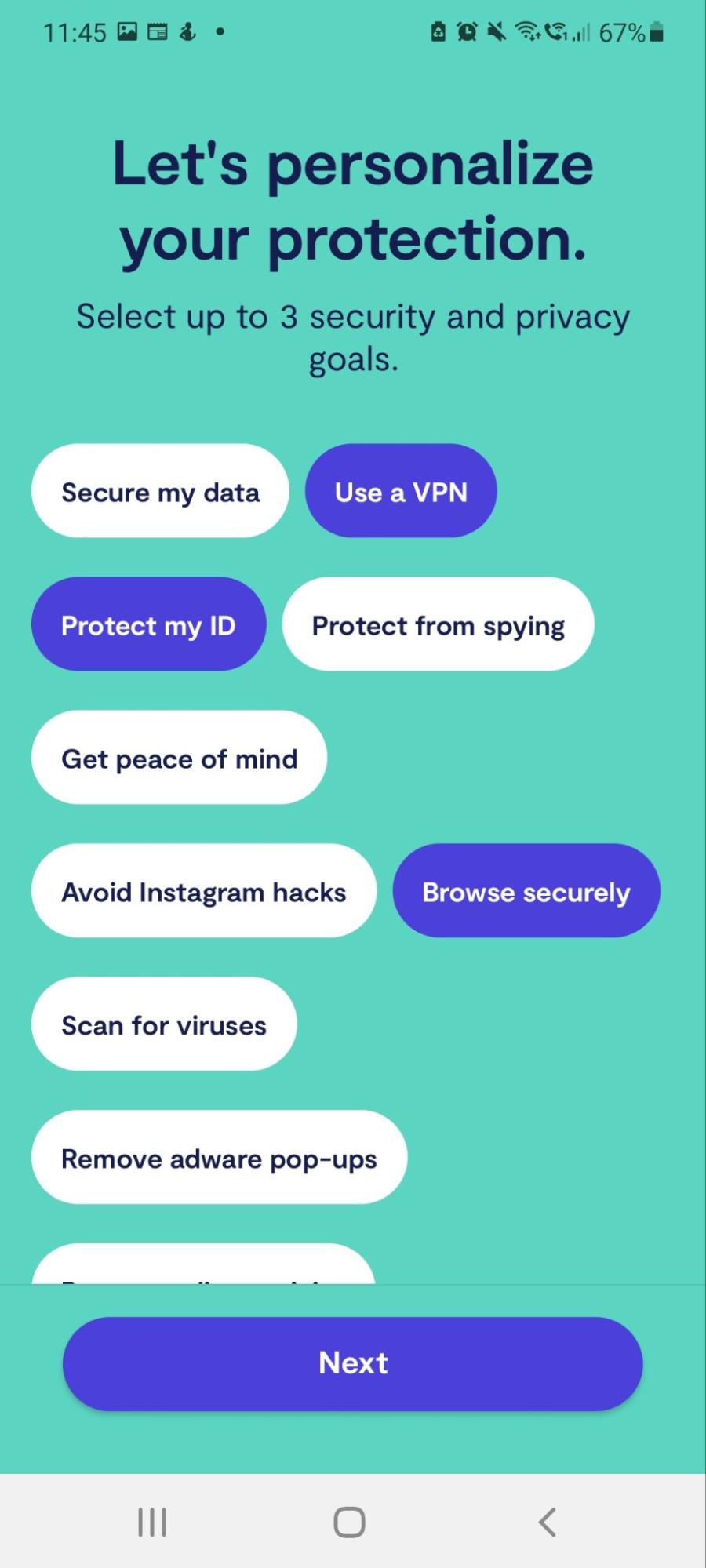 3. Tap Complete the setup. The app will then take you through 5 more steps to ensure you are protected. These steps include adding your email address to monitor for data breaches, turning on your VPN, protecting your Instagram account, scanning your phone for viruses, and protecting your data on unsecured Wi-Fi.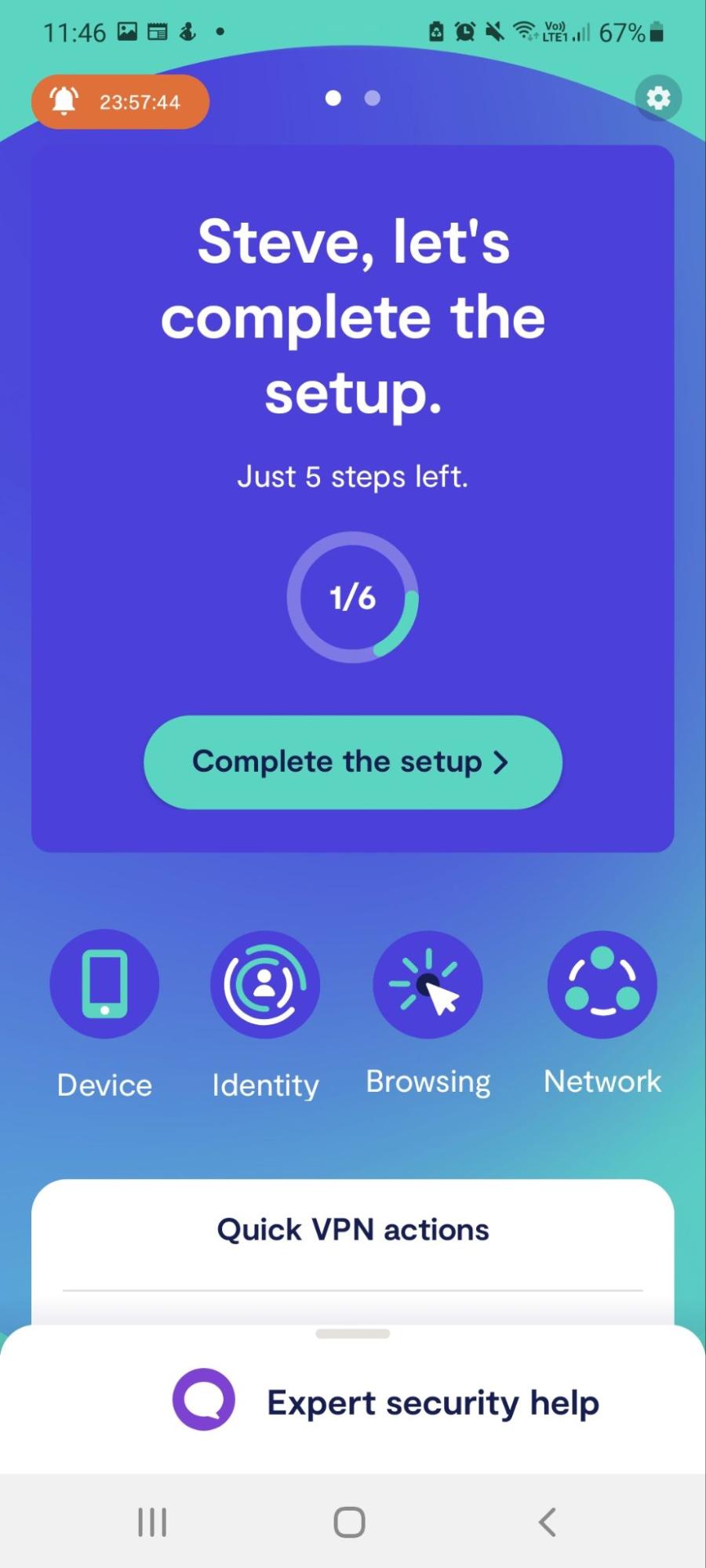 4. Tap Turn on VPN then Turn on.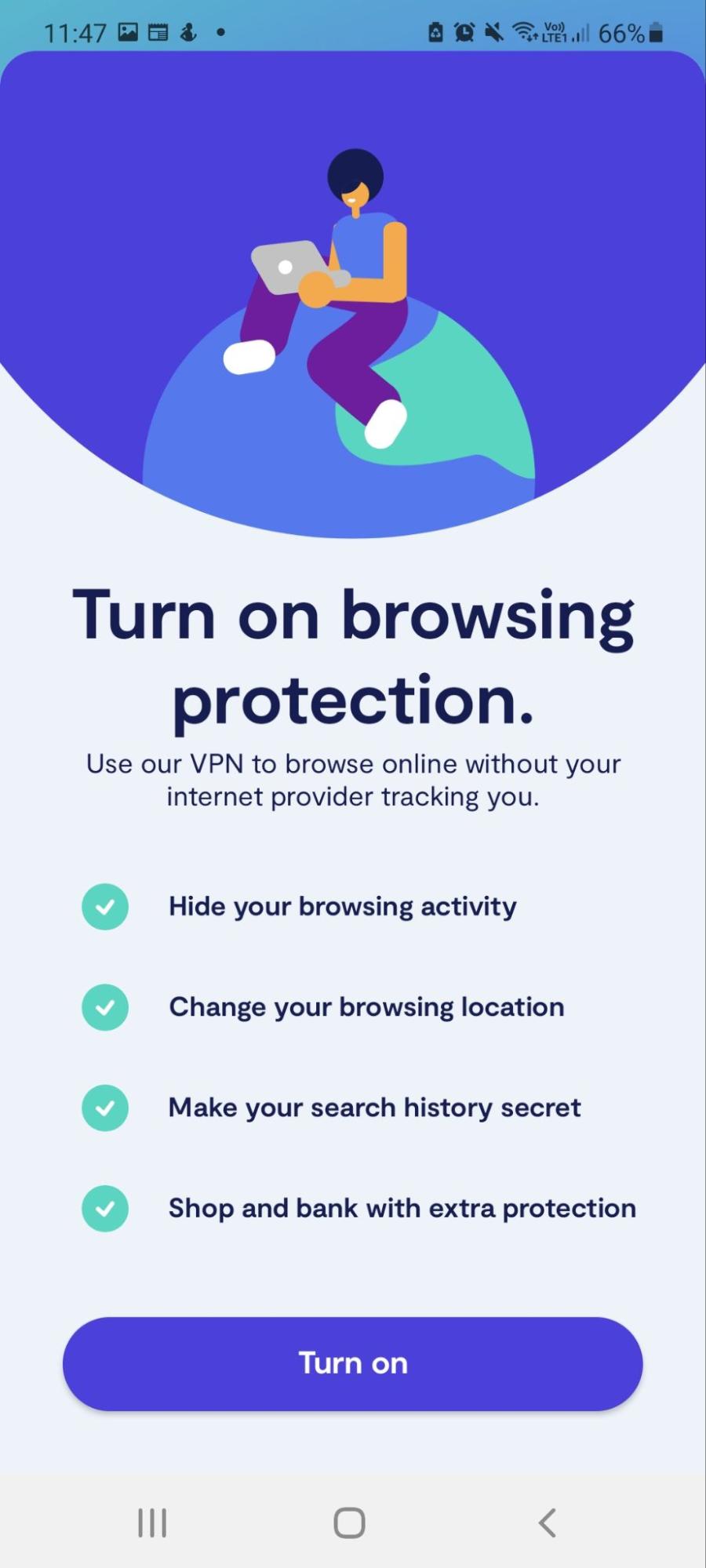 5. A pop-up will appear asking you to accept the connection request. Tap OK.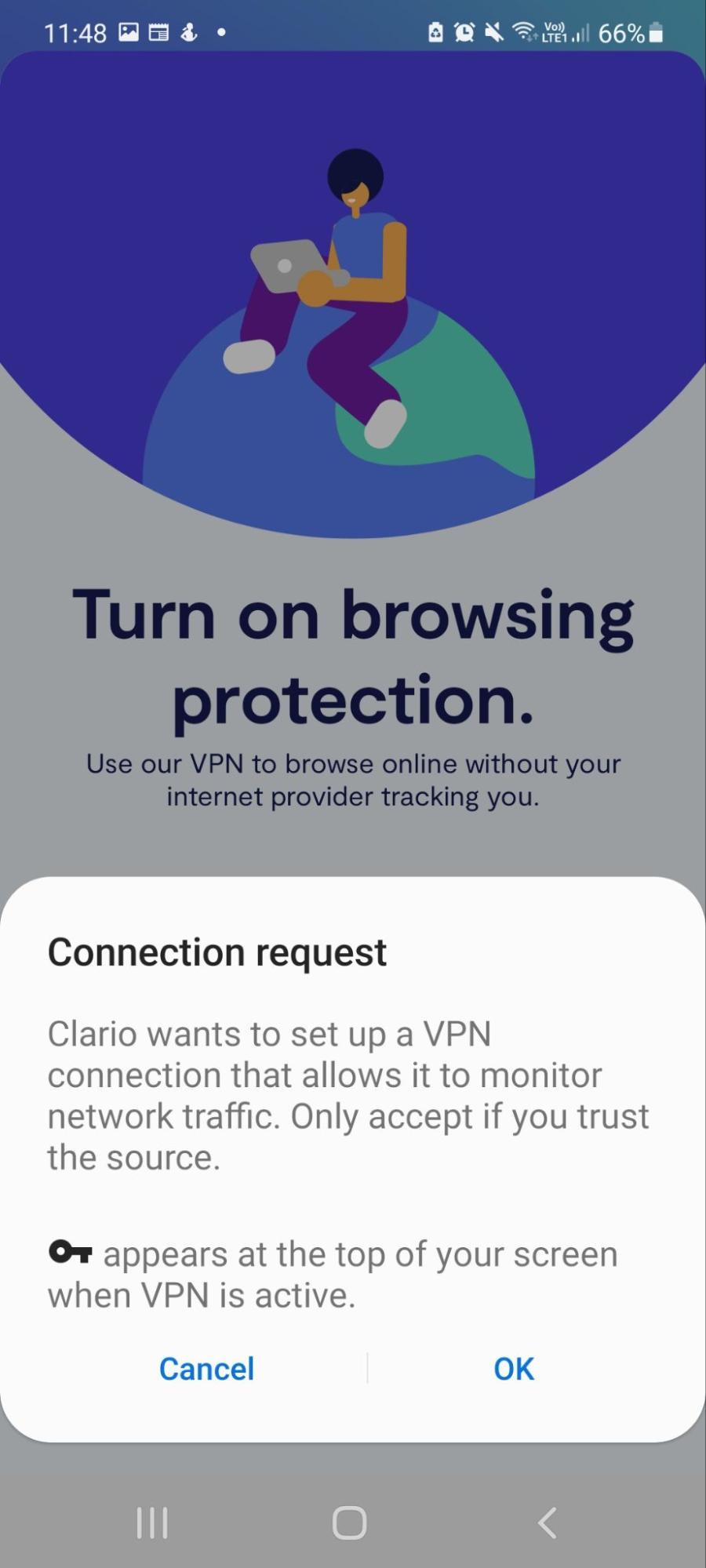 6. Tap Done. That's it! You're safe.
Once you've installed and set up the Clario VPN app, you are able to customize which server you connect to.
To change which server you're connected to:
Open the Clario app.
Scroll down to where it says Quick VPN actions.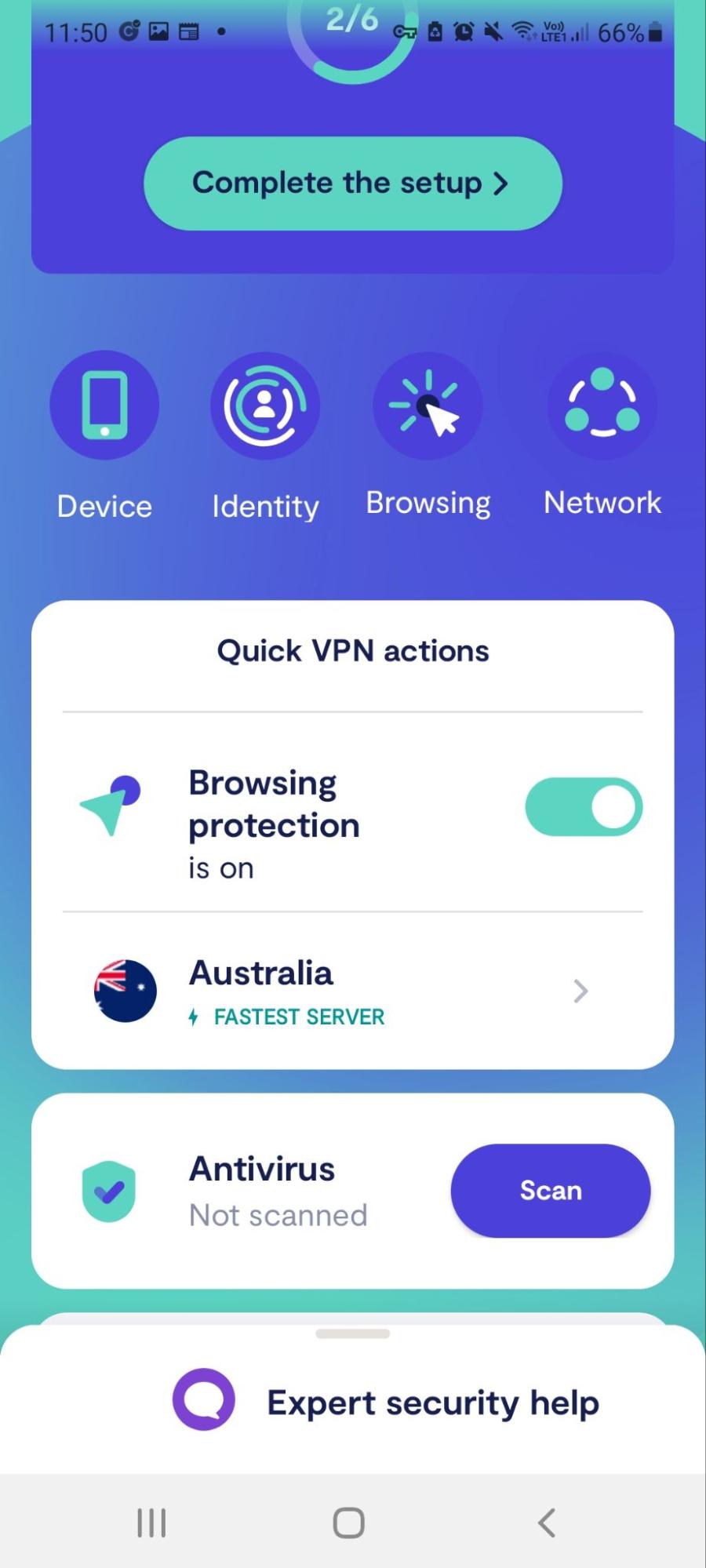 3. Tap on the server (for example, Australia).
4. Scroll down and choose whichever server location you would like to be connected to. The app will tell you which connection is the fastest for you.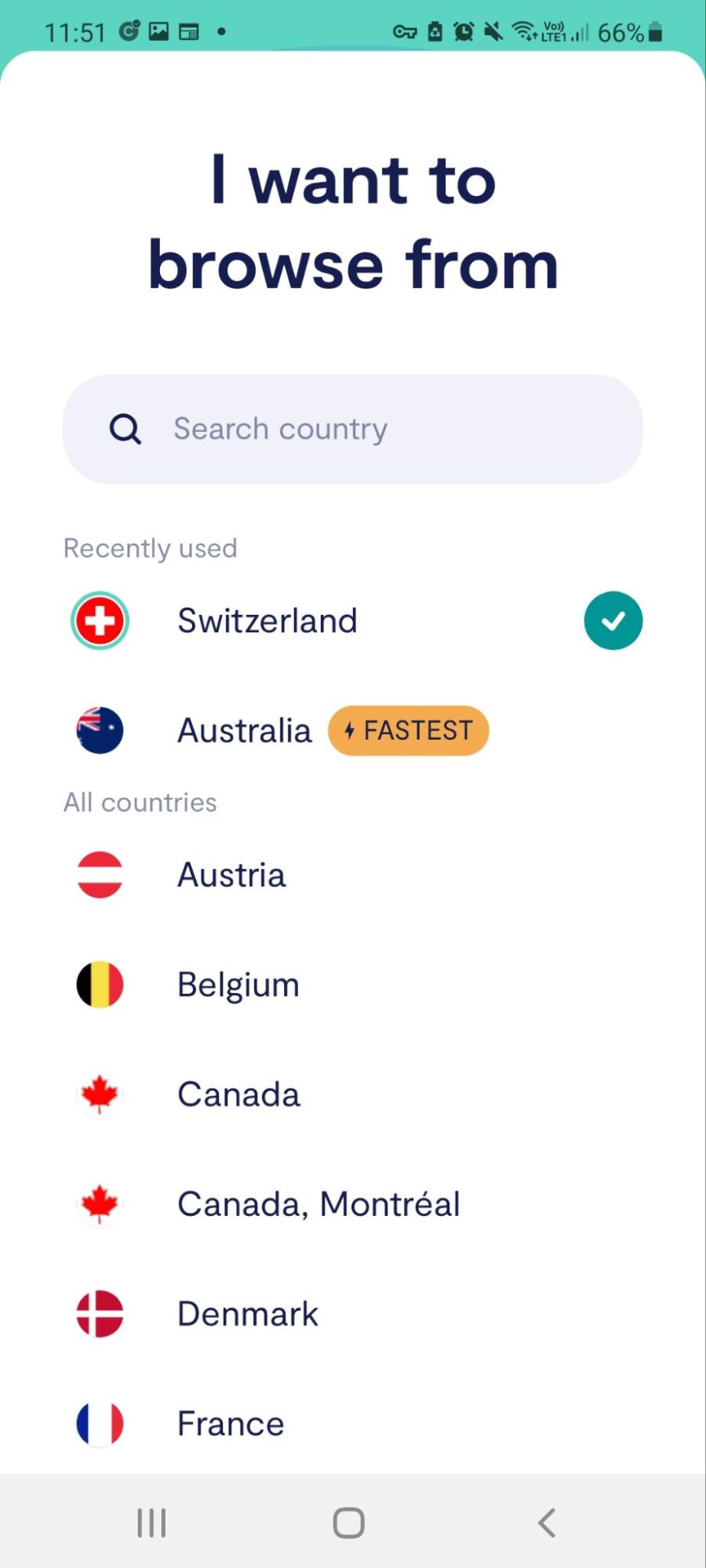 Stay Protected Online
There are many reasons you may wish to use a VPN, but it's vital to understand how different server locations can impact how effective your VPN is.
Clario's all-in-one bundle for Mac, mobile and web can help you protect your online privacy and security and help you access geo-blocked content.
Clario helps you:
Connect privately and securely to the internet using a high-quality VPN
Prevent apps and websites from tracking your activity
Monitor and report any data breaches that might affect your privacy
Access 24/7 support from security experts