By flagging suspicious links before you click them and preventing compromised pages from opening, Web Protection ensures that you don't take any wrong turns as you navigate the internet. If you value your online safety, Clario's Safari extension is a worthy addition to your security toolbox. Let's discuss Web Protection in more detail.
What is Clario's Safari extension?
Clario's Web Protection is a simple but powerful extension you can add to Safari in iOS 15 or later. When enabled, the extension analyzes every link on a page and labels each one either "safe" with a green tick symbol or "dangerous" with a red exclamation mark icon.
Additionally, any time you attempt to open a suspicious link in Safari — whether from your browser, email account, messenger app such as WhatsApp, or another application — Clario presents a warning and prevents the page from loading. You can, of course, bypass any restrictions once you've confirmed the integrity of a site.
What are "dangerous" links and why are they dangerous?
Clario receives information from a database of malicious links, which means that Web Protection always has up-to-date intel regarding which pages you should avoid. Because the database receives constant updates, you can be sure that Clario always has the knowledge needed to safeguard your online experience.
A dangerous link could be anything that leads to a page designed to defraud you or infect your device with malware. For example, a fraudulent website that asks for your credit card details in order to steal your finances would be on the blacklist. Similarly, a site designed to trick you into revealing sensitive information, such as login credentials, social security numbers, and other personal details, would also appear in the database.
Some rogue websites may go a step further and attempt to install malware on your device. Sometimes, clicking the wrong link or accepting a tainted file is enough to seriously compromise your entire system. Fortunately, pages that contain malware are also in the database so Clario can present appropriate warnings.
Clario's Safari extension benefits
For such a simple tool, Clario's Safari extension provides a whole lot of utility. Features include:
Real-time link safety checks

Easy installation and use

Clear labeling of suspicious links

Warnings before opening any malicious pages
Using Clario's Safari extension is like adding guardrails to the internet. You may not need the extra protection all the time, but you'll be thankful it was there when things go sideways.
As we all know, accidents do happen, and one wrong click could lead to ruin. However, Clario's Safari extension adds a critical barrier between you and malicious websites so you can browse the web with peace of mind.
How to use Clario's Safari extension
Adding Clario's extension to Safari is a swift and simple process. Once you have Web Protection installed, the extension runs unobtrusively in the background, marking links as safe or dangerous and only issuing warnings when necessary.
Here's how to add Clario's Web Protection extension to Safari in iOS:
Go to Settings > Safari
Tap Extensions
Tap More Extensions to launch the App Store
Search for Clario Web Protection
Tap Get ('Open' in the screenshot) and complete the installation process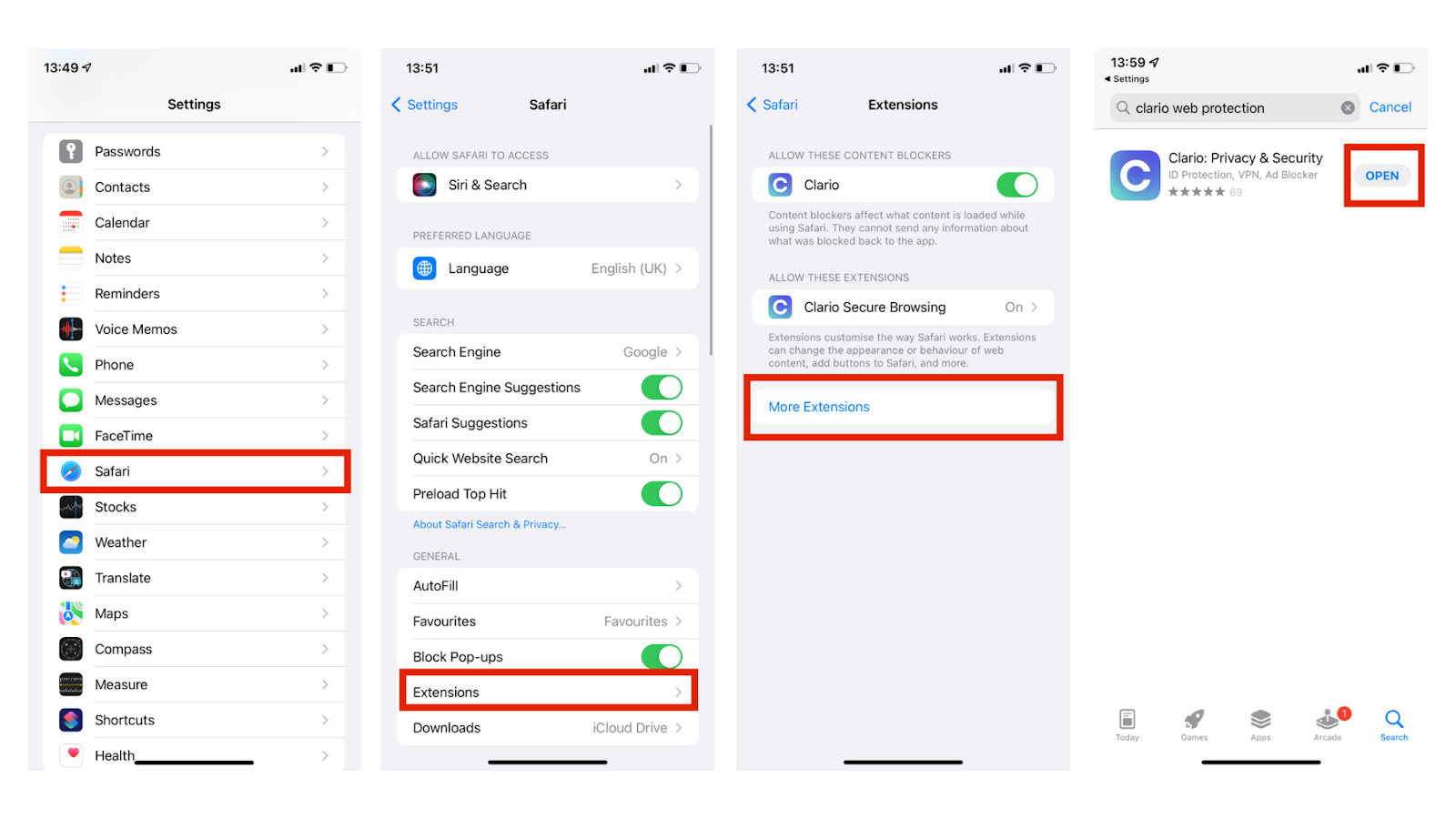 You can enable or disable your extensions at any time in Settings > Safari > Extensions. However, for the best protection, you should keep Clario switched on unless you have a valid reason for turning it off.
With the extension enabled, you'll see each link on a page marked as either safe or dangerous. Ideally, you should avoid any sites that don't pass the safety test.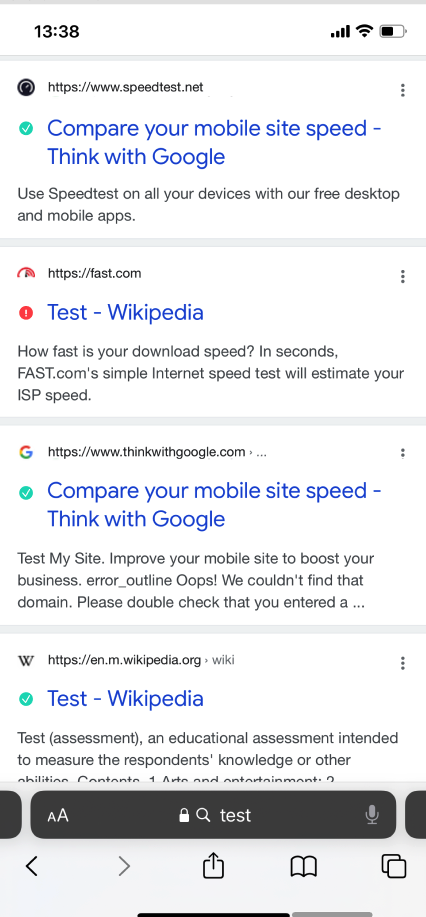 Eventually, you may also encounter a page warning. If you try to visit a site in Safari, no matter where you tapped the link, Web Protection offers a clear alert along with the option to proceed anyway.
Clario will never completely prevent you from accessing a page, but, ideally, you should heed all warnings and only attempt to bypass the filter when you're absolutely certain of a site's safety.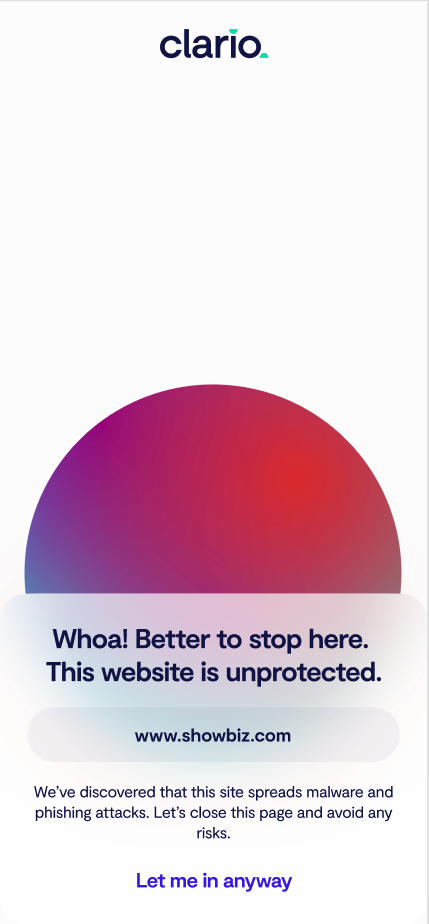 Clario's Safari extension improves online safety
Clario's Safari extension is an important weapon in the fight for online safety. The internet can be a dangerous place, and not all links are exactly what they seem. That's why security tools, such as Clario's Web Protection, are crucial to safeguarding your online experience.
Clario is constantly creating new tools and improving those that already exist. For the best protection, you should seek to utilize every weapon at your disposal while we continue to provide the best.