Can you hide apps on your Android phone?
When you hide an Android app, it's still on your phone, because you're actually just hiding the app's icon. Although many phones can do it, not all can. If you have an older Android phone, it might not be able to hide apps. Even some newer models don't do it.
In such cases, you may want to install a third-party launcher that offers this feature. There are many of these, and they offer all kinds of features and customization options, some of which you may not have with your phone's default software.
Many launchers will let you hide apps on your phone too, but the method will be different for each one. It's worth checking a few of these out, especially if your phone doesn't otherwise have the ability to make apps invisible.
How to hide your Android apps
Although the ability to hide apps is a common feature on many Android phones, it differs depending on which version of Android you have and the brand of your phone. Manufacturers are free to create software overlays that sit on top of Android, changing the user experience significantly. That means a Samsung phone will offer a different experience to, say, a OnePlus phone.
There are also many third-party launchers and app-hiding tools, and how you hide app icons is different with them too. Let's look at some of the different ways of hiding apps on Android phones.
How to hide apps on a Huawei Android phone
In the more recent versions of Huawei's EMUI overlay, you can't hide individual apps, but you can set up a PrivateSpace. This is basically a hidden user profile, separate to your main one. It has its own apps, settings and so on, so as well as hiding apps, it hides all your documents, settings and activity.
Follow these steps to set up Huawei PrivateSpace and hide apps:
Find and open your Settings app
Scroll down and select Privacy
Now select PrivateSpace
Tap Enable, and enter your password if asked. Then enter a PrivateSpace PIN
From now on, you can return to Settings > Privacy > PrivateSpace and select Log in to get back into your PrivateSpace.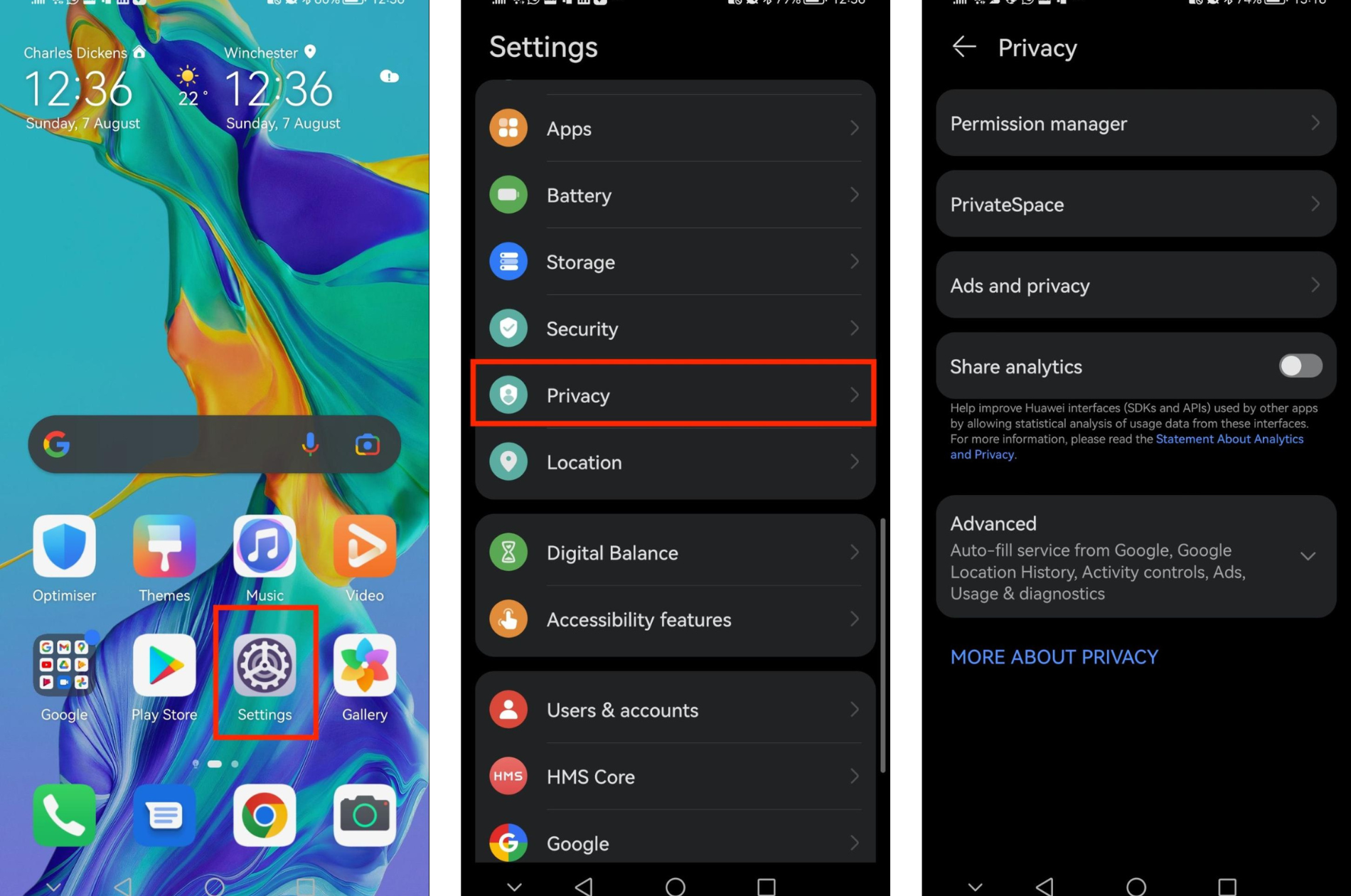 How to hide apps on a Samsung Android phone
Samsung has had a few different Android overlays in the past, and its latest one is called One UI. There are a few different ways to hide apps on a Samsung phone, but here's one of them:
In your app draw, tap the three dots in the top right, and select Settings
Now select Home screen settings or Settings
Tap Hide apps
Select all the apps you want to hide from the list
Tap Apply (or Done)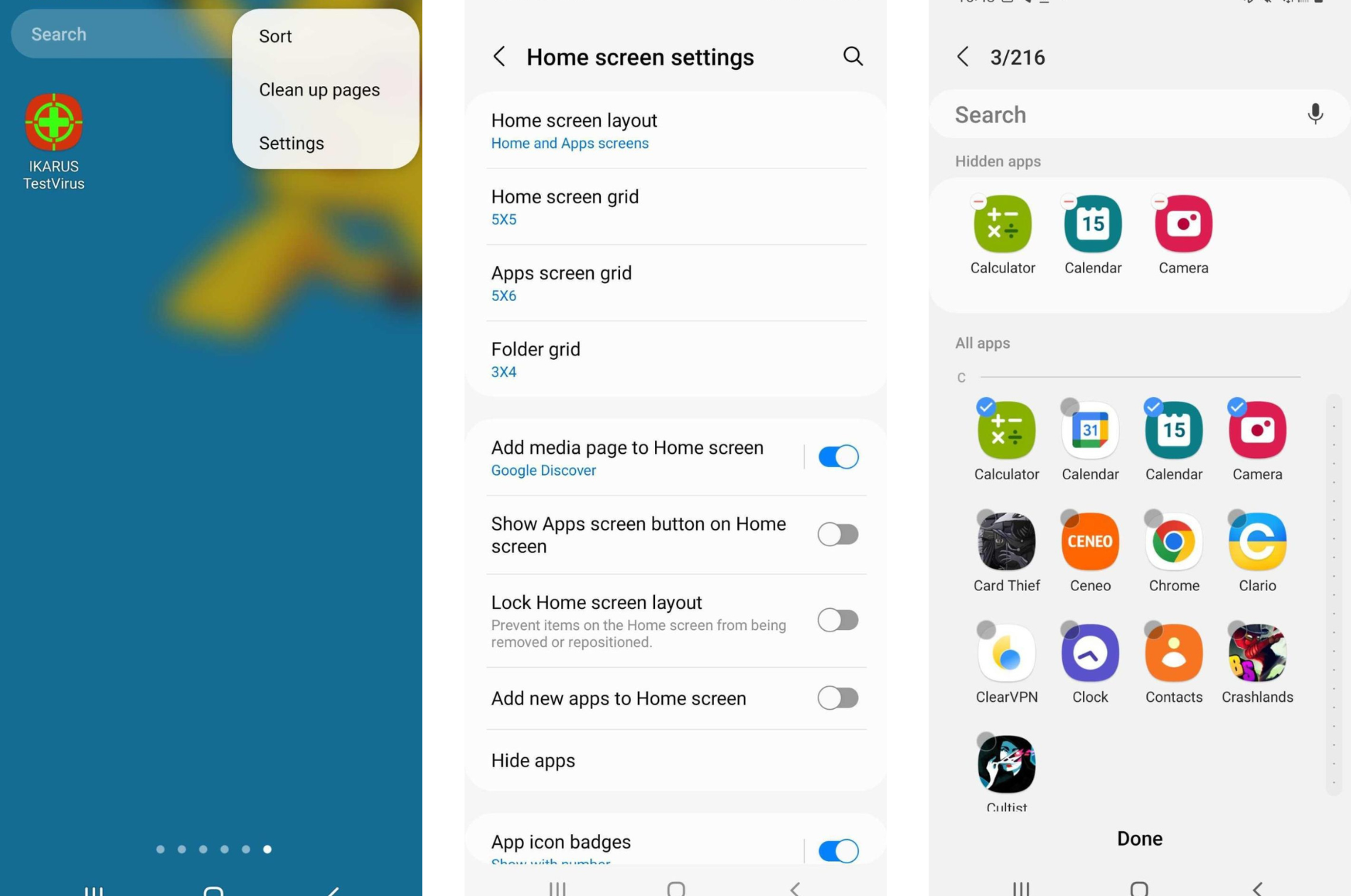 How to hide apps on a Xiaomi Android phone
Many Xiaomi phones have a feature called App Lock that can password protect apps, but if you don't need that level of security, you can just hide Android icons. Here's how:
Swipe down from the top of your phone, and select the cog icon to open Settings
Search for and open Hidden Apps
Select apps you want to hide
To view hidden apps, spread two fingers apart on your home screen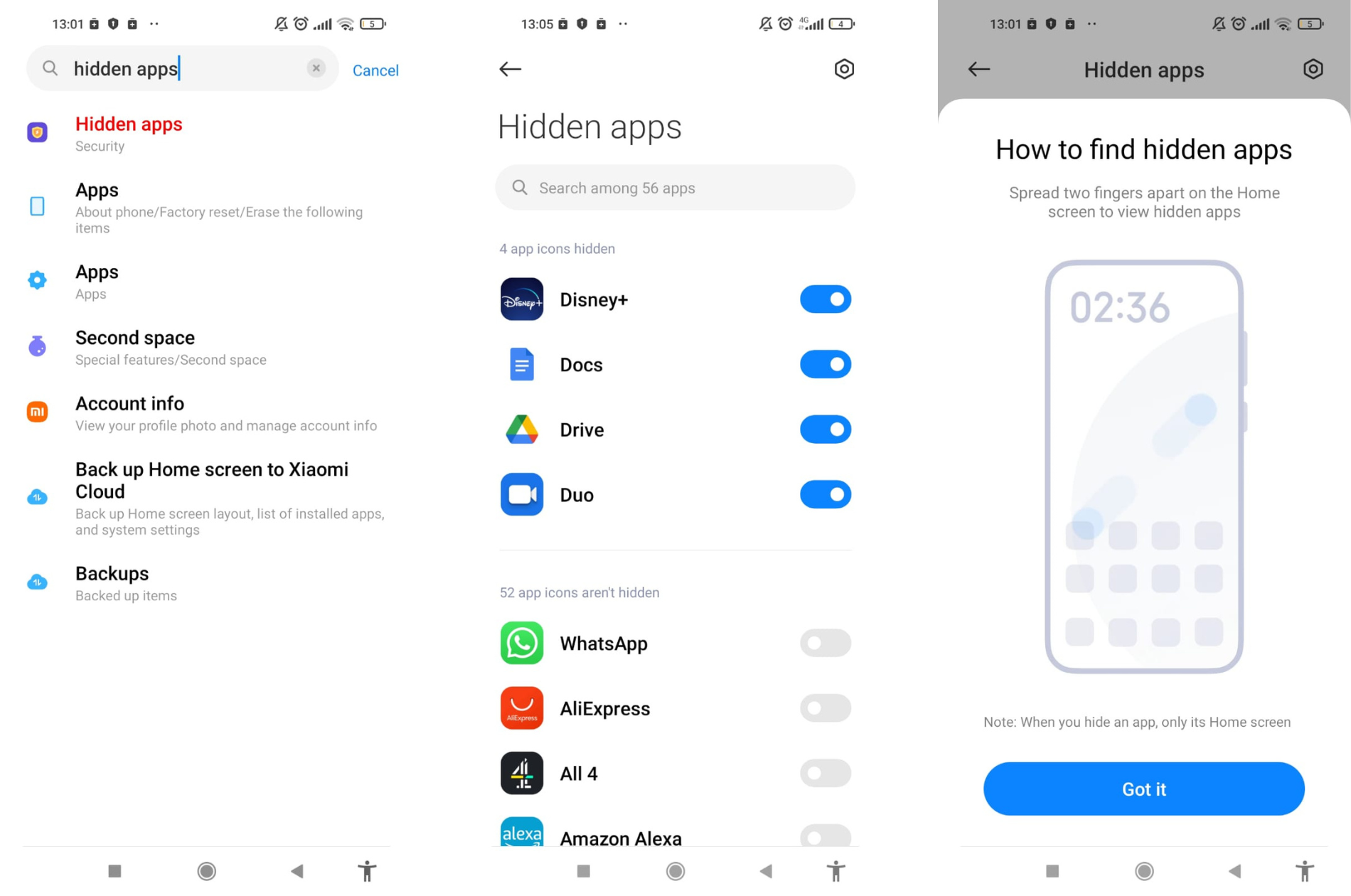 How to hide apps on a OnePlus Android phone
Hiding apps on a OnePlus phone is quick and easy, and it gives you the option of locking them too, if you want to prevent access. Just follow these steps:
Swipe up from the bottom of your screen to open your app drawer
Now swipe left to show the Hidden Space, and tap the plus icon
Choose apps to hide, and tap the tick icon
Return to the hidden space whenever you want to open these apps. If you tap the three dots in the top-right, you can also lock apps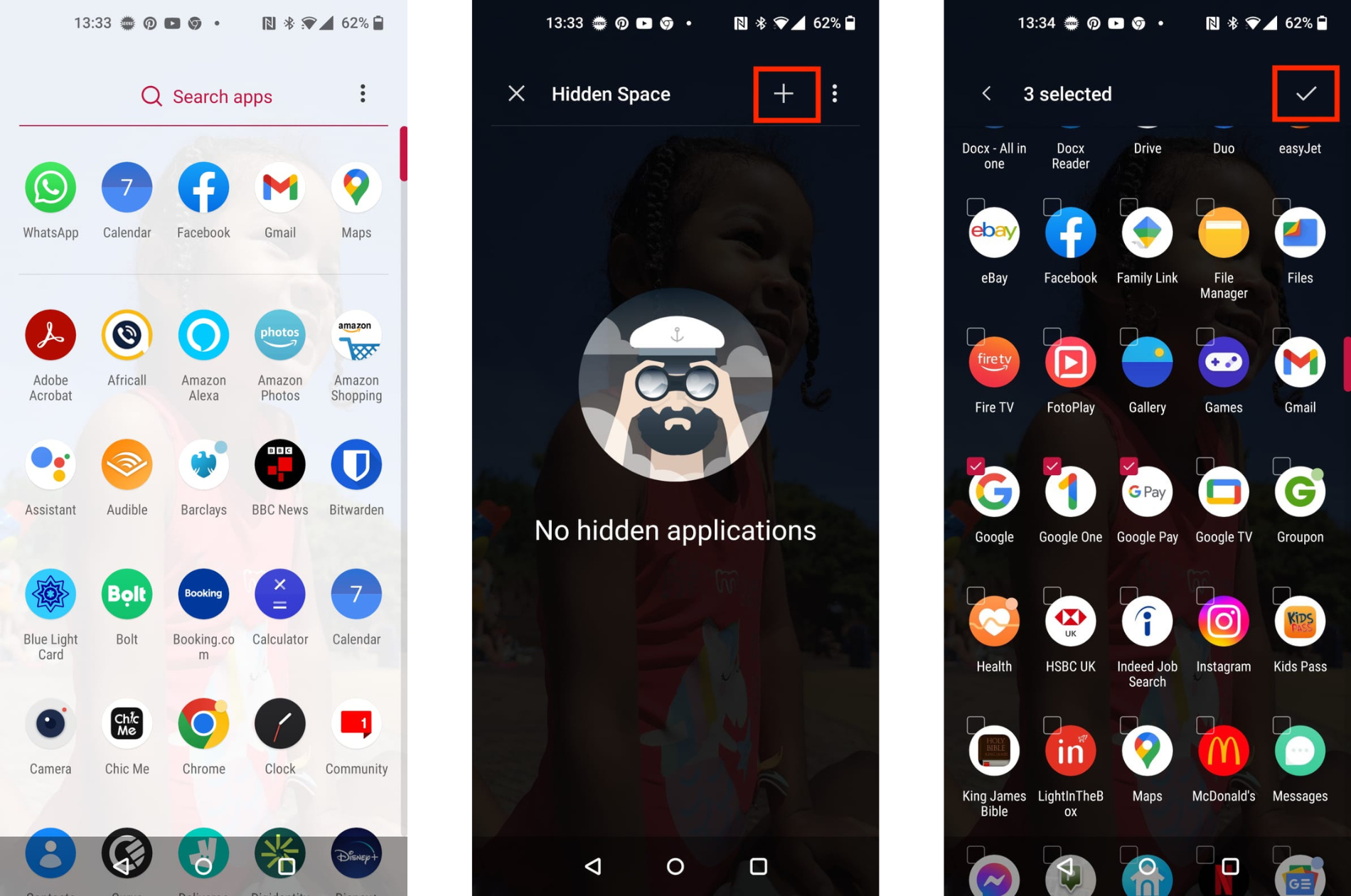 How to hide apps on an LG Android phone
As with other brands, how you hide apps on your LG Android phone will differ depending on what model you have. For many, though, you can follow this process:
On your home screen, press and hold on a blank space
Tap Home screen settings
Select Hide apps
Now choose which apps to hide, and tap Apply
Lock apps for more security
In many cases, hiding apps on an Android phone simply makes them invisible. They can still be found and opened, just by searching for them, so if you're hiding apps for security reasons, you need to think of a different solution. Some phones have app locking features built in, letting you hide and password protect your apps, but otherwise you'll need a third-party tool.
If you look in the Play store, you'll find there are plenty of tools to hide and lock apps. Some even have the ability to disguise themselves as something else, such as simple volume control apps.
Protect your private data
Hiding apps on your phone may stop people around you from seeing your data, but it won't stop online hackers. If your email address and passwords are caught up in a data breach, you could find yourself locked out of your accounts or worse.
That's why Clario offers a data breach monitor. This checks records of known data breaches to see if your email addresses were involved. It will also inform you if your email addresses are leaked in future breaches.
Here's how to use the Clario data breach monitor for Android:
On the home screen, scroll down to Data breach monitor, and tap Fix now
Select an email address or add more using Add email
If data breaches are found, tap on each entry to expand it
Read the information, which tells you what happened and offers advice
Follow the advice under What should I do? then select Mark as fixed
If you don't need to fix anything, select Ignore
Repeat with any other breaches listed in Clario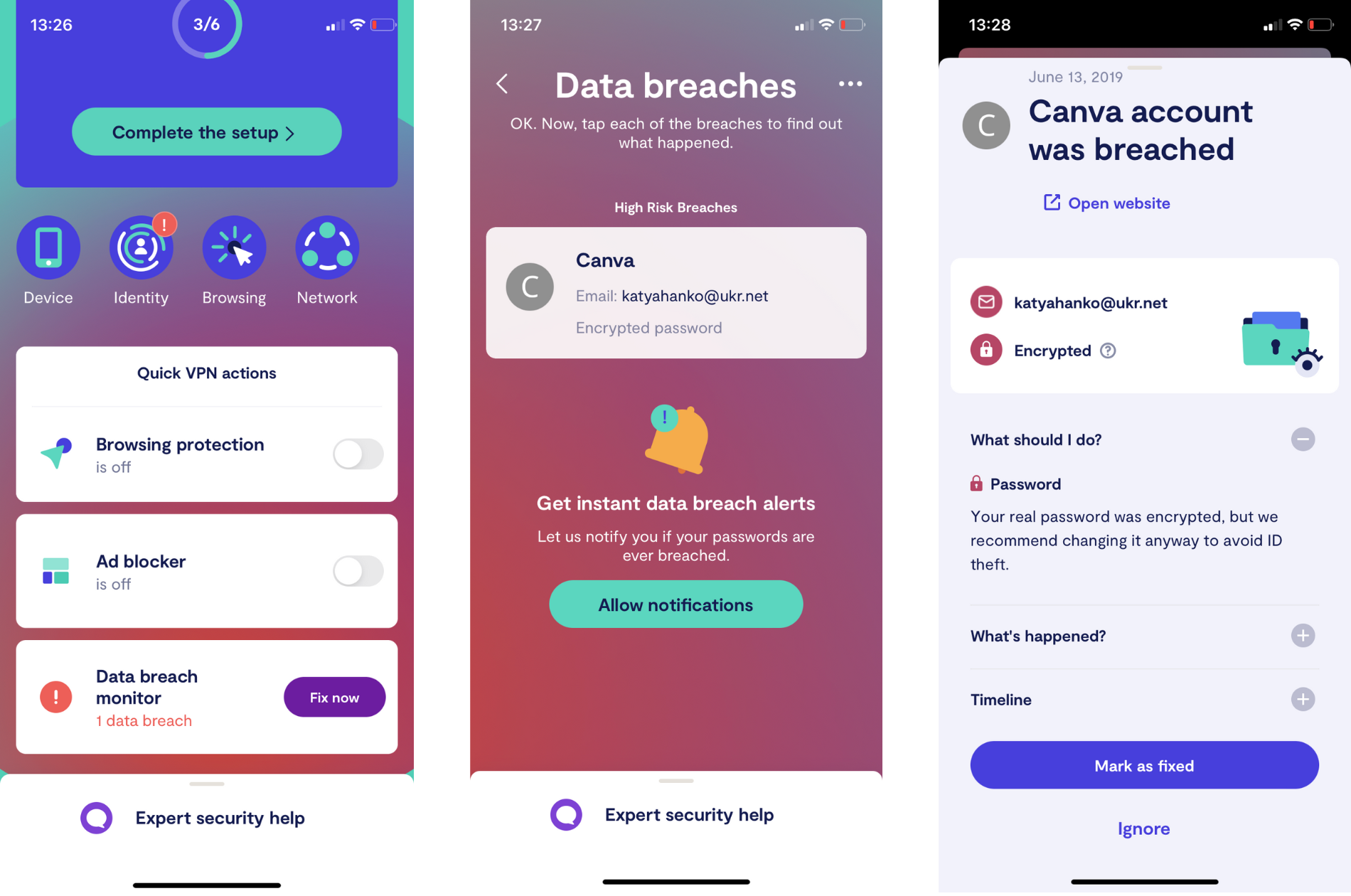 Combined with Clario's other security and privacy features, as well as hidden apps, you should be able to keep your data away from prying eyes — both online and offline.