Tips for speeding up Android phones
If your phone is running slowly, try out these tips to optimize your Android's performance speed and get your phone running like normal.
1. Restart your phone
A good first step when your phone is not performing at optimal speeds is to restart your device. Sometimes, all it needs is a simple restart to run fast again. Think about how many apps are open, slowly eating memory and battery power on the phone, and think about all those times you've thought that your phone drained entirely too fast that day. Restarting your phone clears open apps and memory leaks, and gets rid of anything draining your battery.
Here's a quick way to restart your Android phone — hold the power button down for 5-10 seconds and select Restart from the menu that opens.
Some devices from different brands may have alternative ways to restart the phone, but this method should work across most smart Android phones.
A common best practice is to restart your phone at least once a week. This can help with performance issues by preventing crashes, prolonging battery life, and retaining memory.
Restarting your phone can help clear caches and quit or close apps that are draining your battery and keeping the performance low. Give it a try now to see if that helps make your Android phone work faster.
2. Check your Android device for updates
Another common problem when Android devices slow down is that they need a software update. When was the last time you updated your phone?
To check for software updates on your Android phone, follow these quick instructions:
1. Go to your Settings
2. Scroll down to System and tap it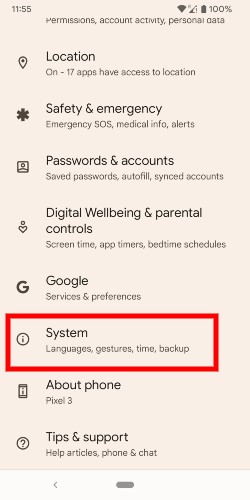 3. Go to System update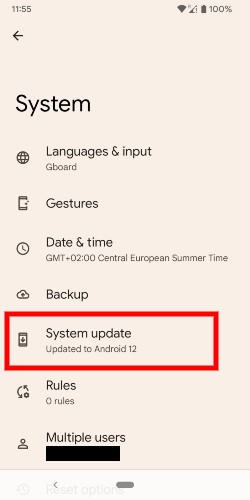 4. Tap Check for update in the bottom right corner of your screen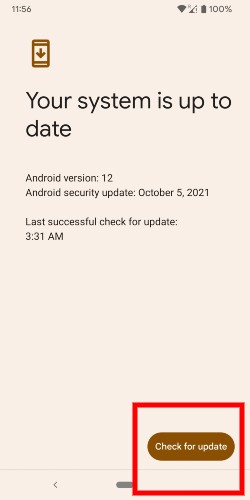 If you have any available updates, run those to optimize your Android system. Software updates are created to fix bugs and performance issues that developers found in the previous version of the software. So, updating your device on a regular basis is an important step to keep it running well.
3. Free up storage space
Limited storage space can cause your Android phone to run slower. Most newer devices will prompt users to free up storage space and provide a variety of options for how you can do this.
To free up storage space on your Android, follow these simple steps:
Go to Settings
Go to Storage
Tap Free up space
Follow the prompts that your phone provides to clear your storage. Some of those might include:

Clean junk files
Delete large files
Delete unused apps
Delete any backed-up media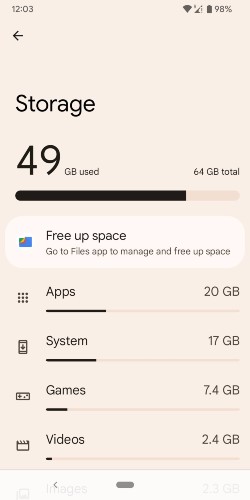 Android devices are smart and can give you direction to free up storage if you're not quite sure where to start. Freeing up storage on your phone is helpful too because it enhances the performance of your device as well as clears space for you to take more photos and videos and download more content.
4. Clear your cache
Do you browse the internet on your phone? Maybe you look up recipes or answers to quick questions while you're out and about. Those searches start to take up memory on your device if you don't clear them on a semi-regular basis. Clearing your cache can help free up memory and allow your Android phone to run faster.
Follow these easy instructions for clearing your browser cache on your Android phone:
Google Chrome
1. Open your browser
2. Tap the menu icon in the top right corner of your screen
3. Go to Settings
4. Go to Privacy and security
5. Go to Clear browsing data. Here you'll have several options from Basic and Advanced.
You can choose a time range – Last hour, Last 24 hours, Last 7 days, Last 4 weeks, and All time
You can choose to clear browsing history, cookies and site data, and/or cached images and files
Under Advanced you'll find a couple more options to clear if desired
6. Click Clear data in the bottom right corner of your screen.
There are a lot of options for cleaning and speeding up your Android phone, so we recommend starting with the basic settings and setting the time range to All time.
Mozilla Firefox
Open your browser
Tap the menu icon in the top right corner of your screen
Go to Settings
Tap Clear private data
Select all data types that you would like to clear
Tap CLEAR DATA in the bottom right corner of the screen
5. Uninstall unused apps
When you go through the free up space function on your Android device, it may prompt you to delete any apps that you no longer use. If it didn't, now's the time to give that a try. Find any apps on your phone that you're not using any more and uninstall them.
Uninstalling apps from your Android is pretty simple – just tap and hold the app icon that you wish to delete, go to App info, and tap Uninstall. Do this for any apps that are taking up space that you no longer wish to use.
If you have a lot of apps that you'd like to delete at once, a quick and easy way to delete unused apps from your phone is to go to your app library on the Google Play Store. Follow these steps:
Open the Google Play Store App
Tap your profile icon in the top right corner
Go to Manage apps & devices
Tap the Manage tab at the top of the screen
Tap the sorting icon – it may say Recently updated next to it – and choose Least used
Select all apps you want to remove
Tap the delete icon in the top right corner of the screen
Follow the prompts to uninstall your apps
We recommend selecting all of the apps you haven't used for at least six months and deleting those.
6. Turn off animations
Animations on your Android device are visual cues that take place when you interact with your device. For example, apps might shrink in the background when you close them. These animations provide that high-end experience that Android wants its users to have, but sometimes they can impact the performance of your device.
To speed up your Android phone by turning off animations, follow these quick steps:
1. Go to Settings
2. Scroll down to Accessibility and go into that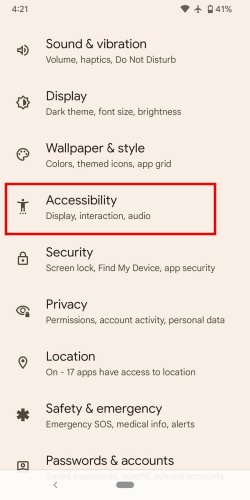 3. Go to Text and display
4. Toggle the Remove animations option to off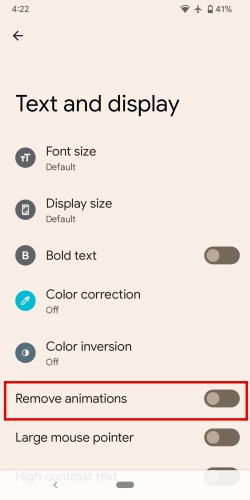 7. Use Lite edition apps
Most popular phone apps have a Lite edition that is basically a stripped down version of the app that takes up less space and memory and runs faster. Some of these apps include Facebook, Messenger, Skype, Instagram, LinkedIn, Twitter, and Spotify.
Search for lite versions of your favorite apps to optimize the speed of your device.
8. Remove excessive widgets
Are you using widgets on your phone? Widgets are fun, little add-ons on your home screen that can provide more information from particular apps or add personality to your phone. These might include a clock, weather information, news, pictures, your calendar, and so much more.
Enhance your phone's speed by removing any widgets that you don't need or use. To remove widgets from your Android's home screen, just touch and hold the widget that you want to remove, and then tap Remove from home or drag it to the Remove option at the top of your screen.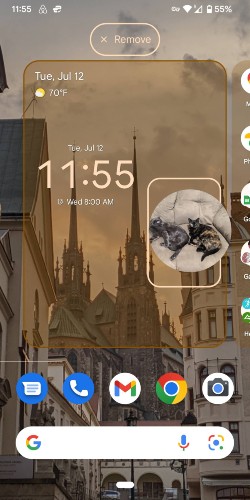 9. Turn off sync and background data
Androids are programmed to sync background data so that you receiving instant notifications from your apps. If you disable this feature, you won't receive notifications from your apps unless you open them. This can save battery life and help your device perform quicker.
If you want to turn off the background sync, you'll need to do this individually on each app. To do this, follow these quick instructions:
Go to Settings
Go to Network & Internet
Go to Internet
Tap the settings icon for your mobile data network
Go to App data usage
Scroll down and tap into each app for which you want to turn off background data
Once an app is selected, scroll down to Background data and toggle off
10. Check for malware on your phone
If you've tried all of the previous steps and your phone is still not performing quickly, then malware could be a possibility. To detect and look for malware on your phone, follow these steps:
1. Go to the Google Play Store app
2. Tap your profile or menu icon in the top right corner of your screen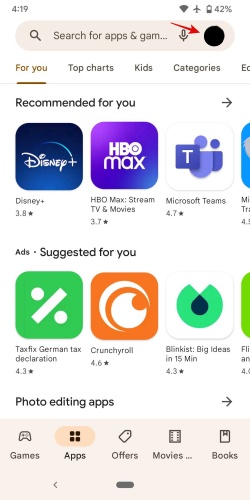 3. Go to Play Protect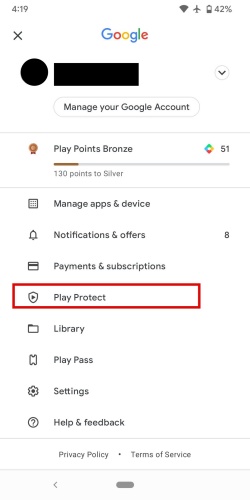 4. Click Scan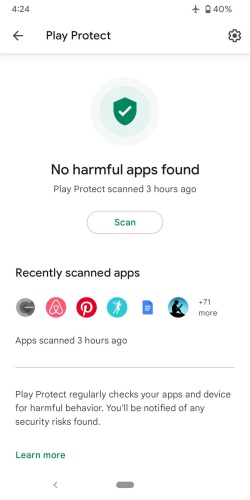 5. If your device detects any harmful apps, it will provide options to remove them
There are also several apps for Androids that you can get to detect malware and help speed up your device. Clario provides malware detection for Android devices, including daily malware scans and scanning new apps for viruses.
11. Factory reset
Performing a factory reset on your device is often a last-case scenario, so we recommend trying the other tips in this article before jumping to this solution. A factory reset will set your phone back to the original settings that it had when you purchased the device. This will erase all new apps, photos, messages, contacts, etc.
If you've tried everything else and still don't know why your phone is performing slowly, try a factory reset to give your phone a performance boost.
To factory reset your Android phone, follow these steps:
Go to Settings
Go to System
Go to Reset options
Select Erase all data (factory reset)
Be sure your device has enough battery or is charging when you perform a factory reset because this can take some time to complete.
Wrapping Up
Our phones help perform daily tasks and are often a lifeline as we go about each day. You don't need to let a slow device derail your day or even become a minor inconvenience. Follow the steps that we've laid out above to help optimize your Android's speed so you can continue to benefit from a top-performing device.
Read more: