What are Instagram scams?
Instagram scams are designed to trick users of the platform into handing over something valuable, like money or personal information. These days, they can be found in many forms, and cybercriminals are constantly finding new ways to make them more sophisticated—which, in turn, can often make them more difficult to spot.
Scam statistics
According to the latest data from GoodFirms, almost half of all survey respondents reported that they had encountered a scam on social media within the last year, while more than 20% had lost money to online scammers.
In most cases, Instagram frauds are really no different from those that take place on other online platforms or on other websites. They typically follow similar patterns and use familiar tricks, though some are more common on Instagram than they are elsewhere, and others have been designed to take advantage of Instagram specifically.
Common Instagram scams
If you're worried about being the next victim of an Instagram scammer, or you want to avoid getting your Instagram hacked, being able to identify common scams is critical. Once you're familiar with the tricks fraudsters use, spotting them will be much easier. Here are the most common IG scams:
1. Instagram artist scams
An artist scam is when a fraudster asks to buy one of your images or art but proposes a strange payment deal. It usually involves sending you a check or another form of payment for more than the amount you've agreed on. You take your share, then return the rest to them. Of course, the payment isn't real, so they get your money, but you get nothing.
2. Instagram phishing scams
Phishing scams usually involve a direct message that looks like it has been sent by a reputable brand or person. It might offer you support for an issue you've posted about, ask you to verify your login details, or claim that you've won a competition. Whatever the case, the message will seek personal information, such as your address and date of birth or payment information.
3. Instagram blackmail scams
Blackmail scammers build up trust with you before persuading you to share sensitive personal information or images. They will then use that content to blackmail you by threatening to send it to your friends or family if you do not pay them.
4. Instagram promotion scams
If you're ever invited to take part in a promotion on Instagram, it could be a scam—especially if they ask to submit personal information or payment details to participate in a prize draw or another competition. Reputable brands and companies rarely ask people to take part in their promotions.
5. Instagram investment scams
We all like the idea of earning easy money, so investment schemes that claim to offer big returns can seem incredibly enticing. The problem is that they're almost always too good to be true, so don't believe messages claiming to make a small sum of cash much bigger.
6. Instagram giveaway scams
Giveaway scams usually promise free goods in exchange for a few personal details or a small payment. They might look like promotions run by famous brands, but you'll probably notice the account isn't verified, was recently created, or has very few followers.
7. Instagram hacking scams
Instagram messages encouraging you to visit a website or profile may be part of a hacking scam. Hackers use these scams to get you to download malicious code that will give them access to or control of your device. Once they have that, they have almost unlimited access to all the data they want.
We created Clario AntiSpy to help you to text your devices from spyware. The most valuable asset we all have is information, personal data to be precise. One of the ways malicious actors can get to your personal information is by scamming you on Instagram. What can you do?
First, run an Anti Spy scan to see if anyone is spying on you
Second, enable a Data breach monitor to see if your data is out there and available for grabs
Third, follow the digital security tips.
All this and more you can do with Clario AntiSpy.
8. Romance scams on Instagram
Random messages from people who seem overly friendly or are looking for a relationship may be part of a romance or dating scam. This is when con artists catfish their victims to build a connection. The imposter promises to meet you if you help pay for travel expenses.
9. Instagram brand ambassador scams
Many social media users dream of being brand ambassadors who are paid to promote great products, but beware: accounts that heavily promote collaborations or affiliate schemes are probably not genuine. These fraudsters trick you into thinking you've been selected for a partnership before asking for money to send goods and to cover other joining expenses.
10. Instagram voting scams
If another Instagram user asks you to vote on something, it's likely a scam. Their message will likely include a link to a malicious website or, if they ask you to send back a screenshot, it's likely a password reset page they can use to gain access to your account.
11. Crypto scams
If another Instagram user promises you free cryptocurrency tokens, a free crypto wallet, or asks you to send crypto funds in exchange for something else, the only person who will profit is them.
12. Paid subscription scams
Some Instagram scammers claim to offer free or heavily discounted subscriptions to popular services like Netflix and Spotify. If you take them, you'll likely get a signup link to a malicious copycat website or a stolen account.
13. Fake job scams
Recruiters don't usually use Instagram to find new workers, so if you receive a message about a great job vacancy with an incredibly attractive salary, it's almost certainly from a scammer hoping to steal your personal information, Social Security number, and more.
How to tell if someone is scamming you on Instagram
It's easy to spot an Instagram scammer by looking for these signs:
Requests for money or personal information
Asking you to visit a suspicious link
Claiming you've won a contest or competition you did not enter
Promising free or discounted products or services
Claiming to be big brands but aren't verified.
How to avoid scams on Instagram
You may receive a lot of Instagram scam messages, even if you don't have a large number of followers. One of the most effective ways to avoid falling for them is to use common sense. Don't be enticed by offers, deals, or anything else that seems too good to be true, and never share personal details or payment information in Instagram messages.
You should also avoid clicking links in Instagram messages, and if you receive a message that looks like it's from a recognizable brand or company, check the account to ensure it's verified. You can also greatly reduce the number of messages you get from scammers by using Instagram's privacy controls to make your account private.
It's also important to remember that not all scammers are random people you don't know. People are often scammed by those they falsely believed were friends, and it's common for former romantic connections to monitor your activity—which you may know if your ex broke up with you but stalks your Instagram.
What to do if you get scammed on Instagram
Depending on how you've been scammed on Instagram, there may be a number of actions you should take, starting with reporting the account to Instagram. This will help prevent the scammer from exploiting other users.
Tip
If you're worried that a scammer stole your account credentials or other personal information, you must immediately change your passwords and take steps to protect your identity.
Tip
If you've provided payment details or sent the scammer any funds, report it to your bank or credit card company immediately so their fraud department can investigate it.
How to report a scam on Instagram
You can report a scammer on Instagram with just a few taps inside the mobile app. Simply follow these steps:
Open a DM you have received from the suspected scammer
Tap their username at the top of the screen to go to their profile
Tap the Options button, then tap Report
Choose a reason for reporting them, then tap Submit Report.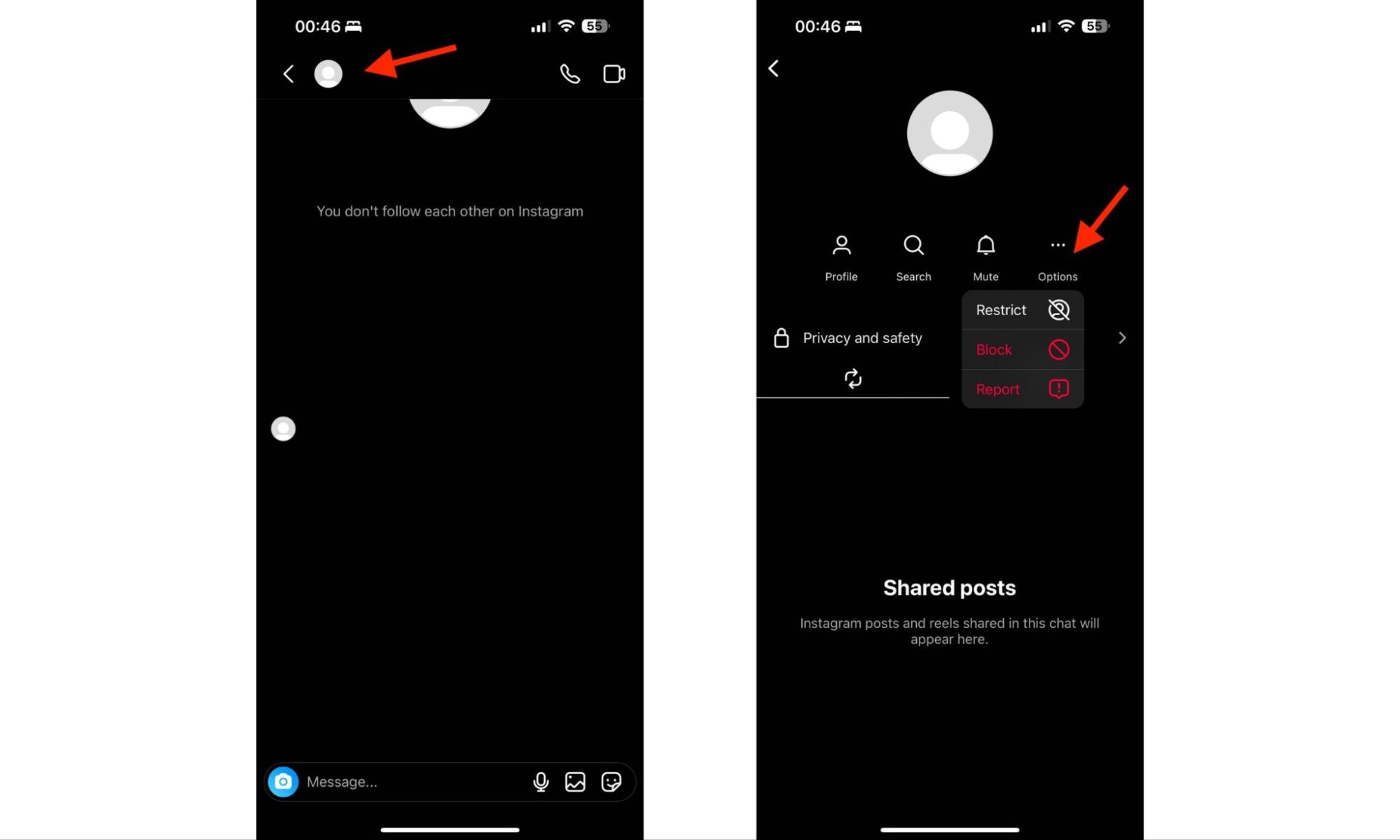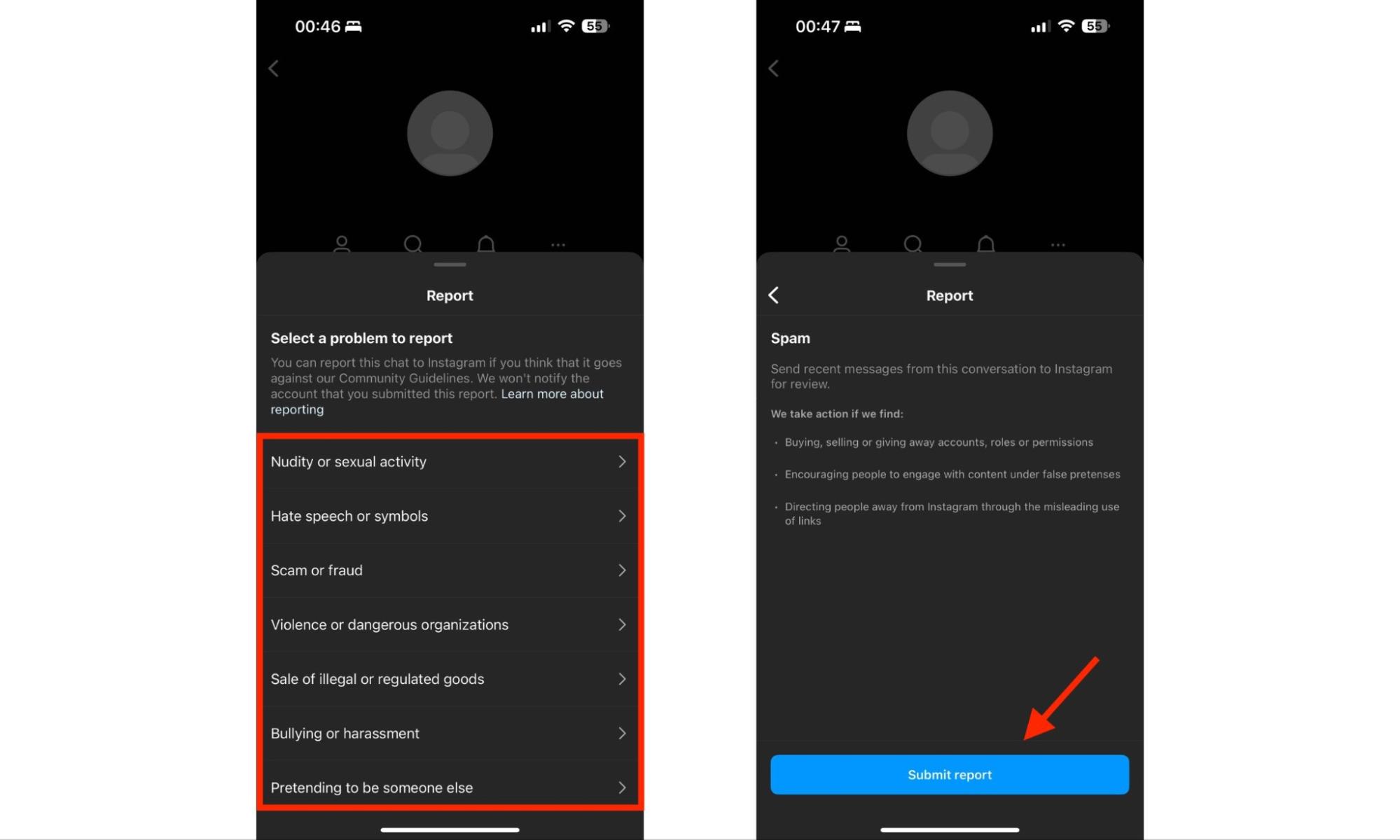 Conclusion
Instagram scammers may be developing more sophisticated and elaborate scams all the time, but they're still easy to spot if you know the signs to look out for. These include requests for money or personal information, asking you to visit suspicious links, promises of free goods or services, and claiming to be big brands despite not being verified.
You can also increase your protection online using Clario AntiSpy. It scans your device for spyware that could be watching your every move, helps avoid phishing scams, and protects you from trackers online.
If you suspect you've fallen victim to a scam, report the scammer to Instagram, then take steps to protect yourself immediately. Depending on the type of scam, this might include changing passwords and notifying your bank or credit card company.