What are cookies?
Cookies are text files that are sent by the websites you visit to your device. When you accept them, the cookies are stored in your web browser and can then track personal data. Here are several things that a website might collect when you accept cookies:
Name of the websites you visit
Unique user ID
Browsing history and habits
Personal interests
Links you've clicked on
Number of times you've visited a website
Time spent on a website or specific page
Settings you selected
Log in information (usually for saving your log in for next time)
Location and IP address
Personal data like email, address, and phone number
Items in your shopping cart
This isn't a comprehensive list of the data a website might collect from cookies, but it gives us a good start to understand what kind of information cookies can provide and what kind of hazzard risk they put you at.
What does accepting cookies mean?
When you allow cookies, it means that you are giving a website permission to track your personal data. What that looks like can vary across each website. Some websites might want access to very basic information just to help with their marketing efforts and learn more about the kind of users that visit their sites. Other websites may want a lot more information for a variety of reasons, not all of which are good. So it's important to understand when you should and shouldn't accept cookies and what permissions you are actually giving a website when you press "Accept".
Why websites ask you to allow cookies
Data breaches have become more common in the internet age, and so online privacy has become an increasingly important issue.
As of May 2018, a privacy law went into place that governs online data tracking and transparency. This privacy law, the European General Data Protection Regulation (GDPR) requires multinational companies to have users opt-in and provide permission for cookies to be stored in their web browsers and devices. This gives users more control over their personal data and keeps website owners compliant with this law.
3 times when accepting cookies is okay
Is it okay to accept cookies? Absolutely! There are definitely times when accepting cookies can be helpful in enhancing your experience as you browse the web. Let's talk about the three cases when you might need to accept cookies.
To access certain websites
Sometimes, the only way to access a website's content is after you've accepted their cookies. Take caution in these instances to make sure the website you are trying to access is safe and understanding the data that they wish to collect before accepting cookies.
Enhance your individual user experience
Accepting cookies can enhance your personal experience on a website. It allows websites to cater to your personal preferences, showing you ads or products that you'd be interested in, showing you items that you placed in your shopping cart but didn't purchase, and providing a more focused experience based around your interests.
Remember log-ins
Cookies can help remember your log-in credentials too. So the next time you want to log into that website, you don't have to remember your username and password each time.
5 cases when accepting cookes is dangerous
Not all cookies are good though. It isn't always safe to accept cookies on every website you visit. You should be cautious on certain sites and make sure you know what you are agreeing to before accepting cookies. Here are a few things to look out for:
Sketchy or non-secure websites
When you visit a website, you want to make sure it passes the vibe check. If it feels sketchy, it probably is. Also, you'll want to make sure that any websites you are accepting cookies on are secure, meaning they have HTTPS or the lock symbol in the URL. This means the website data is encrypted and blocks potentials risks for third-party hackers to steal your data.
Clario's web protection extension for Safari will help you navigate the internet safely on iOS devices. Not only does it tell you whether a site you're visiting is safe, but it will also look at all of the links on a page and label them as safe or dangerous. Download the app today and try out our web protection.
Here's how you can download the app on your iOS device:
Go to Settings > Safari
Tap Extensions
Tap More Extensions to launch the App Store
Search for Clario Web Protection
Tap Get ('Open' in the screenshot) and complete the installation process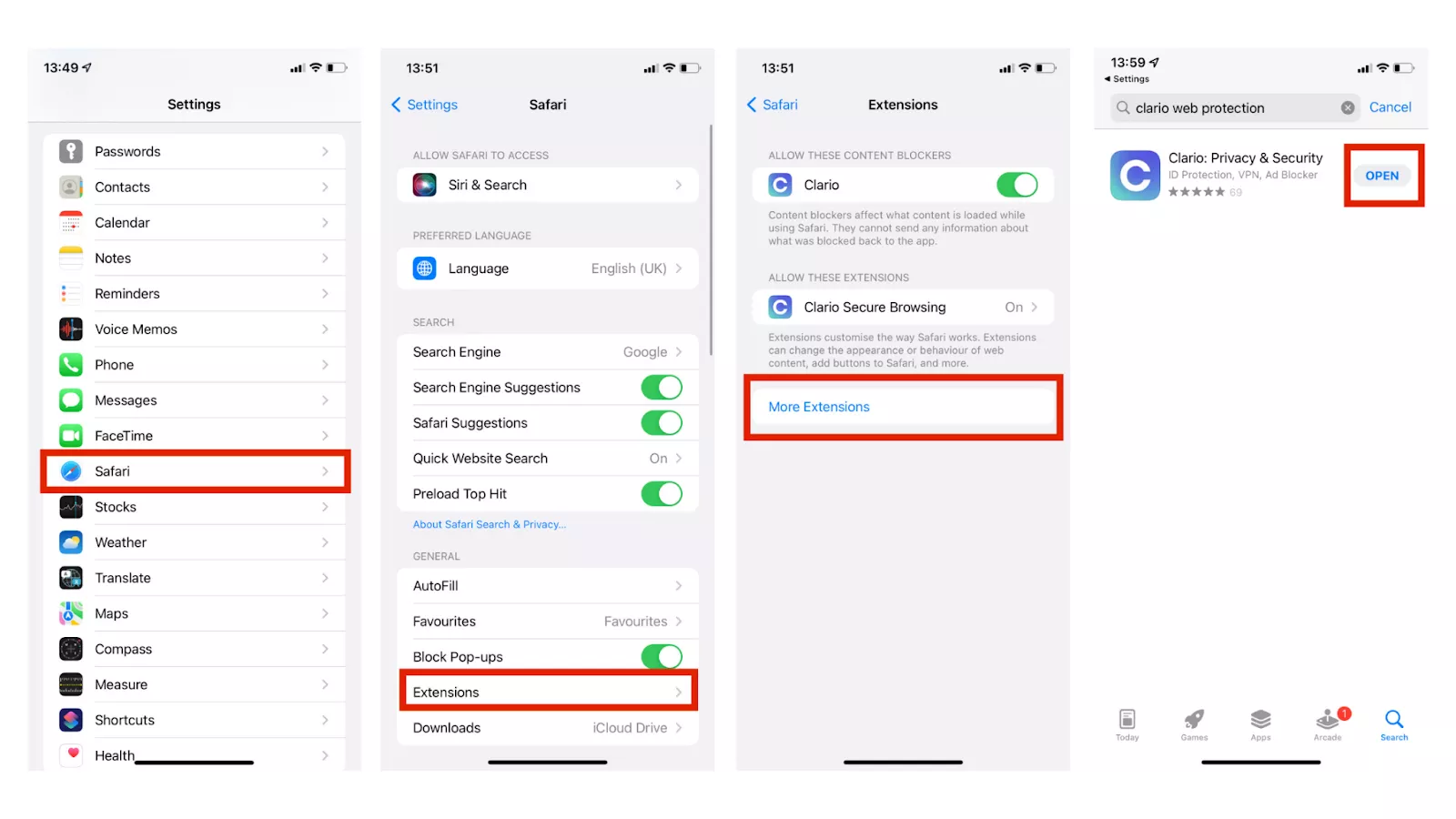 To enable the web protection extension:
Go to Settings > Safari > Extensions
Tap to the Clario toggle to on to enable
While the extension is enabled, you'll be able to see which links are safe (indicated by a green checkmark) and which links don't pass the safety test (indicated by a red exclamation point icon).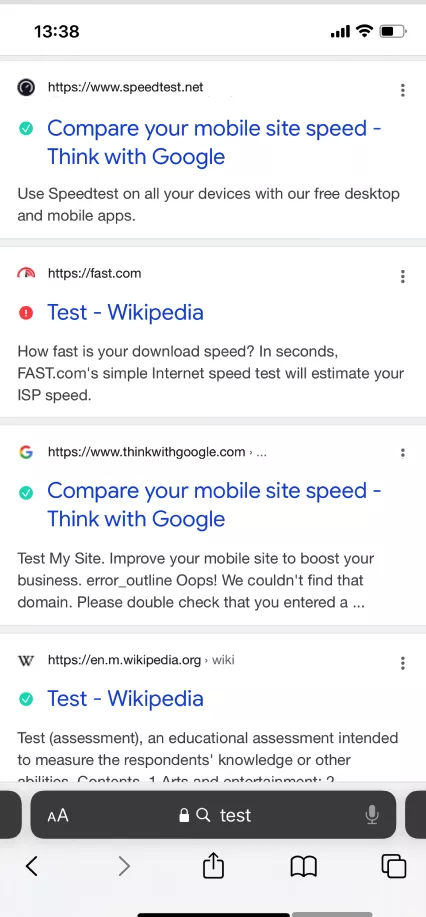 Third-party cookies
Speaking of third-party…Some websites will ask permissions for third-party cookies. If you don't decline these, then the website may sell your data to interested third-parties leaving you vulnerable to receive solicitations. You don't get to choose which third-parties your data goes to.
Sharing private data
If you are on a site where you need to share private data like your social security number, banking information or other personal information that you don't want stored, you should decline cookies. Allowing cookies on sites like this could open you up to larger problems like identity theft or stolen credit cards.
Clario's 24/7 data breach monitoring can help alert you when passwords and personal information are leaked, allowing you to catch security breaches before they become a larger problem.
Flagged cookies
If your antivirus software is flagging a website or suspicious cookies, it's a good idea to adhere to its caution and not accept cookies on that site.
Cookies occupy space on your computer
Cookies take up storage space on your computer or device, so it's smart to not accept all cookies because that can slow your device. At the very least, you'll want to make sure that you're clearing cookies from your Mac or other devices.
What Happens if You Don't Accept Cookies?
The answer to this question varies from site to site. But for the most part, you can decline cookies without it interrupting your regular internet browsing. The biggest impacts it may have is that you may not be able to access some websites (those that are more strict on their data collection procedures) and your user experience won't be as individualized to your preferences.
It is totally up to you when and what cookies you choose to accept. We just encourage you to take caution when needed and understand the cookies that you are accepting so you can have a safer online experience.
Clario takes extra steps to ensure a safe experience on the website through security and privacy features. Our mobile app is simple, yet powerful and is integrated with expert customer support available 24/7. Try it out today!