How to avoid Amazon scams
Online shopping scams have been around for years. According to DataProt, 4% of e-commerce-related phishing scams were reported in the first quarter of 2022, and 1,564 online shopping scams were reported in April 2023.
Given Amazon's popularity, its customers and visitors are at risk of falling victim to fraud. While the e-commerce giant is responsible for protecting its customers, you can be proactive and take steps to protect yourself.
Verify purchases on Amazon
Hoax calls and email scams against Amazon customers are very common. These occur when cybercriminals contact you, posing as Amazon representatives. They may ask you to call them back, click a link to verify your account, or update your payment information.
We advise that you verify your purchase before giving up your personal information or taking action.
Verify purchases on Amazon
Speak with an agent via Amazon's online chat service or call customer support at 1-888-280-4331.
Amazon fraud reporting
Amazon wants to know about any phishing and Amazon spoof emails, scams, and other fraudulent activity you may have experienced that you believe may be from them. Go to Amazon's suspicious activity reporting page and click the appropriate link to report the incident.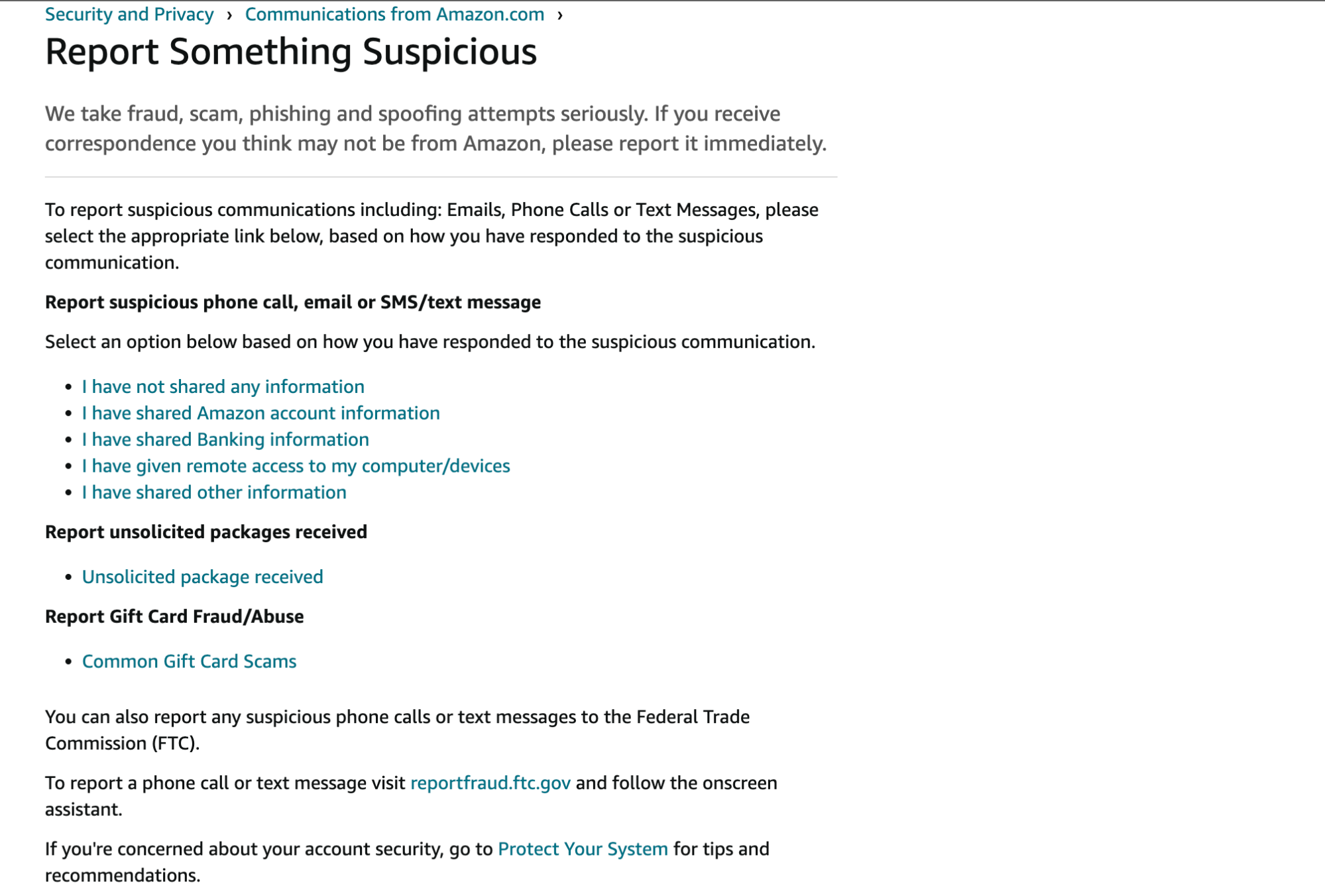 The most common Amazon fraud
There are multiple ways that cybercriminals try to defraud Amazon customers. Look out for any of the methods below to avoid falling victim to scammers posing as Amazon representatives.
Amazon phishing email
Amazon phishing emails entail scammers claiming to be representing Amazon. The email lies to you about a problem with your account and asks you to update your payment information. Alternatively, the email may contain a fake shipping confirmation for an order you obviously didn't place. You may also be prompted to verify your Amazon account.
The goal is to get you to click on a malicious link or take another action, like sending your phone number. Worse, the scammers may want you to give up your personal information, like your credit card details so that they can defraud you. Doing any of these things can cost you your identification and hard-earned money.
Don't leave anything to chance. Protect your confidential information from cybercriminals like Amazon scammers. Invest in reliable antivirus software. The Antivirus tool from Clario AntiSpy helps protect you from viruses and malware that could compromise your privacy.
Here's how to use Clario's Antivirus tool on your laptop:
Download Clario AnitSpy and get a subscription to set up your account
On the dashboard, click Antivirus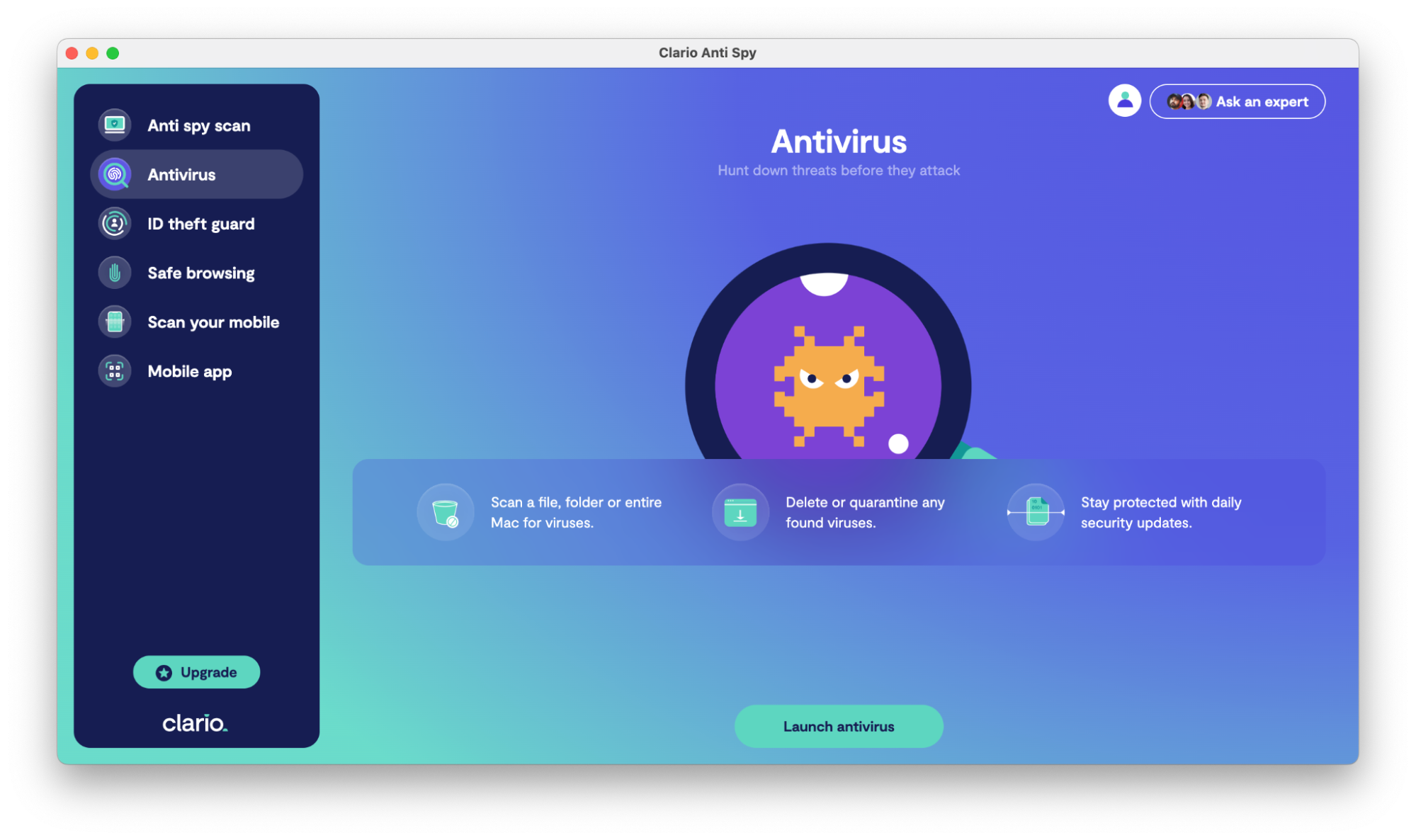 3. Click Launch antivirus
4. Wait for Clario AntiSpy to enable scanning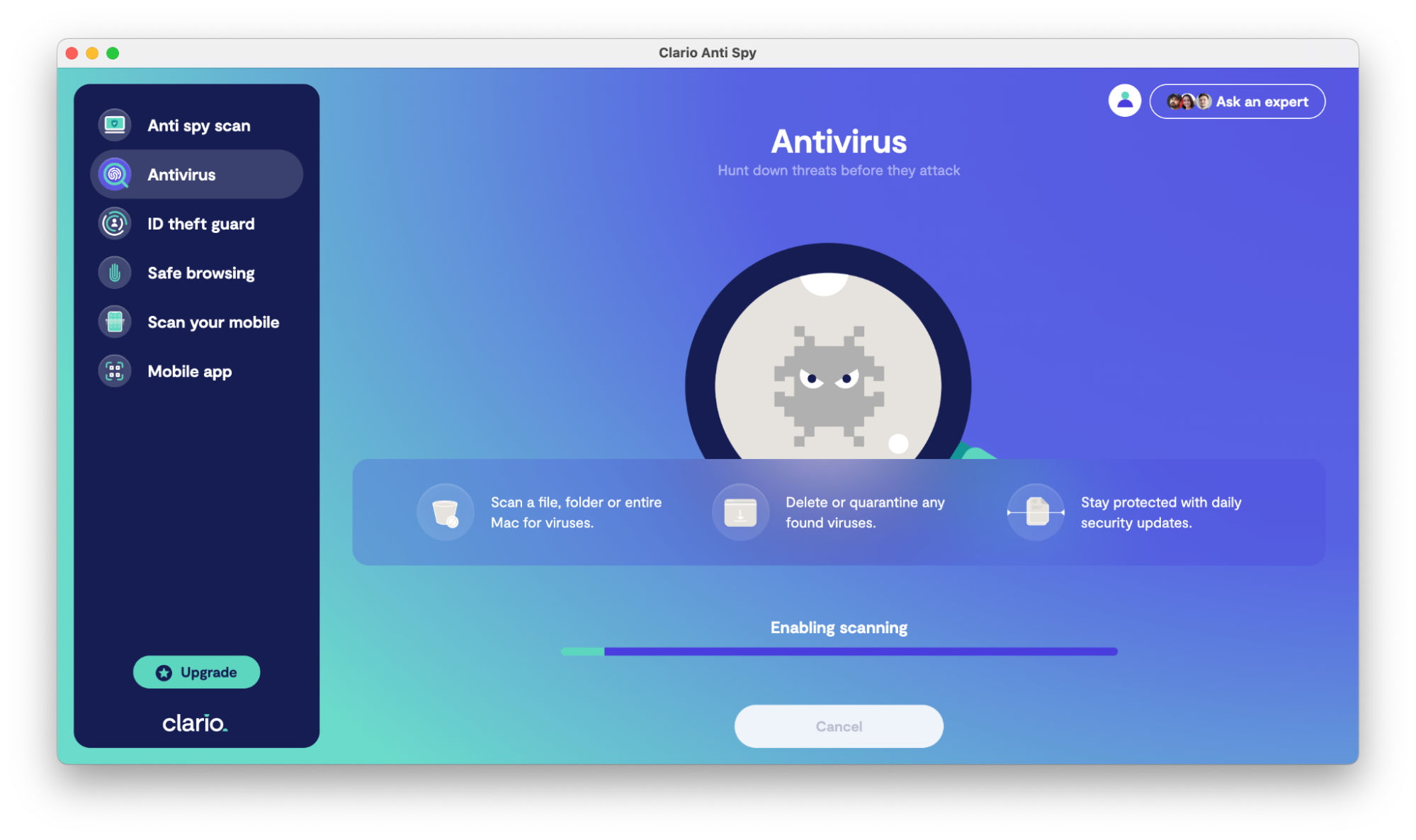 5. Click Start scan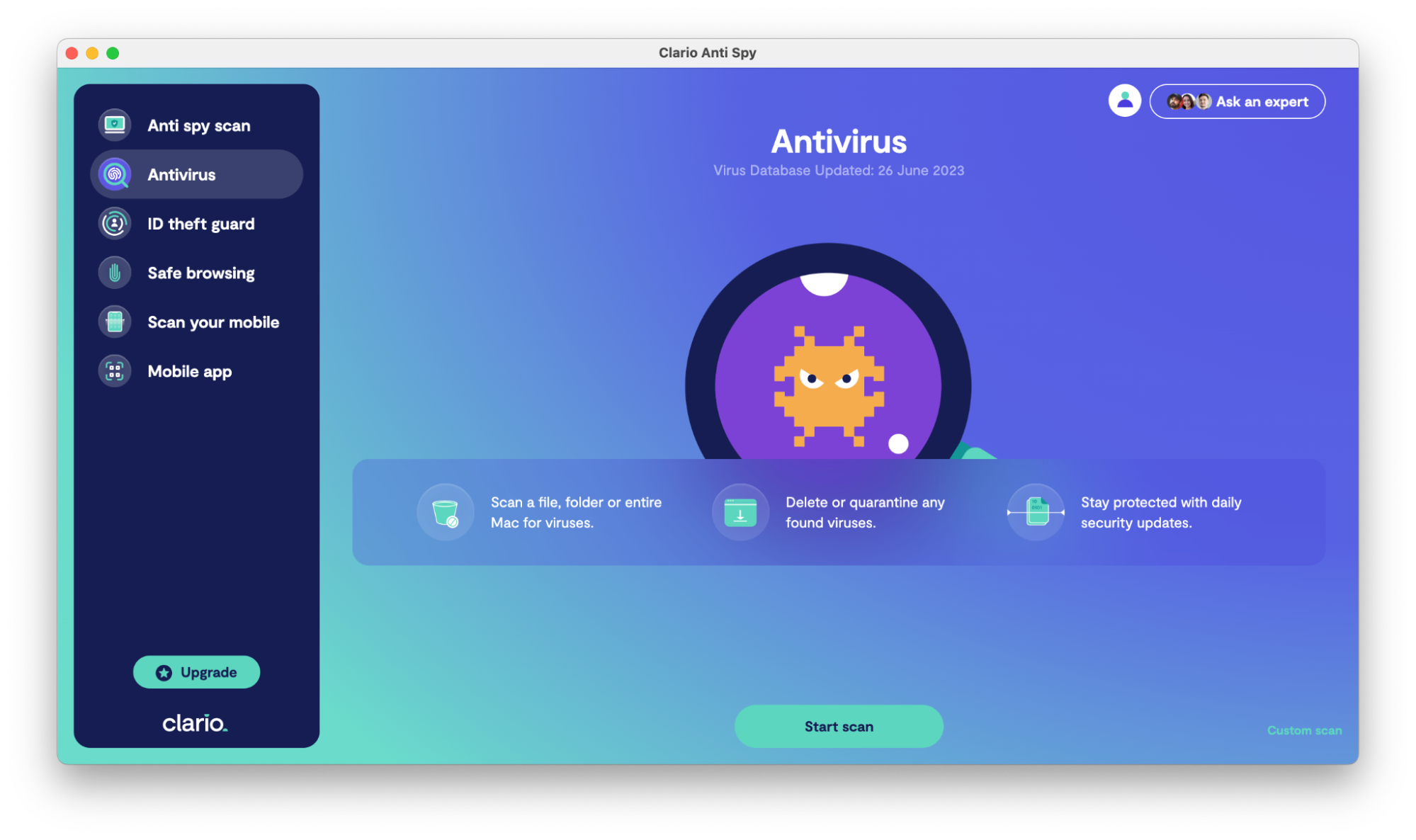 6. After the scan is complete, follow the on-screen instructions to rid your device of malicious files. If found, of course.
Clario AntiSpy is compatible with MacBook and Windows computers as well as iPhone and Android platforms.
How to spot a phishing email?
It is an essential skill everyone should have today — identifying phishing emails. Learn to spot a phishing email with Clario.
Amazon scam calls
Amazon fake-call scams are yet another popular tactic used by fraudsters. Similar to phishing emails, they aim to get you to take action by leaving a message notifying you about an issue with your Amazon account. The suggested solution is to either press a button to be put through to customer service or call the phone number provided.
A common example is a fraudster contacting you about tracking or replacing a lost package you ordered. The fake Amazon team member will ask for your account number or other personal information to help sort out the delivery. Of course, the lost package is a farce. And once you verify your information to a scammer, you might fall victim to an ID theft with quite tremendous consequences for you.
Another tactic is when a scammer calls to verify a large order that was supposedly placed on your account, like an expensive smart TV. They claim the call is necessary, given the value of the item that was purchased.
When you let them know you did not place the order, they ask for your Amazon account details or credit card details to help protect your account and cancel the order. This is all a ploy to access your account to place orders and use your credit card information for the purpose of theft and other criminal activity. What's worse, they can sell this information to cybercriminals on the dark web.
Other scammers might use robocalls to sound like an official business and target multiple victims. The robocall may prompt you to press a key on your phone to speak to someone about suspicious activity on your Amazon account. If you do, you'll speak with a criminal who will attempt to get your sensitive information. It's one of the many social engineering scams out there.
Beware!
Never provide sensitive or financial information to anyone over the phone. Rather, hang up and contact Amazon's customer service department directly to be certain it was Amazon contacting you.
It's worth mentioning how technologically advanced fraudsters are in this day and age. Some may use spoofing technology to make the phone number they use appear to be one from Amazon. This is why cybersecurity matters.
Amazon sign-in attempt text
Hackers may send you fake sign-in attempts in text messages containing links to secure your account. This is another phishing tactic used by cybercriminals that you should be aware of.
Here's what to look out for in an Amazon sign-in scam:
Typos and grammatical errors
An order confirmation for an order you didn't place
A request to install software on your phone or laptop
Fake email addresses that are made to look like they belong to Amazon.com
Links to websites that are variations of Amazon.com (Amazon websites contain a dot before "amazon.com." For example, https://pay.amazon.com/)
A prompt to update your payment information for an item you didn't buy or a membership subscription you don't have. Check the Your Orders page to confirm whether the request is truly from Amazon.
How to identify Amazon scams
Learn how to identify Amazon scam calls to avoid falling victim to phishing:
The caller asks for your personal information. Amazon representatives will never ask for your personal or financial information during a phone call. If a caller asks for your credit card details or Amazon account number, hang up. You're likely talking to a scammer.
The caller is pushy. Scammers have this trait in common. Because they're on a mission to defraud you, they turn up the pressure to get what they want from you. Look out for manipulation in the form of scare tactics. They might tell you that someone might milk you dry if you don't immediately give them your account number when, in actual fact, they're the fraudsters you should be looking out for. This trick works on most people. Don't be one of them.
You didn't place the order. You'll know if you bought something on Amazon. If someone calls you about a purchase you didn't make, the caller is most certainly not an Amazon employee or representative, and you should be careful about the information you give them. In fact, instead of giving up your personal information or any details about your Amazon account, end the call, open the Amazon app/website, and check your orders on the Returns & Orders page. This will confirm whether the call is legitimate or a fraud attempt.
The caller can't give you details about the order they claim you made. Because the caller is lying about an order you placed, they avoid any questions relating to the details of your order. Instead, they use general terms, like "your purchase," instead of specifying what that item is. This should tell you the call is a sham.
The call is a robocall. Sometimes, scammers use robocalls or recorded messages because it makes it easier to target numerous victims. But you should be aware that Amazon doesn't do mass calls, so it's best not to entertain them.
Will Amazon ever contact you by phone?
Amazon doesn't do cold calls. However, some departments may contact you via phone if you're a customer. Regardless, Amazon will never ask you to give up or verify your personal information.
Conclusion
There are plenty of Amazon scams out there, some of which you could fall victim to if you aren't careful. Stay alert and follow our helpful guide to avoid Amazon scams. Always remember that no Amazon representative would ever ask for your personal or credit card information.
When in doubt, never engage. Check your Amazon account or contact Amazon's customer support instead. Stay safe by using the Clario AntiSpy Antivirus tool to protect yourself from viruses and malware that could compromise your privacy.