Telegram privacy policy
Telegram is often thought of as a secure app that's committed to privacy. However, this is mostly due to their marketing efforts and not because the app itself is particularly secure.
Telegram claims to follow two fundamental principles when collecting user data:
They don't use the data to show users targeted ads
They only store data that helps Telegram function.
They also do not share your personal data with third-party data centers. So, even though everything from normal cloud chats is stored on their servers, this information is held and encrypted to prevent it from being leaked or stolen.
However, they do share user data with several other groups and agencies, including:
Other Telegram users in the form of your messages, contact details, and username
Other Telegram-owned companies and partners like Telegram Group Inc, Telegraph Inc, and Telegram FZ-LLC
Law enforcement agencies (if they receive a court order claiming that a user is a terror suspect)
Third-party companies like Google LLC to automatically translate text and voice messages.
Is Telegram end-to-end encrypted?
On Telegram cloud chats, encryption is not enabled by default. Instead, users need to make sure encryption is turned on. Even then, end-to-end encryption (the gold standard for messaging) is only enabled on secret chats, which is an optional feature.
This is in contrast to competitor apps like WhatsApp and Signal, which have end-to-end encryption enabled on all chats.
Further, the encryption method used by Telegram is untested and unlikely to be as secure as other industry-standard methods. Even worse, since most chats don't utilize end-to-end encryption, that means Telegram will store user data and chat logs on their servers.
The consequence of this is that if there's a data leak (which is becoming more common), then your chat history could be exposed. User data may also be stolen or hacked by malicious actors and used to steal user identities, target users with phishing attacks, or ransom users with sensitive information.
However, it is worth noting that there have been no reports of encrypted Telegram chats being stolen or leaked—so far, their encryption method has been secure. But to be safe, you can always try to stop your phone from listening to you.
Is Telegram secret chat safe?
Secret chats are Telegram's secure chats. These feature end-to-end encryption, unlike regular cloud chats.
End-to-end encryption ensures that the information contained in messages is encrypted on the sender's device. It's only unencrypted on the recipient's device. Because of this, it's impossible to access the message contents from outside—even Telegram cannot see these messages.
Telegram is the only "secure messenger" on the market that separates its messages into two types, one with encryption and one without. This is a serious security flaw that results in most users thinking their messages are safe, when in fact, they're not.
To set up Telegram's secret chat:
Open the Telegram app
Tap the pencil icon in the bottom-right corner
Tap New Secret Chat
Choose a contact to send the message to.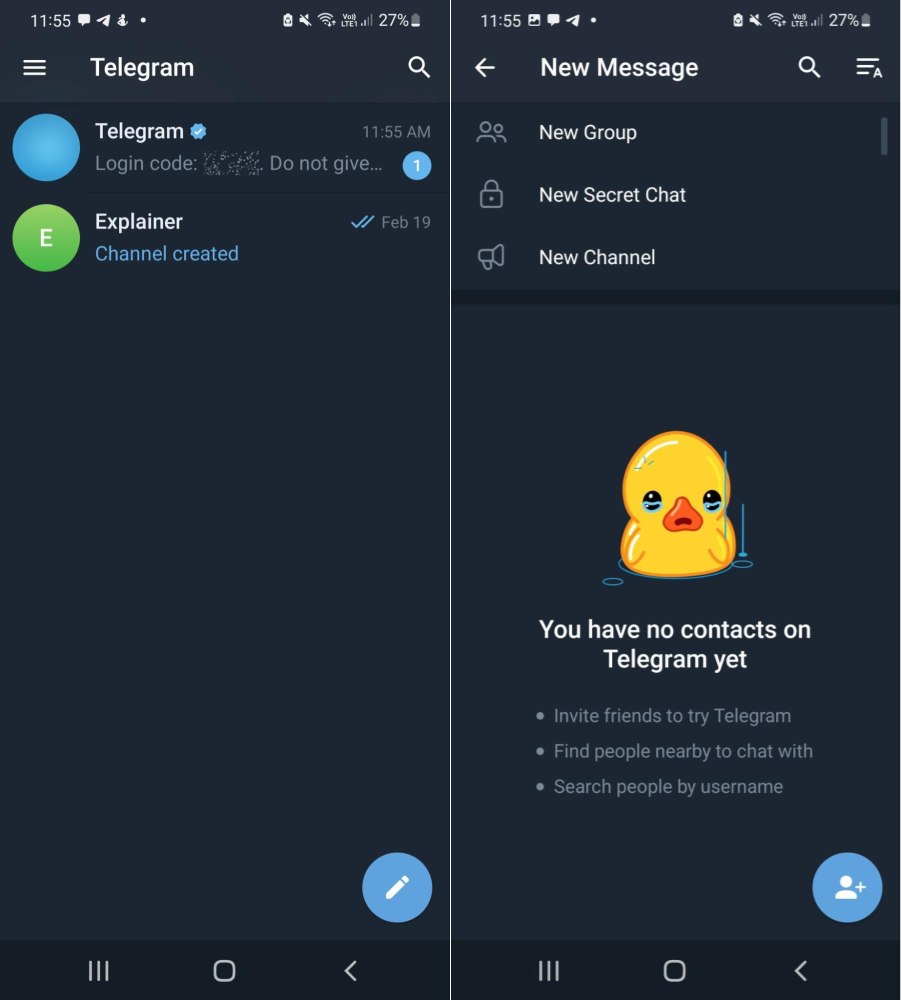 In summary, Telegram's secret chats are secure, but they aren't enabled by default.
Is Telegram secure for video calls?
Telegram video calls work much like the video calls you're used to—you contact another user and use your device camera to stream a video to them. You can switch video on or off at any time, and the app supports picture-in-picture mode so that you can continue using chats while you call someone.
In a recent update, Telegram introduced a video call feature that allows up to 1,000 participants. Up to 30 users can join using their device camera, and up to 1,000 people can view this call at the same time. Using the Telegram app, enables users to host events like webinars, lectures, and other live streams.
The good news is, Telegram's video calls (and normal voice calls) are protected by end-to-end encryption in the same way that secret chats are. This means that yes, Telegram is safe for video calls.
To ensure that your video call is encrypted, you should check the four emojis shown on the screen during the call. If they all match, then your call is 100% secured.
Is Telegram safe to download?
The official Telegram app is 100% safe to download and contains no viruses, malware, or spyware.
To download the official app on your device, you can use the following links:
Keep in mind that downloading apps from third-party sources is never recommended. You should always go to the legitimate app store for your device, as the apps listed there are kept up-to-date and scanned for malware and other malicious software. Check out our guide on how to check if an app is safe if you're unsure.
What data does Telegram collect?
Telegram collects and stores a fair bit of information about its users and their messages, including:
Unencrypted messages, photos, videos, and files from regular cloud chats
Encrypted photos and videos from secret chats
Phone numbers and contact names from your phone
Location data (if you share it with the Telegram app)
Cookies (when using the web version of Telegram)
Metadata including IP addresses, device ID, and different Telegram apps you've used.
This data is encrypted and stored in third-party data centers in the Netherlands. Unfortunately, Telegram isn't clear about how long they hold onto its user's personal data. In their privacy policy, they just say that they hold it for as long as they need it to provide their services. This vague length of time is another security flaw in Telegram's privacy policies.
In their favor, Telegram has shown a tendency to protect user data in the past. In 2013, the company was pressured to release user data to the Russian government. Rather than surrender the data, Telegram's owner fled to Dubai, where he continued Telegram under the auspices of a different government.
But, in 2023, Telegram gave German authorities user data – even after the government admitted it had hacked the app and stolen user information already.
What is Telegram?
Telegram is one of the most popular messaging platforms with over 500 million users. Like other messaging apps, it allows users to send messages and exchange photos, videos, stickers, audio, and files of any type.
It's available for almost all platforms, including Windows, iOS, Android, macOS, Linux, and web. It also supports a plethora of features like bots, games, channels, and so on.
Telegram is owned by the company Telegram Messenger LLP, a UK-based entity founded by Pavel Durov and Nikolai Durov, two brothers that previously founded the popular Russian social networking site VKontakte. Pavel Durov is the CEO of the company.
Pavel Durov is a Russian entrepreneur and philanthropist who has been called the "Mark Zuckerberg of Russia" due to his success with VK.
He has also been credited as being one of the first people to realize the potential of cryptocurrency in 2012. Nikolai Durov is a programmer and mathematician, and both brothers were actively involved in the development of Telegram's open-source code.
What are the cons of using Telegram?
There are several downsides to using Telegram as a secure messenger, including:
Private data vulnerability: Your private messages on Telegram may be vulnerable to sniffing and data leaks since end-to-end encryption is only available on secret chats.
Limited Desktop Features: Many features that are available on mobile versions of the app are not yet available on desktop versions.
Unclear Data Policy: Telegram's data policy is not completely clear, leaving users uncertain about how their data is being used and how long it'll be held.
Susceptible to Spam and Malware: Because of its popularity and perception as a secure app, Telegram is vulnerable to spam and malware attacks from malicious users. In fact, there's a growing trend of Telegram-based malware being spread across the platform to target its users.
It's worth noting that there's a reason why Telegram is also popular among cybercriminals and malicious actors—they believe it offers anonymity. In fact, the developers have had a "hands-off" approach to moderation in the past, meaning the app becomes a haven for those sharing illegal content since it's unlikely to be censored.
What are the pros of using Telegram?
Despite the downsides, Telegram is not the worst messenger app on the market. Here are some of the upsides of using Telegram:
Cross-platform support: Telegram is available on iOS, Android, Windows, macOS, Linux, and via a web browser.
Secure messaging with secret chats: Secret chats feature end-to-end encryption and as of 2023 there are no reported cases of this encryption being hacked, despite the fact that it's untested by third-party security professionals.
Ability to set up massive group chats: Telegram lets users make group chats with up to 200,000 users. They also enable video chats with up to 1,000 participants.
How to make Telegram more secure
If you're going to use Telegram, there are several ways that you can make the app more secure, including:
Only use secret chats. Since regular cloud chats are unencrypted, we recommend only using encrypted secret chats, voice calls, and video calls. Avoid regular cloud chats at all costs.
Enable two-factor verification (2FA). Go to the Menu > Settings > Privacy and Security and toggle on Two-Step Verification. This ensures that if you lose your phone or your password gets hacked, no one else can gain access to your Telegram account.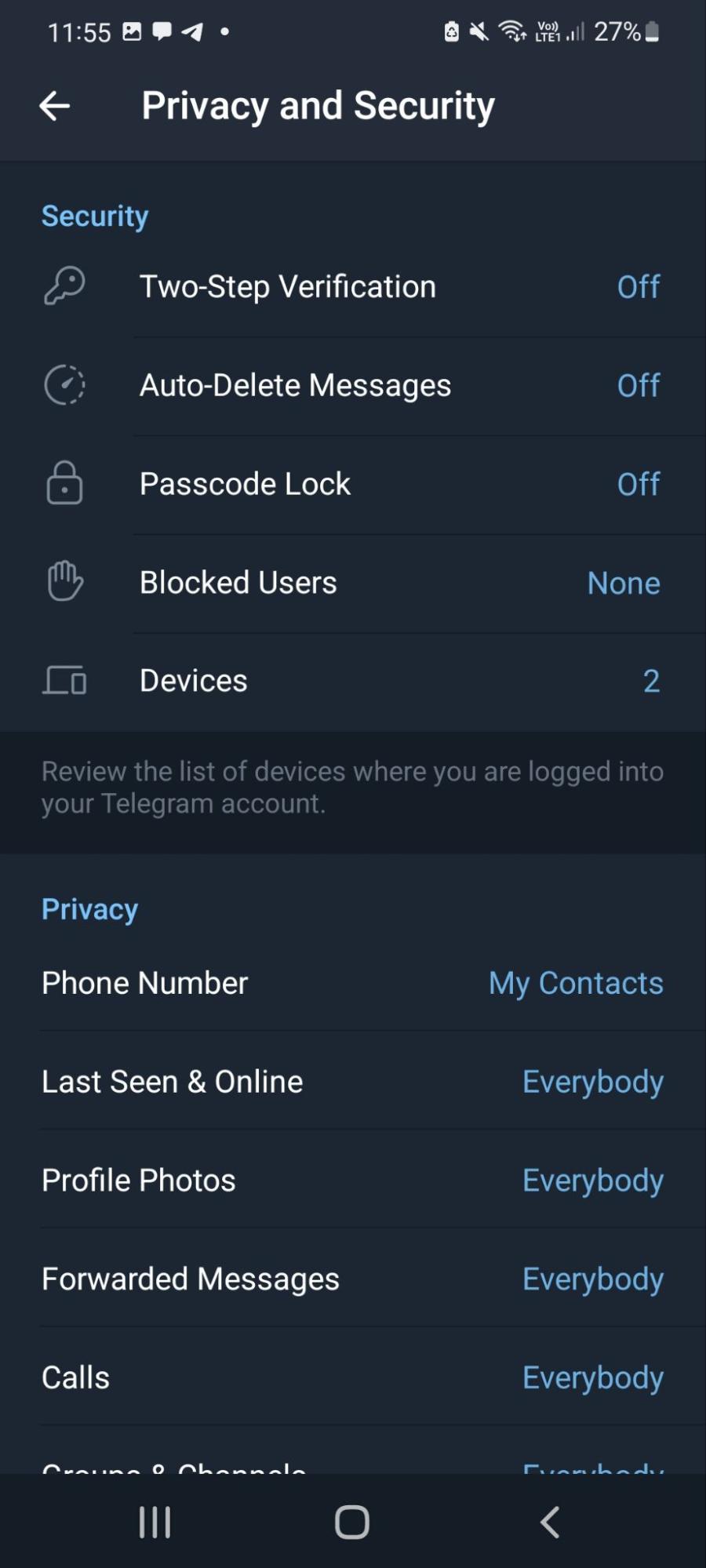 Disable active sessions on other devices. If you use multiple Telegram sessions at the same time, your conversations won't be encrypted. To disable these sessions, head to Settings > Privacy and Security > Devices. Tap Terminate all other sessions.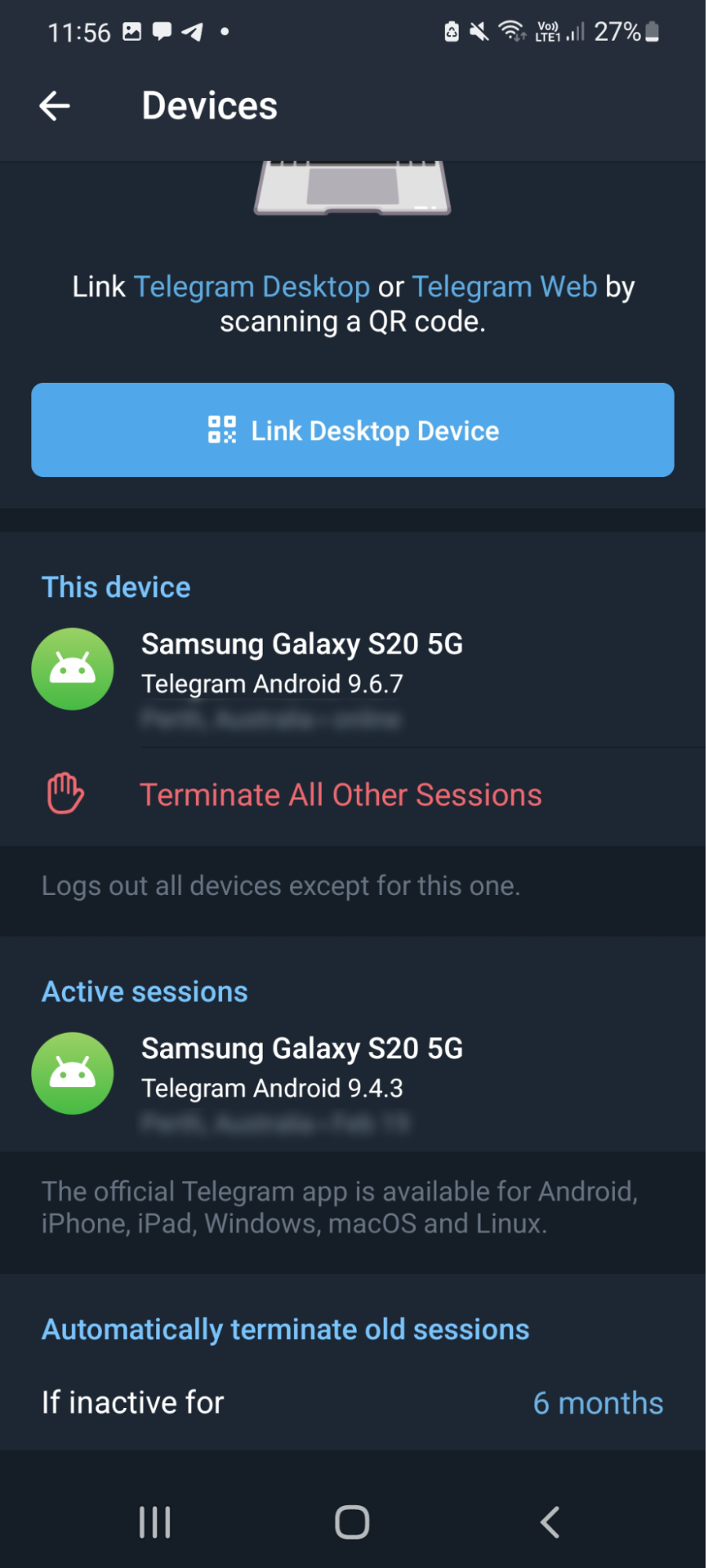 Only send self-destructing media. Self-destructing media deletes itself after a certain amount of time. This helps prevent sensitive information and media from falling into the wrong hands. When you select Attach in your conversations, tap the Stopwatch and select how long you'd like the media to last.
Delete old messages. If you've taken part in regular cloud or group chats, we recommend deleting your old messages. To do so, open your conversation and select the Trash icon at the top-right of the screen. Tap Also delete for to ensure the message is deleted for all other recipients as well.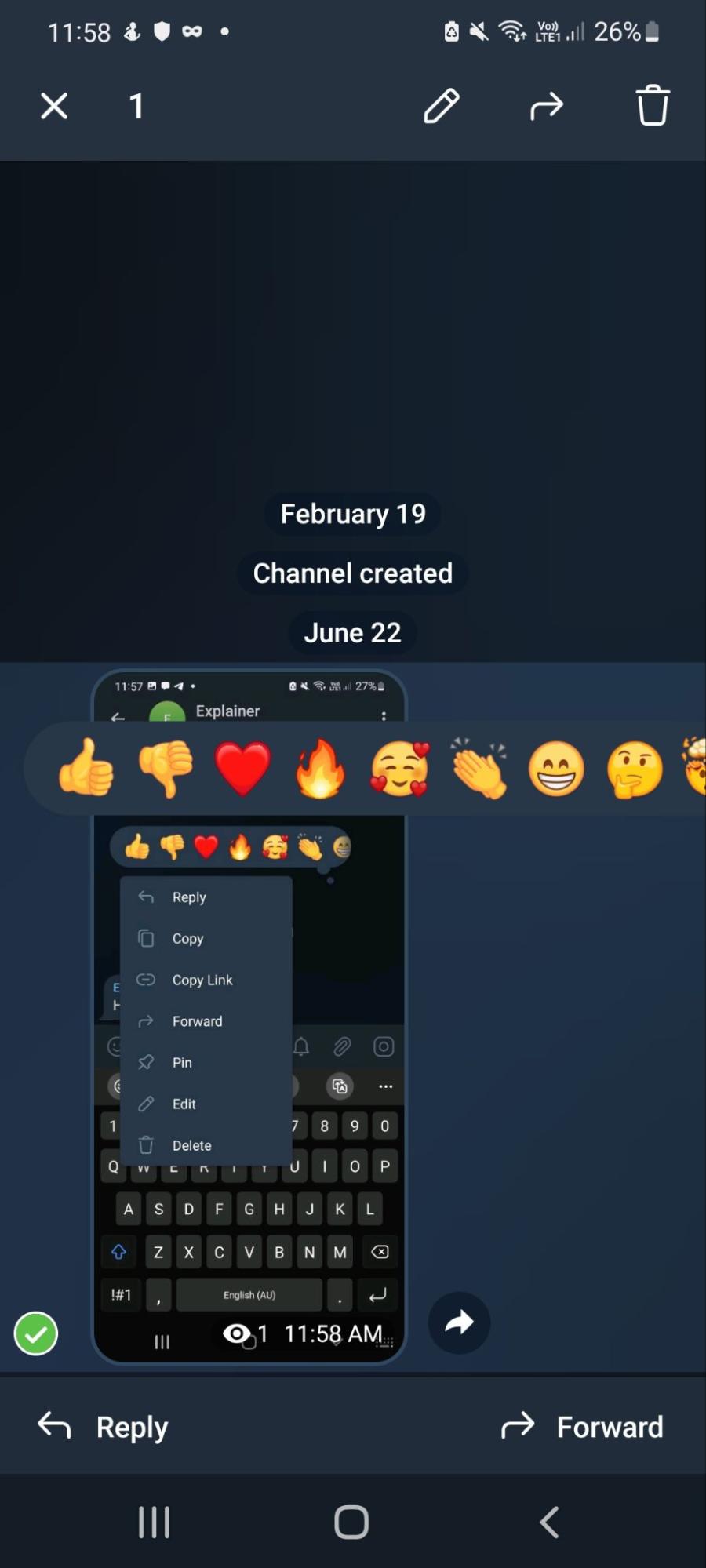 Use a digital security and privacy solution. Clario can help protect your security and privacy online. Find malicious apps and malware, connect securely using a VPN and monitor the internet for data breaches. If the worst happens, get help from our 24/7 security experts.
Conclusion
So, is Telegram safe?
For the average person, Telegram will be no worse than normal texting or messaging apps. If you use the secret chat feature, your messages should remain private and secure.
However, if you're looking for the most secure messaging app that protects your privacy and encrypts your messages, you should look elsewhere than Telegram.