What are secure messaging apps?
Secure messaging apps are applications that use end-to-end encryption when you share information through Wi-Fi, a mobile data connection, or cell tower connections. This encryption prevents third parties from being able to spy on your exchanged data.
Most messaging apps allow you to send text messages, photos, voice memos, and videos; some apps can also place calls.
Many secure apps have strict privacy policies in place to protect your conversations and private data from the government, hackers, and others with ill intent.
Let's see what apps are most popular throughout the world and whether they are safe to use.
The world's most popular messaging apps by country
| Country | Most Popular Messaging App |
| --- | --- |
| Australia | Facebook Messenger |
| Austria | WhatsApp |
| Brazil | WhatsApp |
| Canada | Facebook Messenger |
| China | WeChat |
| Denmark | Facebook Messenger |
| France | WhatsApp |
| Germany | WhatsApp |
| India | WhatsApp |
| Iraq | Telegram |
| Italy | WhatsApp |
| Japan | LINE |
| Latvia | Telegram |
| Mexico | WhatsApp |
| Singapore | WhatsApp |
| Spain | WhatsApp |
| Sweden | Facebook Messenger |
| Ukraine | Telegram |
| United Kingdom | WhatsApp |
| United States | Facebook Messenger |
Most popular messengers
Of the 100 countries SimilarWeb observed, the top three messaging apps worldwide are WhatsApp (#1 in 63 countries), Facebook Messenger (#1 in 16 countries), and Telegram (#1 in 14 countries).
Do you need an encrypted messenger?
Yes. If you value your privacy, it's wise to use an encrypted messaging app.
End-to-end encryption (E2EE) prevents third parties from being able to spy on your conversations so that only the parties on either end of your conversation can see what you're saying.
How to choose the best secure messaging app
Secure messaging apps offer a wide variety of features and attributes that contribute to their security. It's also important to be aware that some app companies spread misinformation by falsely advertising their platforms as "secure" when they don't offer true security.
As you look into which messaging app is best for you, check if they have these security inclusions:
Open-source code
Encryption
Privacy policy
Responsible data collection.
Open-source code
Open-source code allows anyone to modify, inspect, or enhance the code of that software. This is important for security because it generally means that any software with open-source code has gone through multiple security tests. Software with open-source code is also often checked for bugs and glitches that can result in vulnerabilities that lead to malware and data breaches.
Encryption
Encryption is important for keeping your conversations private. End-to-end encryption converts data and messages into scrambled text so it can't be deciphered. This text can only be decoded with a secret key.
This secret key is a code that the encryption algorithm creates and provides to your device and the device, or devices, that you are messaging. It doesn't get shared with anyone else. A new secret key is created for each new message. Also, that secret key is deleted from the sender's device after they send the message, and it's deleted from the receiver's device when the message is received.
This is how secure messaging apps keep your conversations private from third parties that may be trying to spy on you.
Privacy policy
App companies that value their users' security will have an in-depth privacy policy. Make sure you understand what your secure messaging app's privacy policy entails and if it really does protect your privacy.
Things to watch for in a privacy policy:
Contact person — Is there a way you can contact the organization if you have concerns about your privacy?
Data collection — What kind of data do they collect? They should outline this clearly in the privacy policy. Examples of data might include your name, contact information, credit card number, location, etc. Make sure they don't collect sensitive data.
Data use — How will they use the information they collect? The policy should clearly state what they do with any data they collect.
Disclosure — Do they provide any information about you to third parties? If yes, then it isn't the most secure messaging app.
Retention — How long do they keep your data? Some apps keep messages and personal data on record. Make sure the apps you use don't retain your data, or that they have good security measures in place to protect the data they keep.
Access — Can you get access to your data and make changes as necessary?
Responsible data collection
Beyond your conversations, messaging apps can collect private metadata, like your IP address, device info, and geolocation. App companies with responsible data collection practices won't collect this information — or, at the very least, they will allow you to opt out of this data collection.
12 best and most secure messaging apps
Without further ado, let's walk through some of the best secure messaging apps on the market. We'll share pros, cons, pricing, and more so you can determine which encrypted messaging app is best for you.
Signal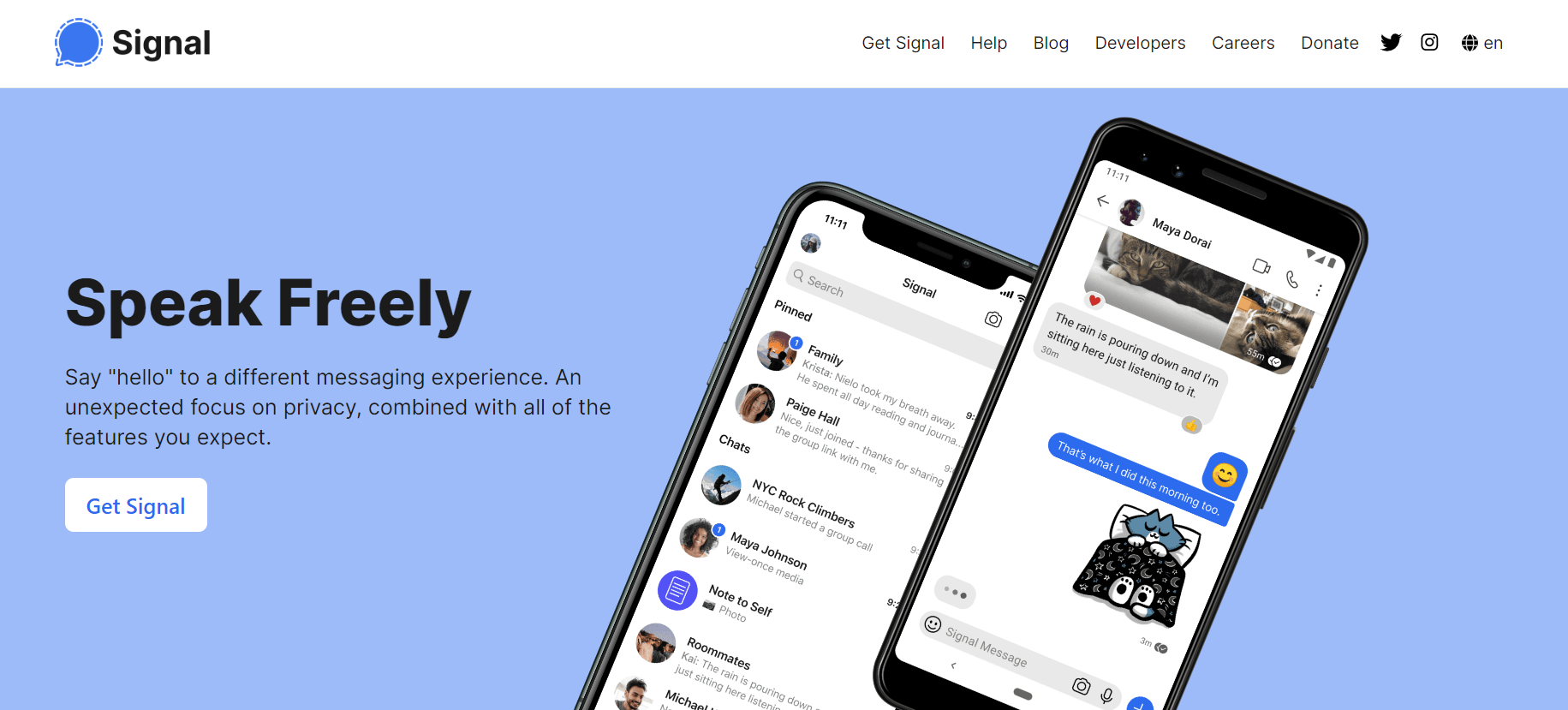 Signal is a private messaging app that is free to everyone. They are a nonprofit and don't use ads, trackers, or affiliate marketers within the app. Their sole mission is to provide a reliable source that people can use to communicate privately with one another.
PC Mag gave Signal a 4.5 Outstanding Editor's Choice rating for providing a safe space to chat that doesn't exploit its users.
| Pros | Cons |
| --- | --- |
| End-to-end encryption | Requires a phone number to sign up |
| Open-source technology | Not very widely used |
| Free | Buggy when running on iOS devices |
| Group, voice, and video chats | |
| Multiplatform support | |
Signal Messaging App Pricing
Signal is free for all of its users. There are no premium plans. But they are a nonprofit and accept donations to help pay for the app's development, servers, and bandwidth.
Telegram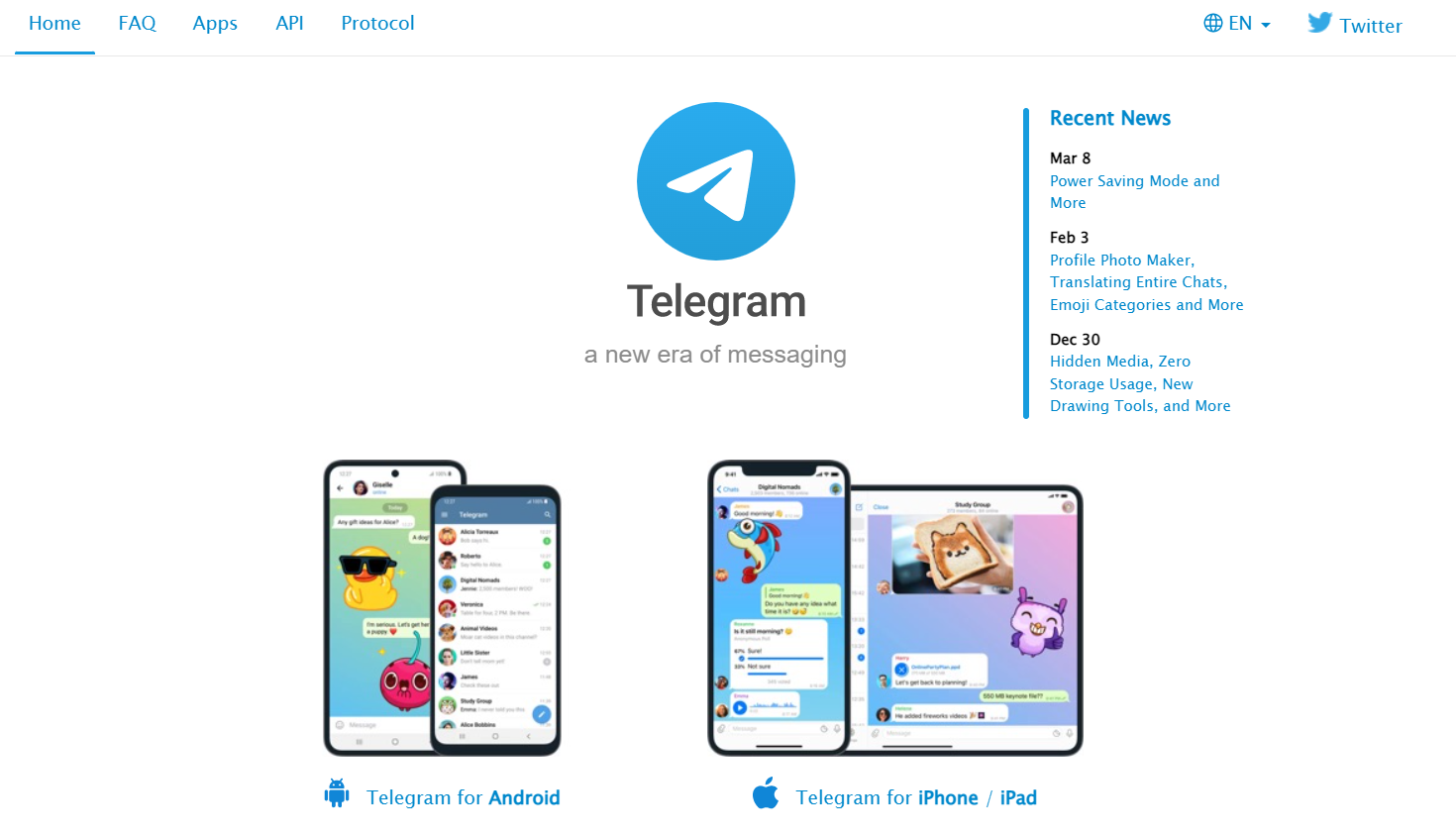 Telegram is a free, cloud-based mobile and desktop messaging app that creates a fun social environment for its users. Users can create communities where they can post long messages (basically blogs), send video messages, and more. And each group can hold up to 200,000 members. If you want to create your own online community through a fun app, this could be one way to do it.
It doesn't use end-to-end encryption by default, but it does have secret chat features where chats are encrypted.
| Pros | Cons |
| --- | --- |
| Open-source technology | Registration requires a phone number |
| Free | Stores non-secret chat messages in the Telegram cloud |
| Fun social features like sticker packs and video memos | E2EE is only available for secret chats |
| Customizable messenger | |
| No limits on media size | |
| Multiplatform support | |
WhatsApp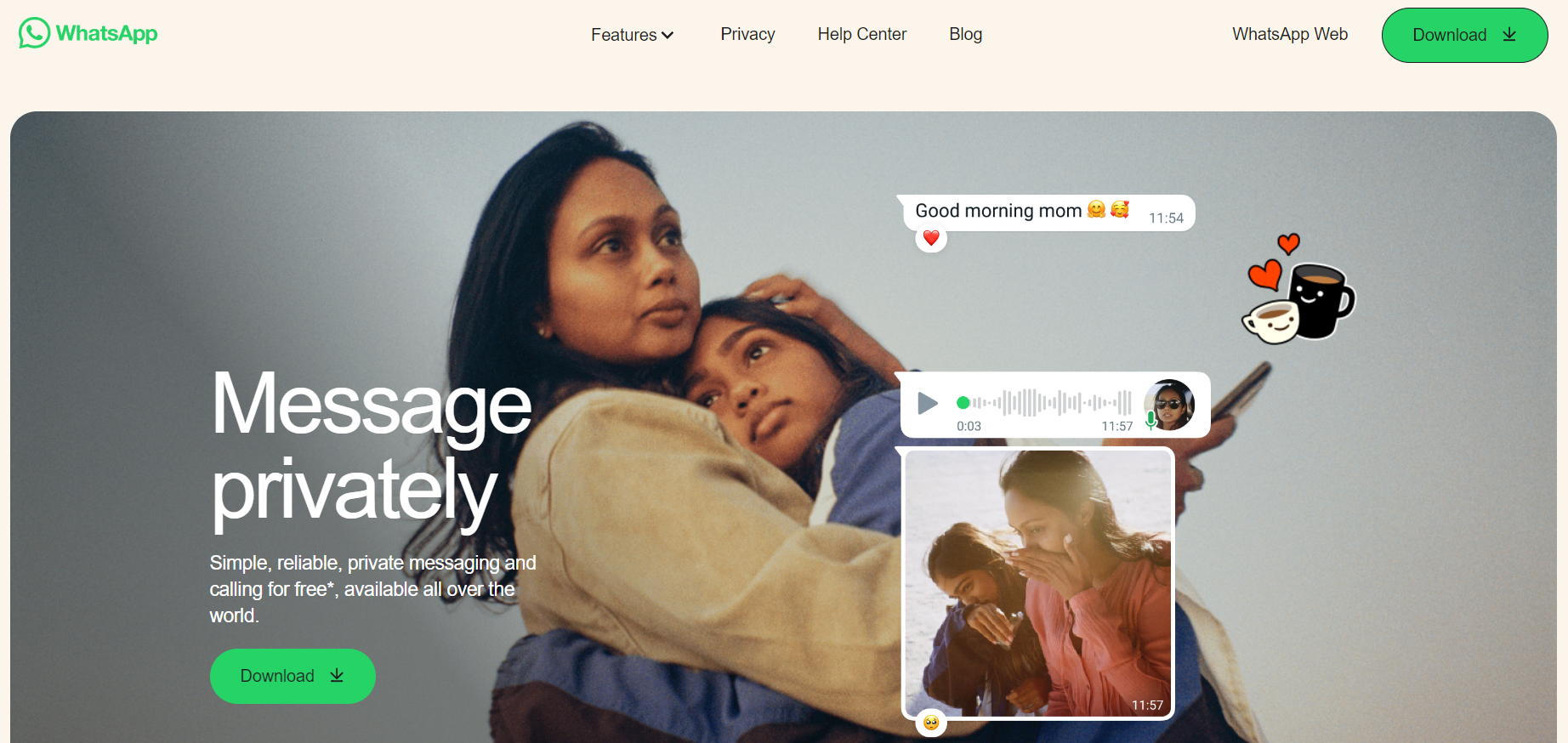 WhatsApp is the most popular messaging app in the world, with over 5 billion downloads and 2 billion active users. It allows users to stay connected anywhere worldwide by utilizing Wi-Fi or mobile data connections to place phone calls and send text messages.
| Pros | Cons |
| --- | --- |
| End-to-end encryption | Requires a phone number and contacts list to work |
| Free | Some users don't trust WhatsApp because it is owned by Meta, which has an invasive privacy policy |
| Video and voice calls | Backups may be vulnerable to surveillance |
| Self-destructing messages | Not open-source |
| Fun stickers and GIFs | |
| 24-hour status updates | |
| Has a business platform | |
Pricing
WhatsApp for individuals is completely free to use. But they offer a business platform — WhatsApp Business — that offers additional features on a paid plan tailored to the business's needs.
WhatsApp Business offers 1,000 free customer-initiated conversations per month, and additional pricing will apply for conversations beyond that or if the business initiates a conversation with a customer.
For more information about WhatsApp Business pricing, contact their sales team.
Threema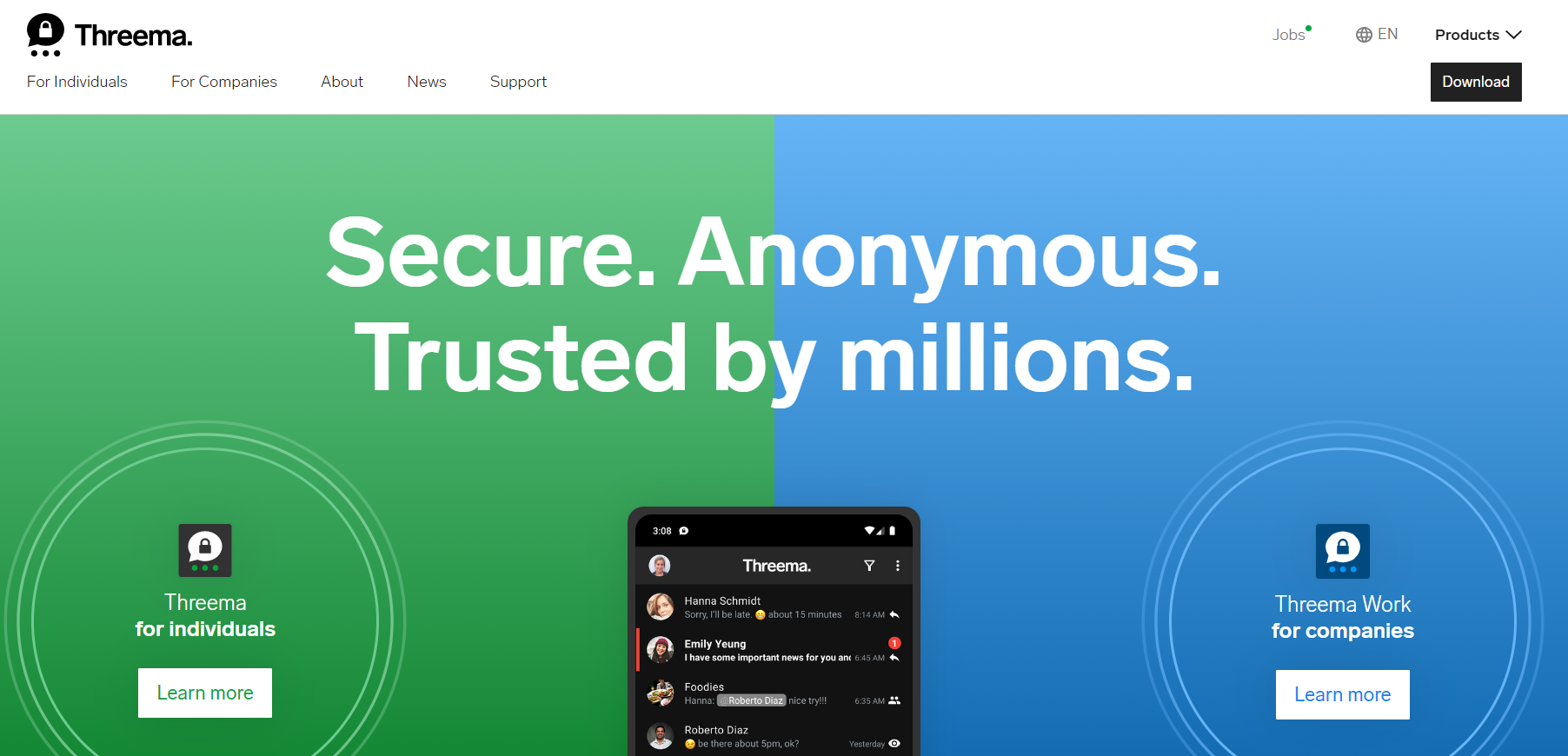 Threema is a Switzerland-based company that created a secure chatting app for individuals and businesses. It offers customizable features like text formatting and light and dark themes, allows users to create group polls and chats, and allows anonymous communication.
Threema's anonymous communication is a unique feature that not many apps use. It allows users to create an account on the app completely anonymously by not requiring an email or phone number. Threema will provide a specific ID to each account, but it doesn't collect personal information unless you want to provide it.
This allows users to communicate with other users on the app anonymously too. The idea is that you can communicate in group chats without exposing your identity. But you can communicate using your name and identifiable information if desired.
| Pros | Cons |
| --- | --- |
| End-to-end encryption | No free version |
| Open-source technology | Not as widely used as other messaging apps |
| Don't need to provide an email or phone number | Doesn't currently support two-factor authentication |
| Multiplatform support | |
| File sharing | |
| Does not log IP addresses and metadata | |
Pricing
Threema isn't free, but for individual users, you only pay a one-time payment for access to the app for life.
Apple users: $4.99
Google users: $5.00.
Threema also offers a business platform with a free, no-obligation, 30-day trial. The trial is available for up to 30 users. After that, you can opt into one of their premium business plans:
Essential - $14.99/license per year (up to 50 licenses)
Advanced - $21.99/license per year (up to 500 licenses)
Professional - $32.99/license per year (unlimited licenses).
Wickr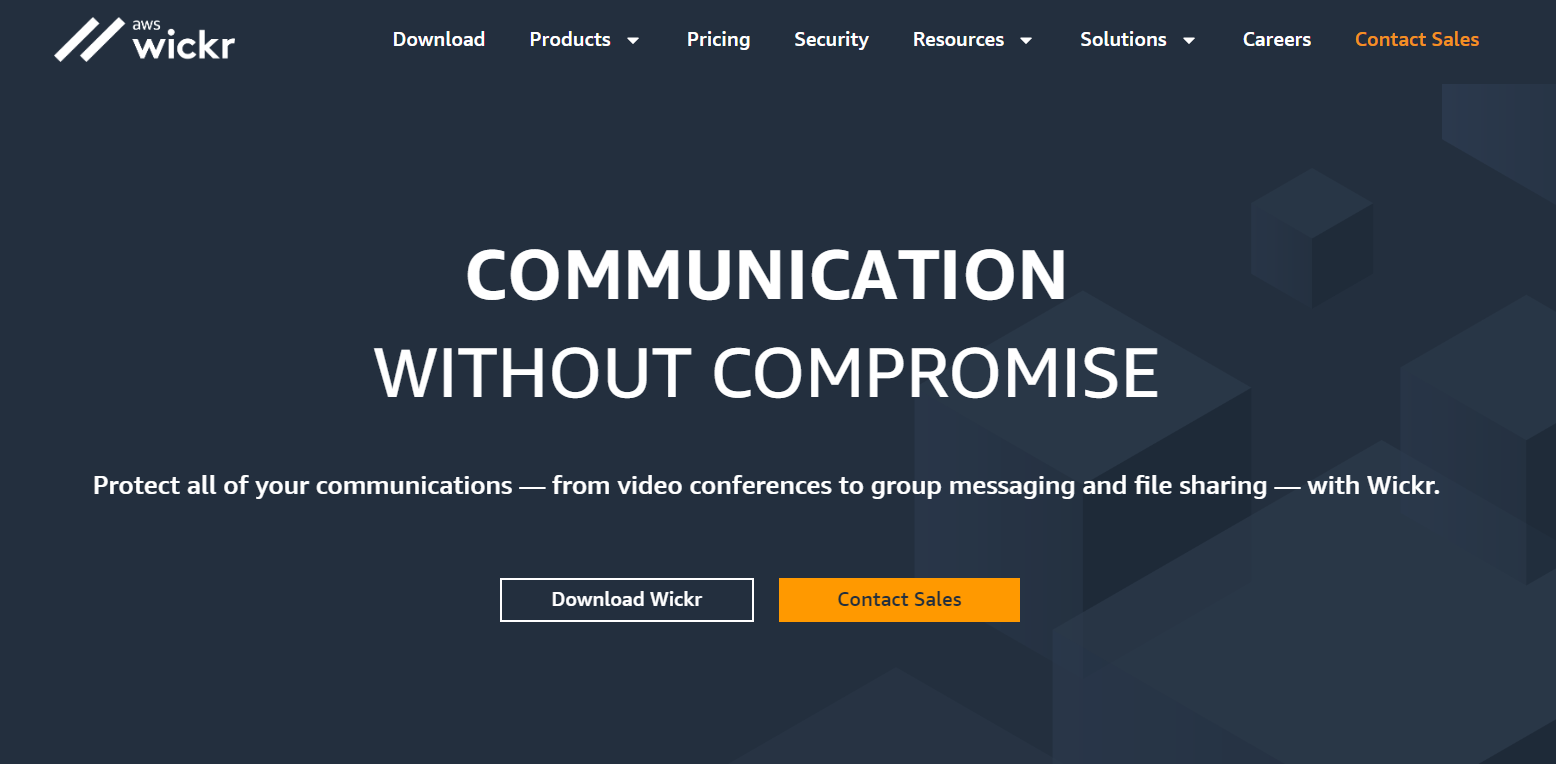 Wickr — an Amazon Web Services (AWS) communication app — supports individuals, businesses, and public sector organizations by providing a platform that enables encrypted communication.
Wickr works well for businesses and large teams because of its robust capabilities to serve many people at once. For instance, group messaging and broadcasting allow up to 500 participants, audio and video calling allow 70 participants, and it has administrative controls that any organization can set for its users.
| Pros | Cons |
| --- | --- |
| End-to-end encryption | More costly than other messaging apps |
| Open-source technology | More difficult to switch to another messaging app |
| Multiplatform support | |
| Customer-controlled data retention | |
| Good for businesses and large teams | |
Wicker Messaging App Pricing
Wicker offers a free trial, plus three different premium plans for its users.
Free — $0 for 30 days
The free trial includes the following features:
Up to 30 users
1:1, group chats, and rooms
Data expiration time of 30 days
Up to 1 GB file attachment
Voice and video calls with up to 100 people.
Standard — $5/user per month
Standard includes all the features from the free trial, plus:
Unlimited users
Data expiration timer of 3 months
Unlimited storage
Enhanced administrative controls
Financially backed 99.9% uptime service level agreement.
Premium — $15/user per month
Premium includes all of the Standard features, plus:
Data expiration time up to 1 year
Maximum admin controls
Data retention
Up to 5 GB file attachment
Single sign-on (SSO).
Enterprise — Contact Wickr for Custom Pricing
Enterprise includes everything from Premium, plus:
Self-hosting within a customer environment
Dedicated training and customer support
Pre-configured security groups
eDiscovery capabilities.
Wire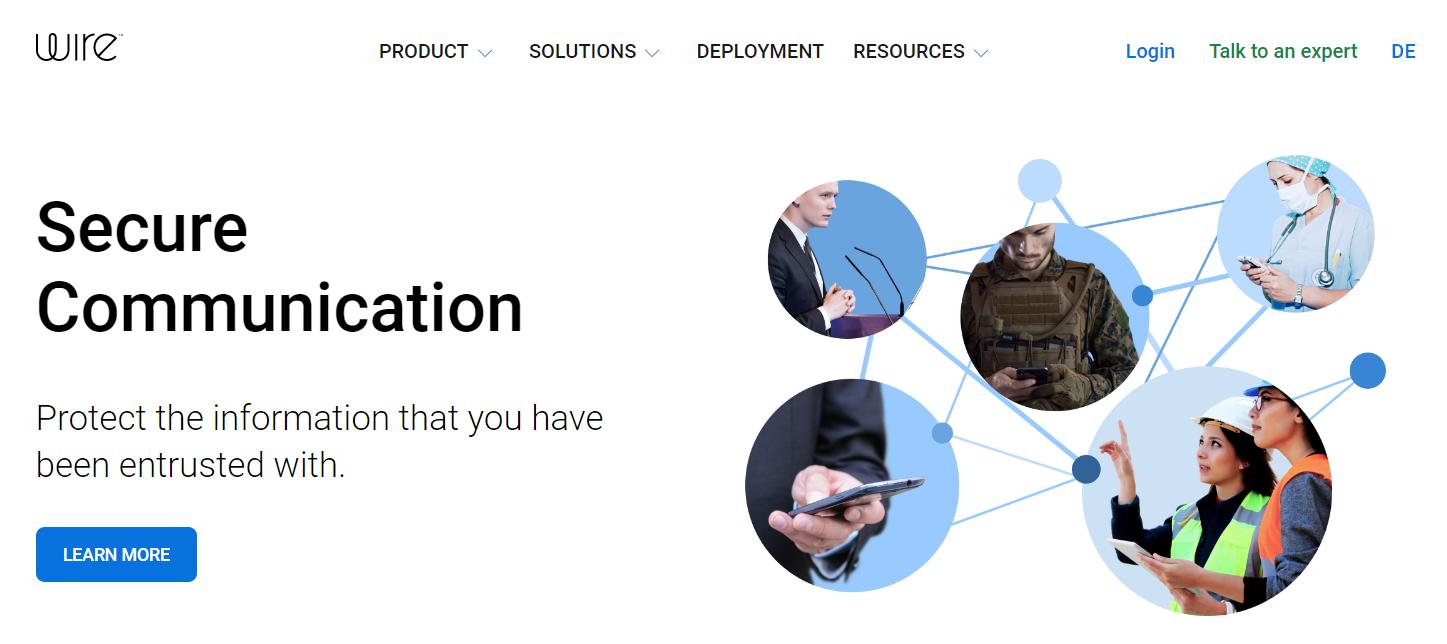 Wire is a secure messaging app designed primarily for government agencies and corporate enterprises. Security-critical organizations worldwide trust Wire for its secure information-sharing capabilities.
Among Wire's features, you'll find easy-to-use messaging, audio and video conferencing, seamless encryption across all platforms (phones, tablets, and desktops), file sharing, guest invitations, chat rooms, and more.
| Pros | Cons |
| --- | --- |
| End-to-end encryption | Registration requires an email or phone number |
| Open-source technology | Doesn't currently support two-factor authentication |
| Self-destructing messages | Focuses more on the corporate market than individual users |
| File sharing | |
| Multiplatform support | |
Wire Pricing
Wire tailors their pricing to each use case. For a customized pricing quote, users are encouraged to contact Wire's sales team.
NetSfere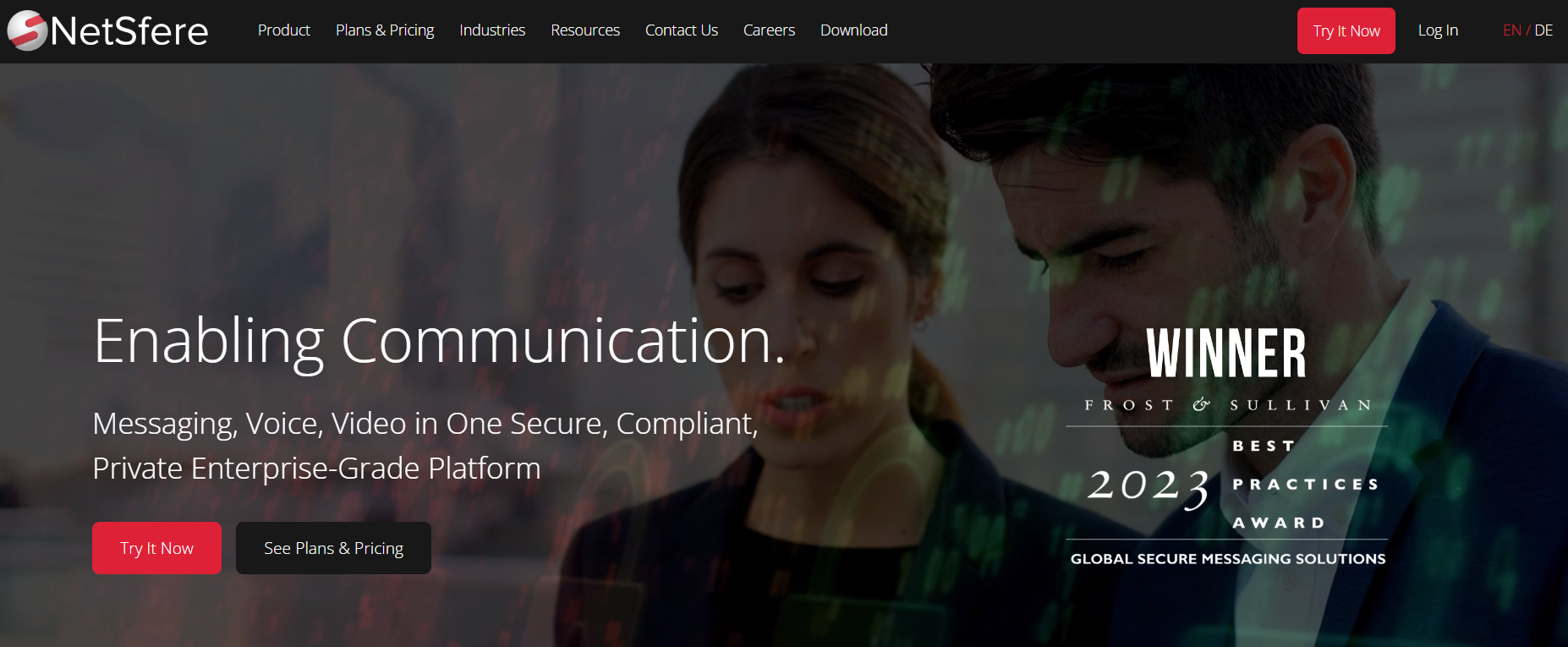 NetSfere is a global secure messaging solution for enterprises. With robust security, this platform provides businesses with various communication features — including text, video, and voice.
NetSfere allows for ease of communication among employees. With organizational features like labeling conversations, team members can stay productive and easily find the information they need from past messages.
Many users rave about the ease of use and collaboration tools this app offers, like guest communication, screen sharing, and more. NetSfere is especially useful for companies that want their IT department to have more control over their communications.
| Pros | Cons |
| --- | --- |
| End-to-end encryption | Needs an email to register |
| Multiplatform support | Free version doesn't have financial and healthcare compliance, like SOX, Dodd-Frank, FINRA, and HIPAA |
| Two-factor authentication | |
| Great enterprise capabilities | |
| Adheres to global privacy requirements | |
Pricing
NetSfere offers a free plan with limited features for companies to test out the platform.
Their Enterprise plan is $7/user per month. Additionally, they offer an Enterprise Plus solution with more advanced capabilities and custom pricing when you contact their sales team.
iMessage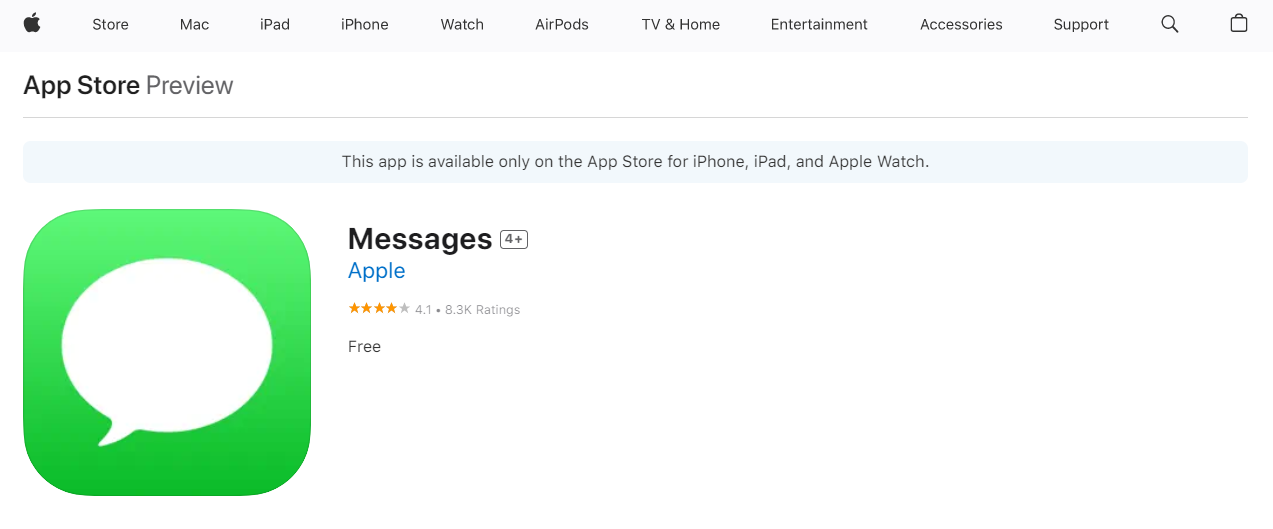 iMessage lets Apple users use Wi-Fi and mobile data to send encrypted text, audio, image, or video message to anyone with an Apple device. All you need is Apple's messages app.
You can also send regular SMS messages through this app, but they won't be encrypted. The messages app color codes your messages so you can tell if it is an encrypted iMessage or not. iMessages are in a blue bubble and regular SMS messages are in a green bubble.
| Pros | Cons |
| --- | --- |
| End-to-end encryption for iMessages | Does not encrypt SMS messages |
| Free | Does not encrypt metadata or data backed up to iCloud |
| Sleek, easy-to-use interface | Only available on iOS devices |
Dust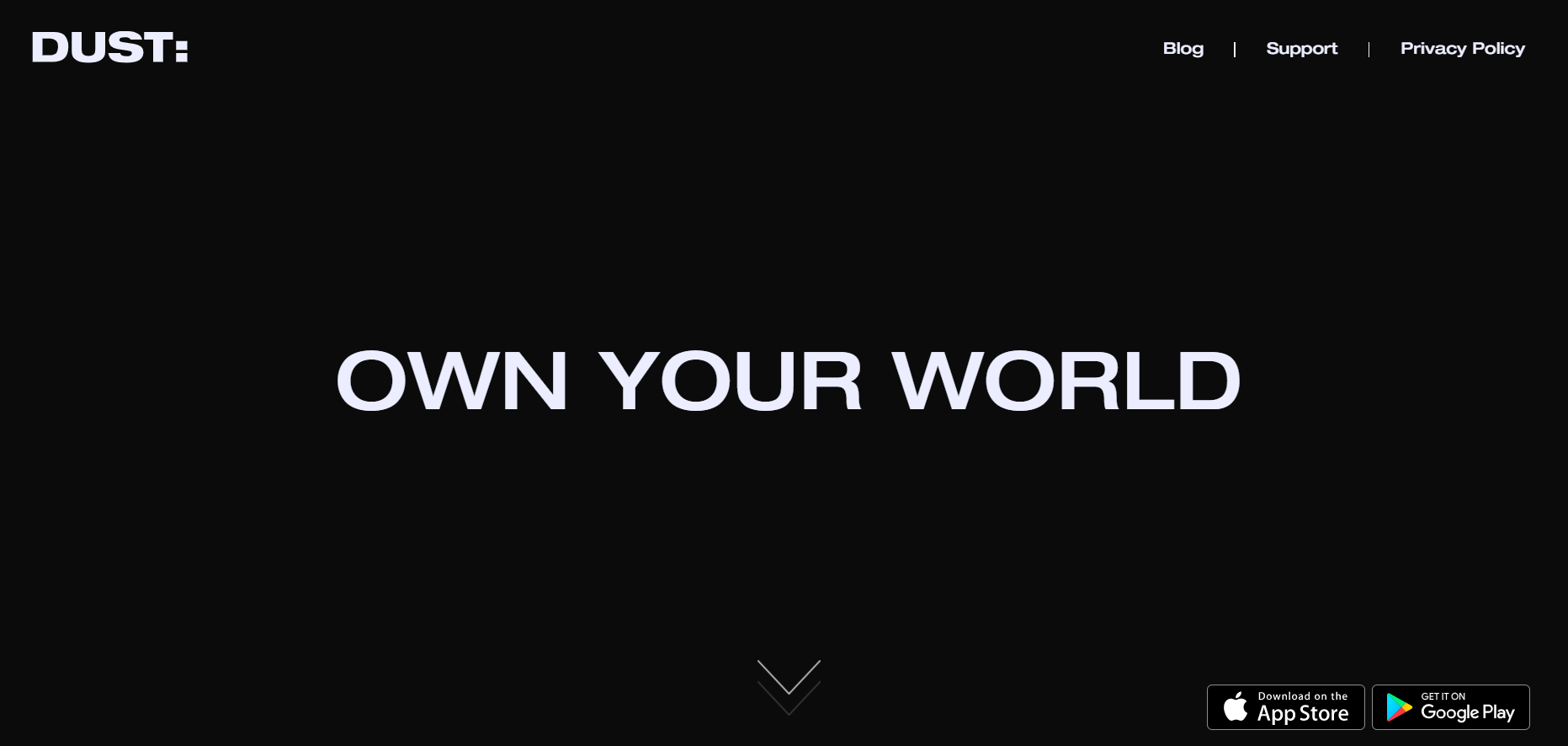 Dust provides a suite of cybersecurity tools for mobile users. These include private communication, private web search, and identity theft protection.
A unique aspect of this encrypted messaging app is that once a message is read, it is permanently deleted after 100 seconds. And whether a message is read or not, it will be deleted after 24 hours.
| Pros | Cons |
| --- | --- |
| End-to-end encryption | Lacks basic features, like video calls and voice messages |
| Permanent self-destructing messages | Visual appearance is harsh and not appealing to mass audiences |
| Users can't save private messages and media | Website has limited information about the app's capabilities |
Pricing
Dust is free for Android and iOS users, but it does offer in-app purchases for additional security features.
Rocket.Chat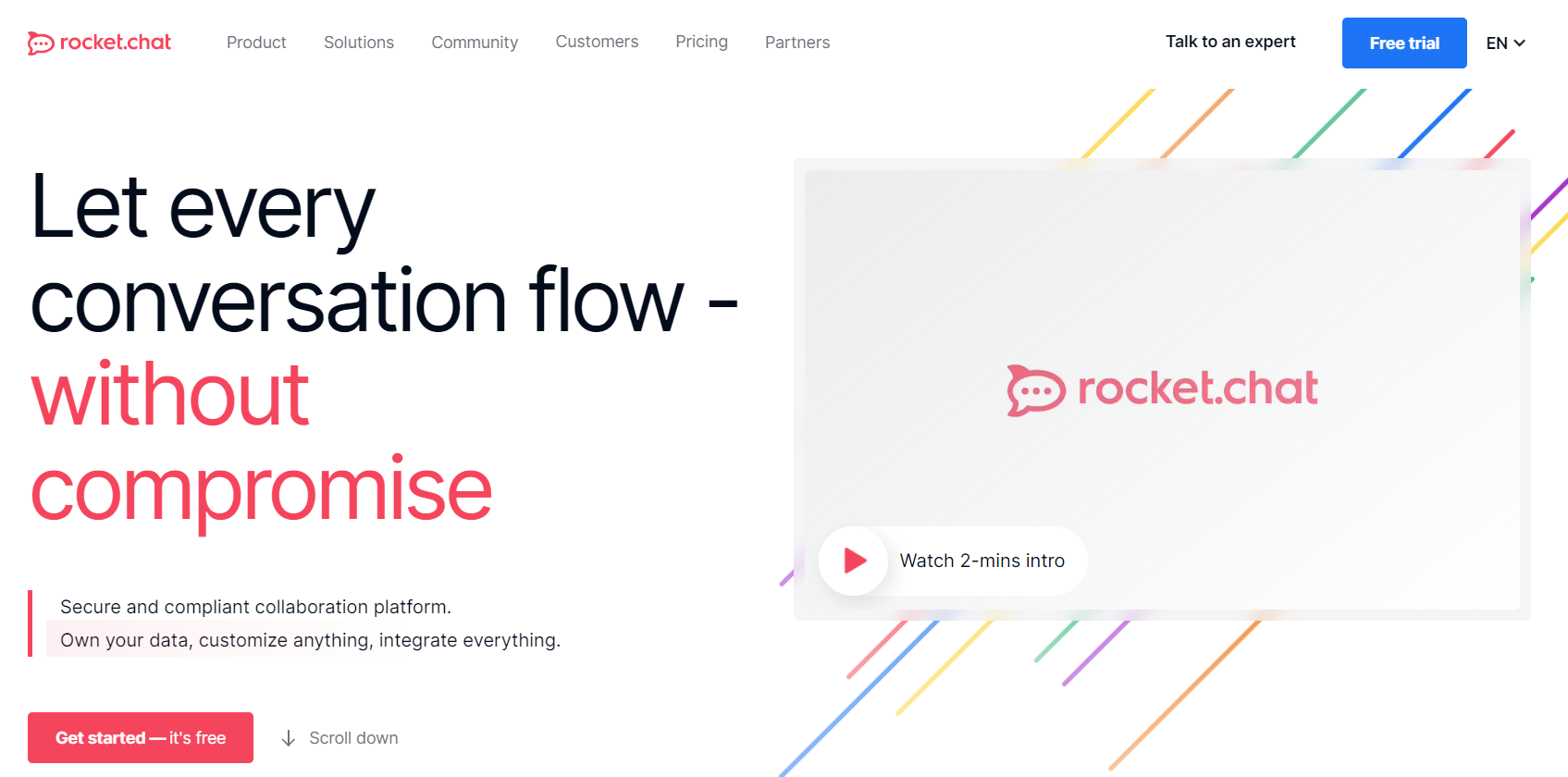 Rocket.Chat boasts itself as the most secure collaboration tool for enterprises. It is a great solution for organizations that want to host their own chat solution on-site. It also offers a base for developers to grow their own chat platforms.
| Pros | Cons |
| --- | --- |
| End-to-end encryption | Users have reported that the user interface can be confusing |
| Open-source technology | Not reviewed by large tech review companies like PC Mag and CNET |
| Multiplatform support | |
| Two-factor authentication | |
| On-premise hosting | |
| Configurable for specific industry privacy regulations | |
Pricing
Rocket.Chat has a couple of different options, including a free solution.
Community — $0/users per month
This free plan provides the basics to help small teams get started.
Enterprise — $7/user per month & $35/agent per month
The Enterprise plan offers more advanced features as well as add-ons that you can pay to include with your plan.
LINE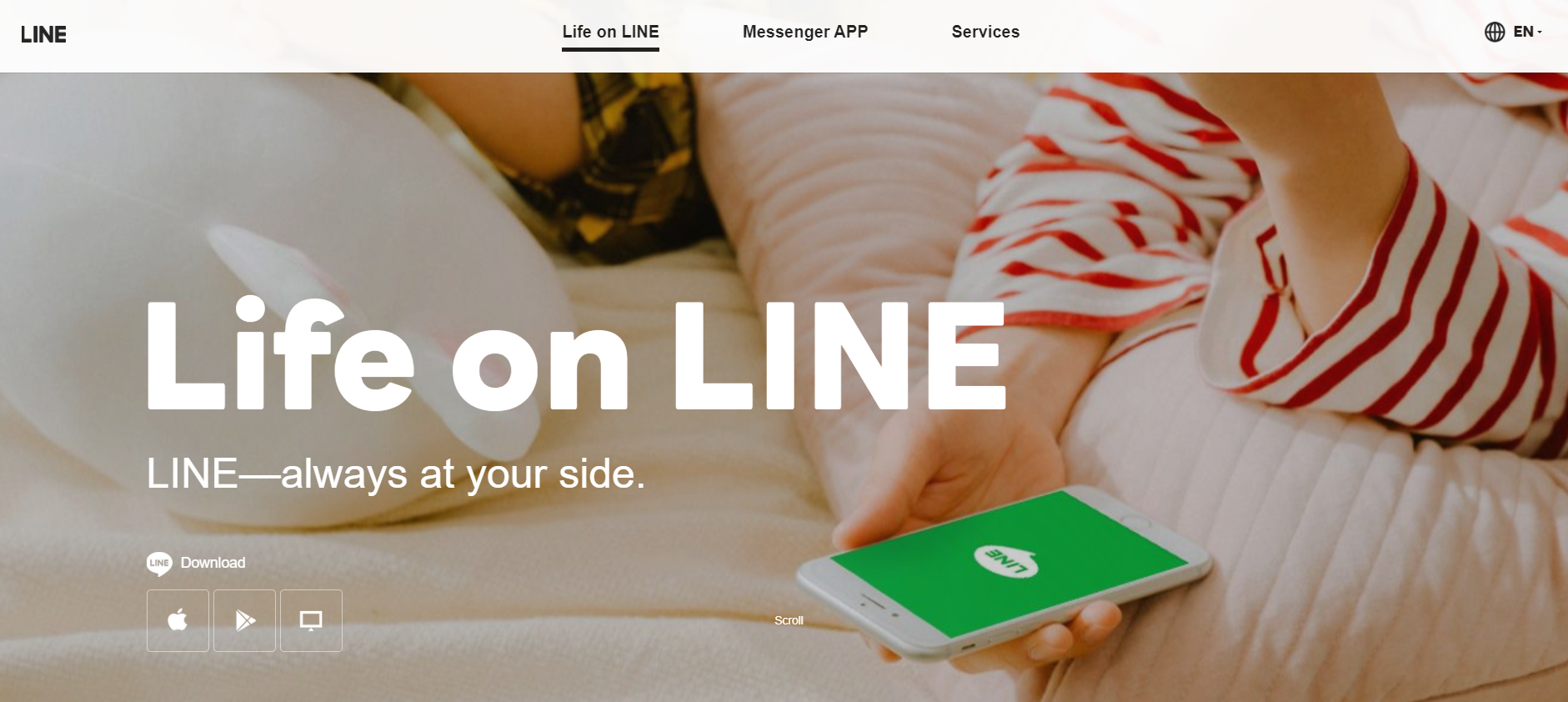 LINE is a Japanese messaging app primarily used throughout Asia. About 88% of Japan's adult population uses the app, and its four largest markets are Japan, Indonesia, Taiwan, and Thailand. While popular in Asia, LINE did have 3.15 million users in the US as of 2019.
Beyond open communication, LINE offers other fun features, including the ability to find and read your favorite manga, listen to music, and more.
LINE also allows up to 5-minute free international calls through its LINE Out service. With the LINE Out app, you can dial a number and call almost anyone in the world (service and call time depend on the countries you and the receiver are in).
| Pros | Cons |
| --- | --- |
| End-to-end encryption | E2EE is not default, you have to opt in |
| Free | Not common outside of Asia |
| Unique, fun features | Line Manga is only available in Japan |
| Free international calls | |
Google Messages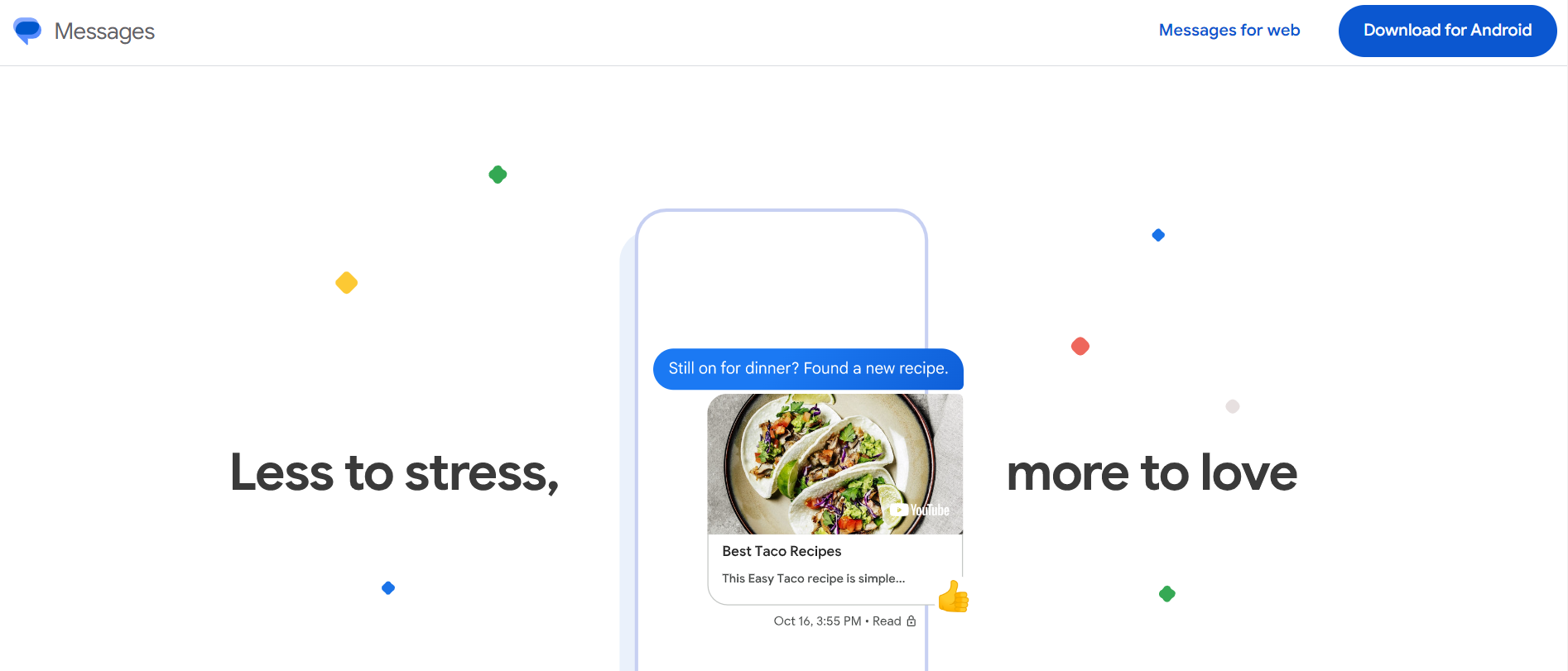 Google Messages is the standard messaging app available on Android devices. By default, it uses the RCS (rich communication services) protocol, which enables safer communication with other Android users. RCS chats let users send messages over mobile data and Wi-Fi. In order to work, each user in the conversation must have RCS enabled on their device.
Google Messages is also available for web browsers, so users can sync their Google Messages app from their Android device with their browser to communicate from their desktop.
| Pros | Cons |
| --- | --- |
| End-to-end encryption | Only available on Android devices |
| Open-source technology | RCS only available with communication to other Android devices |
| Free | |
| RCS protocol | |
Tips on how to secure your texting app
Not every texting app is secure, and not everyone wants to go through the trouble of finding the most secure texting app. Whether you have a secure messaging app or not, these tips can help you bring additional security to your messages.
Be careful on public Wi-Fi networks
Don't provide private information through chats
Don't click suspicious links
Use a reliable VPN.
Be careful on public Wi-Fi networks
Public Wi-Fi networks are frequently vulnerable to cyber attacks. Hackers can use a variety of techniques to mimic or access public networks.
Even if you have a secure messaging app, if you access it on a public network, hackers may be able to access the information you share on your app.
Be careful on public Wi-Fi networks by following these tips:
Don't access sensitive information or log into accounts that use the same password as other accounts
Only log into public networks that you know and trust
Disable automatic connections to public networks.
Don't provide private information through chats
Avoid sharing personal information through chats on your messaging apps, especially if you're on a public network or a community chat. Hackers use information like credit card numbers, passwords, banking information, and other sensitive data to commit fraud and other insidious acts.
Don't click suspicious links
If you receive a suspicious link from someone you don't know, don't click on it. Scammers often send unprompted messages like this to get you to click on a spammy website that could leave you vulnerable to malware.
Use a reliable VPN
Virtual private networks (VPNs) are powerful tools that encrypt your data and messages whether you are on your home network, mobile data, or a public network. For additional security on your messaging apps, use a VPN.
Clario's VPN offers top-security features to provide a safe digital experience. Follow these instructions to access our VPN:
Download Clario to start a subscription and create an account
On the dashboard, under Quick VPN actions, toggle Browser protection on
On the next screen, tap Turn on
Tap Allow and follow the prompts on your device to allow Clario to add VPN configurations
To browse from other locations, tap the country under Quick VPN actions and find the location you want to browse from
Enjoy additional encrypted security on public networks!
Which messaging app is the most secure?
Signal is our top pick for the most secure messaging app. It checks all the boxes for the security features that a messaging app should have, and it's free for individual users. And, it doesn't compromise on the user interface either. While providing the best security features, it remains easy to use and navigate.
Always opt for additional security
Remember, even when you're using the most secure apps out there, you can always opt for more security by utilizing VPNs and anti-spy software. Fortunately, Clario offers each of these solutions to help you safeguard your online identity from malware, data breaches, unsecured Wi-Fi, and more.