How to Add Chrome Extensions
Adding extensions to Google Chrome is very simple. To do so:
Open the Chrome Web Store
Click Extensions in the left-hand menu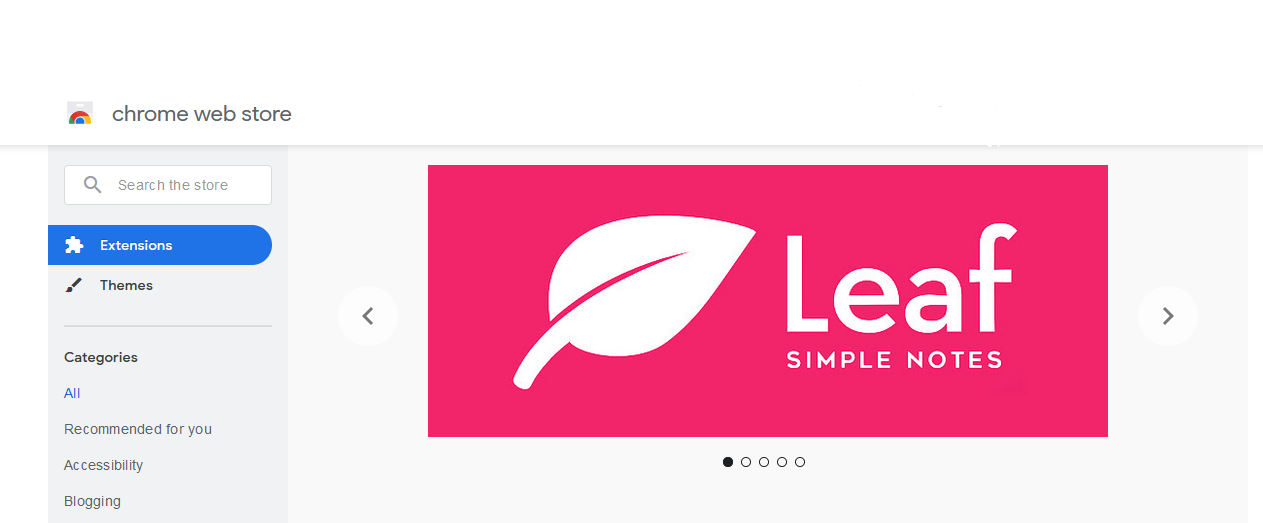 3. Find the extension you'd like to add
4. Click Add to Chrome

5. Review the permissions you're giving the extension, and if you're happy with it, click Add extension

6. The extension will now be added as a button on your toolbar.
The 17 Best Google Chrome Privacy & Security Extensions
When it comes to privacy and security, more than one type of app fits the bill. From virtual private networks (VPNs) to add-blockers, there are several extensions that can help keep your data private and secure.
So, here are the 17 best privacy and security extensions for the Google Chrome browser, in no particular order.
1. uBlock Origin
uBlock Origin is one of the most trustworthy and best Chrome extensions for privacy. The creators of uBlock Origin call it a "wide-spectrum content blocker" rather than an ad blocker.
With a huge amount of customizability, users who want the deepest privacy protection can achieve it. However, it also provides an Easy Mode for less technical users that provides most of the features without much work required on the user's part.
| | |
| --- | --- |
| Pros of uBlock Origin | Cons of uBlock Origin |
| Fully open-source and free | To get the most out of the extension, you need to have a fairly technical understanding of how web browsing works. |
| Highly customizable for technical users yet easy to use for non-technical users | |
| Has a stack of built-in privacy protection features | |
2. XQ Secure Gmail
XQ Secure Email is an email-based extension that lets you encrypt and track messages in Gmail and Outlook. By using XQ Secure Mail, you ensure that the contents of your messaging remain private and secure, inaccessible to unauthorized third parties.
This is especially useful for businesses since email compromise has become one of the most common cyberattacks performed on businesses. XQ can also notify you when an attack occurs, letting you respond quickly and reducing the damage the hacker is able to do.
| | |
| --- | --- |
| Pros of XQ Secure Gmail | Cons of XQ Secure Gmail |
| Free email encryption service | Limited user reviews |
| | Collects personally identifiable information (PII) |
| | The level of encryption isn't stated on their product page |
3. TeamPassword
TeamPassword is an effective password-sharing solution for collaborative teams that need to juggle multiple logins. With a cloud-based platform, you are able to easily share access to your apps, tools, and services so that your team has instantaneous access wherever they are.
With a Google sign-in feature and browser extension capabilities, TeamPassword gives one-click access to their accounts without interrupting their workflow.
Further, TeamPassword introduces additional security to team logins. It produces randomized, unique, complex passwords on request and acts as a password manager, storing your passwords securely so that you don't have to.
| | |
| --- | --- |
| Pros of TeamPassword | Cons of TeamPassword |
| Provides a free trial | Relatively expensive ($38.00 per month for 5 users) |
| Easy to use, intuitive dashboard | |
| Store passwords securely | |
| One-click access to accounts anywhere, anytime | |
4. Ghostery
The Ghostery Privacy Suite is a collection of tools (many of which are free) that you can use to block trackers and ads and boost your privacy online. The Ghostery privacy extension is one of the most popular ad-blockers used today.
Ghostery can block trackers from ad networks, site analytics, customer interactions, social media, and more.
However, some aspects of Ghostery are less than ideal. For example, their Human Web and Ghostery Rewards services collect data from users (though it remains anonymous) for use in advertising and promotions.
Ghostery costs $4.99 per month, but the Chrome browser extension is free.
| | |
| --- | --- |
| Pros of Ghostery | Cons of Ghostery |
| Open-source | Questionable data collection services |
| Effective ad and tracker blocking | |
| Free extension provides all major features | |
5. Windows Defender Browser Protection
The Windows Defender extension is an anti-phishing, anti-malware service provided by Microsoft. It is one of the best Chrome extensions for safety and helps protect you from malicious links in emails and websites, and prevents you from downloading malware from dangerous websites.
Windows Defender Browser Protection also provides you with a real-time indicator of harmful sites according to their continuously up-to-date database of socially engineered sites.
| | |
| --- | --- |
| Pros of Windows Defender Browser Protection | Cons of Windows Defender Browser Protection |
| Easy to use and runs in the background | Not as effective as a full antivirus |
| Adds another layer of protection against phishing sites | |
6. AdBlocker Ultimate
AdBlocker Ultimate blocks ads on all websites, features anti-malware and anti-tracking capabilities, and improves browser performance by removing unwanted content.
AdBlocker Ultimate includes the Ultimate Privacy Filter, which helps you block an extensive list of online trackers. Further, the extension blocks domains that are known for spreading malware, spyware, adware, and other malicious programs.
| | |
| --- | --- |
| Pros of AdBlocker Ultimate | Cons of AdBlocker Ultimate |
| Completely free extension that blocks ads and malicious domains | May have profited by stealing Adguard's source code |
| Does not allow "acceptable ads" like other ad-blockers | Not as powerful or customizable as uBlock Origin |
| Open-source | |
7. SiteJabber
SiteJabber is the leading website for online business reviews. They feature a community of users who input their opinions and experiences of different online businesses so that other users can determine the safety and validity of the sites they visit.
The SiteJabber extension lets you access reviews and ratings for every website you visit. This helps you determine which sites are safe and secure by alerting you with a red, yellow, and green light system.
| | |
| --- | --- |
| Pros of SiteJabber | Cons of SiteJabber |
| Lightweight Google Chrome security plugin that provides detailed review data on many websites | Some users find issues accessing or inputting reviews through the extension |
| Completely free way to avoid scam websites | |
8. Click&Clean
Click&Clean is a secure Chrome extension that helps you delete your browsing data, open windows, search history, cookies, downloads, form data, temporary files, caches, and more from your web browser.
With one click, Click&Clean helps you protect your private data. It also helps you find privacy issues (such as online trackers) and manage your cookies so that third parties don't have access to your browsing data.
| | |
| --- | --- |
| Pros of Click&Clean | Cons of Click&Clean |
| Easy to use and free | Some users note annoying pop-ups after installing Click&Clean |
| The "Securely close browser" feature lets you delete data when exiting Chrome | Not particularly useful since most features are built into the Chrome browser already |
| Highly rated | |
9. uMatrix
uMatrix is a point-and-click matrix-based firewall – but what does that mean? Essentially, it allows you to prevent or allow requests to your browser that are made from the websites you visit. This includes things like scripts, iframes, and adverts that can result in a frustrating user experience, or worse, steal your private data.
| | |
| --- | --- |
| Pros of uMatrix | Cons of uMatrix |
| Gives you the ability to see and block all connections and requests to your browser | Relatively complicated learning curve |
| Provides full user control over blacklisting rather than relying on curated lists | Requires tweaking to prevent many websites from breaking |
10. Blurweb.app
Blurweb.app is an extension that lets you blur images, text, and other website elements with a single click so that you can share your screen without giving away private information. The extension lets you control blur intensity, maintain blurred areas even if you reload pages, and hide tab titles if desired.
| | |
| --- | --- |
| Pros of Blurweb.app | Cons of Blurweb.app |
| Useful for onboarding or providing feedback to clients without sharing personal information | Not free – but plans are affordable, ranging from $2-8 per month depending on need |
| Easy to use | |
| Helps save time when creating videos or screen sharing via Zoom | |
11. PrivacyBadger
Privacy Badger is a Chrome extension that automatically learns to detect and block hidden trackers while you browse. It also sends the Global Privacy Control signal to help you opt out of data sharing agreements, and prevents websites from tracking you using the Do Not Track signal. Trackers who ignore these requests will be blocked immediately.
| | |
| --- | --- |
| Pros of PrivacyBadger | Cons of PrivacyBadger |
| Helps to block trackers fairly effectively | Due to the "learning" process, PrivacyBadger can, in some cases, make users more easily identifiable than other apps which use predefined blacklists (like uBlock) |
| Free and open-source | |
12. ExpressVPN
The ExpressVPN Chrome extension helps you spoof your location and access international content easily from your browser. ExpressVPN prevents websites and HTML5 from discovering your IP address and location, helping you to maintain your privacy online.
| | |
| --- | --- |
| Pros of the ExpressVPN extension | Cons of the ExpressVPN extension |
| Unlike many other VPN extensions, ExpressVPN has almost all the features of the desktop app | Requires the ExpressVPN desktop app to be installed on your device (and also requires a subscription) |
| The extension keeps no activity logs, protecting your privacy | |
| Easy to use and quickly activated with one click inside your browser | |
13. Malwarebytes Browser Guard
Malwarebytes Browser Guard blocks trackers, pop-ups, and browser hijackers, and filters unwanted ads and content (like credit card skimmers). It also prevents you from accessing known malicious websites.
Malwarebytes Browser Guard also has the world-first feature of being able to detect and block tech support scams.
| | |
| --- | --- |
| Pros of Malwarebytes Browser Guard | Cons of Malwarebytes Browser Guard |
| Easy to install and use | Very few customizable settings |
| Helps to block most malicious and annoying elements when visiting websites | Doesn't detect all malware websites |
| | Some users note that it's heavy on resources |
14. DuckDuckGo Privacy Essentials
DuckDuckGo is a well-known search engine that gives users control over their privacy by preventing filter bubbles and blocking content farms. Privacy Essentials is their web browser add-on that helps block third-party trackers from websites that you visit.
Further, DuckDuckGo Privacy Essentials displays a Privacy Grade for each website, indicating how trustworthy it really is. When used in conjunction with the DuckDuckGo search engine, it helps protect your search history, as well.
| | |
| --- | --- |
| Pros of DuckDuckGo Privacy Essentials | Cons of DuckDuckGo Privacy Essentials |
| Developed by a highly lauded privacy-focused company | Doesn't provide any added functionality over powerful content blockers like uBlock Origin |
| Available for the Chrome browser on smartphones | |
15. Unshorten.link
Link-shortening services like Bit.ly and Tiny.cc introduce trackers into the link so that the owner can monitor who opened their links. With the Unshorten.link Chrome extension, any link you click will be automatically expanded and any trackers will be automatically removed.
| | |
| --- | --- |
| Pros of Unshorten.link | Cons of Unshorten.link |
| One-click, easy tracker removal to protect your privacy from link shortening services | It's impossible to know whether the Unshorten.link extension itself is tracking your activity (though it's unlikely to be doing so) |
16. NoScript
The NoScript Chrome extension only allows certain elements (like JavaScript, Flash, Java, and other executable content) to run with your permission. This preemptive approach prevents hackers and scammers from exploiting many security vulnerabilities, effectively protecting your data online.
| | |
| --- | --- |
| Pros of the NoScript extension | Cons of the NoScript extension |
| Free and open-source | Straight out of the box, NoScript breaks many websites and requires a fair bit of tweaking to make perfect |
| Includes a privacy policy promising to collect zero data from its users | |
17. Clario Secure Browsing
Clario Secure Browsing is our very own privacy and security extension for Google Chrome. It helps you avoid malicious websites, block annoying ads and online trackers that spy on your browsing habits, and block browser notifications.
With Clario Secure Browsing, you can browse without pesky interruptions and know that your activity isn't being tracked. If you accidentally open a dangerous website, Clario will alert you so that you can avoid any malicious code embedded within.
Also, simply click the Clario Secure Browsing icon to see a report for the website you're visiting – it will tell you if anything is wrong.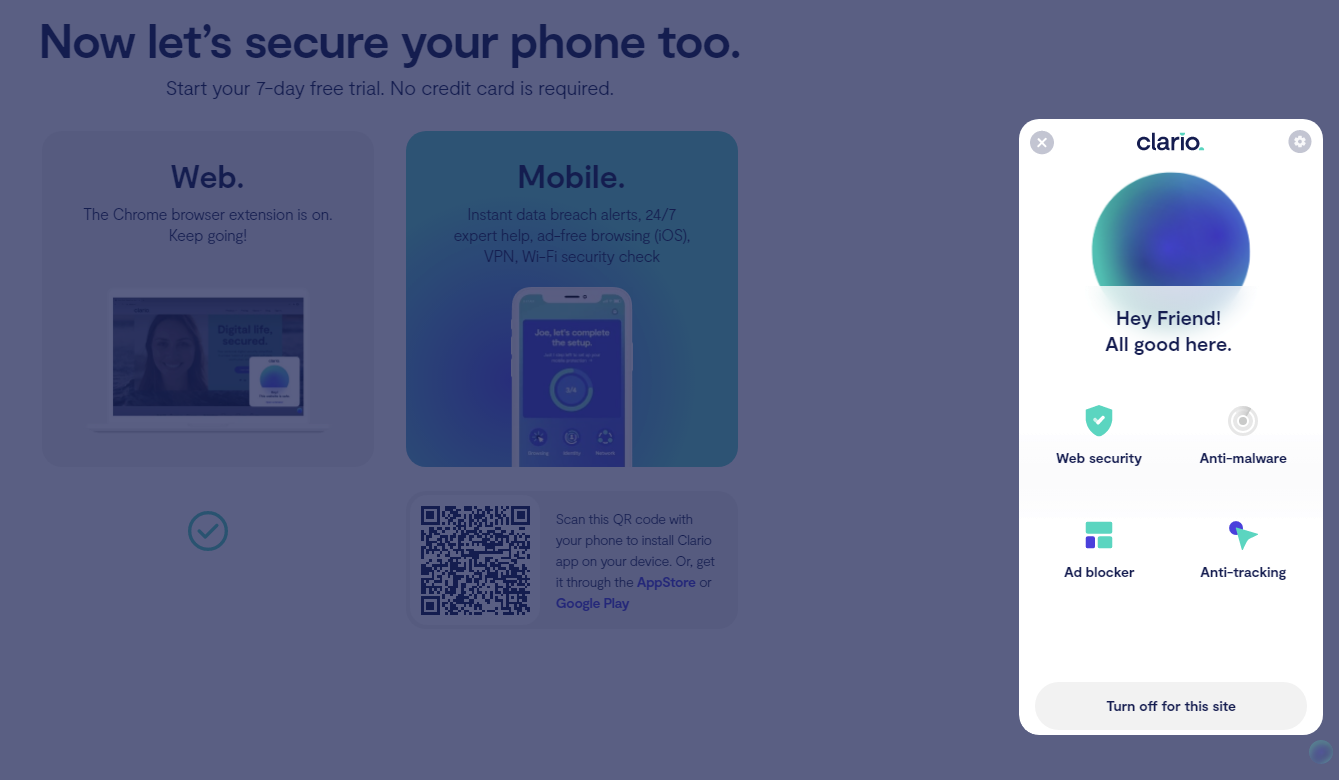 Pros of Clario Secure Browsing:
Free and powerful ad and tracker blocker
Easy to set up and use – get it once and put your mind at ease
Completely private – Clario won't collect or sell your data
Final Thoughts
Staying safe online is becoming harder every year as scams and cyberattacks become more common and sophisticated. And with the average user spending so much time browsing the web, preventing websites from accessing your data is the best way to stay secure.
That's where Clario can help. The Clario Secure Browsing Chrome extension blocks unsafe sites and trackers that are trying to spy on your online activity.