Anti-theft apps
Should your iPhone ever end up in the wrong hands, you'd want to rest assured knowing that you can recover it safely and securely. That's what anti-theft apps are for.
Find My iPhone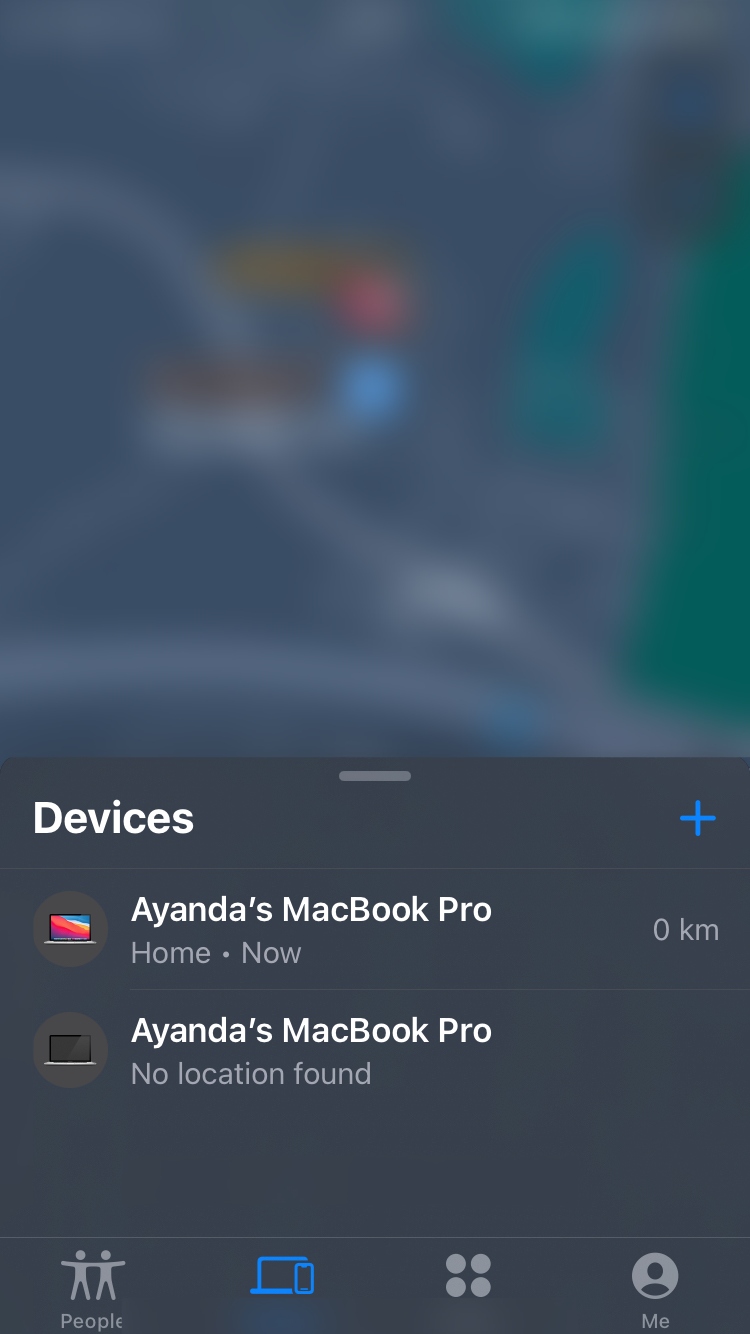 Whether you've misplaced your iPhone or had it stolen, the iOS security app Find My can help you lock it and track it on a map — even if it's offline. Use it to contact the person who finds your iPhone by locking it and writing a message with instructions, which they'll see when they turn it on. You can also wipe your phone remotely in case they snoop around.
If you've misplaced your iPhone nearby, you can play a sound to find it. Find My is a default security app for iPhone and iPad.
Lookout Mobile Security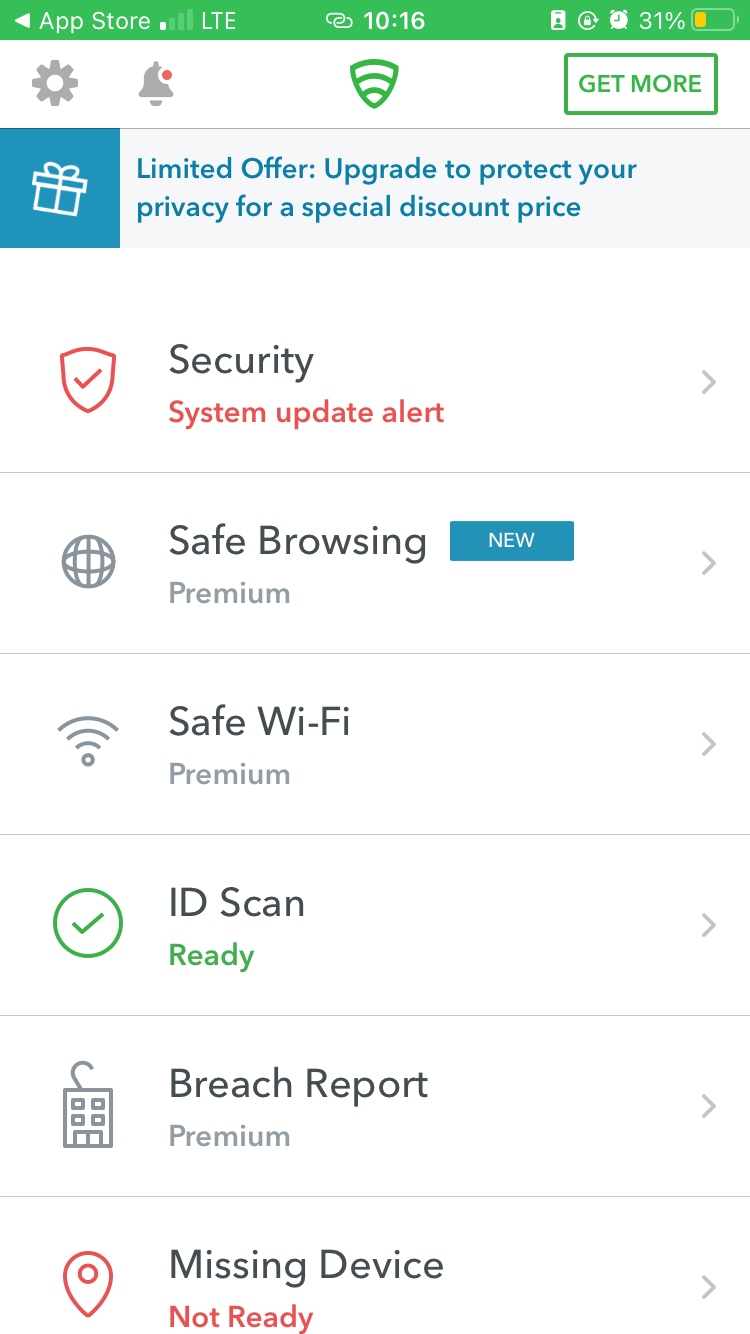 This Android and iPhone security software is designed to protect your iPhone and your personal information from security threats.
Below are some features included with Lookout Mobile Security:
App monitoring
Scanning for threats
Safe internet browsing
Alerts in the case of theft
SSN watch
Alerts you when you join a sketchy Wi-Fi network.
If you suspect something is up with your iPhone, consider checking it for viruses.
Locking files & apps
Next, let's look into apps that protect your most precious files from nosey people.
Keeply
Keeply keeps your secrets safe. It helps you protect and hide your passwords, notes, photos, and cards with a six-digit pin in a vault. Choose between backing them to Dropbox or on your phone.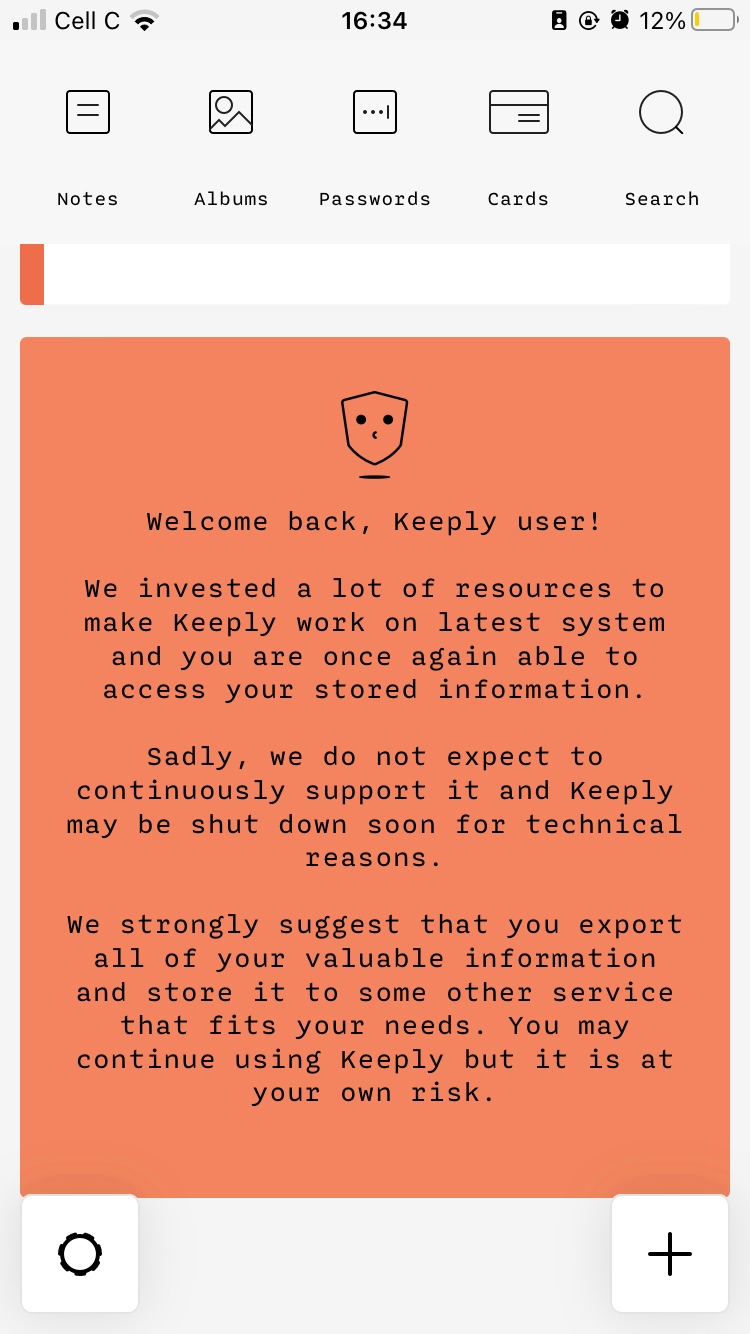 The app can be accessed with TouchID to ensure you're the only person with access. Keeply is free with in-app purchases.
Note Lock
Apple's Notes app comes with numerous features, including the ability to lock specific notes, but it isn't robust. Note Lock fills in the gaps to give you enhanced protection.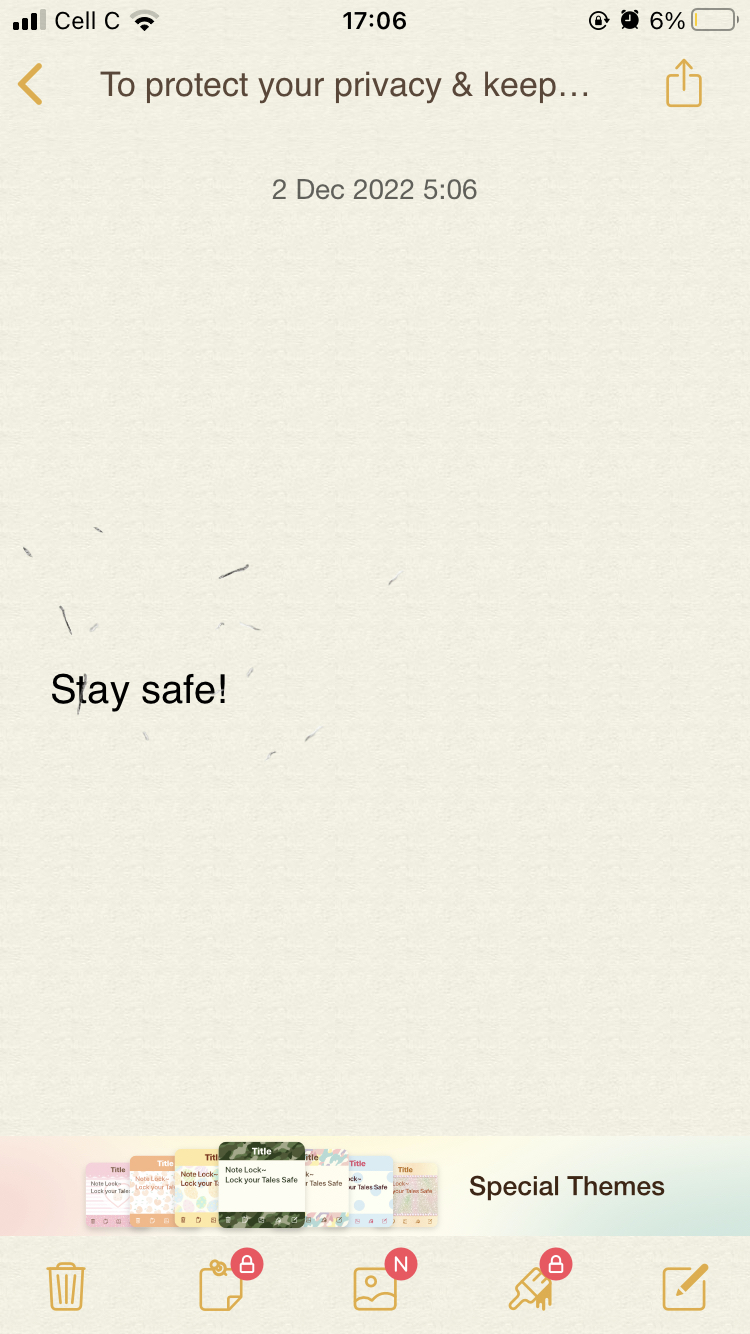 Below are some key features it provides:
FaceID unlock
Unique passwords for each note
Back up passcode to email
Automatically delete notes after a set amount of time.
Note Lock offers a three-day free trial and costs between $1.99 and $29.99 thereafter, depending on the plan you choose.
Duo Mobile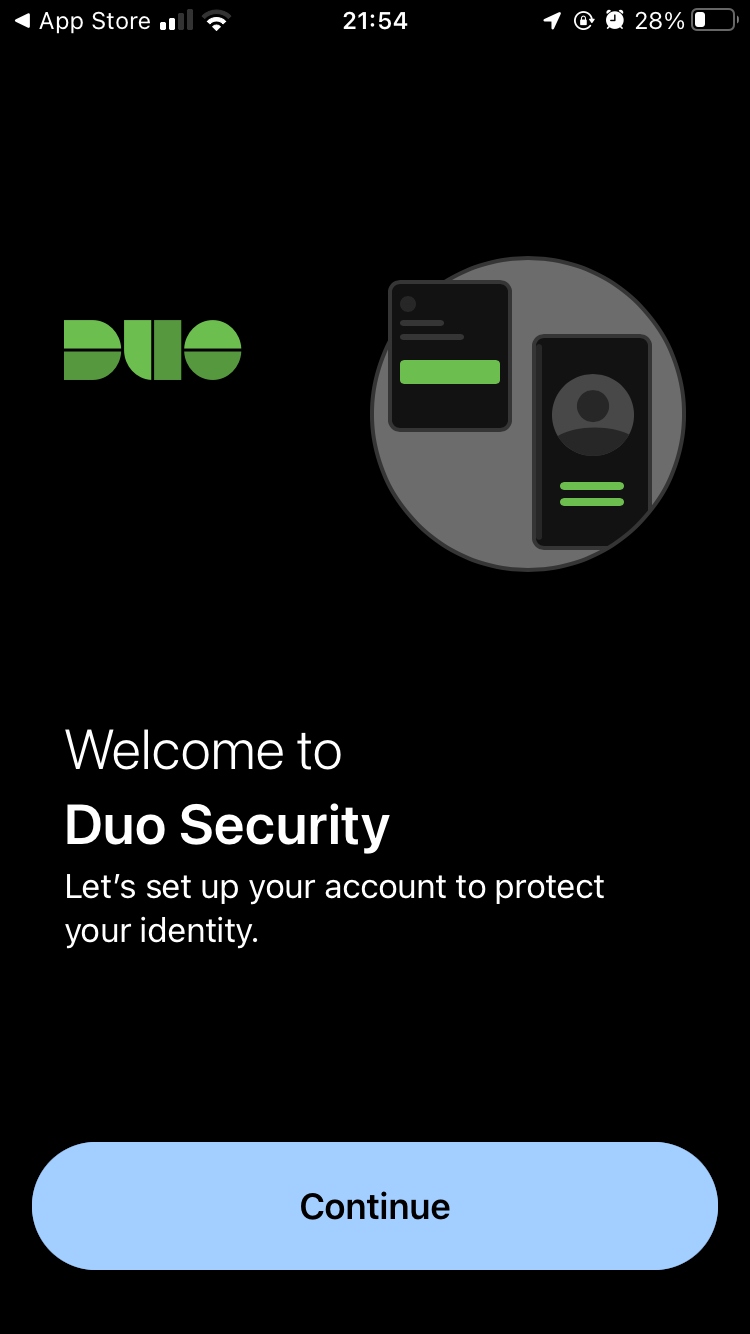 Duo Mobile is a multi-factor authentication app that allows you to verify your identity in two ways:
Push notifications
Time-based one-time (TOTP) passcodes
Below are Duo Mobile's security features:
Security Checkup. Shows you a security score for all your devices.
Duo Restore. Backs up and restores the app as needed. This comes in handy when your iPhone has been lost.
Antivirus and malware apps
These are safe apps that keep your iPhone free of viruses that could compromise your privacy.
MobiShield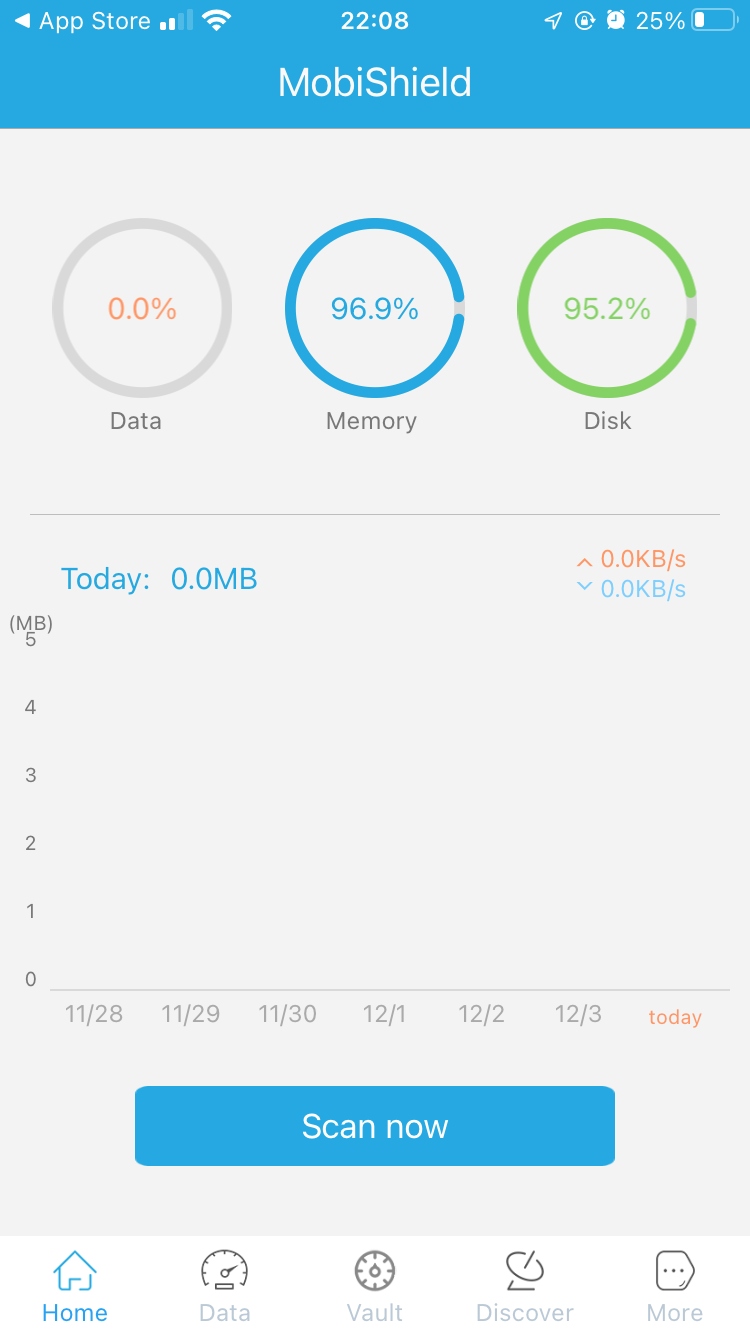 MobiShield protects your phone from theft, loss, malware, and spyware. Below are its key features:
Antivirus protection
System optimization
Backup and restore
Anti-loss protection
Traffic monitoring.
McAfee Security App
McAfee Security is a popular security software for iPhone that protects your online data and phone. It offers features similar to MobiShield, along with some additional ones like Find Phone and Wi-Fi Guard.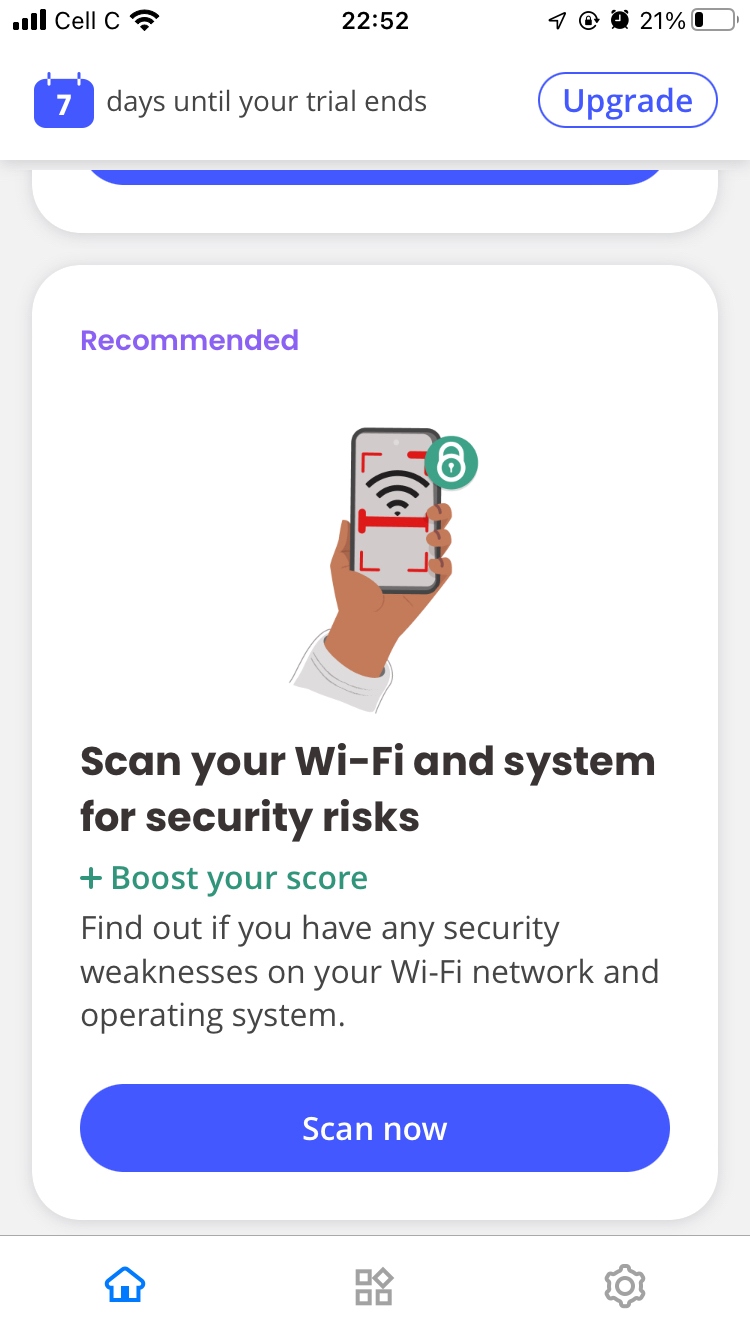 iPhone password apps
One can't talk about iPhone security apps without mentioning password apps. Below are the apps you need to prevent unauthorized access to your iPhone.
LastPass
LastPass is a password manager and online vault for your passwords. It offers dark web monitoring and a master password to autofill your login information for your online accounts.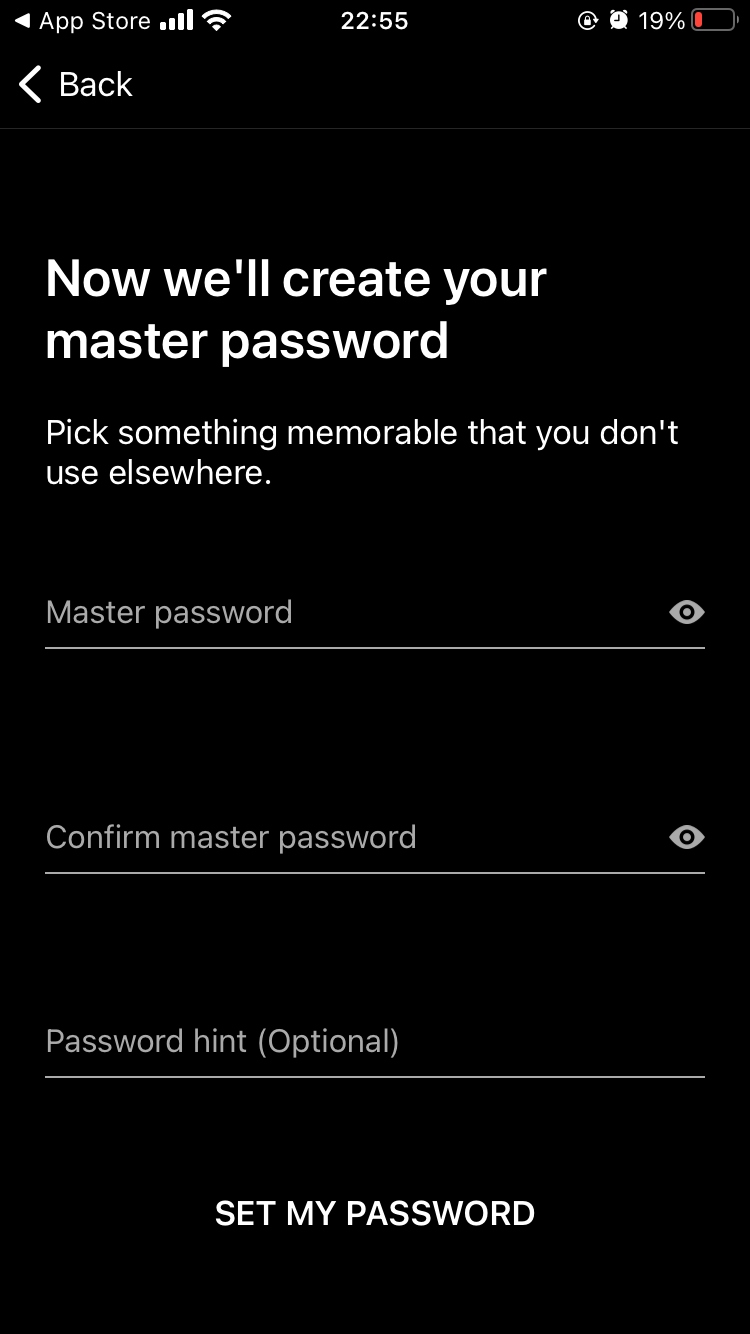 1Password
This app creates and manages unique passwords for all your online accounts (including new ones) and saves them in an encrypted database. Your password strength score gives you an idea of how safe your data is, and the app alerts you about weak passwords.
Main features:
Two-factor authentication
Cloud sync
Document storage
Unlimited passwords
24-hour email support
Unlock with FaceID
Use it across all your devices.
1Password offers a 1-day free trial, after which you are charged $2.99 per month for individuals (billed annually).
Bitwarden
Bitwarden is a free, fully open-source platform that allows you to protect your data across all your devices.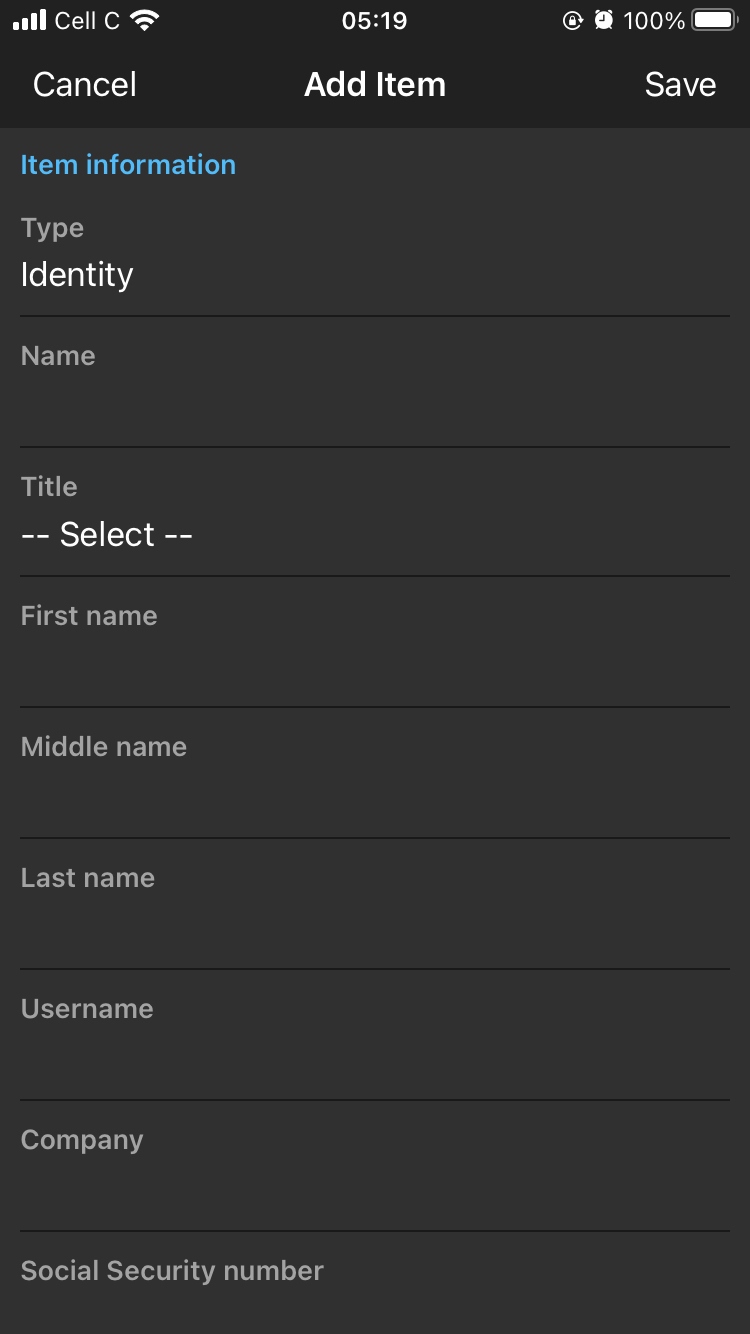 You can manage the following data on Bitwarden:
Logins
Cards
Identity information
Notes.
Unlike the LastPass hack in 2022, Bitwarden has never been compromised in a data breach. However, you should still protect your iPhone from hackers by protecting your personal information.
Browsers and VPN security apps for iPhone
Because the average person uses the internet daily, apps that protect you while you browse are a must-have. Below are our best VPN mobile security apps for iPhone.
Clario
Clario is an all-round cybersecurity app that protects your iPhone from cyberthreats.
Clario's VPN has a vast variety of server locations around the world. This makes Clario one of the best solutions for geo-banned content while allowing you to choose the fastest server (the one that's closer to you).
It comes with a 7-day free trial, so you can try it without pressure.
Using Clario's VPN tool is easy:
Download Clario on your iPhone and set up an account
Drag the toggle on in front of the Browsing protection
On the pop-up, press Turn on and Allow Clario to add VPN Configurations
You're now safe to browse the internet. Don't forget to choose the best server location for you.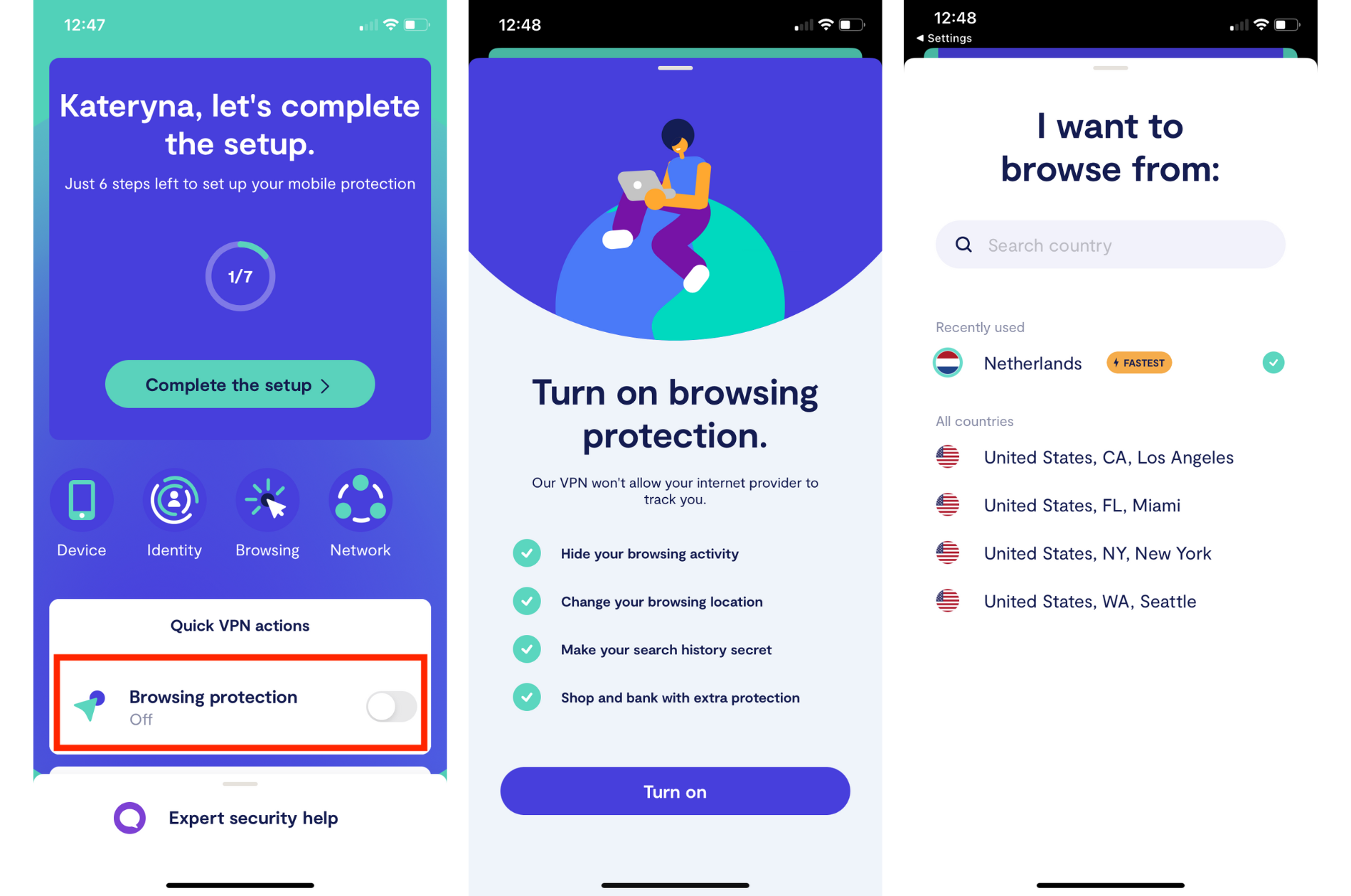 That's it. You can now rest assured that your personal data is secure. But that's not all that Clario can do for you. Clario's Antivirus, Ad blocker, and Data breach monitor are also key in protecting your privacy:
Protects your device by ensuring your iPhone is not jailbroken or vulnerable to wholes in the dated iOS versions.
Blocks pop-up ads, prevents malware, and blocks dangerous links in Safari
Scans the web to check if your email address has been a part of any data breaches. If it is, Clario guides you in securing it to prevent identity theft.
Together, all these tools make Clario the go-to cybersecurity software to keep your iPhone and personal information safe from bad actors. Why not download Clario and try it out for yourself?
Avast SecureLine VPN
This is a VPN service that keeps you anonymous by hiding your IP address — even on public Wi-Fi. It offers fast servers worldwide and uses bank-grade encryption to secure your connection. Enable web protection to block fake websites. Avast SecureLine VPN offers 14-day free trial.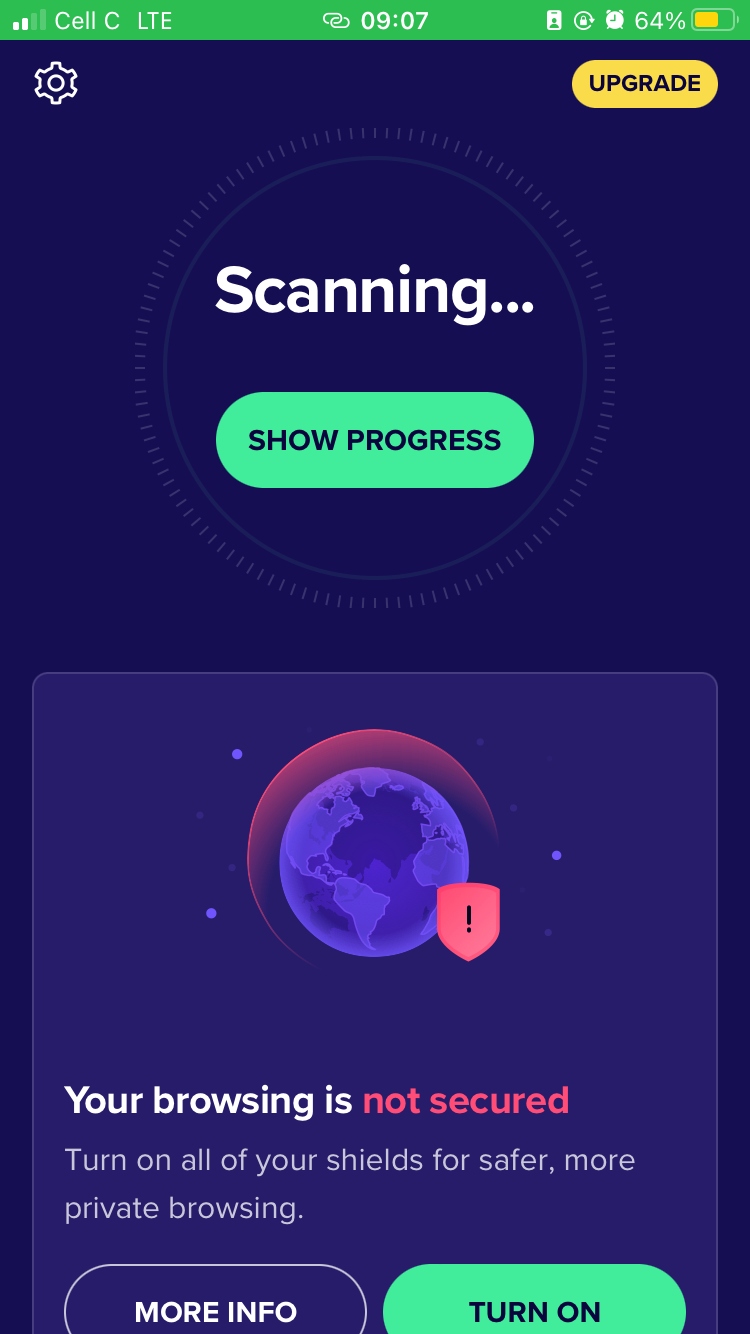 Onion Browser
Your browsing history is tracked by your browser and sold to advertisers at any given moment. But not with Onion Browser, which clears your cookies and closes your tabs after you've finished done browsing. Choose your default security level and start browsing.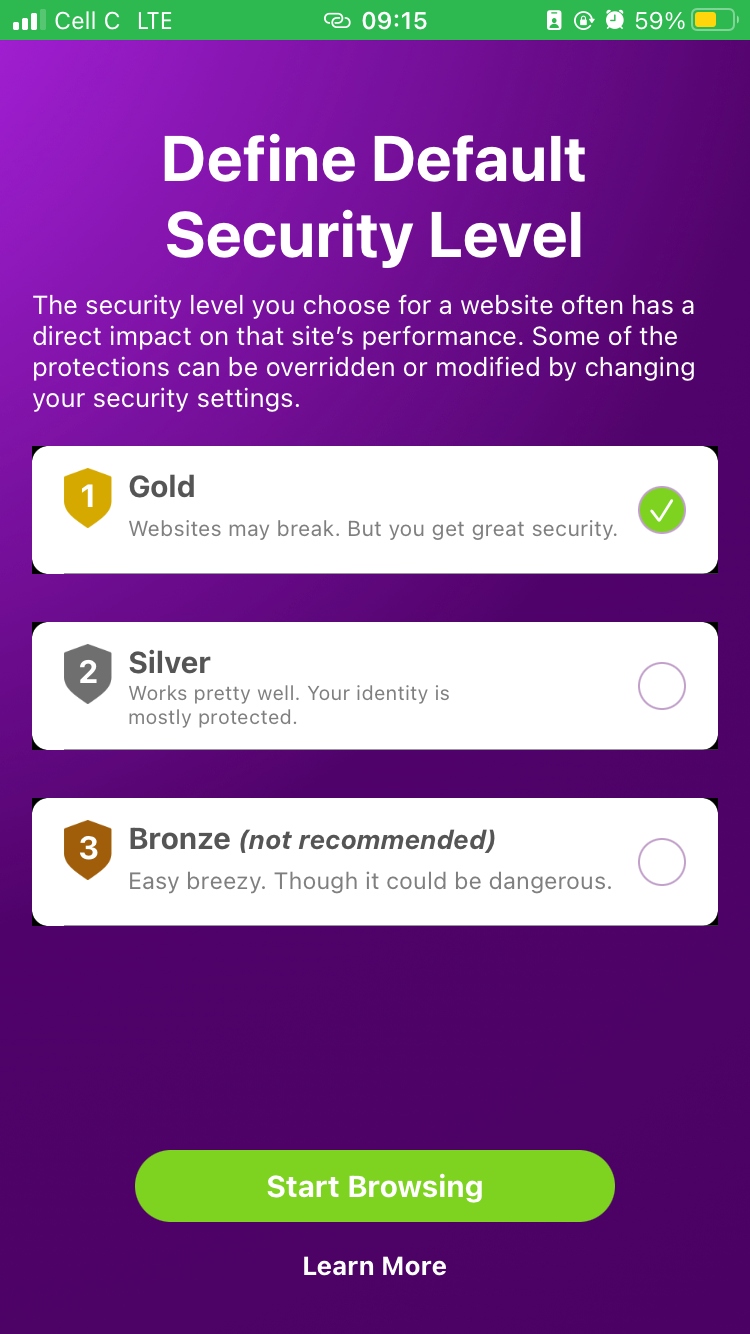 HMA VPN
HMA VPN has an extensive VPN network with over 1,000 servers in over 280 locations.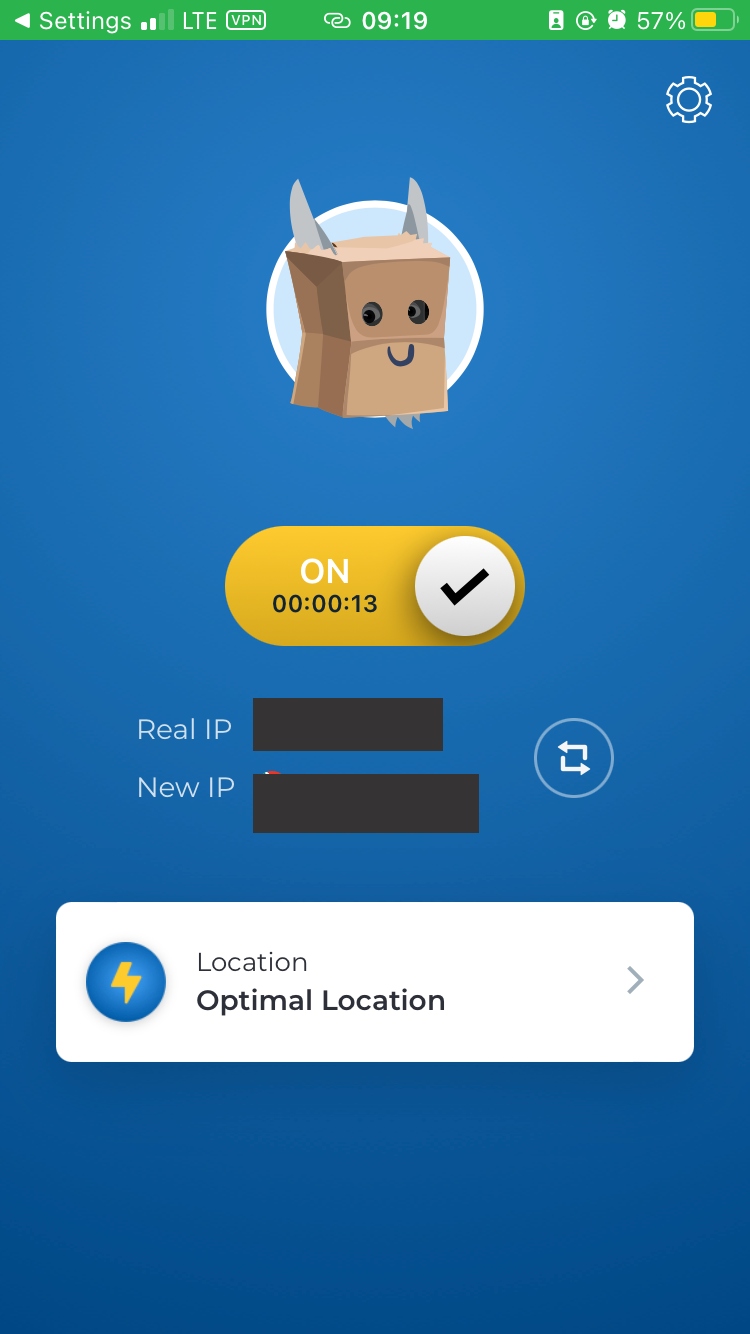 The service offers a seven-day free trial. Subscription plans range from $2.99/month for six months all the way up to $11.99 for one month with a money-back guarantee should you not be satisfied.
Email, call, and message encryption
While they may claim your data is safe, communication apps store your conversations in their internal servers. It makes you wonder just how private they really are. The following apps are your best bet to keep your data protected.
ProtonMail
This email service encrypts your email content and user data before it reaches its servers, which sets it apart from other services like Gmail.
ProtonMail has three subscription tiers, including a free version that offers the following features:
A maximum of 500 MB storage
One email address
Three folders and labels
One personal calendar
Free VPN on one device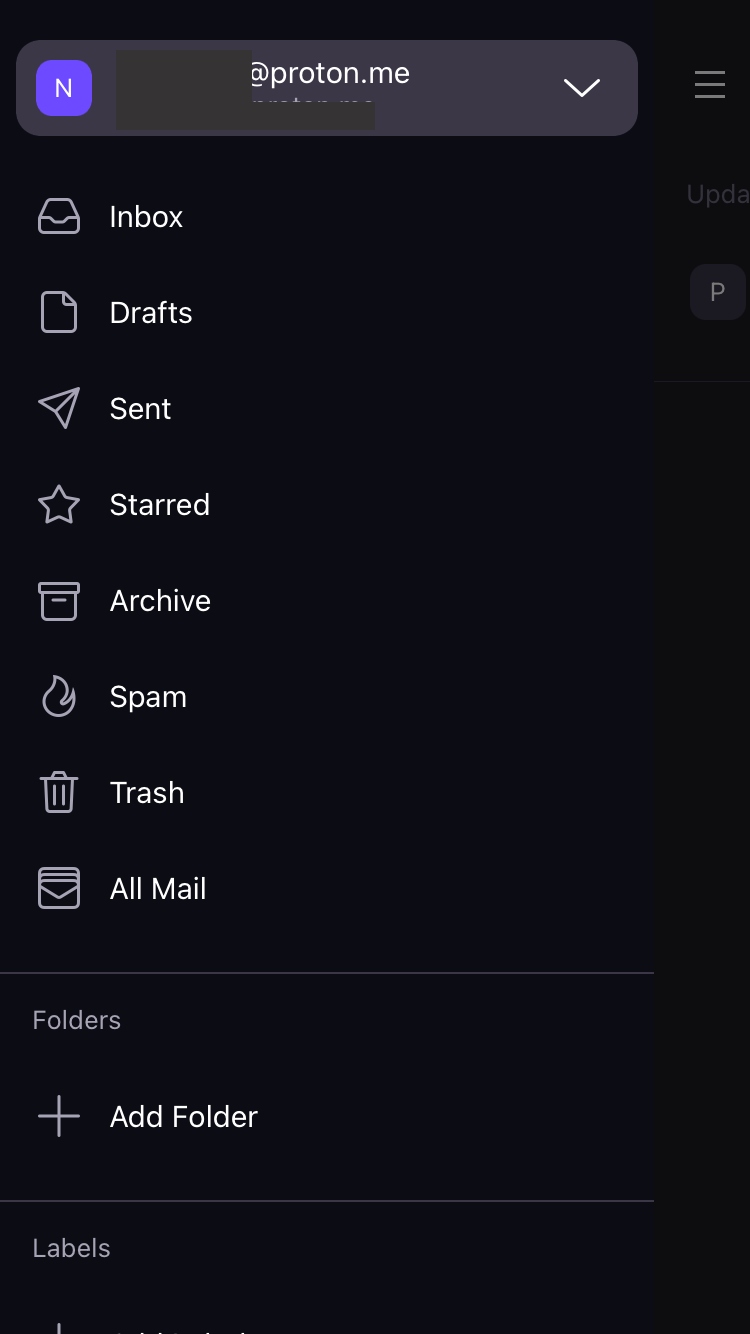 Signal
Signal is a private messaging app that encrypts your messages and erases them after some time, making it difficult for hackers to read them. Signal has WhatsApp-like features like voice notes, voice calls, media support, group and individual chats, and more.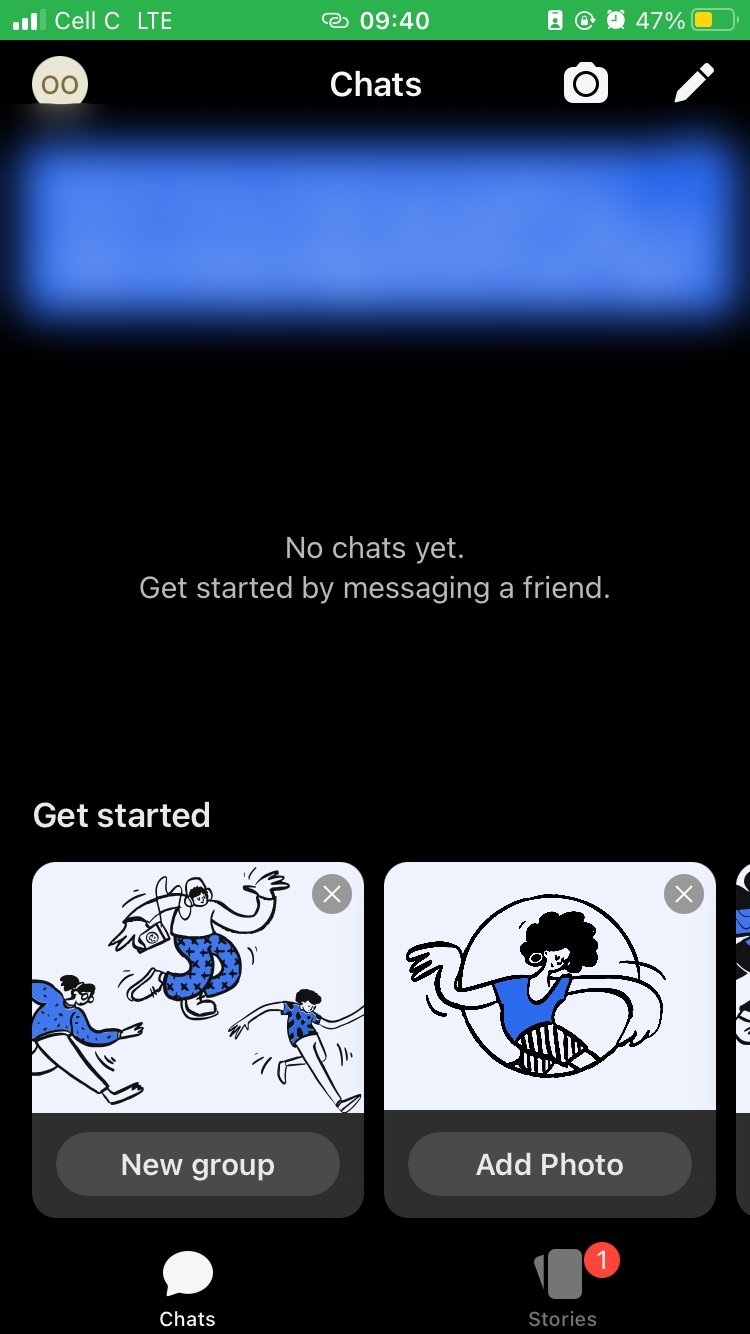 Wire
Wire is a free, open-source collaboration app for personal and corporate use. Wire keeps your messages private by encrypting them and making them self-destructive. Register with your email if you're uncomfortable with providing your mobile phone number.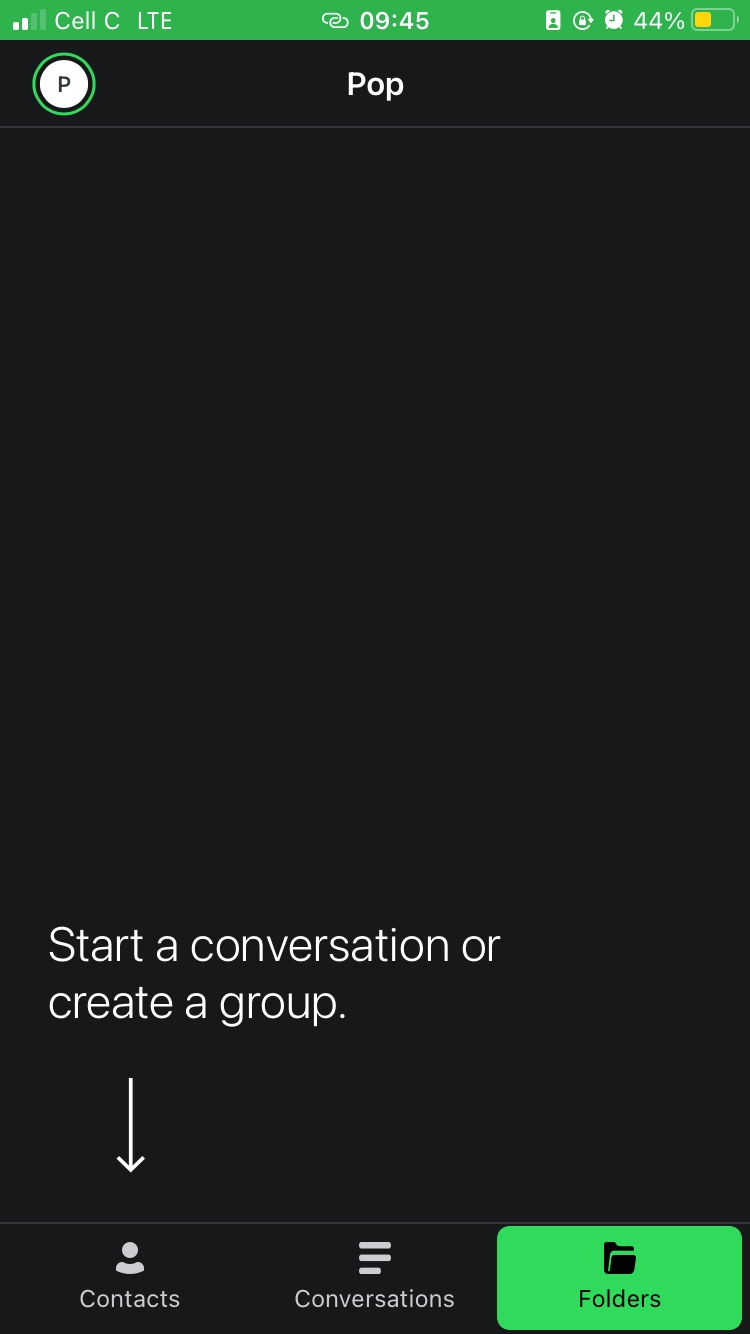 Other ways to protect your data & security on Apple iPhone
Consider getting a comprehensive cybersecurity app that provides all the features you need to keep your iPhone and personal data safe. Clario is one such app. It offers a secure VPN, a data breach monitor, and more to protect your personal data and keep you safe.
But there are a ton of options out there. Just be sure to only use trustworthy software that won't leave your iPhone vulnerable to hacking.