LastPass Hacked: Why You Should Protect Your Personal Information from Data Breaches
You're probably one of many people who manage their passwords with LastPass. Among those are probably your banking passwords and more that hold the keys to a wealth of your personal information. They're passwords that you'd never want to end up in the wrong hands—let alone a hacker.
But LastPass revealed it was hacked in August 2022, proving that it's not enough to rely on a password manager alone to keep your sensitive information safe. You need an added layer of protection to achieve that.
This article will explain how you can take further steps to protect your personal data, over and above using a password manager, for best results. Let's get started.
LastPass reveals it was hacked
With more than 25.6 million users, LastPass is the most popular password manager in the market. It is a software company that allows you to build strong passwords and keep all your passwords secure in one place.
The password manager makes it easier to look after all your passwords, as opposed to writing them down some place where they could be compromised. It is trusted by many, including individuals and companies worldwide, to help keep their passwords safe.
LastPass operates on a "zero-knowledge security" model, which means that no one knows or has access to your master password and personal information. That's because it doesn't store that information, so only you have access to it. It conducts annual security and product tests via a third-party company to strengthen its service.
However, on August 25, 2022, LastPass announced that its system was compromised when hackers gained access to their developer's account:
LastPass stated that its investigation into the breach was still ongoing and that it has managed to do the following:
Contain the breach
Implement more security measures
If you thought password managers were safe from bad actors, think again. It's time you considered adding another layer of protection to keep your sensitive information safe.
Why you should protect your personal information from data breaches
Password managers are one of the tools you can use to prevent identity theft. However, as we've seen with LastPass' situation, they are not exempt from being hacked.
Even though LastPass assured its customers that their information, passwords, and password masters have not been compromised, imagine the damage that would have been done if they didn't identify and act on the breach on time.
While your information wasn't obtained this time around, there's no guarantee that you'd be this lucky should it happen again. And that goes for any service that houses your personal information.
For this reason, you shouldn't depend on password managers solely to keep your passwords and the information they protect safe. It's important to add a second layer of protection, like a data breach monitor, so you can act fast if your personal data has been compromised.
Here's why this is non-negotiable:
No matter how careful you are, or what steps you take to protect your information yourself, there is always room for human error
Hackers are equipped and experienced, so they can find a way around almost anything
Additionally, if you leave it up to companies to announce they have been hacked or violated breach, by the time you find out it could be too late.
For example, LastPass knew that it had been hacked for two weeks before it announced it, as it had to investigate and take the necessary actions first. That's a risk you can't afford to take with your personal information.
So, what can you do?
Turn to a trusted app to do a more thorough and efficient job than you could ever do.
Clario's data breach monitor is the best solution to achieve this. Here's why:
It scans the dark web for reported data breaches to determine if your email address has been compromised
It notifies you if your email address has been leaked in a data breach
If your email address has been leaked, it advises you on how to move forward to secure it and subsequently protect your personal information
And it achieves all of this in just a few steps, whereas it would take you much longer to do. Not only that, but this is a complicated process to undertake yourself, as data breaches can be quite complex.
The app is available on Android, iOS, and macOS.
Using Clario's data breach monitor to check your device for data breaches has never been easier.
Upon installing Clario, you'll be asked if you want to be notified if your email is found to have been leaked as a result of a hack.
Tap Allow notifications
If prompted to grant permission, tap Allow again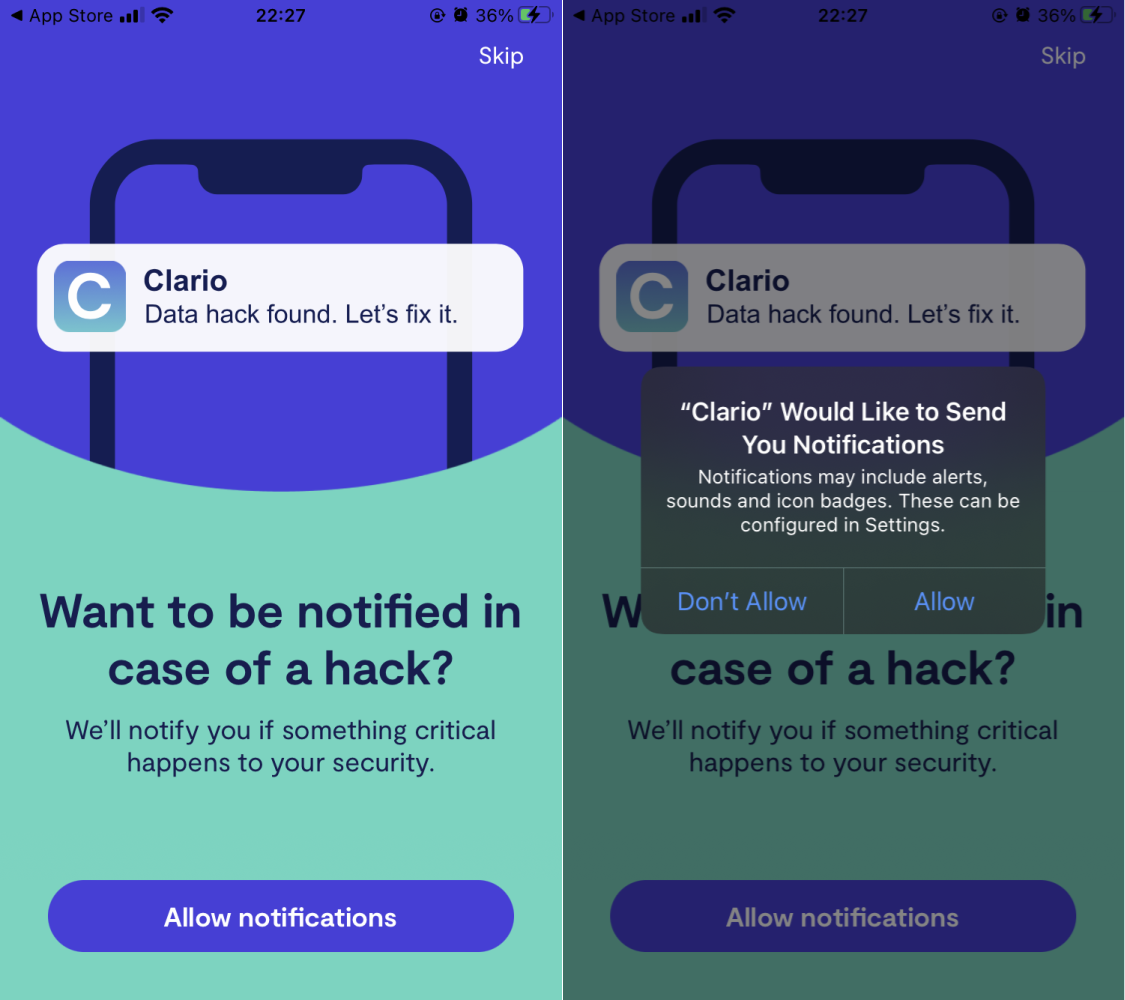 Now let's move on and learn how to check if your email was involved in a data breach.
1. On the home screen, scroll down and select Data breach monitor
2. Tap the Add email option, enter your email address, then tap the Check button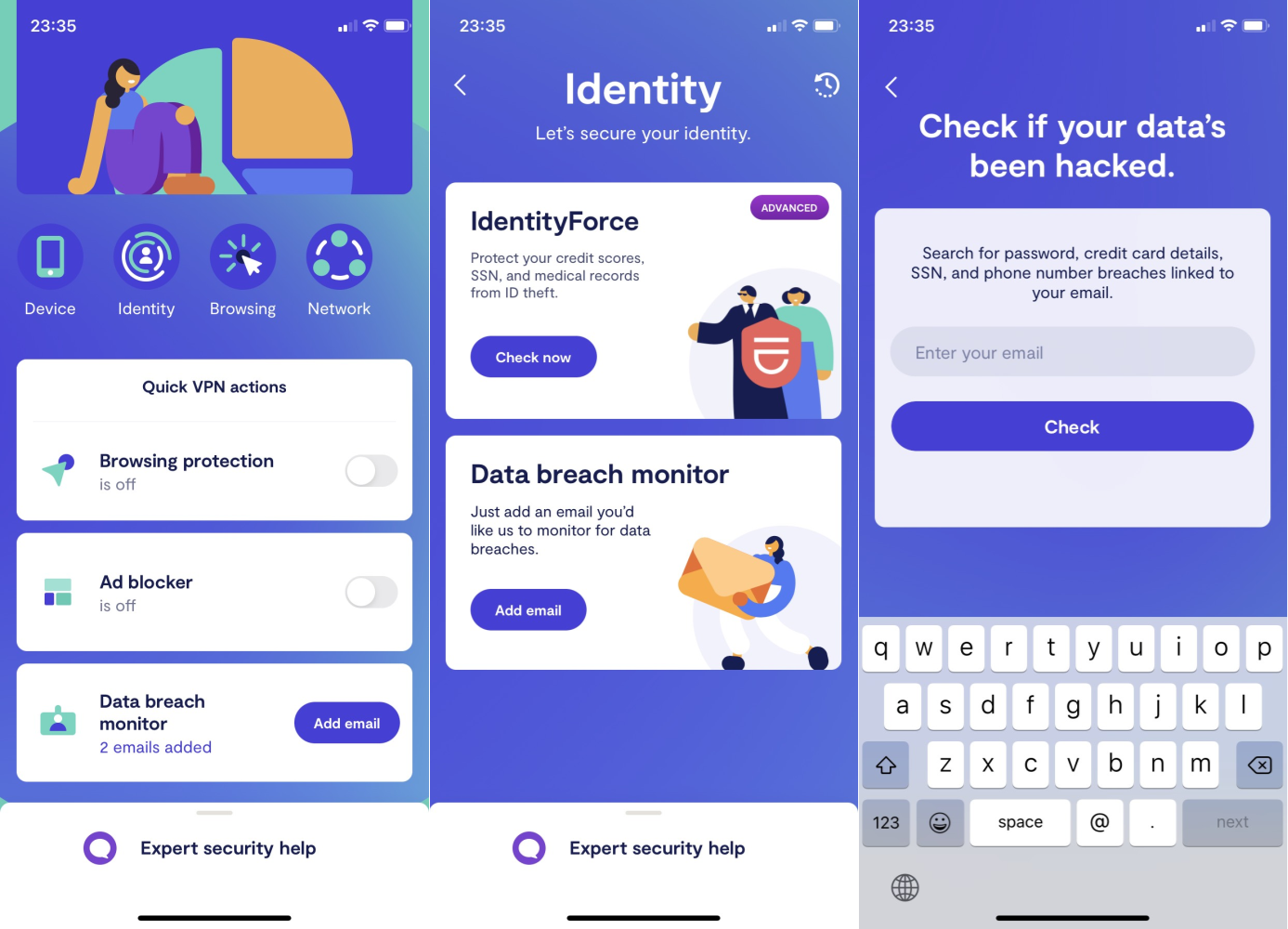 3. If data breaches are found, tap on each entry to expand it
4. Read the information proved to learn more about the breach and get advice
5. Follow the advice under What should I do? then select Mark as fixed
6. If you don't need to fix anything, select Ignore
7. Repeat this process for any other breaches Clario has identified
If you find out that your email has been compromised, there are certain steps you have to take. Read our guide on what you should do after a data breach.
Keep your personal information safe
Data breaches are a dime a dozen. Protect your passwords and personal information with an additional layer of security, like Clario's data breach monitor. This will put you in a position to act fast and prevent any further damage if your email address is ever compromised.