How to choose the best ad blocker for iOS
Apple products come with settings designed to protect your privacy, but they fall short when it comes to blocking ads and trackers. Using third-party apps to enhance your security can help.
On iOS, it is only possible to block ads in Safari with the help of Safari extensions or content blockers. But where do you find them? And how do you choose the most effective one?
The App Store lists all of its verified and approved apps. You can search for "block ads" to look for the most relevant apps. Here are some hints on what to look for and how to find the best ad blocker for iPhone.
Find the app capable of blocking the most ads. It should block pop-ups, banners, redirects, fake close buttons, etc. Pages load faster when all unnecessary elements are blocked.
Make sure the app can also block ad trackers. Many ad blockers offer this by default, some will need additional customization, and others do not include this feature at all. We recommend this option as blocking ad trackers will help make your browsing experience more private.
A good feature to look for is the ability to whitelist certain domains or email addresses. This means an ad-blocking program will allow messages to be received from trusted sources. If you are a conscientious internet user, consider whitelisting your favorite websites to support quality content creators.
Pay attention to the size of the app. Some apps take up too much space on your iPhone or drain your battery too fast. As a rule, you can find this information in the app's description or reviews.
These recommendations are not a comprehensive overview. Instead, they should be treated as a beginner's guide. Of course, everybody has their own must-haves: some prefer simplicity over additional features, others will opt for a free, open-source solution instead of a paid app.
The best ad blockers for iPhone
We did our research to help you find the best ad blocker for iOS. Here are our top recommendations:
Clario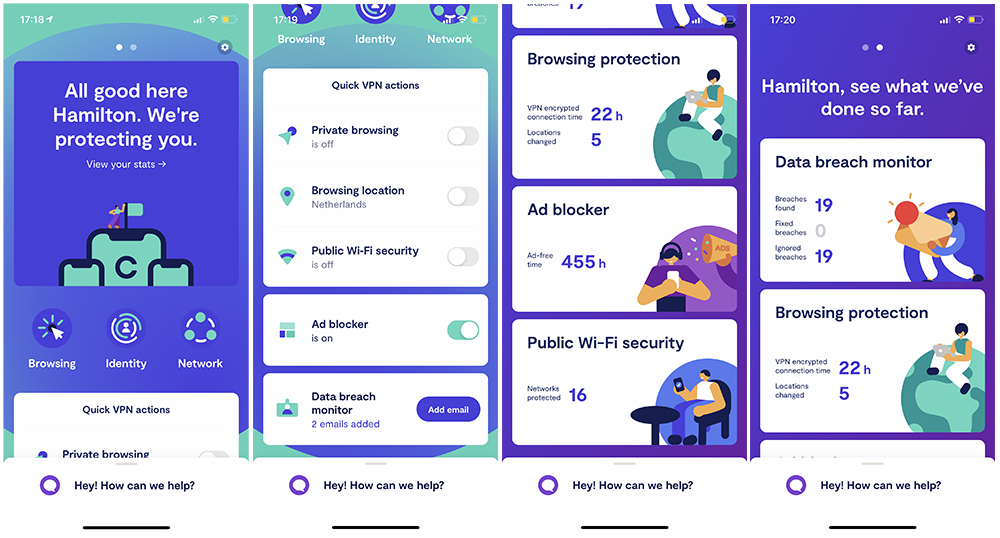 Called the "Uber of cybersecurity", Clario's one-stop app is at the top of the list when it comes to online safety. It's the ultimate ad blocker app for iPhone, because it goes beyond just stopping browser ads. It also secures your Wi-Fi data with a built-in VPN, monitors for password breaches, and helps you protect your Instagram account with extra security settings.
The best part is that you don't have to be a geek to understand how Clario works. The app features an easy-to-use, human-centric interface. Plus, 600 real humans are available to assist you 24/7.
1Blocker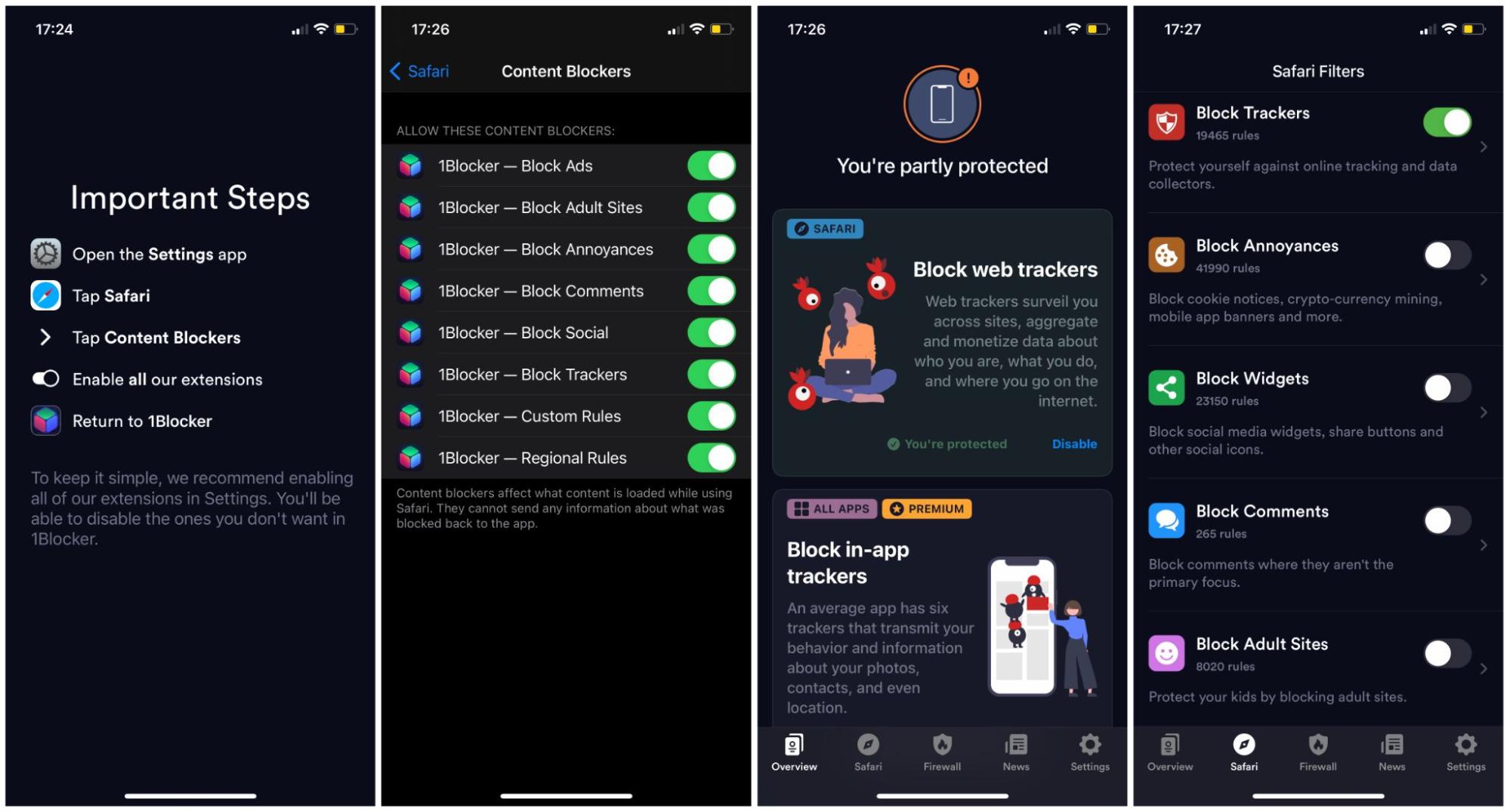 1Blocker features a toggle-based interface that makes it very easy to use. It has a wide range of blocking tools that allow for customization. You can create rules for blocking specific URLs and sync your preferences across different devices using iCloud. The caveat is that the wide range of options can be confusing for new users.
The app integrates into Safari, allowing you to use it without draining your phone's battery. It's not designed to access your browsing data, so you won't have to worry about any privacy issues.
AdGuard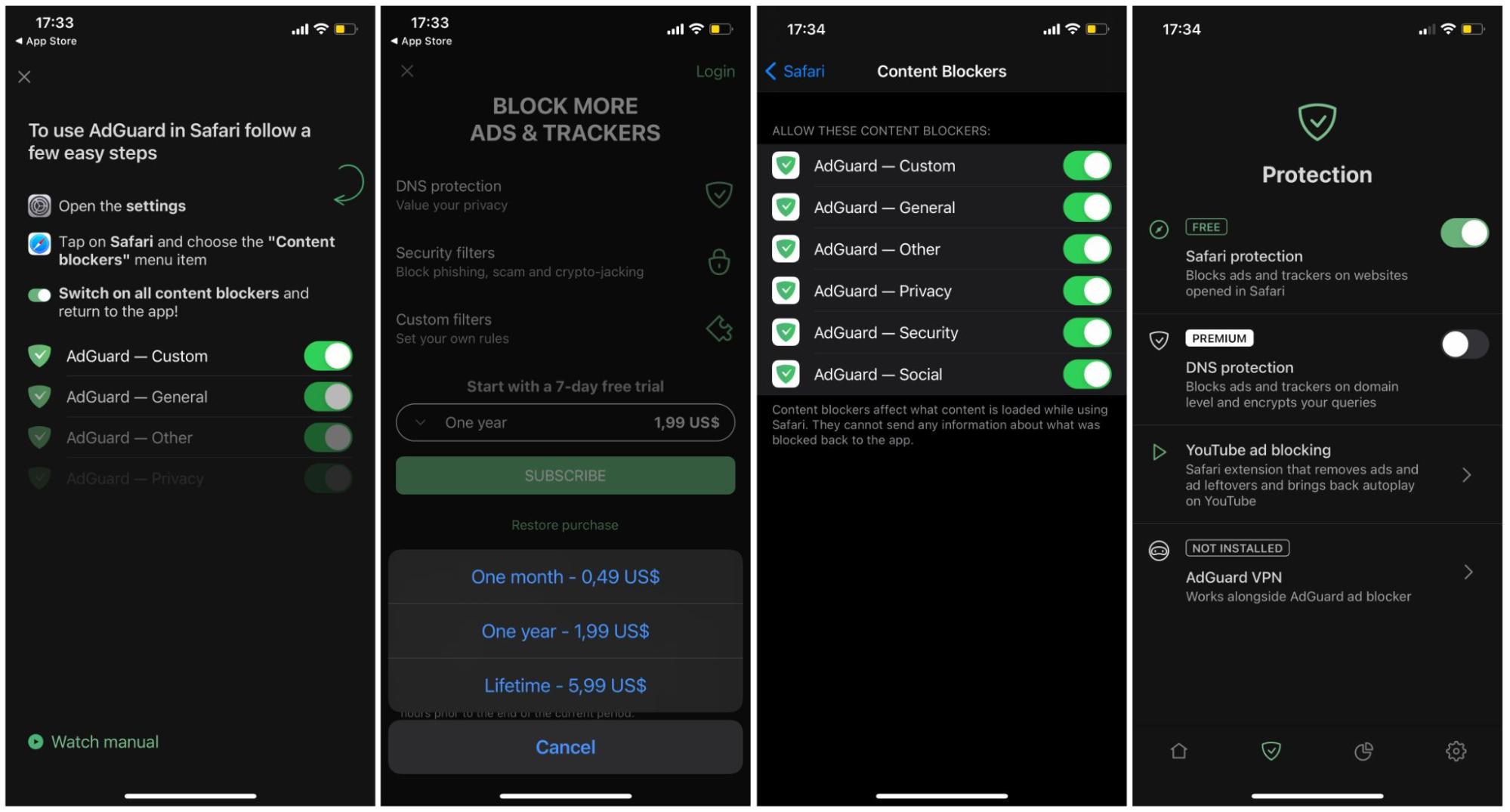 AdGuard is also a customizable ad blocker for iPhone and lets you easily set your blocking preferences by selecting from a list. This means you can prevent your favorite websites from being blocked.
The app comes with advanced tracking protection, which ensures trackers and web analytics cannot invade your privacy. It makes Safari run four times faster, resulting in increased battery life for your device.
AdBlock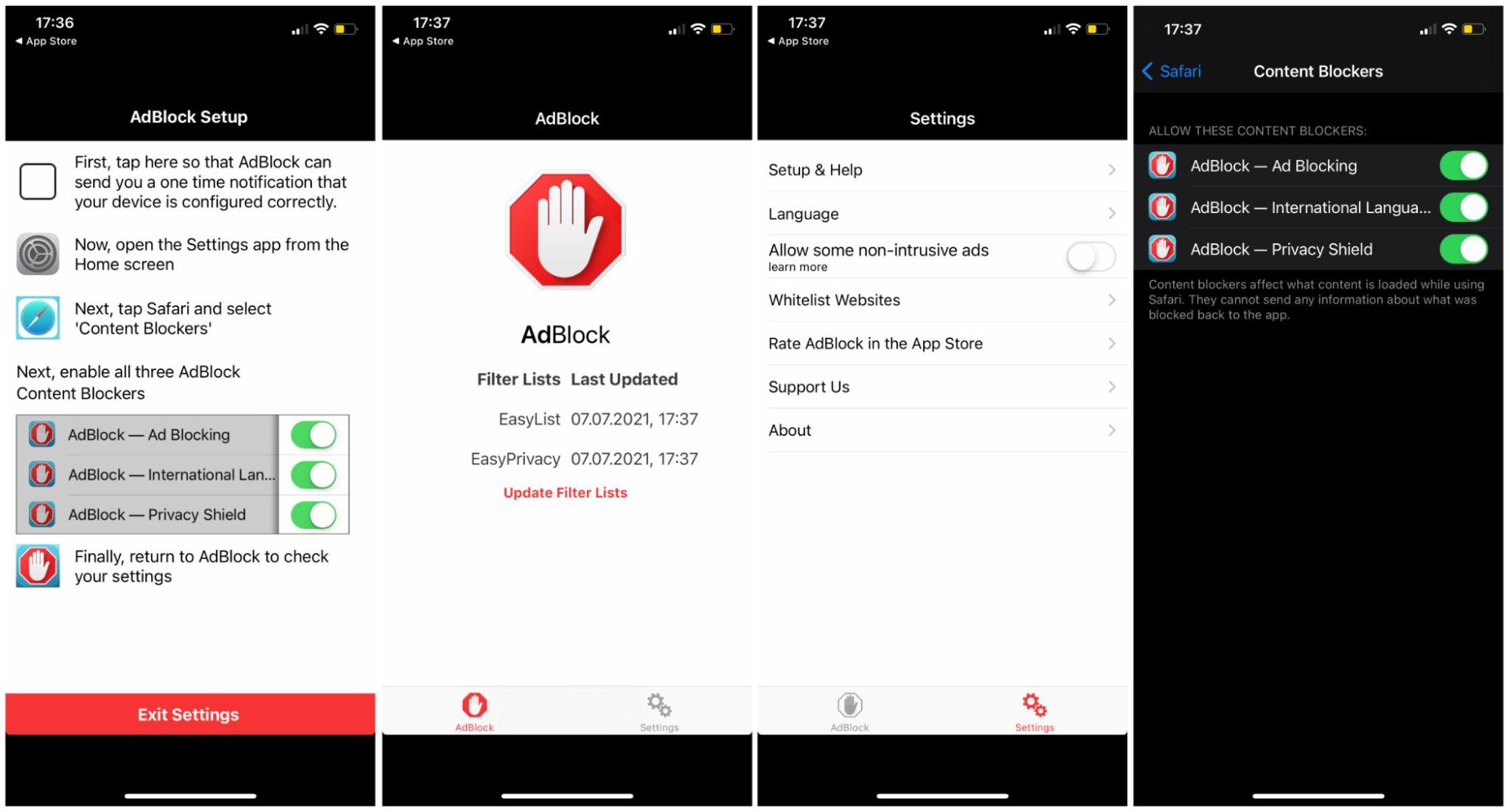 Armed with a built-in DNS proxy service, AdBlock keeps you informed about the domains you're contacting and allows you to block content locally. It filters out 99% of video ads, banners, and pop-ups.
The app lets you customize your preferences, which apply to all synced iCloud devices. It offers privacy protection, keeps your device efficient, minimizes bandwidth use, and reduces battery consumption.
KaBlock!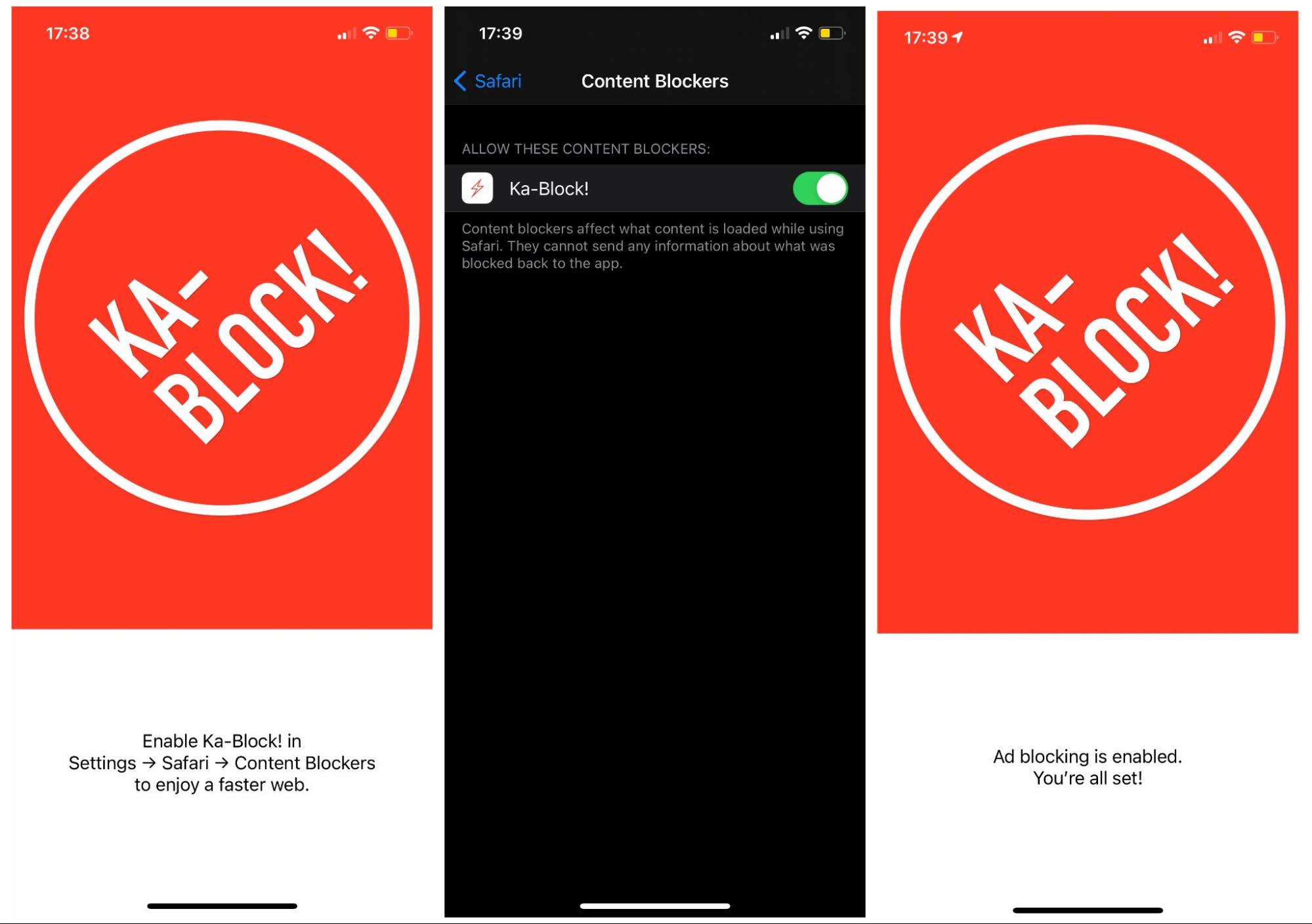 Some security apps are notorious for causing a device more harm than good. You won't have to worry about this when you're using KaBlock! The app lets you check its code to make sure it's not hiding anything malicious. It also comes with a curated list that filters out known ads and trackers.
BlockBear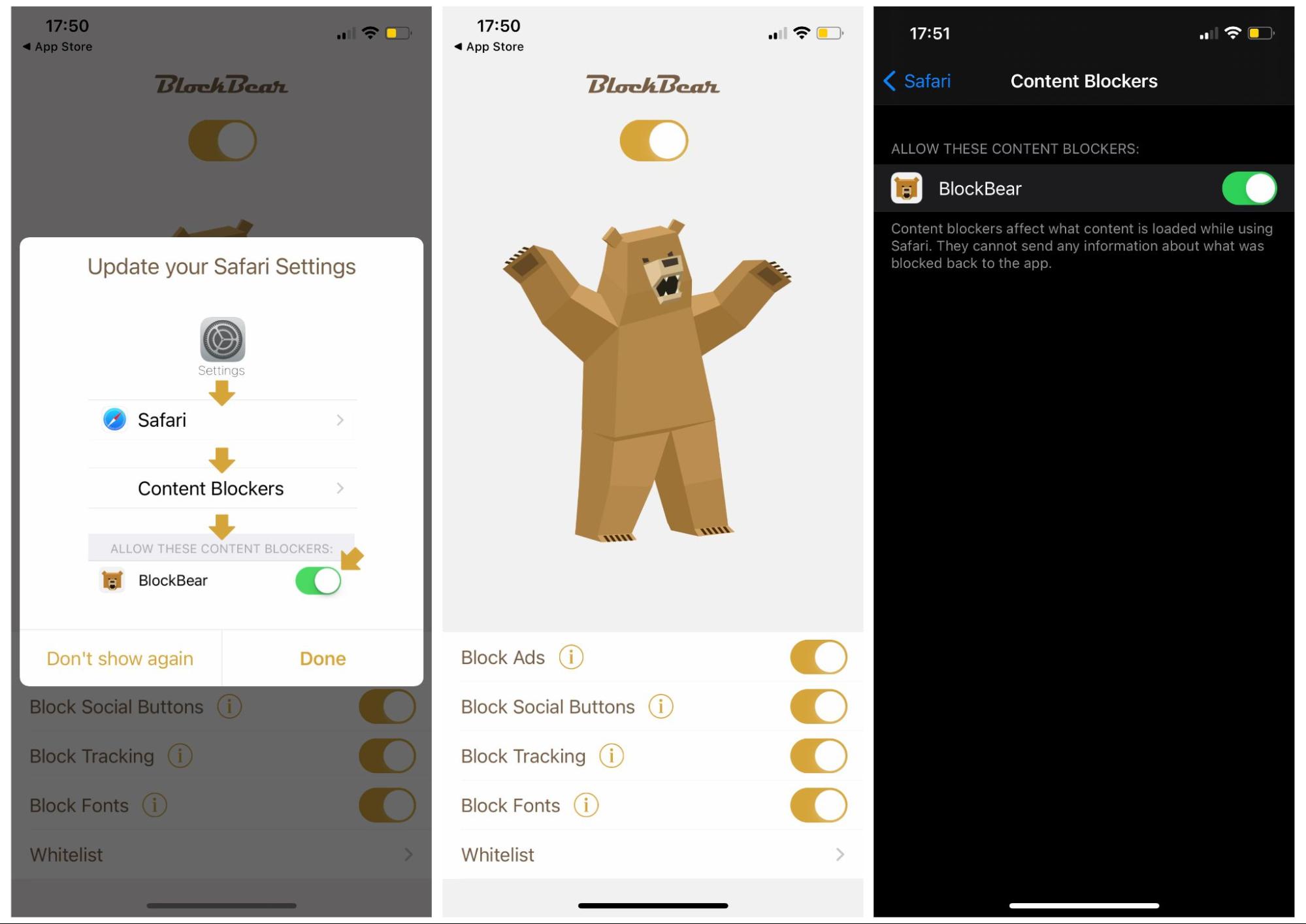 If you are tired of website clutter and ads eating up your screen space, BlockBear is just the app for you. You can use its toggles to remove ads, trackers, and social buttons.
BlockBear lets you whitelist sites using its Safari extension. It ensures privacy by blocking cookies, scripts, and beacons. You'll love the app's elegant interface. It's lightweight and efficient, allowing sites to load up to five times faster than their usual speed.
AdLock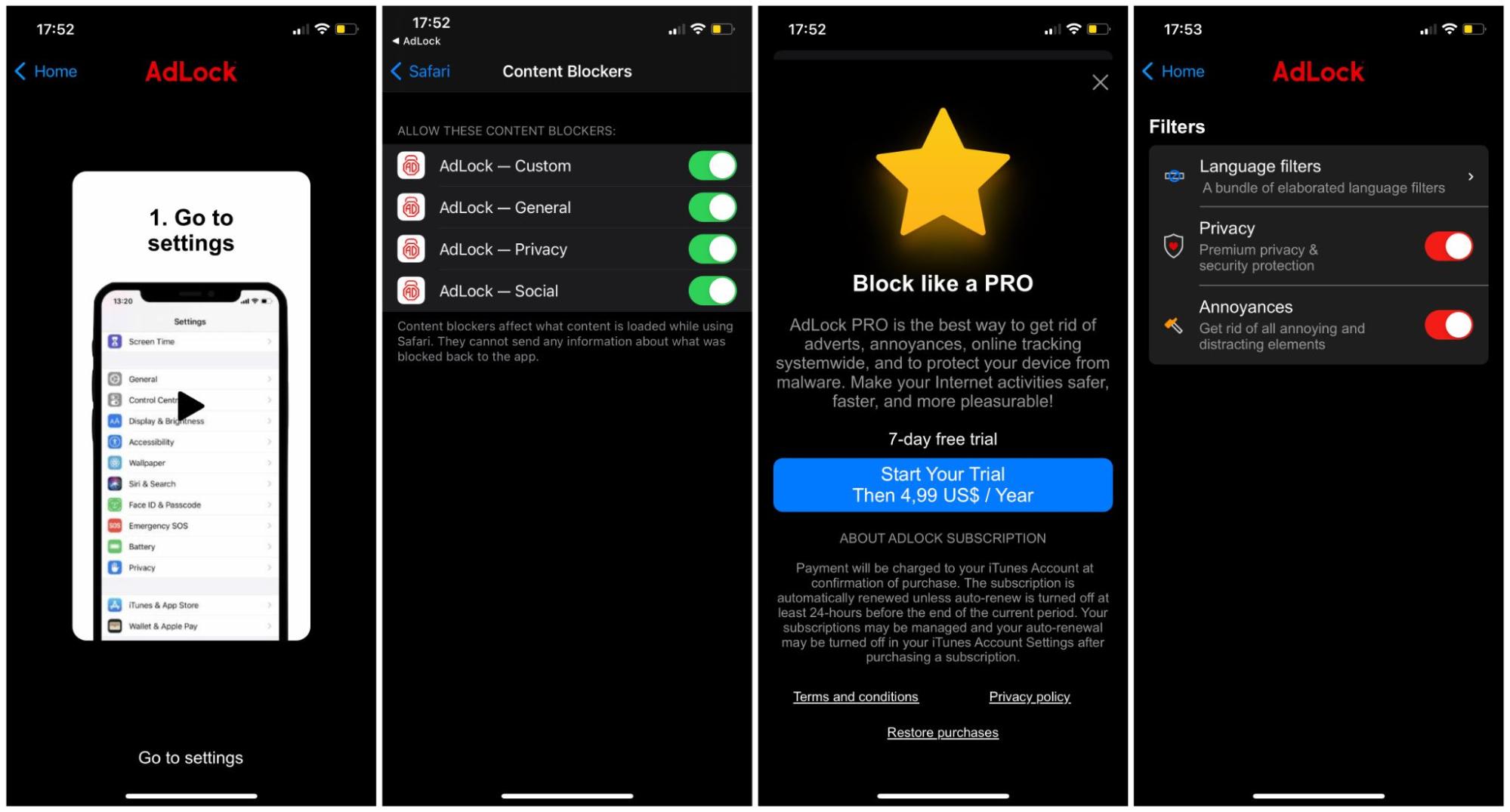 AdLock has a ruthless approach to blocking ads, malware, and other unwanted scripts. It blocks ads without exception, even those allowed by ad policies. You get to enjoy undisrupted viewing on YouTube, social media, and streaming sites. Although the app is merciless at preventing ads, it does not disrupt the content you actually want to see, such as auto-load videos.
Firefox Focus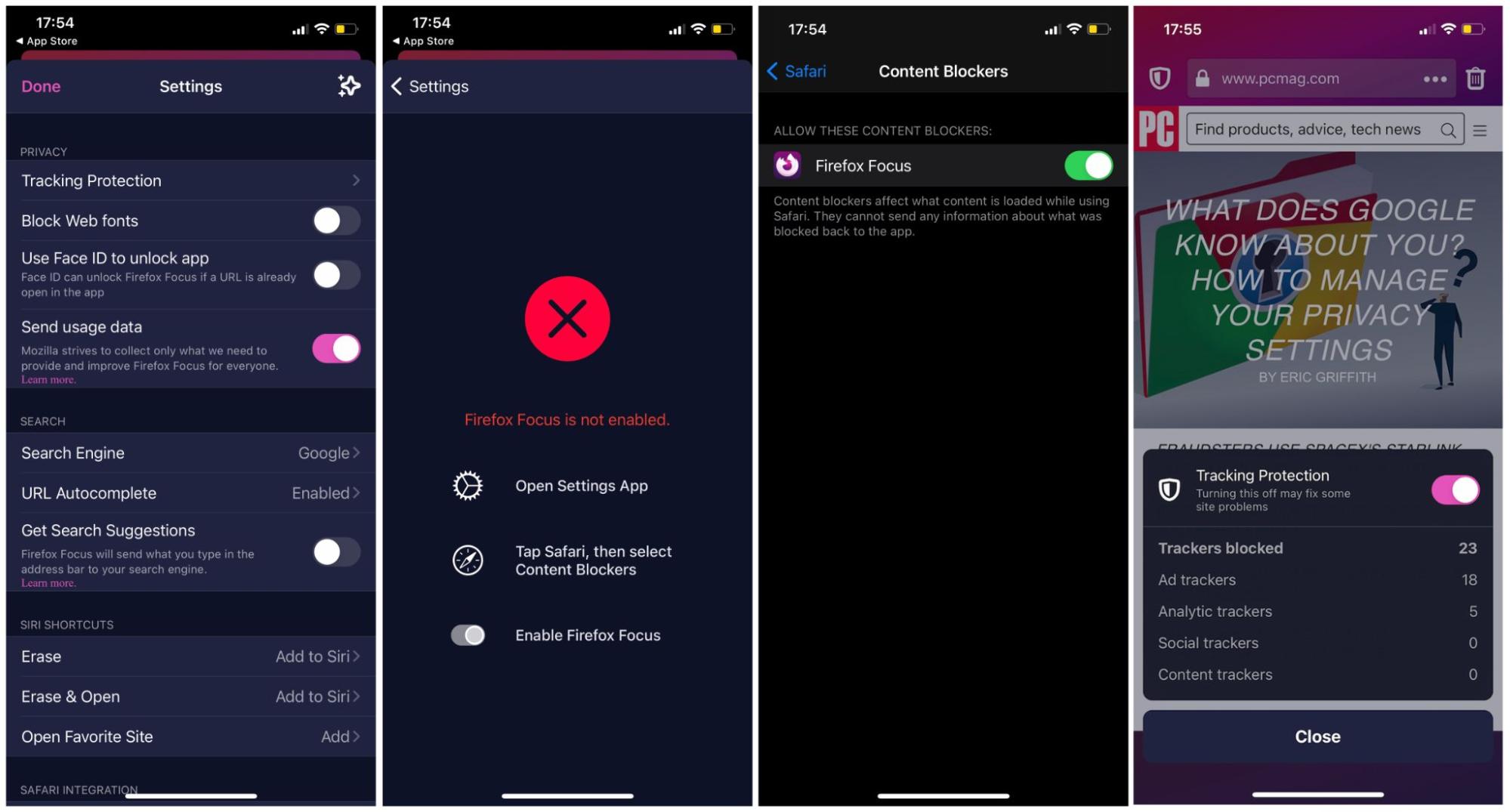 Most of the apps mentioned on this list are Safari ad blockers for iPhone. But Firefox Focus is not an app that integrates into Safari; it's a browser with built-in features that block ads and protect your privacy. It deletes your browsing data so trackers stop following you. Less clutter in your browser means you enjoy faster page loads. For convenience, you can set Firefox Focus as the default browser in your iPhone.
* * *
Pro tip: The App Store houses many different solutions, so you will be able to find one to fit your tastes. If your idea of the best ad blocker for iPhone is an app that meets all your security needs, Clario may just be your best choice. It offers ad-blocking, anti-tracking, adware protection, unlimited VPN, data breach monitoring, and 24/7 live expert assistance.
Read more: