How to Stop Safari Ads on Your Mac and iPhone
Updated: Jun 07, 2021
7 min read
Few ads deserve your attention and even fewer should command it while you are browsing the web on your Mac or iPhone. The bad news is, Safari gives far too much spotlight to ads by default. The good news is, that's about to change.
To infuse some tranquility into your browsing experience, let's see how to block ads on Safari.
Pro tip: Before we dive into Safari's settings, consider using Clario — an all-round security app that ensures your safe browsing. Clario protects your Mac and iPhone, blocking ads, trackers, and malicious scripts in real time. Download a 7-day free trial right now to take the app for a spin (no credit card required.)
Follow us on a journey to an ad-free browsing experience or jump straight to a preferred solution below:
How to block ads in Safari preferences
You can get rid of ads by customizing the Safari preferences on your Mac or iPhone. Even though this method helps remove the overwhelming majority of pop-ups, some ads manage to sneak through the cracks. If you don't mind closing an occasional pop-up, here's how to adjust your Safari ad settings.
How to block ads in Safari for Mac
To stop seeing annoying pop-ups on your Mac, follow these steps:
Open Safari
In the Safari menu, select Preferences
In the Websites tab, click Pop-up Windows
If you have websites in the list, select all of them and click Remove
Set the option called When visiting other websites to Block and Notify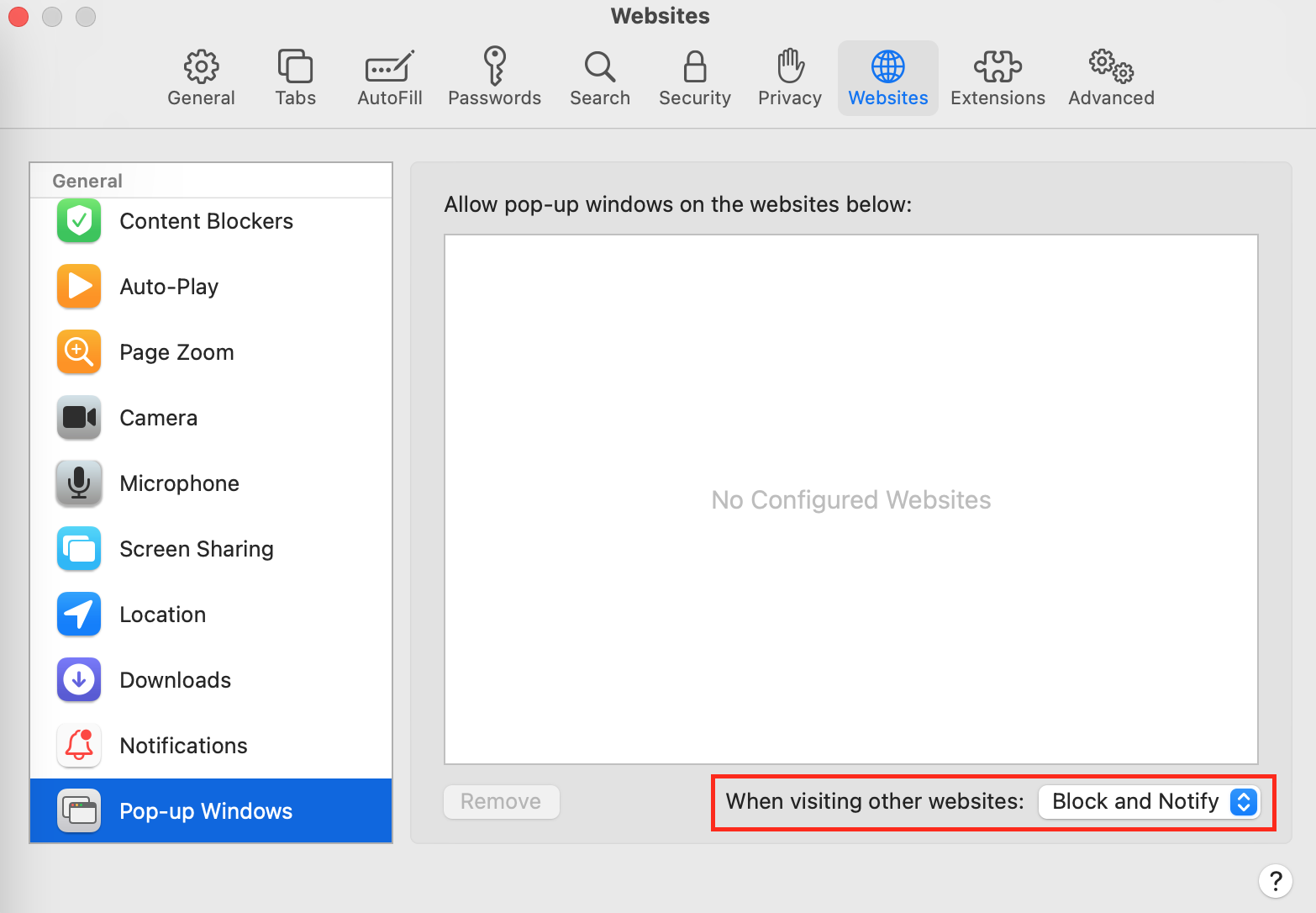 Now Safari not only blocks pop-ups but also notifies you every time it does so. You can avoid Safari notifications by simply setting the option called When visiting other websites to Block. However, it's good to know when Safari blocks something since not all pop-ups are ads.
If a website is not working correctly, unblocking it in Safari might help rectify the issue.
How to block ads in Safari for iOS
Safari on iOS has a similar option allowing you to block pop-ups on websites while browsing from your iPhone, iPad, or iPod.
Here's how to block Safari ads on iPhone:
Open the Settings app on your iPhone
Select Safari from the list
Toggle the Block Pop-ups option
That's it. Safari on your iOS device should now block pop-ups.
How to remove ads from Safari with the Reader mode
Safari's Reader mode is a built-in setting for destruction-free browsing. In addition to stopping ads, the mode also removes other visual distractions, allowing you to focus on the contents of a webpage.
To remove ads with the Reader mode, do the following:
Go to a website
In the Safari menu, select Settings for this Website
Tick two boxes: Use Reader when available and Enable content blockers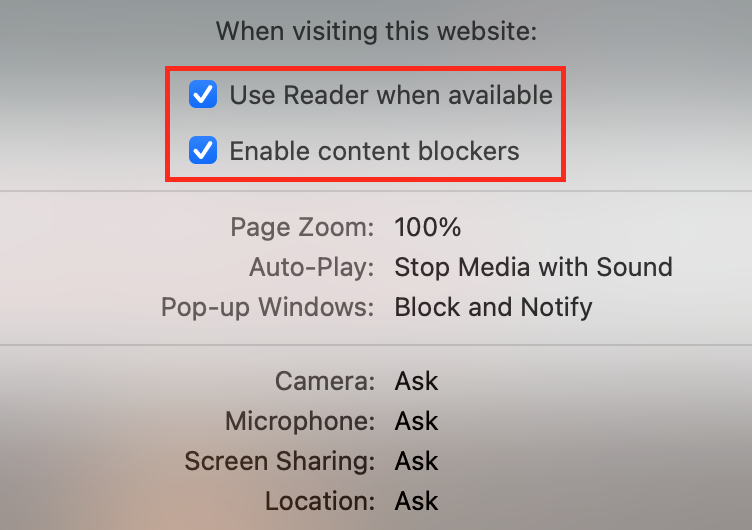 From now on, Safari will show you the barebone pages of the preferred website. You can either turn on the Reader mode for individual websites or activate it for all websites at once. Here's how to do it:
Launch Safari
In the Safari menu, select Preferences
In the Reader tab, enable the When visiting other websites option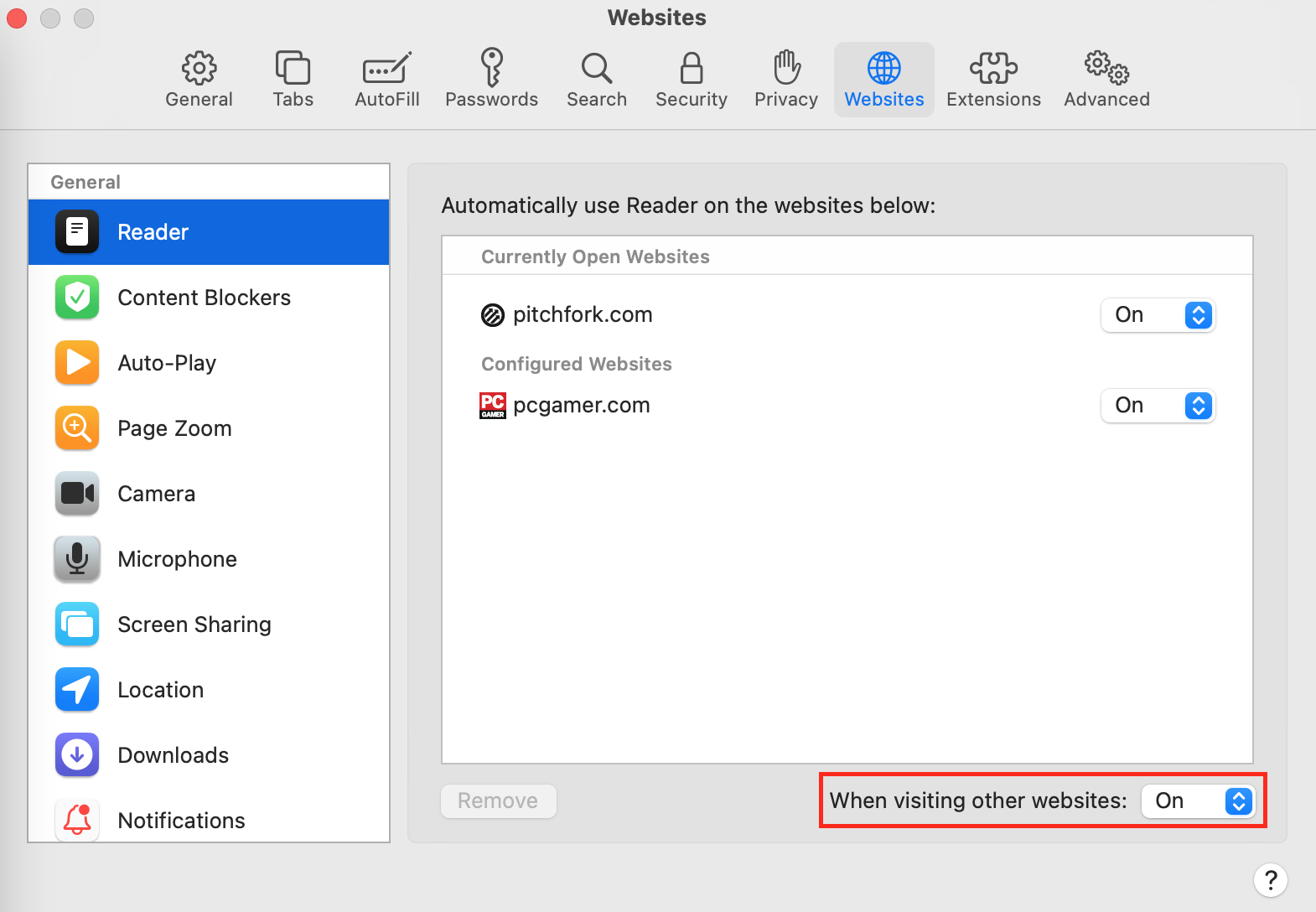 How to remove ads on Safari with an ad-blocker
After trying to remove ads with the native Safari settings, you might still notice occasional banners and redirections. To completely get rid of ads, install a third-party ad-blocker.
Here are some of the most popular and reliable ad-blockers to help you stop pesky ads once and for all:
An ad-blocker for Mac and iPhone that runs in Safari and Chrome to stop pop-ups, blocks harmful links and checks website scripts for malware.
A simple app for removing ads from websites and social media platforms such as YouTube and Facebook.
A subscription-based app that filters apps in websites and iPhone games. The app has parental controls for restricting access to age-inappropriate content.
Available for both macOS and iOS, this app can help you browse the web without annoying pop-ups.
An ad-blocker for Safari with an intuitive interface that also helps stop web trackers to maintain your privacy.
Installing an ad-blocker is, usually, a simple task. Let's consider Clario as an example:

2. Launch the installer from the Downloads folder
3. Drag the app to the Applications folder
4. In Safari, open Preferences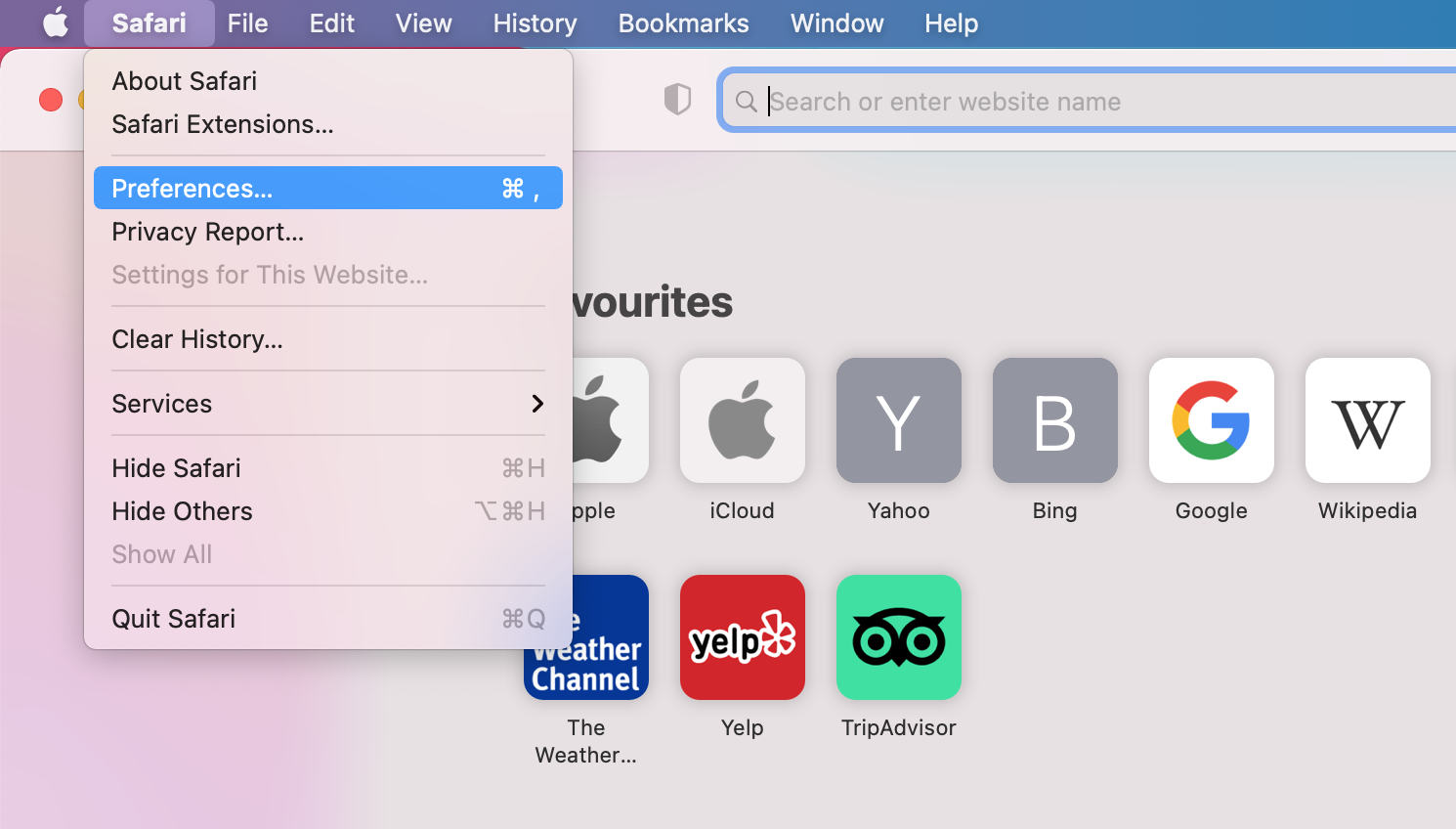 5. Tick all the checkboxes for Clario
6. Click Turn On in the system window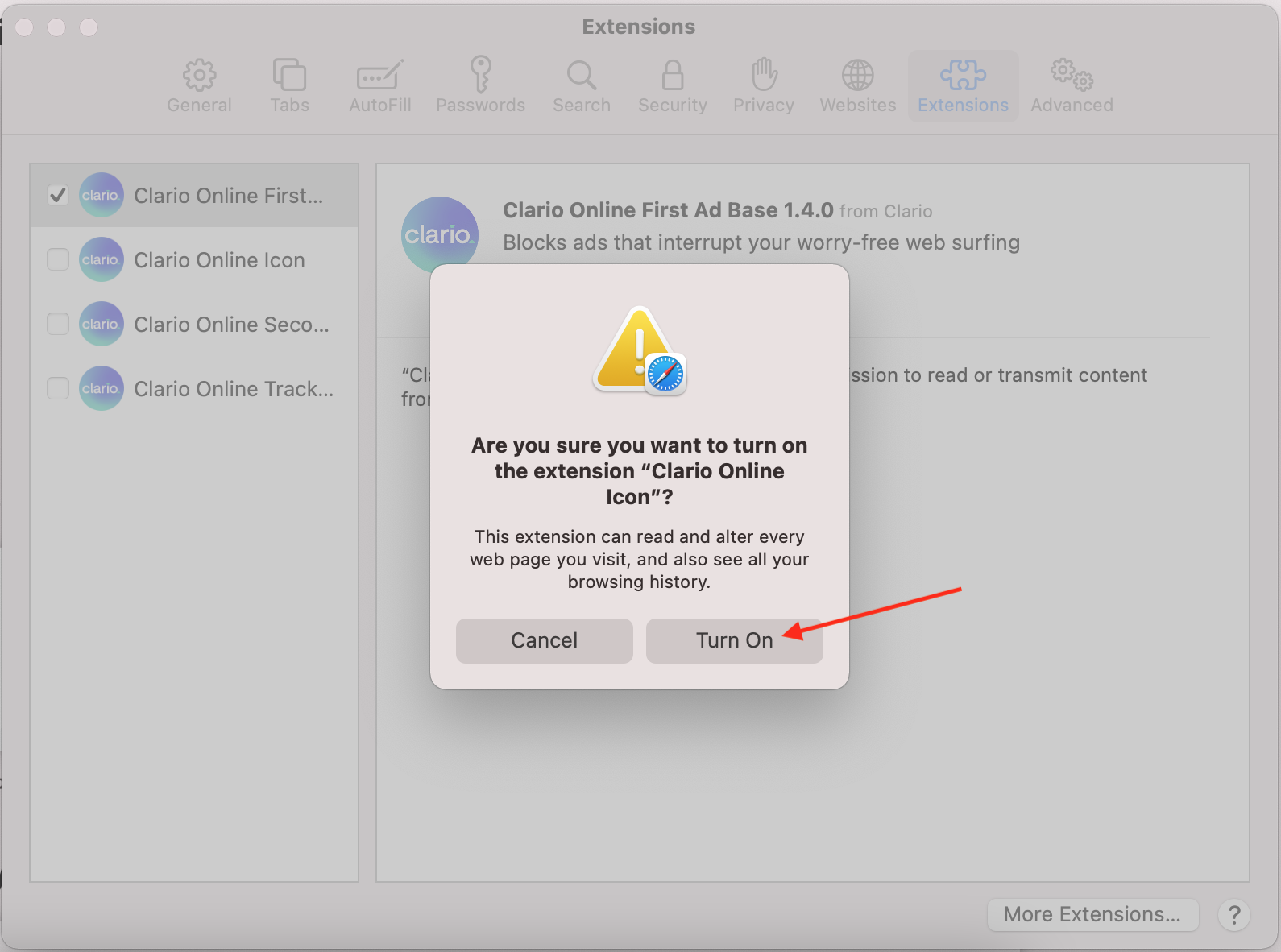 That's it. Now Clario, along with its ad-blocker extension, removes pop-ups, stops trackers, checks links, and scans websites for malicious scripts.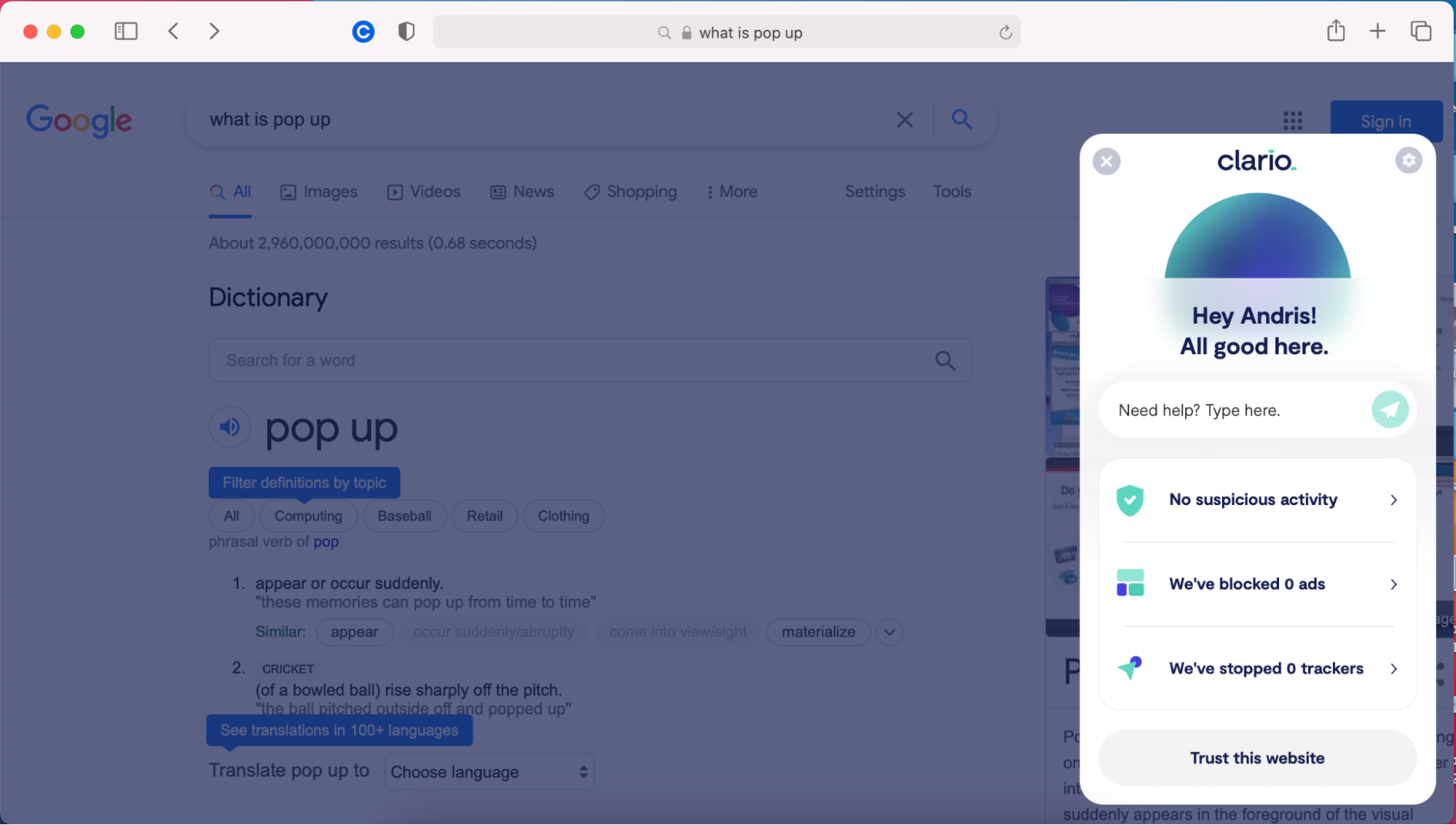 Hopefully, our tips have helped you curb pop-ups and enjoy a clean-browsing experience. Haven't tried them yet? Check out a few articles from our blog where instead of ads, you will be treated to the best, actionable advice for Mac users.

Read more: