What is anti-tracking software?
Definition
Anti-tracking software is a tool you can integrate with your devices–phone, computer, tablet, etc.–to help protect your online activity and data.
When you perform a Google search, visit a website, or peruse social media apps, marketers and hackers alike can track your activity.
Let's say you searched for "women's shoes" on Amazon or Google. You found a pair of shoes that you really liked. Whether you bought the shoes, added them to your cart, or just looked at them on your device, you suddenly start seeing advertisements for those shoes on your social media channels.
Companies use online tracking to continue to market their products and services to you.
But there are more malicious forms of online tracking that may target your private data for identity theft or other insidious tasks.
Anti-tracking software provides extra security to protect you from unwanted advertisements, hackers, and more.
Who is tracking you?
We've mentioned a few ways people may track you online, but who are the involved parties?
Google: Google tracks its users to provide the best online user experience possible. They track your search queries and provide suggestions based on your search history. They track the websites you visit, how long you interact with each website, and more to improve and personalize your search results.
Social media platforms: Social media platforms – Facebook, TikTok, Instagram, etc. – track your engagement and activity on their platforms and other apps across your devices to personalize your experience. They watch the things you interact with, the videos you like, and the accounts you follow, and they use those to enhance your feeds.
ISPs (internet service providers): Your ISP can see everything you do online. They track your location, websites you visit, content you consume, and more.
Businesses: Businesses use online tracking, like cookies, to advertise to you. They track you when you visit their website so they can advertise to you across other websites and social media.
Hackers: Hackers track your online activity for more malicious purposes, like stealing your identity, spying on you, and leaking malware onto your device.
Why do I need anti-tracking software?
So, what does anti-tracking software do, and why do you need it?
Most anti-tracking software can perform several different tasks to protect your privacy online. Those tasks include:
Disabling trackers: Anti-track software can disable cookies and other online trackers so they can't share your data with their servers.
Preventing data theft: By blocking trackers and disguising your online identity, anti-tracking software aids in preventing identity theft.
Prevent browser fingerprinting: Browser fingerprinting is a method of online tracking that companies can use to track your online activity, and it is currently unregulated. Anti-tracking software can help prevent this kind of tracking.
Improving your online experience: With fewer advertisements and more peace of mind from a secure browsing experience, you can enjoy your online activity even more.
Best anti-tracker software for your online privacy
If you want to enhance your online experience and protect your online privacy from trackers, check out this list of paid and free anti-tracking software you can use across your devices.
Clario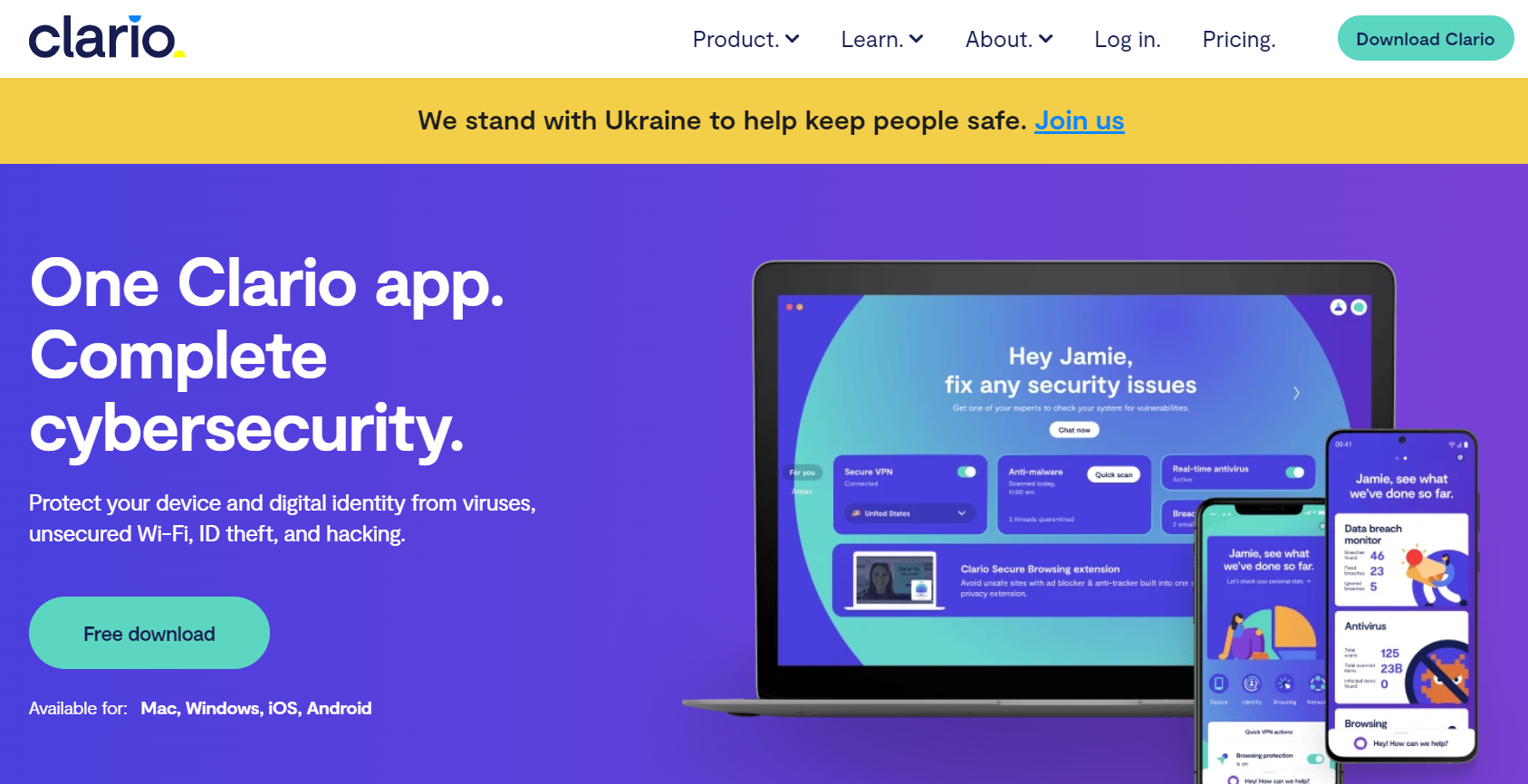 Clario is a full-featured cybersecurity software that can help protect you from unwanted tracking attempts. With a powerful VPN, antivirus scanning, and browser protection, Clario can give you the peace of mind you deserve for an enhanced online experience.
Clario has a 4.8-star rating on Trustpilot with over 100 reviews.
Clario Features
Unlimited VPN to encrypt and disguise online activity
Browsing protection to prevent online trackers
24/7 data breach protection through email monitoring
Powerful antivirus solution to prevent malware and other threats
Ad blocker and phishing site detection
Available for Windows, Mac, iOS, and Android
1 plan covers three devices
| | |
| --- | --- |
| Clario Pros | Clario Cons |
| Great customer support available 24/7 | Web and browser protection is only available for Safari and Chrome |
| Unique and easy-to-use customer interface | Some users found that the VPN doesn't unblock certain location-locked websites |
| Full-featured service | |
| Anti-virus scans are quick and effective | |
Clario Pricing
See which of our paid solutions is more suitable for you:
$8.99/month when billed monthly
$4.17/month ($50/year) when billed annually
Avast AntiTrack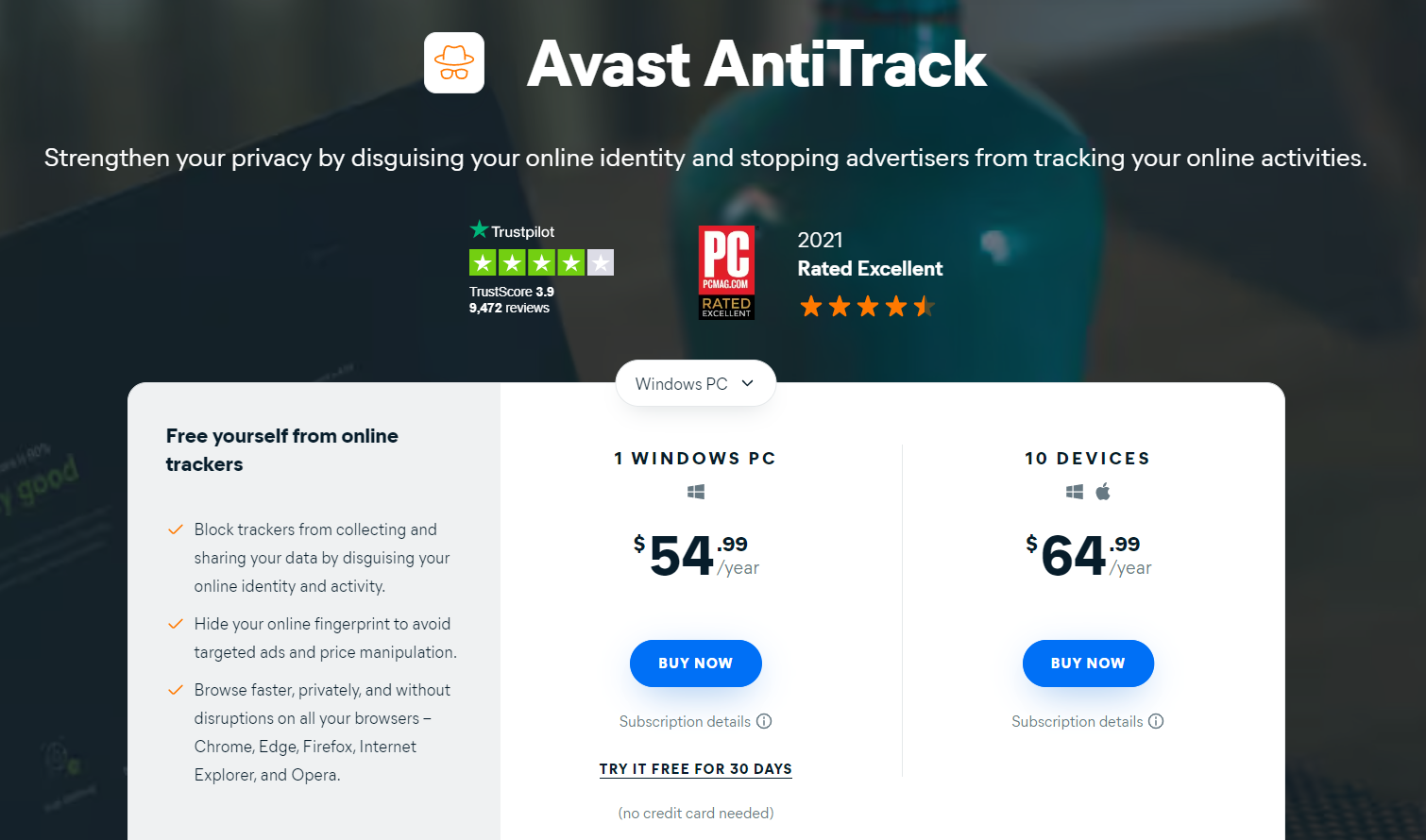 Avast is an online security company offering many cybersecurity features, but we want to focus on their AntiTrack software.
Avast AntiTrack strengthens your privacy by disguising your online identity and stopping trackers from following your online activity.
On Trustpilot reviews, Avast AntiTrack gets a 3.9 out of 5 stars, with over 9,400 reviews. And PCMag.com rated this software Excellent with 4.5 out of 5 stars.
Avast AntiTrack isn't a free service, but you can get a free 30-day trial before committing to their paid plan (no credit card needed).
Avast AntiTrack Features
Blocks tracking attempts and uncovers who is trying to gain access to your online activity
Ability to check your privacy status and the number of prevented tracking attempts
Masks your digital fingerprint for more privacy
Hides your browsing history by automatically clearing cookies and other browser data
Works with multiple browsers–Chrome, Firefox, Safari, Edge, Internet Explorer, and Opera
Available for Mac, Windows, and Android devices.
| | |
| --- | --- |
| Avast AntiTrack Pros | Avast AntiTrack Cons |
| Easy to download and navigate | Works better on desktop than on mobile |
| Disables trackers and advertisements, including cookies and browser fingerprinting | Other services perform similar tasks for lower costs |
| Provides anonymity and data security | Doesn't integrate well with other VPNs |
| Actively detects tracking attempts | |
Avast AntiTrack Pricing
$54.99/year for 1 device
$64.99/year for 10 devices
NordVPN

NordVPN was created to bring more security to the ever-evolving privacy issues of the world wide web. They offer a wide range of internet security features to help protect users from trackers.
While it isn't specifically anti-tracking software, NordVPN does help reduce tracking attempts, as most VPNs can.
PCMag.com gives NordVPN an Excellent rating of 4.0 stars, and it receives a 4.5 star rating average on Trustpilot with over 24,500 reviews.
NordVPN Features
Stops malware, web trackers, ads, and other online threats
Ability to create your own private network to share files, host LAN parties, or work
Alerts you if your accounts have been compromised
Secure encryption online
Split tunneling to choose which apps need VPN protection
Double VPN for extra security when you need it
SmartDNS allows you to access content from any location, whether you are home or traveling
Available for Mac, Windows, iOS, and Android devices.
| | |
| --- | --- |
| NordVPN Pros | NordVPN Cons |
| Uses over 500 servers across 59 countries | No free version or trial to test out |
| Split tunneling is a unique feature not many other VPNs offer | More costly than other anti-tracking and VPN solutions |
| Minimal data logging, it only keeps track of the basics for security purposes. | Malware blocking isn't as advanced as other services. |
NordVPN Pricing
NordVPN offers three different paid solutions and a 30-day money-back guarantee:
1. Standard: $3.49/month or $83.76 for the first two years
Features include:
Secure VPN
Malware protection
Tracker and ad blocker
2. Plus: $4.49/month or $107.76 for the first two years
Features include everything from Standard, plus:
Cross-platform password manager
Data breach scanner
3. Complete: $5.99/month or $143.76 for the first two years
Features include everything from Plus, as well as:
1 TB of cloud storage
Next-generation file encryption
AVG AntiTrack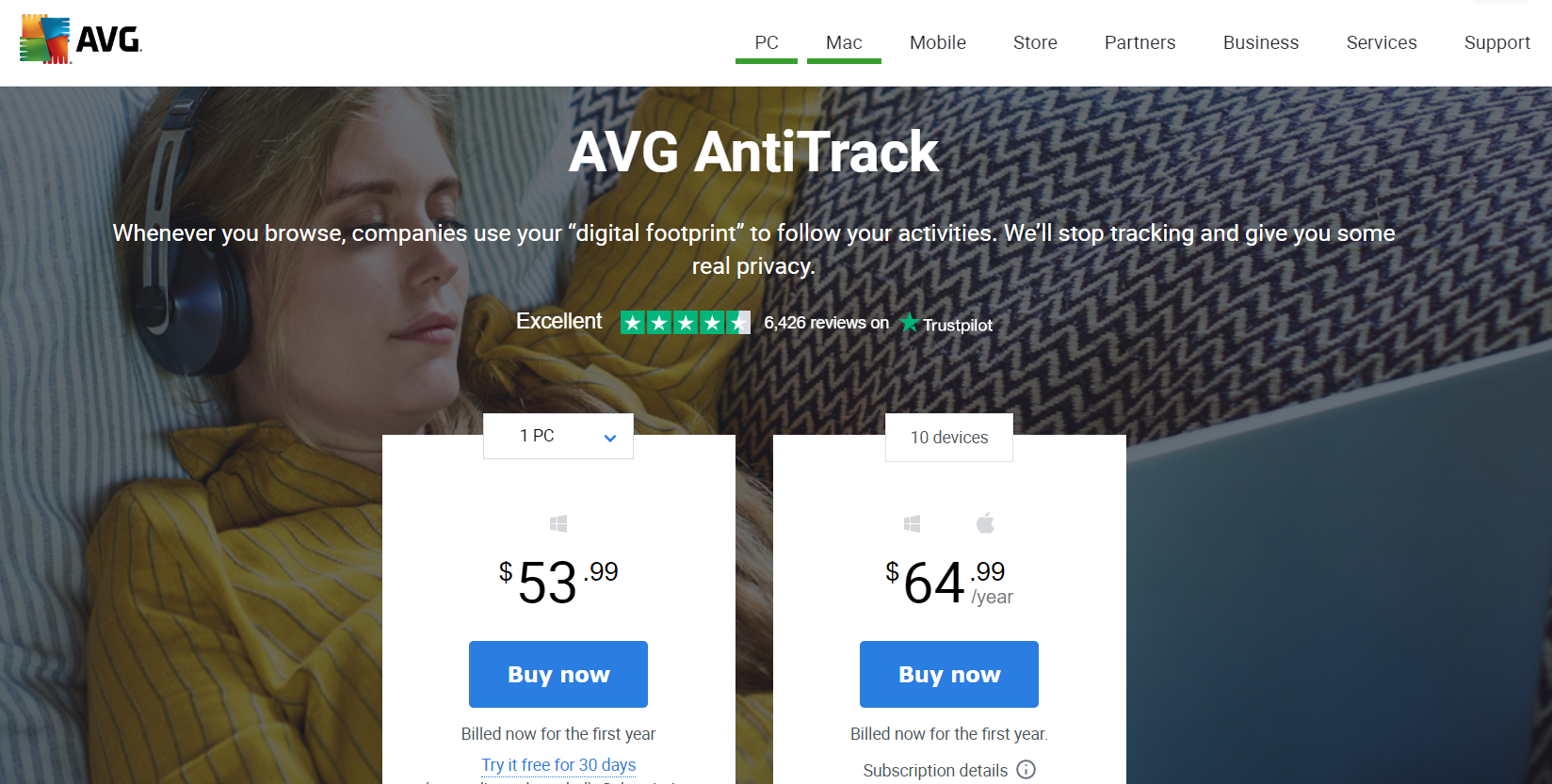 AVG AntiTrack is similar to Avast AntriTrack since they have the same parent company.
On TrustPilot, AVG AntiTrack has over 6,400 reviews with an average 4.3 star rating.
AVG AntiTrack Features
Alerts you to new trackers and allows you to block them with one click
Disguises your digital fingerprint to thwart trackers
Deletes cookies and browsing history
Stops targeted ads
Works with Mac and PC devices
| | |
| --- | --- |
| AVG AntiTrack Pros | AVG AntiTrack Cons |
| Easy-to-use interface | Some have claimed that there are too many pop-ups alerting you to potential threats |
| Easy to install and test out | Not available on mobile devices |
| Free 30-day trial available for 1 device (no credit card required) | |
| Powerful anti-tracking capabilities | |
AVG AntiTrack Pricing
$53.99/year for 1 PC
$54.99/year for 1 Mac
$64.99/year for 10 devices
TotalAV Antivirus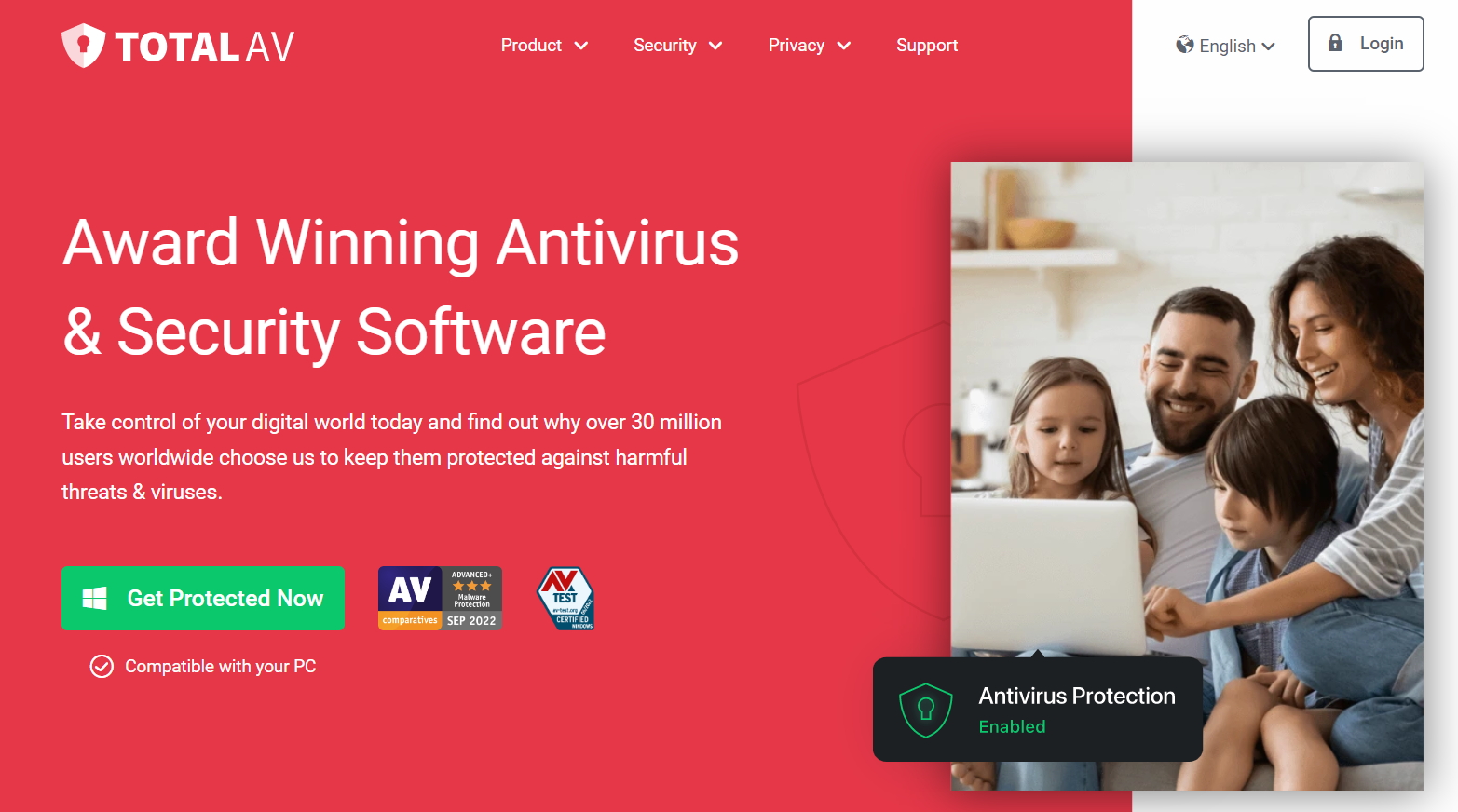 TotalAV Antivirus is an online security solution that protects against malware, viruses, and other threats at home and on the go. Their solutions aid in anti-tracking to provide a safer browsing experience.
TrustPilot awards TotalAV an excellent rating of 4.7 stars with over 80,000 reviews.
TotalAV Antivirus Features
Real-time protection, checking your downloads for threats as you access them
Eliminates malware
Ability to schedule smart scans to protect your device at all times
Block tracking cookies and clear browser activity
Monitor email addresses and receive data breach alerts
Compatible with Mac, Windows, iOS, and Android
| | |
| --- | --- |
| TotalAV Antivirus Pros | TotalAV Antivirus Cons |
| Top-tier protection against all online threats | Only protects up to six devices |
| Great customer service | Browser extension isn't very user friendly |
| A basic free version | Safe Search doesn't always work perfectly |
| | Costly after the first year |
TotalAV Antivirus Pricing
TotalAV offers three basic plans according to the number of devices you want to cover:
1. Antivirus Pro: $29 first year, $119 renewal
2. Internet Security: $39 first year, $145 renewal
Covers 5 devices and offers additional features
3. Total Security: $49 first year, $179 renewal
Covers 6 devices with all of TotalAV's features
Disconnect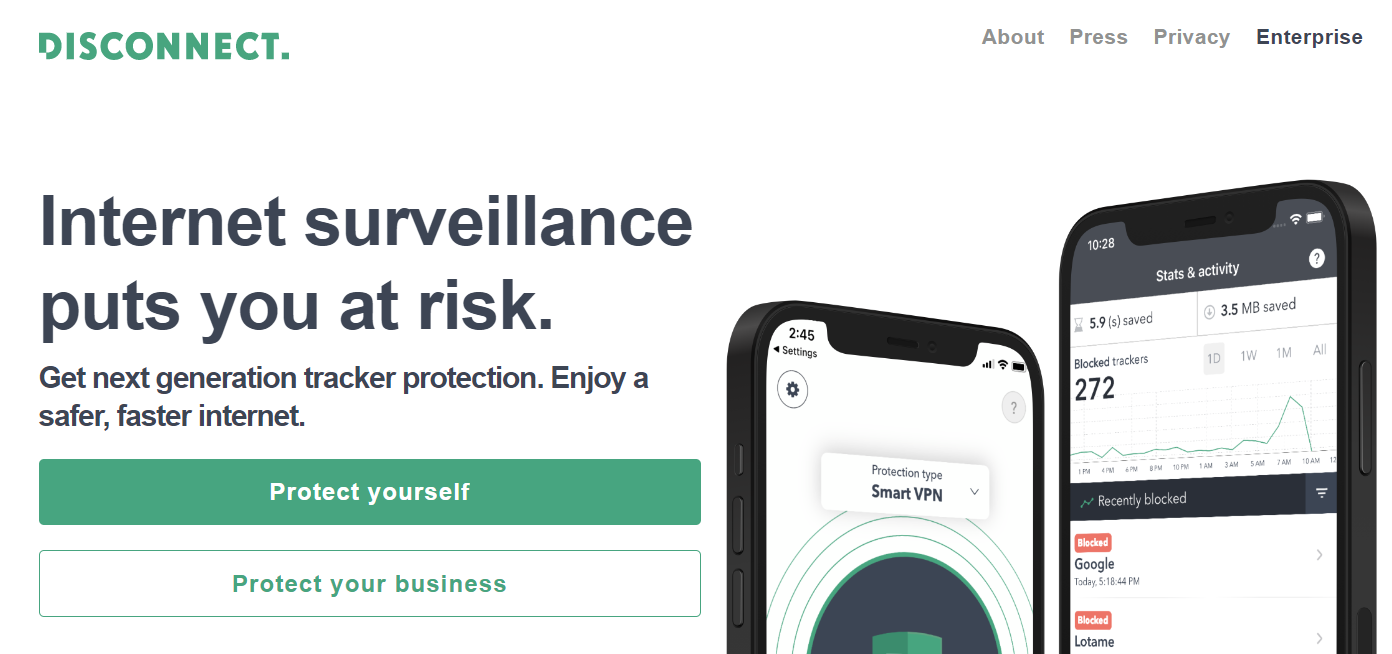 Disconnect is an anti-tracker solution that literally disconnects you from potentially harmful websites that track your private data.
It started as a browser extension and now offers solutions for iOS protection as well.
Disconnect Features
Blocks online trackers in email, web browsers, and apps
Prevents online surveillance of your activity
Prevents location and identity tracking
VPN
Custom blocking
| | |
| --- | --- |
| Disconnect Pros | Disconnect Cons |
| Offers a free solution for all internet users (single browser protection) | More advanced features are only available for free on iOS |
| Quick internet speeds when connected to different servers | Users have reported trouble accessing servers in other countries to view location-locked content |
Disconnect Pricing
Disconnect is a free solution, but they offer premium features as in-app purchases on iOS devices.
Conclusion
You don't have to give up your privacy when using the internet. As you can see, there are many solutions out there to help block unwanted advertisers and hackers and protect your personal online activity.
Want to start testing out a more secure online experience? Download Clario today!