How to tell you Mac has a Virus
Has your Mac been acting weird lately? Does it randomly open pop-ups and lead you to web pages you don't want to see? Or has it started being excessively sluggish?
We know how stressful strange behavior from your device can be. But here's the good news — this usually isn't something too tricky to solve. Chances are your OS is facing a minor glitch that will only take a system reboot to fix. However, if this doesn't work, then be warned: your Mac might have been infected with malware.
Proceed to the antivirus scan immediately if you see the following signs:
Performance drop
Security alerts
Browser looks different
Exessive ads and pop-ups
Access denied when trying to open your personal files
Lots of spam messages
Your browser history shows sites you don't remember visiting.
Noticing at least one of the listed signs of a virus is enough to start worrying about the safety of your personal information. There are two ways you can perform a virus scan on your Mac: with in-built tools and using a third-party antivirus. You can do it in mire minutes using Clario's Antivirus:
Open Clario and create an account
On the dashboard, click Quick scan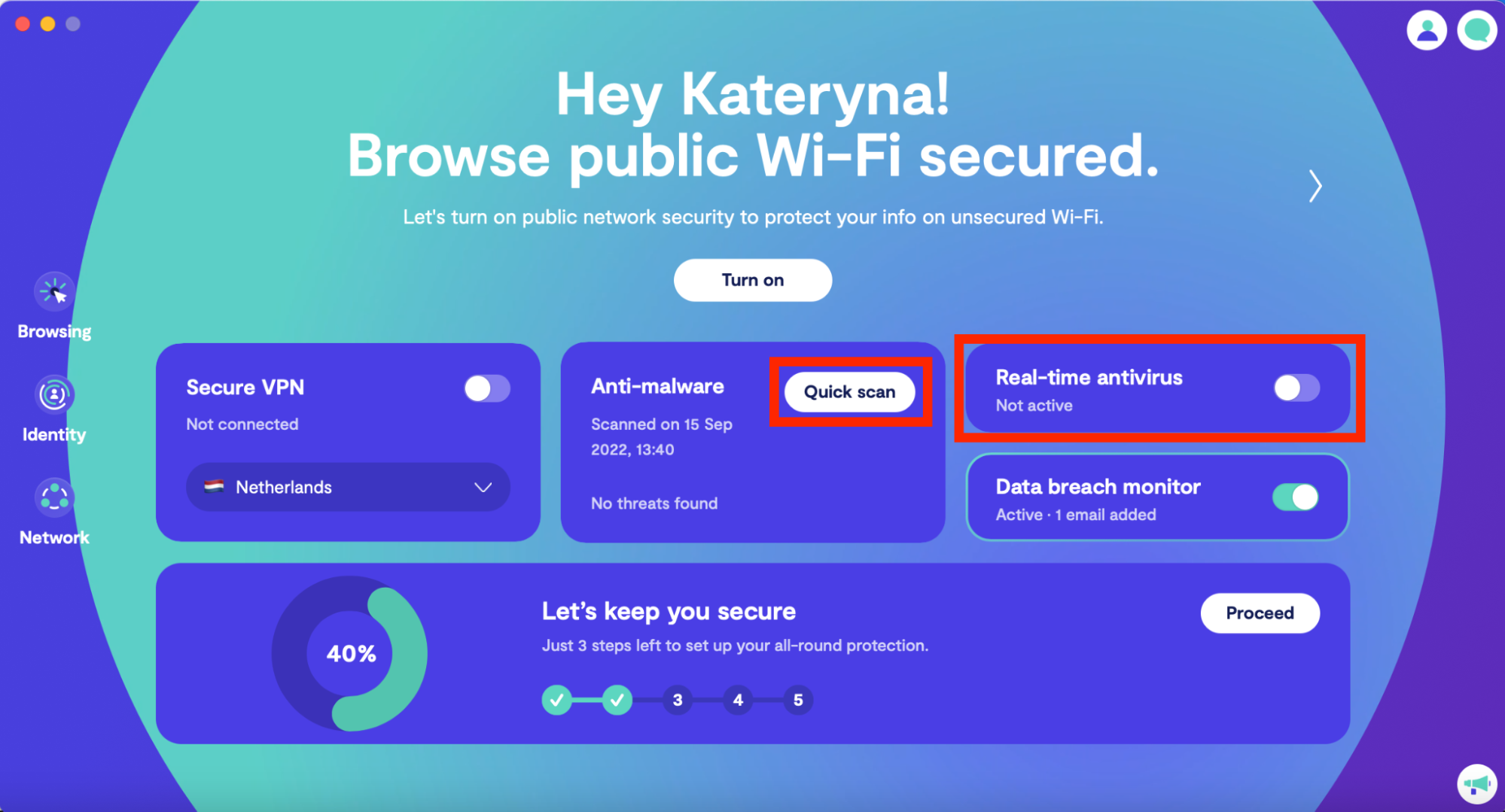 3. Enable Real-time antivirus to be on top of your security.
Wait until Clario is done running the scan. If it finds malware on your Mac, you will see a list of actions you will need to perform to get rid of malware on your computer or go straight to the steps below on how to remove a virus from your Mac.
Also helpful
Learn how to check if your Mac is infected with malware in our guide.
Now, let's move on and check out how to remove malware from Mac if you happen to be in a situation like this.
Steps to Remove Malware From Your Mac
Step 1: Disconnect your device from the internet
The first thing you need to do is disconnect your Mac from the internet to stop any communication between it and the malware server. You might need to stay offline as long as the device remains infected. This means the damage done by the virus can be controlled without the risk of it spreading even further.
Hit the Wi-Fi icon in the upper right corner
Switch the toggle off, so it turns grey.

The Mac malware removal process might require you to download some third-party tools. If this is the case, you will need to download the software immediately, then disconnect after you're done.
Step 2: Enable safe mode
Safe Mode is a built-in function that makes your Mac run on a minimal load — launching only the necessary software for the boot process. While launching in Safe Mode, the OS also performs checks required to block out any additional software trying to run. If the virus on your machine is set to load automatically on boot, it won't be able to start. This means it will be easier for you to delete malware from your mac while it's not running.
To enter safe mode on an intel Mac:
Start your Mac and immediately press and hold the Shift key
Release the key as soon as the login window pops up
Log in to your account.
If you succeeded, you will see a red phrase saying Safe Boot in the top-right corner of your Mac screen.
To enter safe mode on an M1 Mac:
Shut down your Mac
Hold the power button for 10 seconds
At the start-up menu, choose your startup disc and hold Shift
Press Continue in Safe Mode
Log in to your account.
Make sure you do not log into sensitive accounts or expose any saved passwords. The malware might track your keystrokes and put you in a more vulnerable position if this happens. You might also need to be careful with typing out or displaying any personally identifiable information on the screen for the same reason.
Step 3: Examine the activity monitor for unusual activity
As we first discussed, certain types of malware might put excessive load on your CPU and slow it down. The Activity Monitor can be a brilliant tool to check for such issues and fix them.
To open your Activity Monitor:
Press Cmd + Space
Start typing 'Activity Monitor' in the search field
Click on Activity Monitor
Once you have it in front of you, look for any suspicious applications in the Processes area. You may also look through the CPU tab to check for heavier apps.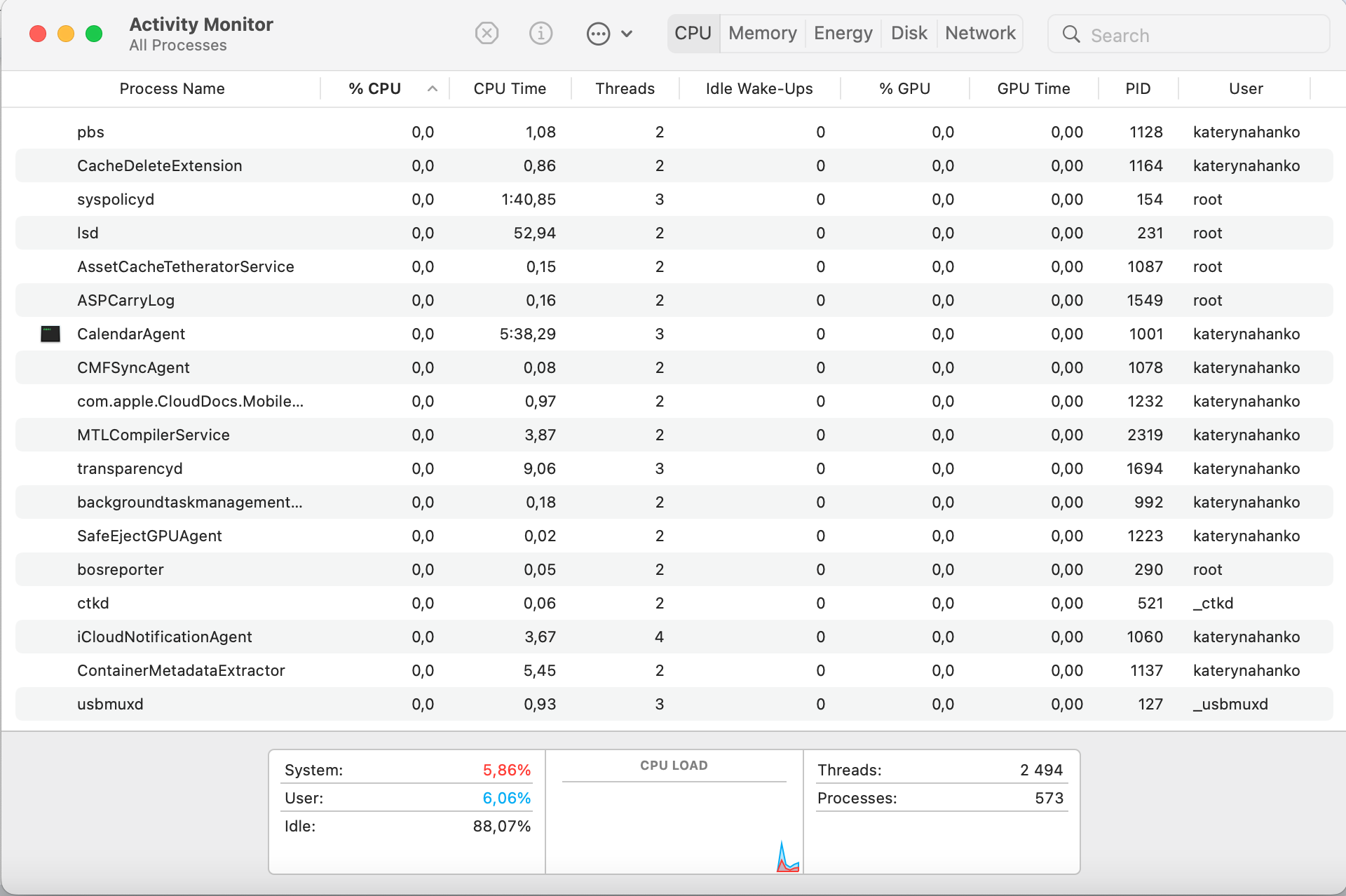 If you do find any suspicious applications or even an update, close it through the monitor, then delete it from the Finder menu. To delete a suspicious process:
Click the process line
Hit the cross button on the upper menu
Choose Quit.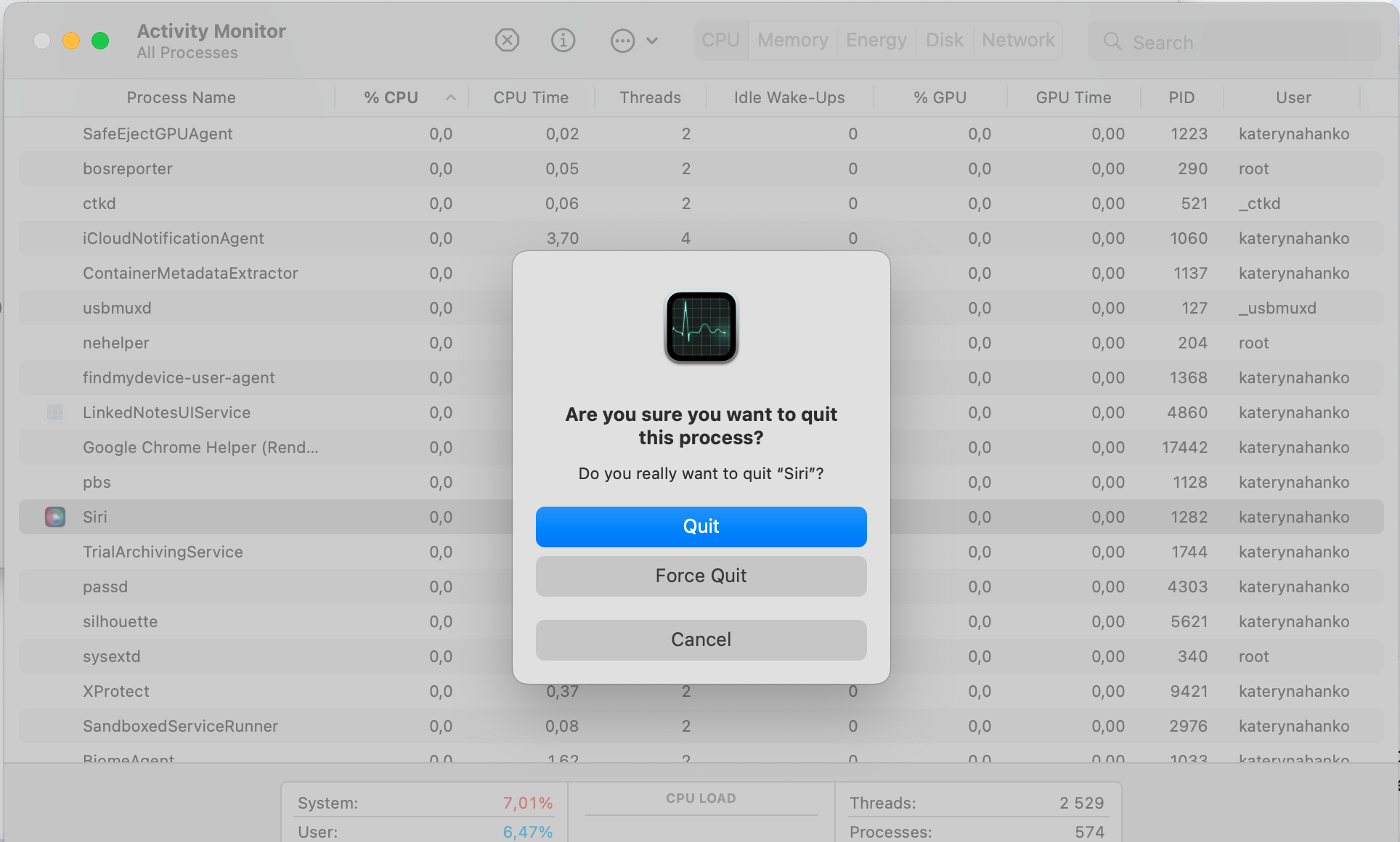 Step 4: Use an anti-malware software
Anti-Malware software often does a great job of automatically tracking and removing computer viruses. The stronger ones even protect your computer from ransomware and other threats.
Step 5: Double-check your browser extensions
Most malware and adware enter your system through your internet browser and often install some sort of extension. They may even mess with your browser settings to make it impossible to remove the extension in the first place, although this is extremely rare. In most cases, deleting the browser extension does the job.
If you're using Google Chrome, you can follow these steps to check the installed extensions and remove some if necessary:
Select the three vertical dots on the top right of your browser screen
Select Settings from the drop-down menu that appears
Click Extensions to see all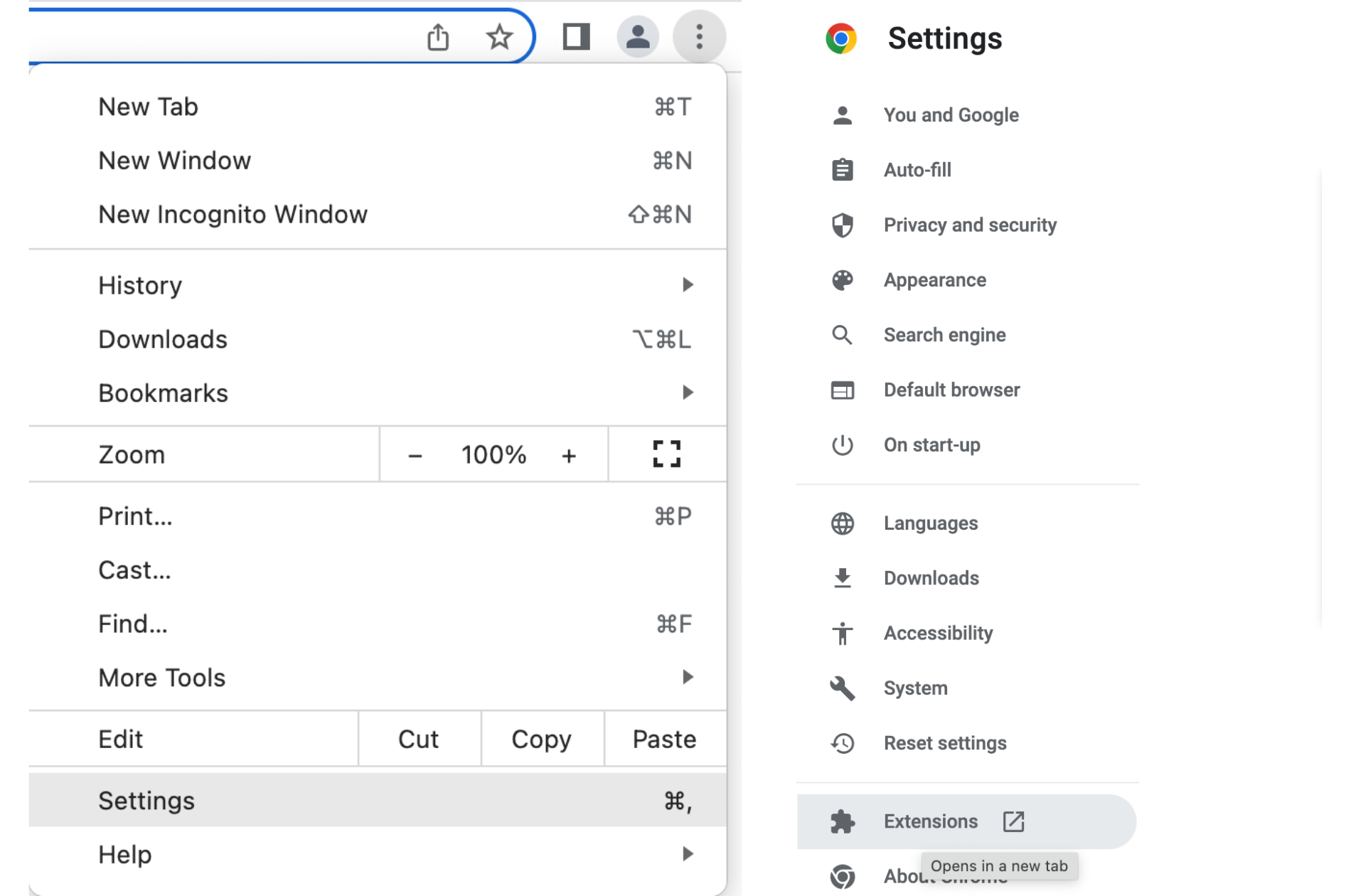 Access your Chrome extensions to delete the suspicious ones
Delete suspicious extensions
Reboot the system for effect to take place
If you're using Safri, follow the steps below:
Open your Safari browser
Click the Safari button in the upper-left corner menu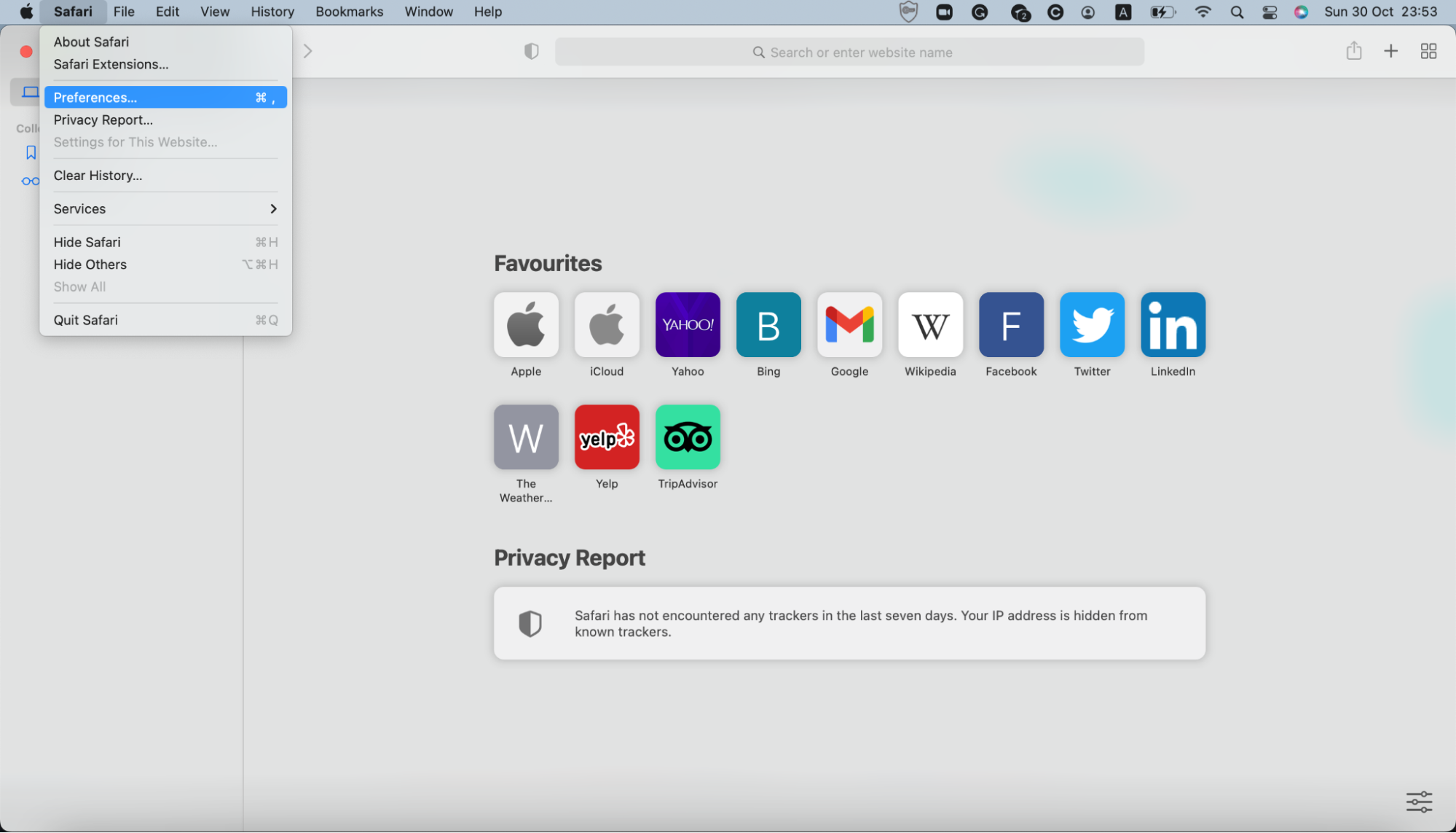 3. Choose Preferences
4. Open the Extensions tab
5. Look through the list and uninstall the ones you don't recognize.
Step 6: Check for malware in mac login items
Login items include the apps that start every time you launch your OS. Sometimes, these apps are necessary to run the OS, and other times, they are useless and can house different types of viruses. You need to check your login items and disable the ones that may be acting as a cover for malware.
Here is how to do this:
Click on the Apple logo on the menu bar
Click on System Preferences and then Users & Groups
Click on the lock in the lower left corner
Open Login Items
Disable the ones you do not need
Step 7: Remove all suspicious applications
Finally, you will need to go through all the installed apps to check if there are some you never use. Once you have them shortlisted, conduct proper research on each app to find out the usage. For most cases, a simple Google search will reveal if an app is useful or merely a cover for malware.
If an app is available on the App Store or other trusted sources, such as MacUpdate or CNET it should be reliable. In contrast, if an application is hard to find and has bad reviews, it may have malware. Uninstall all such apps, and you'll be able to clean your Mac from viruses.
To find a full list of applications on your Mac:
Open Finder
On the left-side menu, choose Application
Scour through the applications to delete the suspicious ones or ones you don't use.
What to Do if I Still Can't Get Rid of Malware?
There are small chances you will not be able to fix malware issues even after following the steps listed above. If this is the case, you have one last resource — you can factory reset your Mac and restore it to the default settings.
This will erase everything together with any third-party apps installed on the system. In other words, it will return your Mac to its original state. Hopefully, this will remove any viruses from your system. Besides, it can be time-consuming to set up everything from scratch in case you haven't used Time Machine backup.
So, it is vital to protect your device from viruses beforehand.
How to Avoid Getting Malware
We are hoping the malware is gone by now. The only thing left is ensuring that the gates to any new malware are permanently closed and that you are one hundred percent safe.
Here are the ways to keep your Mac secure:
Always keep your Operating System up to date. New updates already have some level of malware protection and are smart enough to block out such attacks. Doing so is definitely going to help.
Never install any suspicious-looking software on your Mac. Such software only opens doors to cyberattacks, putting your machine and personal data at risk. Always avoid installing the software you don't know enough about.
Avoid clicking on links from suspicious emails. If you do not know the sender properly, avoid opening the email in the first place. If you still have to read it, at least avoid the links attached.
Use Safari's built-in security features for protection against online attacks. The default Mac firewall app can also be of great help here.
Create strong passwords using a combination of alphanumeric and special characters. These passwords are difficult to crack and very hard for malware to break into.
Install solid and reliable Mac cybersecurity software for extra protection. Getting real-time anti-malware protection from Clario can be a great option to consider. Apart from an antivirus, Clario's all-round cybersecurity experience includes an ad blocker with the anti-tracking feature, an unlimited VPN, and 24/7 expert support.
We understand that going through a malware attack can be stressful. But do not lose hope, as recovery from such attacks is almost always possible. Once you're done fixing the malware, do not forget to put more robust security measures in place to avoid going through this again in the future.