Steps to prevent WhatsApp spying
While your priority is your privacy, other people might prioritize breaching it. Be it an ex-girlfriend, ex-boyfriend, ex-husband, ex-wife, former friend, or a random hacker—someone out there may be motivated to spy on you. What better way to do it than on WhatsApp, where you spend time engaging with your loved ones? Fortunately, you can take steps to prevent it.
A Forbes survey revealed that 55% of users were concerned about how WhatsApp is collecting their data. And while the same survey found that more than 90% of people proactively protect themselves online, the top two measures they take include deleting cookies and their search history.
Below are the methods you can implement to stop someone from monitoring you on WhatsApp. Take note that one method will not work 100% of the time, so we advise implementing multiple steps to be safe.
Use antivirus software to remove malware from your phone
While WhatsApp has security features like encryption, it isn't the most secure messaging app. There are several ways that someone can monitor you on WhatsApp. In the case of a hacker or stranger spying on you, they may use malicious software or apps to monitor you.
Usually, they use a phishing attack, which entails sending you a text message or email containing a malicious link or attachment. Once you click on the link, it'll lead you to a website containing malware or have it immediately installed on your mobile phone.
Likewise, downloading a malicious attachment can lead to a virus being installed on your device. Virus and malware attacks are on the rise. A SonicWall report revealed that malware threats rose by 2% in 2022. To reduce your chances of becoming a victim of virus and malware attacks, you must use trustworthy antivirus software.
Clario AntiSpy's Antivirus tool is a safe and reliable solution for keeping your computer virus-free, whether you use a macOS, iOS, Windows, or Android device.
Clario AntiSpy scans all files, new and old, for threats, alerting you if something comes up. Not only does it alert you, but you can also rid your device of a threat using Clario's on-screen prompts.
Here's how to scan your Windows, Mac, or Android device for viruses:
Download Clario AntiSpy and get a subscription to set up your account
Select Antivirus in the sidebar and hit the Start scan button
Clario will let you know if it finds threats and eliminate them on your behalf.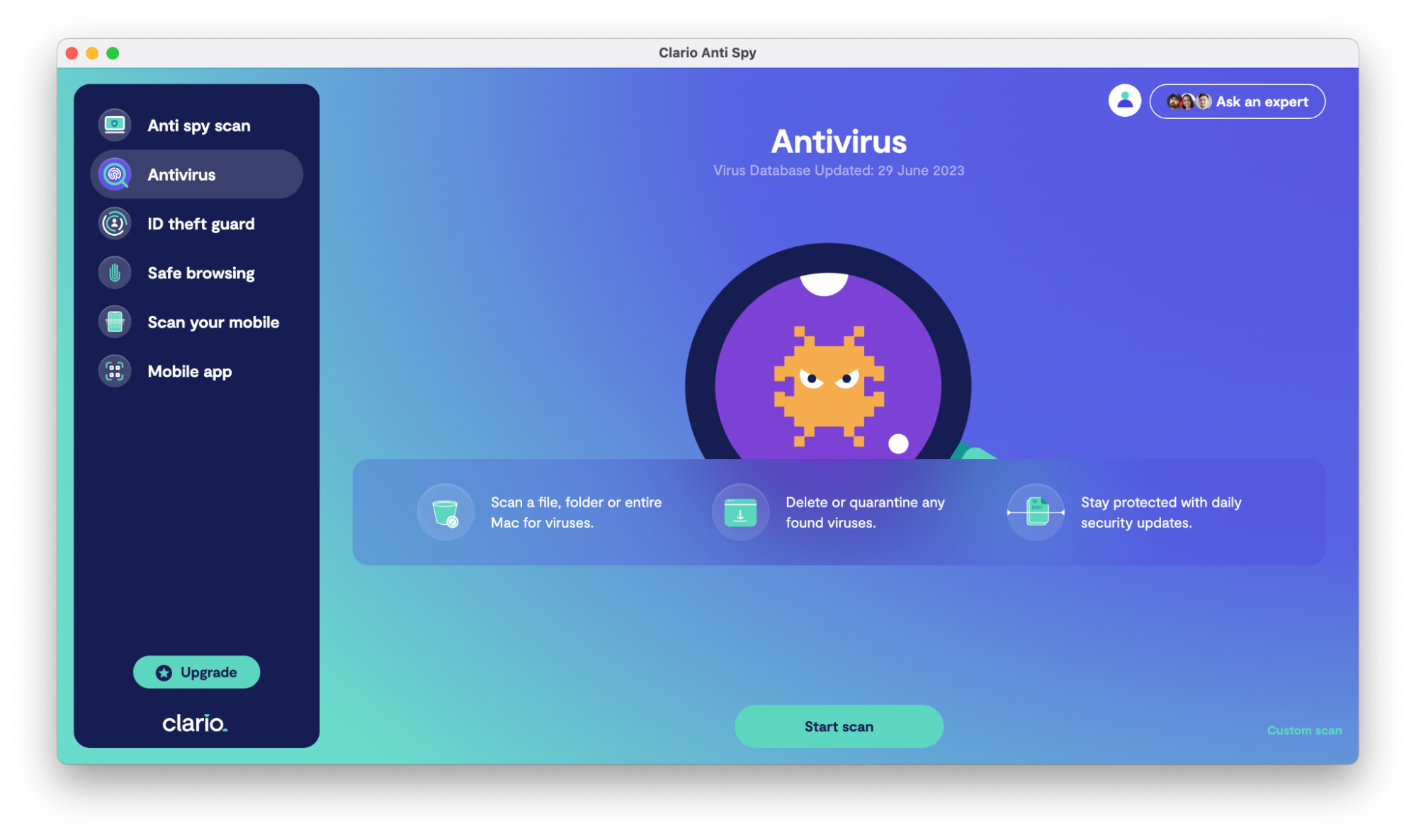 Here's how to scan your iPhone:
Download Clario AntiSpy and get a subscription to set up your account
Select Scan your mobile in the sidebar and hit Add device
Connect your iPhone to your computer with a cord and press Scan
Let Clario AntiSpy scan your mobile device for malware threats
Follow the on-screen prompts to get rid of any malicious files or threats.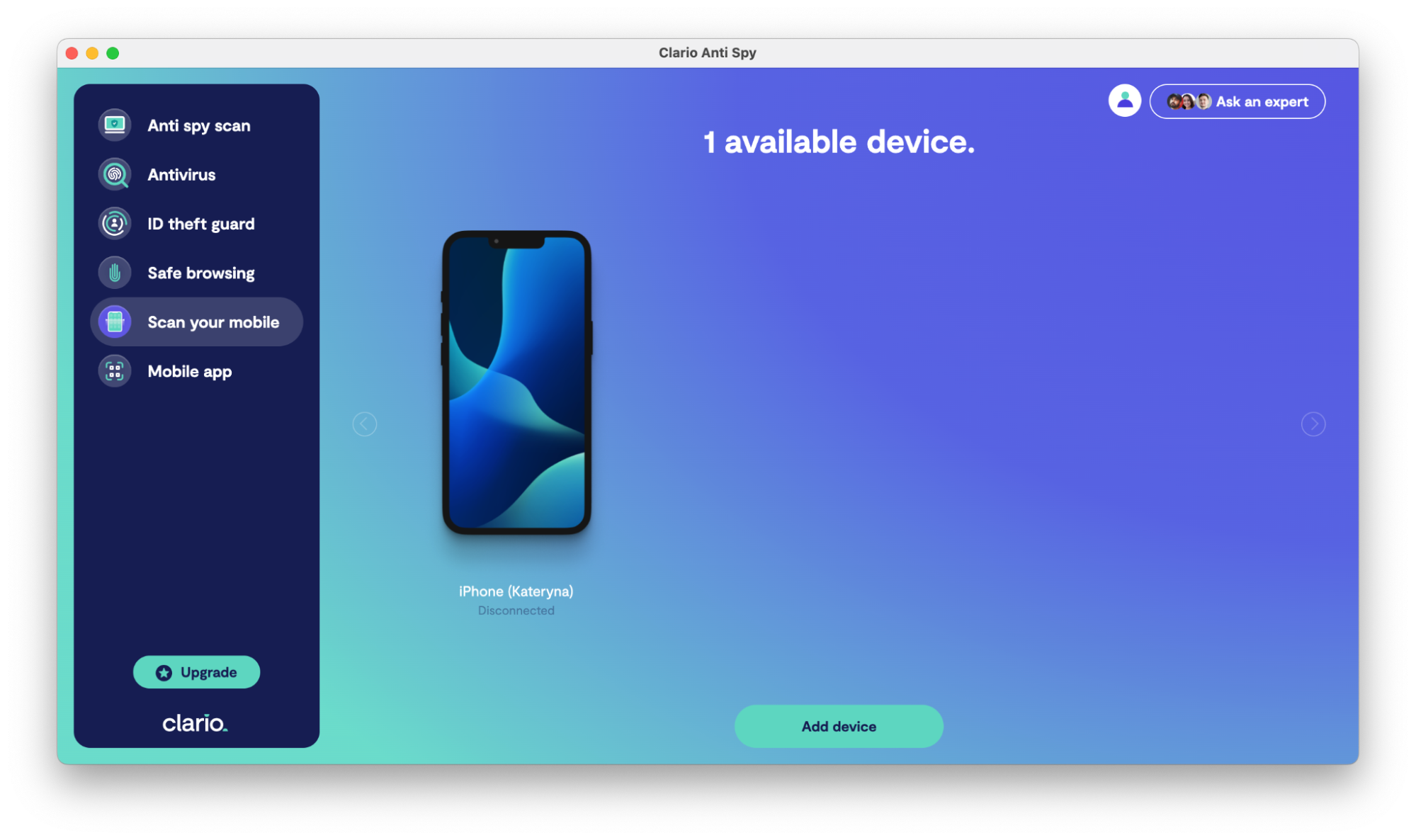 Did you know about WhatsApp trackers?
WhatsApp trackers are tools used to monitor someone's WhatsApp activity, including their chats, location, calls, and media. They achieve this by exploiting security vulnerabilities on WhatsApp to remotely access your data. Bad actors can use WhatsApp trackers to spy on you using either online WhatsApp trackers or WhatsApp trackers in the form of apps.
Online WhatsApp trackers require the phone number of the target device to retrieve data, while WhatsApp tracker apps must be downloaded on the target device to monitor WhatsApp activity in real-time.
Any trackers are usually positioned on the market as parent control apps. KidsGuard for WhatsApp is one such app. While WhatsApp trackers can be used by parents to monitor their children's WhatsApp activity, they can also be used to spy on people and invade their privacy. Using antivirus software can help block WhatsApp trackers and protect your privacy.
Deactivate GPS location
If you share your live location with other people, they may be able to track your movements. That's why 45% of internet users—according to a Forbes survey—are proactive about disabling their location to prevent hackers and companies from monitoring their movements.
Prevent spying
Disable the GPS location feature in your phone settings to stop WhatsApp from sharing your location and prevent WhatsApp spying.
On an iPhone:
Go to Settings > Privacy & Security > Location Services
Toggle Location Services off.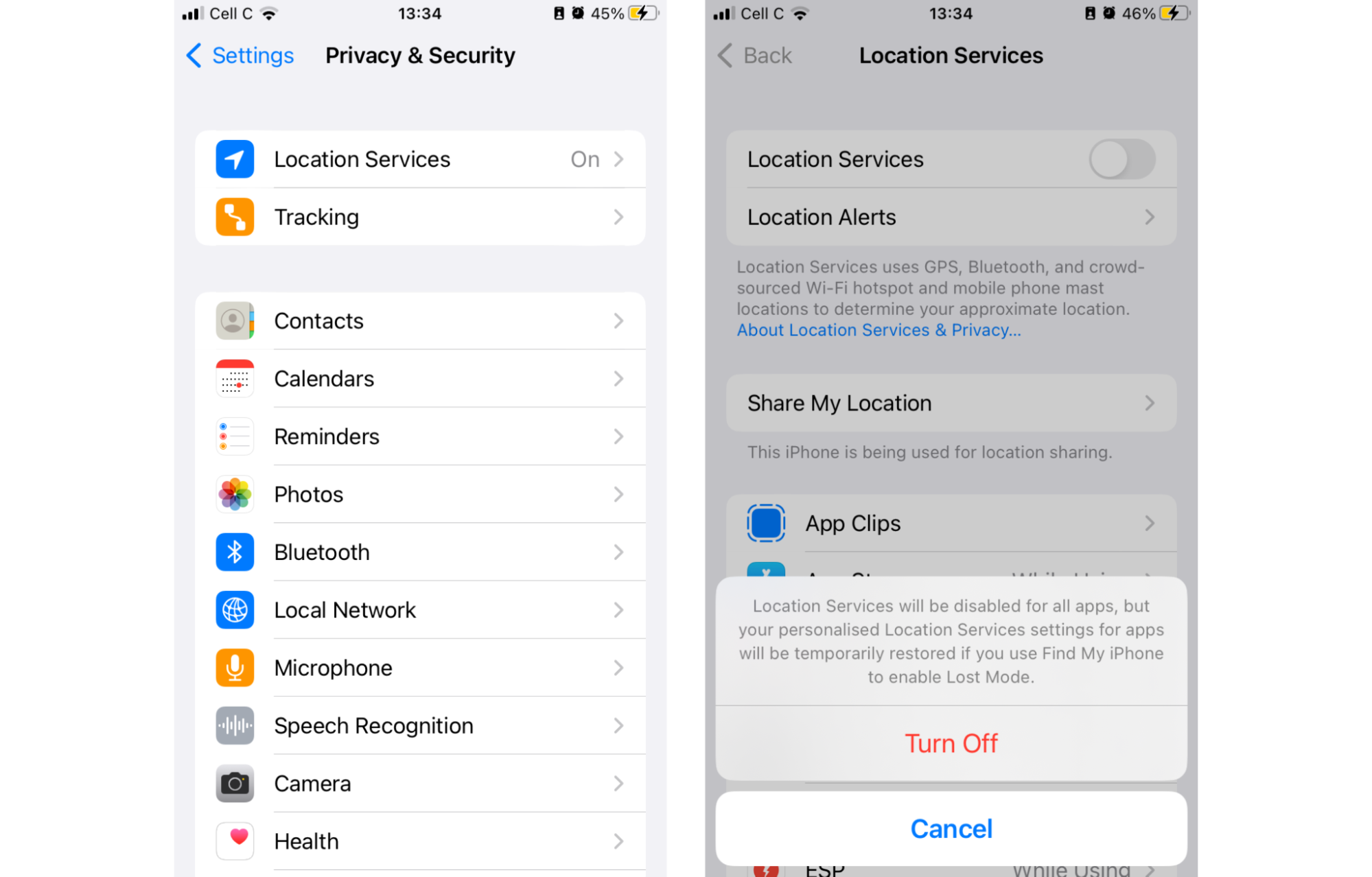 On Android 12 or later:
Swipe down from the top of the screen and tap and hold Location
Select Location Services > Google Location Accuracy > turn off Improve Location Accuracy.
On Android 11 or earlier:
Swipe down from the top of the screen and tap and hold Location
Select Advanced > Google Location Accuracy > turn off Improve Location Accuracy.
Note
If you choose to share your location with someone on WhatsApp going forward, you'll be asked to turn on your location in your mobile phone settings first. This should make you reconsider whether to share your location in the first place. Ultimately, it can help you protect your WhatsApp from spying.
Change your password
If you suspect something fishy is happening on your WhatsApp, it would be wise to change your phone or computer's password—even if you aren't sure. According to Comparitech, only 11% of people who've shared their password with a significant other changed it after a breakup.
Changing your password is also advisable if you've ever left your device unattended or unlocked it using your password in the presence of someone else, including someone you trust. Stop someone from spying on your WhatsApp by changing your password.
Enable two-step authentication
Two-step verification is an added layer of security that helps protect your WhatsApp account from hacking attempts. When you enable it, you'll be required to enter a six-digit pin when you sign in to WhatsApp with your phone number. This ensures that anyone who tries to use your WhatsApp account on another device to spy on you is prevented from doing so. It can help you stop someone from reading your WhatsApp messages.
Here's how to set up two-step verification on WhatsApp:
Open WhatsApp and go to Settings > Account > Two-Step Verification > Turn On
Enter a six-digit PIN, enter it again to confirm it, and tap Next
Type in an email address. This is optional, so you can tap Skip > Skip Email if you prefer not to add one. Adding an email address allows you to reset two-step verification in case you need to, which also keeps your account safe. If you skip this step, you're finished. If you enter an email address, confirm it and tap Save or Done.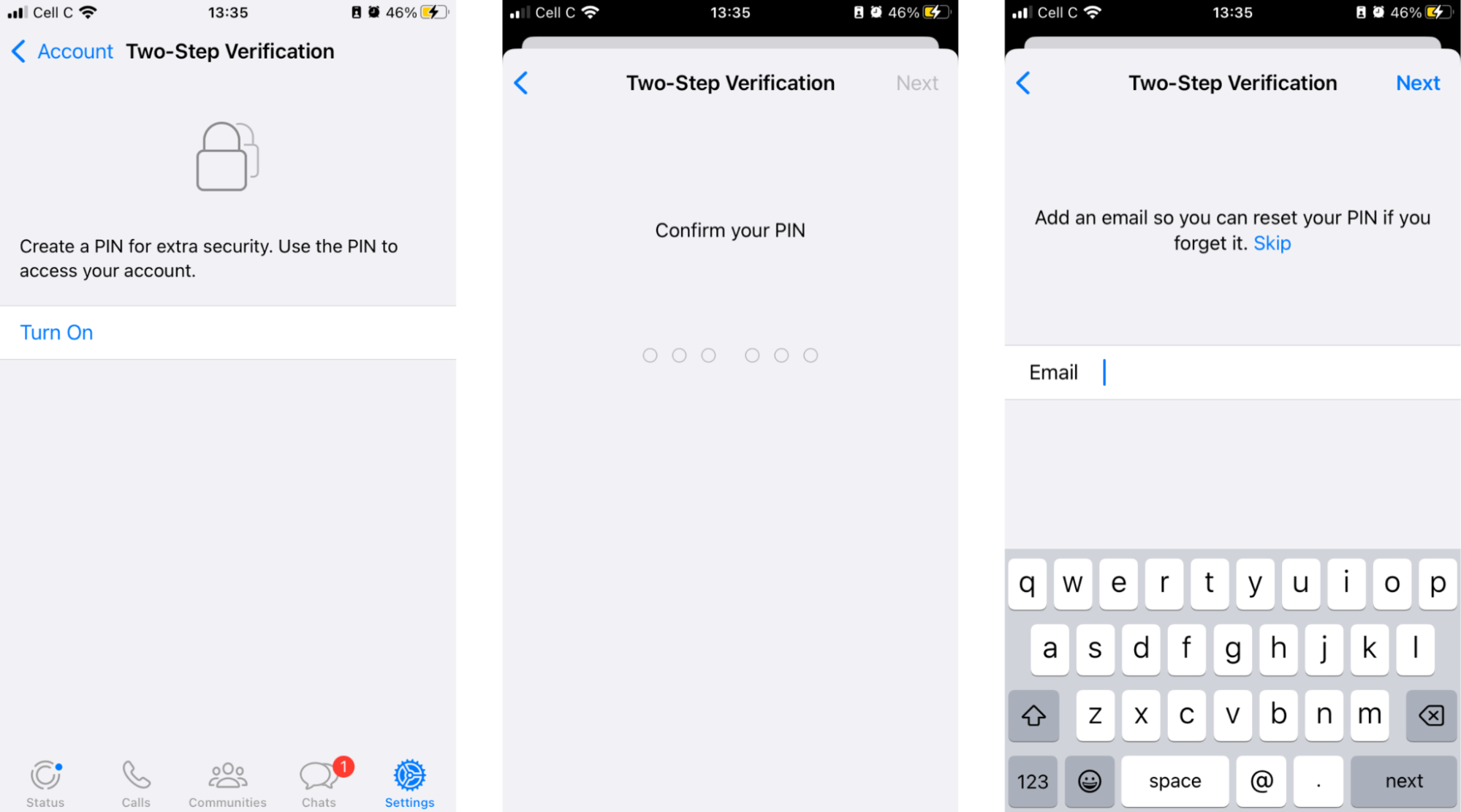 Install a VPN
WhatsApp, like other apps, relies on the internet to function. You probably connect to your private Wi-Fi network to use WhatsApp, which is fine. However, chances are you connect to public Wi-Fi networks while you're out—be it at a restaurant, airport, or coworking space. Unfortunately, this is too risky because public Wi-Fi networks typically aren't well-secured, which means that hackers can easily breach them.
For this reason, it's best to avoid using public Wi-Fi altogether, but if you must, ensure you use a VPN while connected. This will keep your IP address hidden on the internet and all outgoing data encrypted, which prevents hackers from spying on you. When you use a VPN, anyone who is spying on you won't be able to monitor your internet activity.
Change your phone number
WhatsApp uses your mobile phone number. As long as you use the same number and your stalker has it saved, they can monitor your WhatsApp activity.
Consider changing your phone number to block someone from spying on your WhatsApp:
Open WhatsApp and go to Settings > Account > Change Number > Next
Enter your old (current) phone number and the new one in the spaces provided, then hit Next
If you want WhatsApp to let your contacts know you've changed your number, toggle on Notify Contacts, choose between notifying all contacts, the contacts you have open chats with, and a custom list, then tap Done.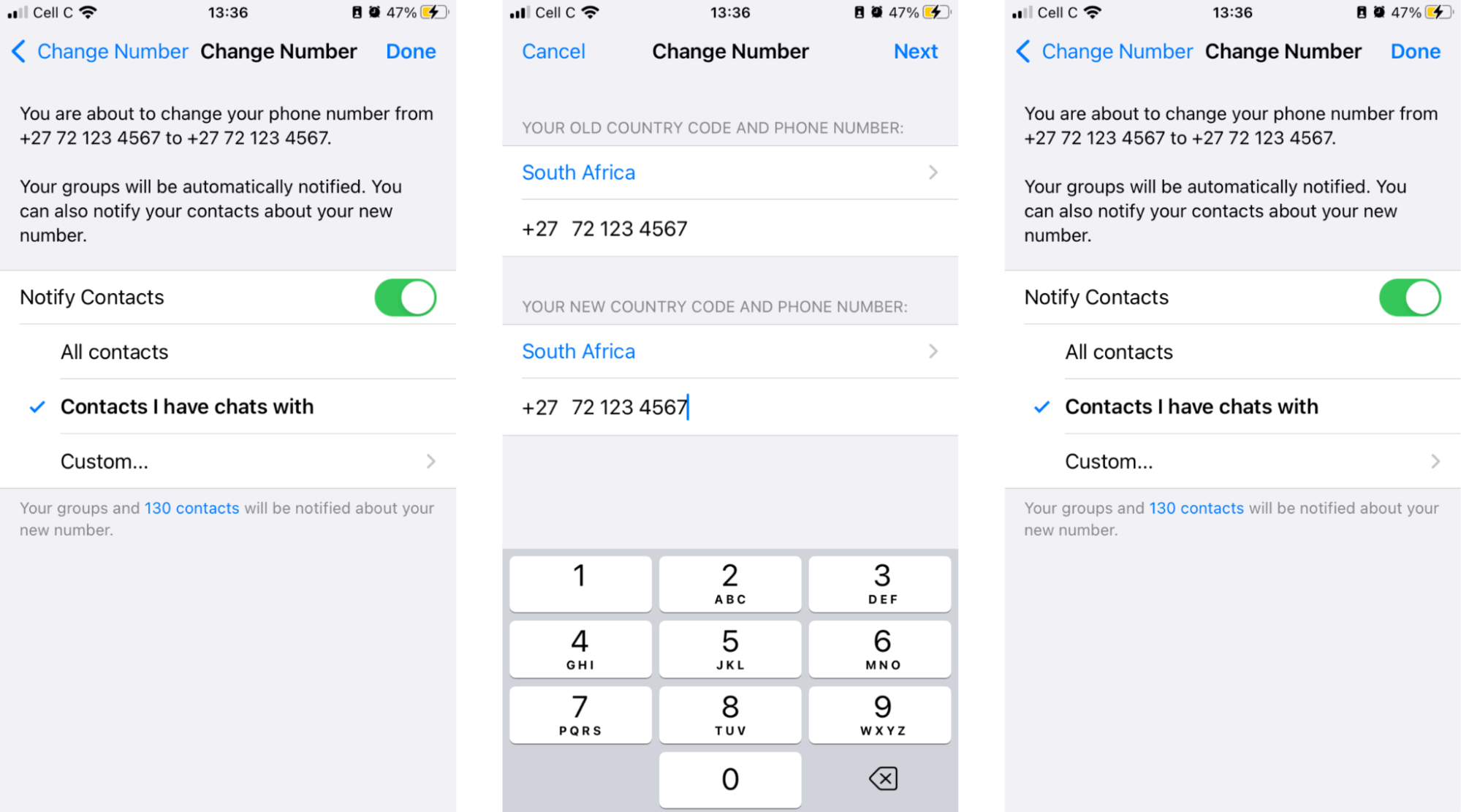 Reset your phone
You can check for spyware on your phone, but you won't always find it because most malicious software is designed to stay under the radar. The best thing to do is perform a factory reset on your phone. This will remove WhatsApp spyware without any additional work on your end. The steps depend on the make and model of your phone. Don't forget to back up your files first to avoid losing them.
To reset your iPhone:
Open Settings > General > Transfer or Reset iPhone
Choose between the Reset and Erase All Content and Settings options. Please note that the latter deletes all the content on your iPhone. If you go this route, back up your phone first.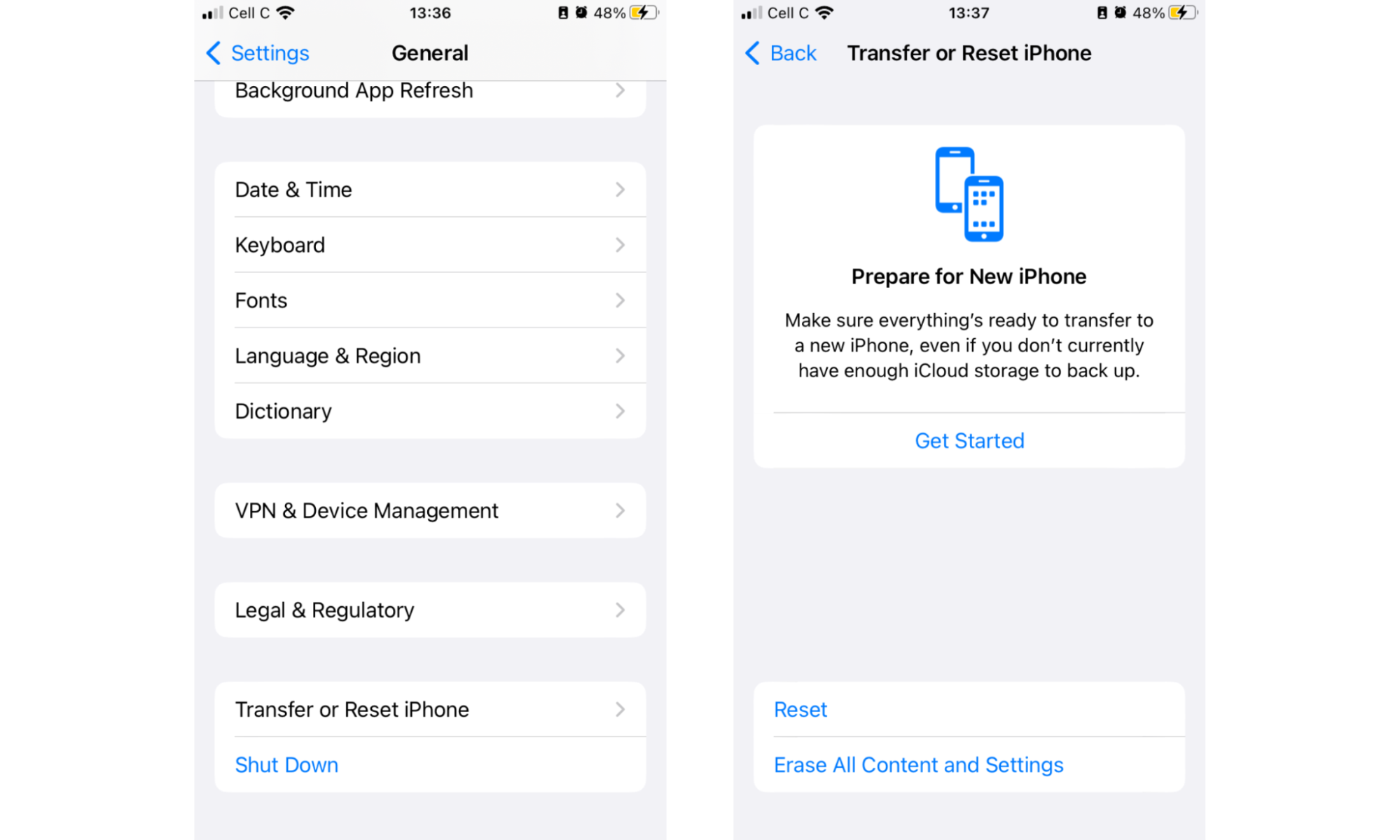 To reset your Android phone running Android version 5.0 and later:
Open Apps > Settings > Backup and reset > Factory data reset
Tap Reset Device > Erase Everything, and you're good to go.
To reset your Android phone running Android version 5.0 or earlier:
Open Settings and tap General & Backup and reset > Factory data reset
Tap Reset device > Delete all.
How to tell if you're being spied on
If you've never been a victim of stalking, you may be unsure as to what constitutes it. Are you really being spied on, or is your mind playing tricks on you? In many cases, if you suspect you're being stalked, you probably are.
However, we're here to put your mind at ease. Below are some telltale signs that your WhatsApp account is being spied on:
Your battery drains faster than normal
Your phone overheats
WhatsApp messages you haven't read have been mysteriously opened
You find chats from strangers on your WhatsApp
Your WhatsApp suddenly stopped functioning
You hear weird sounds in the background during WhatsApp voice or video calls. This is often a sign that someone is recording your calls.
Note
If you experience at least three of the signs mentioned above, it is highly likely that your WhatsApp account has been breached and someone is watching you.
If you've ever wondered if someone can listen to your phone calls without you knowing, the answer is yes; your calls can be monitored.
Conclusion
If you suspect your WhatsApp is being tracked by someone spying on you, you're most likely onto something. Fortunately, you can stop WhatsApp tracking. Follow the tips in this article to prevent someone from monitoring you on WhatsApp. Most importantly, ensure you use the Clario AntiSpy Antivirus tool to get rid of spyware and other viruses on your computer, so you can keep your WhatsApp conversations and personal information safe.