Apple security pop-ups are tools fraudsters use to trick you into thinking your iOS device has contracted a virus, been hacked, or been compromised in some other way. The threat isn't real, and scammers simply seek to gather personal and financial information to defraud you. Apple never uses security alerts on its devices, so whenever you encounter one, you can be sure it's not legitimate.
Fake Apple virus warning signs
Common fake iOS security warnings include messages such as:
Urgent action required! Viruses have been detected on your Apple iPhone
Your apple iPhone may be infected
Important security message: please call the number provided
System warning: we have found vulnerabilities
Warning!! Apple security breach!! iOS security crash
Your iPhone has been hacked: hackers are watching you.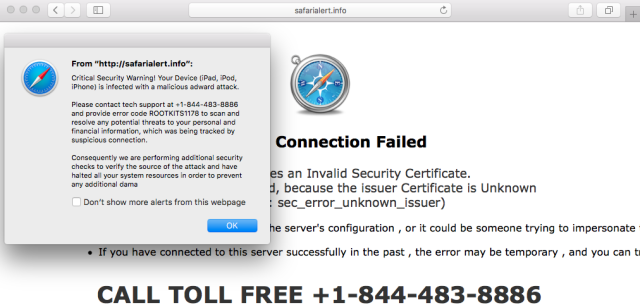 Suppose you encounter an Apple security alert or any other form of malvertising. In that case, you should avoid interacting with the pop-up other than completely closing the tab or window. Tapping the warning message could initiate the download of malicious software and compromise your iOS device.
On top of that, interacting with the security alert could send you to another page where scammers may request credit card details or another payment method to fix the issue.
Be careful
You should never provide any of this information to a person or entity you don't 100% trust.
Ideally, you shouldn't initiate downloads outside of Apple's App Store unless you're using a trusted source. Jailbreaking your iPhone to use unsanctioned applications will leave your device vulnerable to a malware attack.
Sometimes warning messages display a phone number for you to call. You should never use this number, as doing so will likely connect you with the scammers and give them your phone number, which they may then use for spam calls and SMS messages. If you encounter a fake security alert, you should always proceed cautiously and avoid falling into the fraudsters' trap.
Why do I get Apple security warnings?
There are several reasons why you might see an Apple security alert. When browsing the internet, you may wind up on a malicious website that would show you a scam pop-up to get ahold of your personal information. In a case like this, close the tab and clear the history; that would be more than enough.
However, if you keep getting Apple security breach messages on your iPhone, that is a sign of adware on your device. The first thing to do would be to run your device through Antivirus software to identify the malicious file that tried to get you into trouble.
We will walk you through the steps you need to take to stop Apple security alert scams on your iPhone.
How to stop Apple security warning pop-up messages on iOS
When a security alert pops up on your iPhone, your first instinct may be to remedy the issue by following the instructions in the message. But doing so will only make matters worse. You can, however, easily release yourself from the scammers' trap with a few simple steps:
Close the tab in which the security alert appears
Open Control Center and place your device in Airplane Mode to disable your internet connection
Launch the Settings app and tap Safari
Tap Clear History and Website Data and tap Clear History and Data to confirm when prompted
Open the Control Center again and turn Airplane Mode off.
If you cannot close the browser tab displaying the fake security alert, clearing Safari's website data will get the job done. Additionally, the reset removes any malicious cookies placed on your device by scammers. If you're using a browser other than Safari, you'll need to follow a similar process for that specific application.
While you're in the settings app, you should also enable some additional Safari security features, including:
Fraudulent Website Warning
Prevent Cross-Site Tracking.
If you believe your iOS device has contracted a virus, you should take steps to remove the malicious software from your iPhone or iPad. Sometimes scammers will attempt to install other types of malware on your device. If you believe your iPhone has been compromised, you should take steps to detect and remove any spyware added to the system.
Prevent pop-ups and Apple security alerts with Clario for iOS
While Apple's built-in security measures are quite effective, sometimes the standard tools aren't enough, and additional software can provide an extra layer of defense. Clario's web protection and Safari ad blocker can help prevent fake security alerts from appearing on your iOS device in the first place, and prevention is always better than the cure.
Clario's Safari extension is easy-to-use and brings the following benefits to your day-to-day device protection:
Real-time link safety checks
Easy to use
Labeling of malicious links
Warnings before opening a malicious website
Here's how to use Clario's Web Protection extension to Safari on your iPhone:
Go to Settings > Safari
Tap Extensions
Tap More Extensions to launch the App Store
Type Clario Web Protection in search
Tap Get and go through the installation process.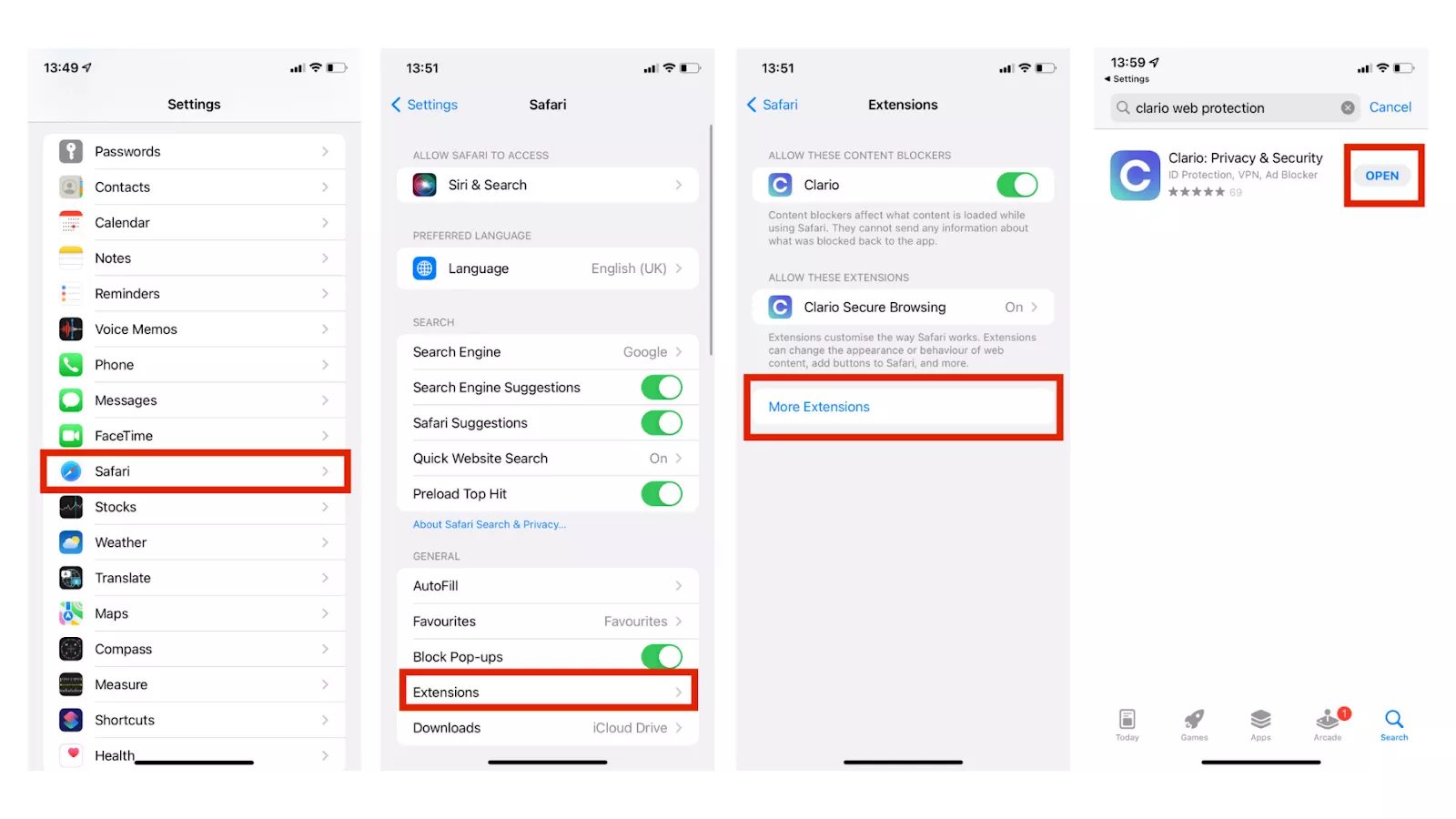 Also, you can download Clario to give your iOS device the extra protection it needs. The app is intuitive, functional, and effective.
Skepticism is another great weapon against scammers
Locking down your iOS device with the right settings and security software is a simple step you can take to avoid meeting malicious pop-up ads. Anything you can do to maximize security and privacy on your iPhone is worth the effort.
Scammers are, of course, always conceiving new ways to connect with people they wish to swindle, and one of the best weapons against fraud is skepticism. If something doesn't feel right, investigate the issue further until you understand the situation. Scammers prey on the uninformed, so arm yourself with knowledge and a healthy amount of skepticism, and you'll be an unappealing target for the typical fraudster.