What is website tracking?
It might not be news to you that companies track you on the internet. Consider the following scenarios:
Think about how often you've searched for something on Google, only to see ads for it on every website you visited and even on social media!
You searched for restaurants to visit, and Google returned results for restaurants in your area, even though you didn't include your location in your search. Google is able to do this because it knows where you live.
It's weird, and sometimes alarming because it makes you wonder just how much data websites collect about you (or your browsing habits). But it happens every day. Maybe you have a vague idea of what website tracking is, but have never really understood how it works or its implications.
Website tracking is exactly what it sounds like. It's also known as internet tracking, which is the act of tracking, collecting, and sharing a user's information relating to their browsing habits and activity on the internet.
This is done with companies in mind, so they can customize the content and ads they show you for their benefit. The more accurate content and ads they show you, the more likely you are to stay on websites, spend more time on them, and click on ads. Website tracking is legal, although largely unregulated.
What website tracking can measure
Websites use online trackers or website trackers to measure web traffic, user behavior, and performance. This helps them adjust and optimize their efforts, so they can meet their goals.
Web traffic
This is the fundamental metric tracked and measured by websites to see how many users are visiting it. They can use online tracking information to monitor trends in traffic. If web traffic is low, this would indicate that something is wrong.
Does the website have issues?
Is it confusing to navigate?
Are links not clickable
Are pages not loading?
These are the kinds of questions they'd have to ask to get to the root of the issue.
User behavior
This information focuses on user experience to determine how people experience and navigate a website. The information measured can help increase conversions, which leads to increased revenue.
User tracking monitors where users click, tap, and scroll on a webpage. It also monitors the way they navigate between pages, and which pages they visit.
Users could be spending too much time on certain parts of a website because that area has valuable content, or people are interested in it. Or, maybe it's confusing, and users get stuck on it.
Performance
This tracks how a website is performing in relation to the business goals. How performance is measured depends on the team, as different teams or departments are interested in different metrics. For example:
Marketing and brand teams measure factors like brand awareness. They're concerned about whether website visitors learn enough about the brand's products or services, and if they're interested in taking action, like making a purchase
Sales teams measure factors like product inquiries and purchases. A business's overall goal is to make sales or get customers to take some form of action on what they're reading on the website. Ultimately, all of a business's efforts should lead to making money, and the website plays a huge role in that
Probably the most important factor for any website is user-friendliness. According to WebFX, 83% of consumers expect websites to load in less than 3 seconds. And Visual.ly found that 83% of customers consider it important for a website to have a seamless experience across all devices. This makes sense because people load websites on their phones and iPads, not just on their computers. Page speed is also important to IT and web development teams. If a website frustrates visitors in any way, they'll leave.
What good is a website if it can't be found by those who don't know about it? Keyword ranking is important to SEO teams, who work closely with marketing teams. SEO teams work hard to ensure that websites rank high in Google so that they can be found by people who are looking for information related to what a website offers. A boutique hotel in New York will optimize its SEO to ensure that anyone who searches for boutique hotels in the area on Google will find that hotel listed as part of the first few results.
What data can websites collect?
Websites can collect a vast amount of data, depending on the goal. Some of it is provided by you when you enter your details, like your email address, on a website. Other data is collected using tracking technology, which plays a huge role.
Below are examples of the data that websites can collect:
Your IP address
Information about the device you use to browse the internet
How you engage with a website and different pages, like where you click and how you navigate between pages
Information about your browser
Your browsing activity across various websites. This gives websites insight into your preferences, shopping information, and more
Web performance data to help websites give you a personalized, seamless, and more efficient experience. It allows them to show you content that will keep you on the website longer, and ads you're more likely to click on.
Think about streaming services like Netflix and YouTube. If they didn't collect data about you, they wouldn't be able to personalize your streaming experience by suggesting videos and content to watch that you're likely to enjoy.
They do this by tracking the content you watch and already enjoy, and showing you more content like it.
Common internet tracking methods
Now, let's have a look at how websites track you — particularly, the methods they employ to help them track information about you on the web.
IP address tracking
Your IP address is a series of numbers by which your device can be identified and tracked on the internet. All devices and web servers have it.
This data can be tracked by businesses to determine where you're visiting their websites from, which can help them target you for ads and customize your experience.
But government entities, school admins, your employer, your internet service provider (ISP), and even hackers and bad actors can track it, too.
That's why you shouldn't think twice about using a good VPN service. Clario's VPN is a secure tool that protects your personal information by masking your IP address, which allows you to browse the internet anonymously. This also ensures you keep hackers off your tail.
Using Clario's VPN tool is easy. Try yourself:
Download Clario on your device and set up an account
Toggle on Browsing protection
A pop-up message will appear. Tap Turn on and Allow Clario to add VPN Configurations.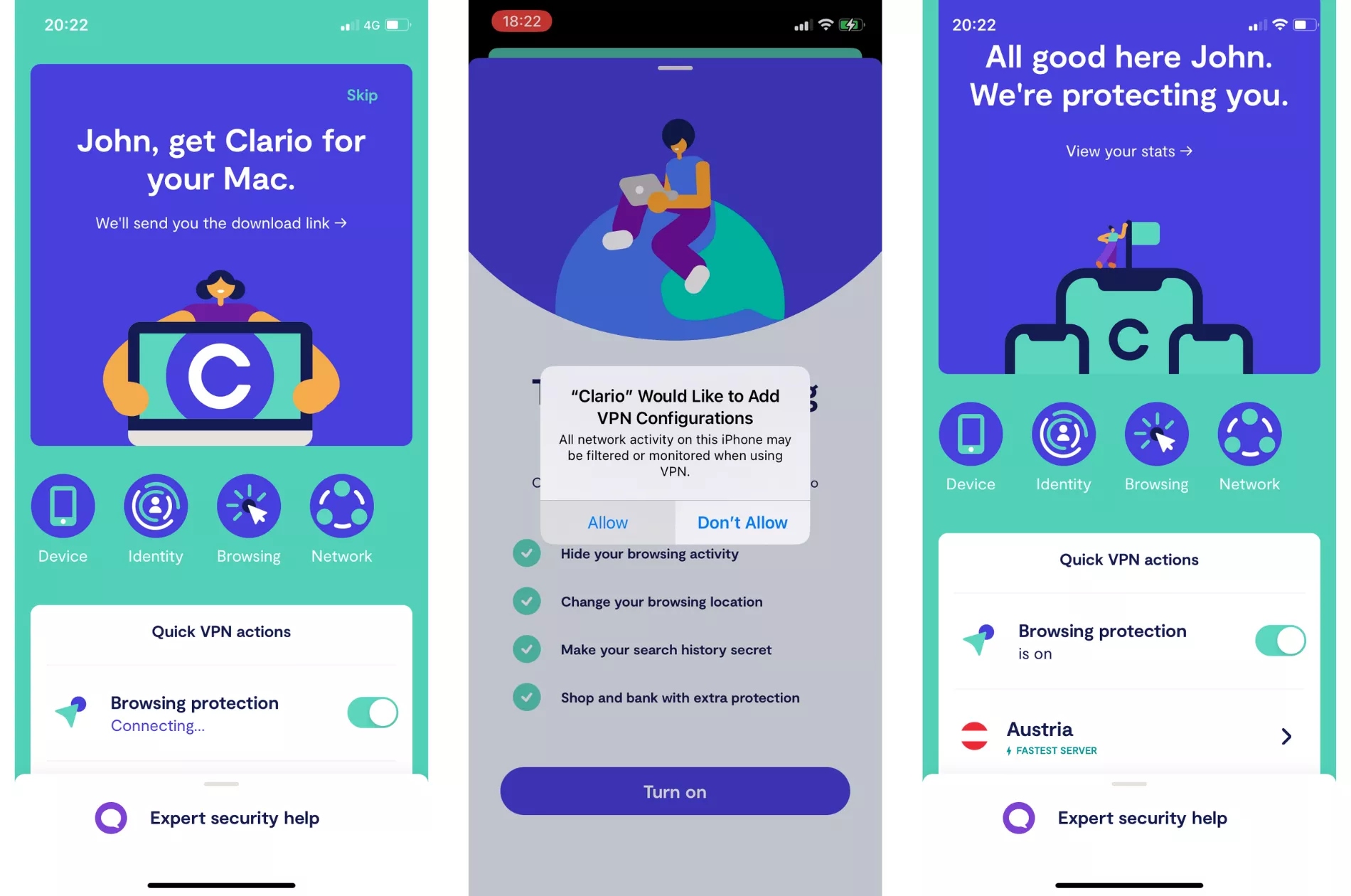 You can now browse the internet peacefully.
Web beacons
Web beacons are tags placed on websites, usually within the code, to track how a user engages with the website. They allow websites to track information like your IP address and the area you're visiting from.
Other information they can track includes the browser used and the time a website was visited. In addition to websites, web beacons can be used in emails and can provide senders information like whether an email was opened and how many times it was opened.
Cookies
You're probably familiar with cookies because websites always ask you to accept them. Cookies are small packets of data stored on your device. They serve various purposes:
Helping websites remember information about you
This includes personal information, like your email address. That's why you're able to log in to some websites without entering your sign-in information each time, like on streaming platforms (like Netflix) and online shopping stores.
Personalizing your experience
You don't really clear your shopping carts every time you fill them. Online stores use cookies to keep your shopping items in your cart. This makes it easier for you to manage your carts and your overall online shopping experience.
After a website leaves a cookie on your computer, it can track your movements online using that cookie. That's how businesses know what your preferences are or what websites you've visited.
The amount of time cookies can track you depends on the type of cookie used:
Stay on your computer during your browsing session. When you close your browser, session cookies disappear. Learn how to clear browser history in all browsers
Remain on your computer after your session ends and stay on it for longer periods of time, which is determined by the websites that place them on your device.
Learn when you should and shouldn't accept cookies.
Browser fingerprinting
This is the process of collecting information about a user's device or browser. It helps websites put together a profile of each user.
Below is the type of data websites can collect using the fingerprinting method:
Browser used
Browser version
Screen resolution of the device used
Device's operating system
Language
Time zone, etc.
Canvas fingerprinting
Canvas fingerprinting is a type of browser fingerprinting that tracks users with HTML5 canvas elements as opposed to cookies.
Pixel tracking
These are small snippets of code used by businesses to track user data on a website, like users' browsing habits and the ads they clicked on.
They can then use that information to send you ads that you would possibly click on and to measure campaign performance.
Device tracking
Businesses use this method to track their behavior across multiple devices. It can help them learn how you navigate websites on them.
This information can be used to optimize the user experience because it's important that websites work seamlessly on all devices.
Why do companies track you on the web?
Companies track your web activity for various reasons:
Ecommerce
Ecommerce sites track users for the reasons below:
Gain information about the users that visit their websites
Tailor the user experience
Monitor and measure campaign success
Target users with ads they're most likely to click on
Track conversions
Measure conversion rates.
Web performance
This data helps websites give you a personalized, seamless, and more efficient experience by showing you content that will keep you on the website longer, and ads you're more likely to click on.
Think about streaming services like Netflix and YouTube. If they didn't track what you watch, they wouldn't be able to personalize your streaming experience by suggesting videos to watch.
Advertising
Websites collect data they can use to optimize the ads they show you through ad targeting and re-targeting.
Tracks your habits on the internet, like the websites you visit, to show you ads for a product you've searched for on Google
Shows you ads for products or services you previously clicked on.
Website analytics
Websites use software to get insight into their visitors and how they use a website. This data includes:
Where you're located
Your IP address
The device you're using
Demographic data, like your gender and age
The pages you visit
How long you stay on pages and websites overall.
This information can be used to make business decisions and to improve the website and the business at large.
Usability testing
This is the process of having users test a website as a normal visitor would, so that developers and businesses can gain the following key insights:
How users experience a website
Whether users are able to successfully navigate a website
Which parts of a website users spend the most time on, and why
Which aspects of a website need improvement and why.
Web tracking laws
These are laws that guide how businesses should go about web tracking. Most require users to opt-in to being tracked.
GDPR
Passed by the European Union (EU) on May 25, 2018, the General Data Protection Regulation (GDPR) regulates how businesses target and collect the data of people in the United Kingdom (UK).
It's geared toward protecting the data of UK citizens, with a focus on data privacy and security in a world where people's personal information can be easily obtained and exploited.
Below are the fines and implications of breaking GDPR laws:
€20 million or 4% of the company's global revenue (whichever is higher)
Compensation of data subjects (they have a right to claim).
CCPA
The California Consumer Privacy Act (CCPA) empowers California consumers by giving them greater control over the data that businesses collect about them. This includes the following rights:
To know what data a business collects about them and how it's used and shared
To delete any data collected about them (with limitations)
To decide against the sale of their data
To not be discriminated against when they choose to exercise their CCPA rights.
Businesses must give consumers notices that explain their privacy practices, and consumers have the right to ask businesses to disclose them.
LGPD
The Lei Geral de Proteção de Dados (LGPD) is a Brazilian privacy law introduced on September 18, 2020. It's a Brazilian version of the GDPR with minor differences. This law applies to the tracking of data online and offline, and in the private and public sectors.
The LGPD requires businesses not to abuse consumers' personal data, but to only process it for legitimate purposes, which must be clearly communicated.
How to avoid being tracked
You might be wondering by now how you can avoid being tracked online. There are a few things you can do…
Use a VPN
This is the first and most important step in staying safe online and is a must-have if you want to protect your personal information while using the internet. Use a safe, reliable, and dependable VPN like Clario's VPN.
Turn on tracking protection in your browser
Make life easier by preventing web tracking right where it happens — in your browser. Learn how to prevent cross-site tracking in Safari and Chrome.
Block third-party cookies
These are cookies created by parties other than the website you're on, like advertisers. That's why they're able to follow you as you visit other websites for the purpose of showing you targeted ads. Learn how to block third-party cookies in Chrome.
Delete cookies
You can also delete cookies to ensure they don't stay on your device. Get started on deleting cookies on Mac. But before you do, take the time to understand what happens when you delete cookies and why you should do it.
Change your browser settings
Consider changing your browser settings to manage cookies. Learn how to manage cookie preferences on various browsers, including the popular ones listed below:
Safari
Microsoft Internet Explorer
Google Chrome
Opera
Microsoft Edge
Mozilla Firefox
Switch to a secure browser
If you still have reservations about using any of the browsers listed above or others, switch to a secure browser like one of the browsers below:
Download anti-tracking software
There's a lot of anti-tracking software out there. These include ad-blockers for iPhone, Mac, and most devices. You just have to find what works for you.
Block images in emails
Finally, ensure you block images in emails to avoid being tracked by web beacons, which typically use transparent images to track you via emails.